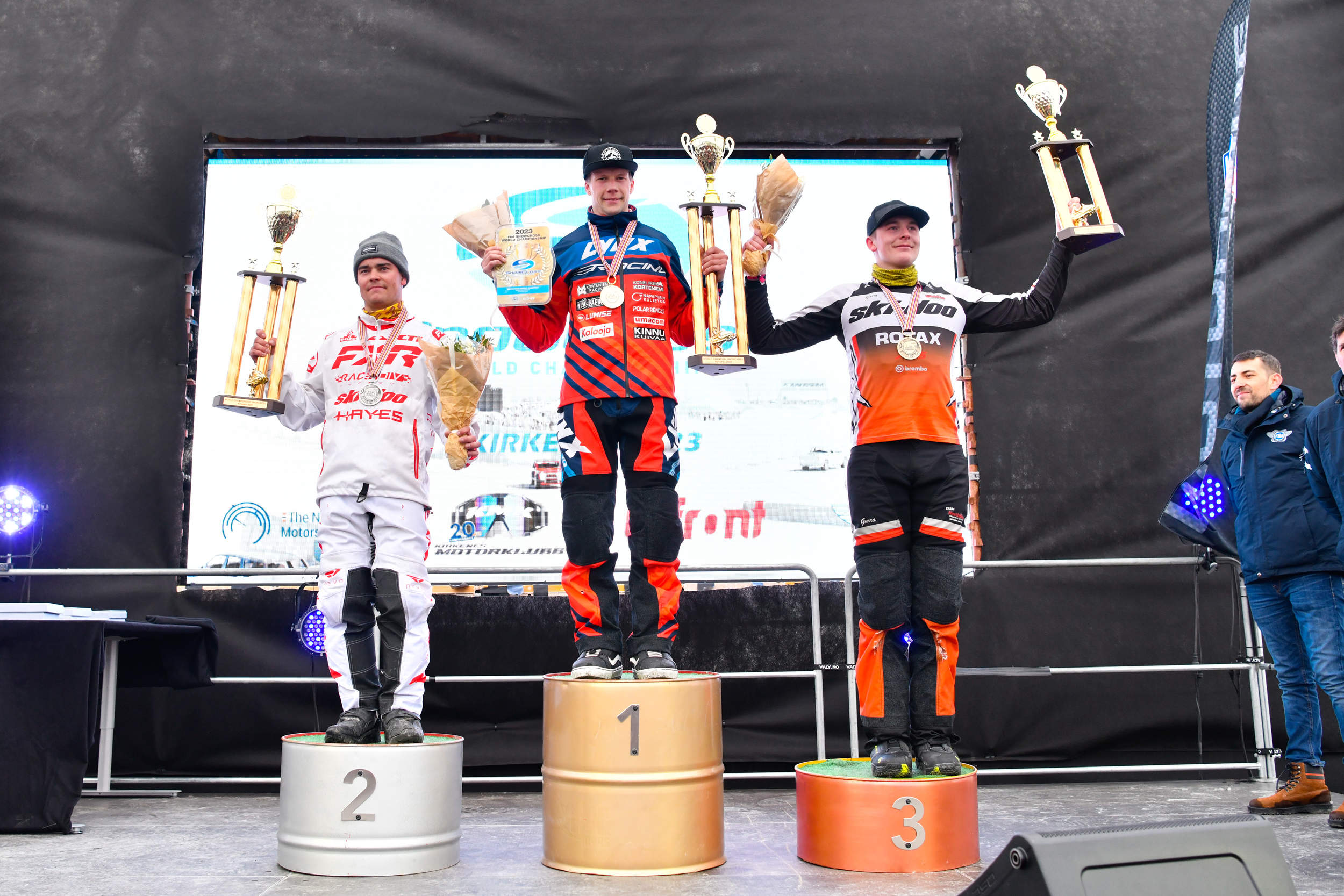 FIM Snowcross World Champion
COLD GOLD!
To win any FIM World Championship requires an ice-cool temperament and when the sport involved is Snowcross and the venue is inside the Arctic Circle it is probably safe to assume that the desired temperature drops even lower.
Even the white heat of competition could not melt the iron will and determination of Finland's Aki Pihlaja who after the heartbreak of finishing second on four previous occasions finally struck gold this year when he won the 2023 FIM Snowcross World Championship at Kirkenes in Norway.
Quite possibly one of the most northerly venues to ever feature on an FIM World Championship calendar, Kirkenes lies on the coast of the Barents Sea around four-hundred kilometres north of the Arctic Circle.
Aged thirty-four at the time of his title-clinching performance, Pihlaja had finished runner-up behind Swedish Snowcross legend Adam Renheim every year between 2016 and 2019, but 2023 was finally his time to stand on the top step of the podium.
Following a similar format to MXGP, the final destination of the title was decided by two races with the best performance over both deciding the winner and it was Pihlaja, aiming to become the first Finnish racer to win the title since 2005, who qualified in pole position.
Taking an early lead in the opening race, Pihlaja was pushed back into second by Norway's Elias Ishoel on lap eight and the pair then held position all the way to the chequered flag.
Knowing a win would be good enough for the title, Pihlaja started race two in second behind Ishoel who claimed the holeshot. Chasing hard for almost the full race duration, Pihlaja was finally able to capitalise on a mistake by Ishoel with less than two minutes left on the clock.
The victory ensured Pihlaja took the FIM Snowcross World Championship on a tie-break and ended his nation's eighteen-year title drought in the discipline.
PALMARES
FIM Snowcross World Champion: 2023