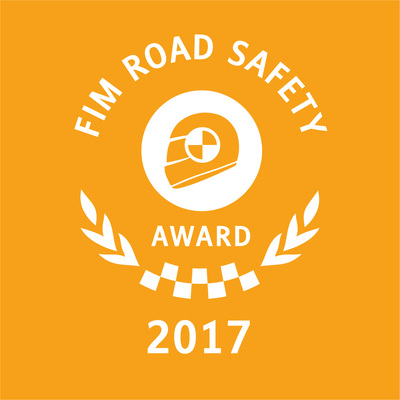 Every year, millions of riders roam the roads world-wide. In order to help them to stay safe while enjoying the ride, the FIM Road Safety Award promotes initiatives or technology improving road traffic safety, particularly for powered two wheelers. The award may be conferred on an individual, a club, a national federation a governmental organisation, a non-governmental organisation, or a commercial entity. Through this award, the FIM wishes to encourage new solutions to diminish accidents, especially fatal injuries, making motorcycling an even safer passion.
The award can concern different aspects of safety such as improved gear, emergency procedures, devices or infrastructure. It also rewards actions that raise awareness of the existing risks and the precautions motorcyclists should take. Such actions can vary from safety guides to awareness campaigns or prevention stands. Instructors and learning material are valuable assets to the motorcycling community, relaying the latest safety measures to ensure minimum risk and maximum pleasure.
Road safety is also a major preoccupation in research and in policies. Improving material and innovating new alert systems is as fundamental as lobbying for appropriate road safety laws and advocating for safe riding conditions. Motorcycling safety is an essential part of the FIM's values and this award is here to try to make sure that every day the roads become a little safer for motorcyclists.
JURY
The FIM Road Safety Awards winner is chosen by a panel of independent experts with an international reputation.
Mr Antonio Avenoso (ITA)
Executive Director,
European Transport Safety Council
Dr Luciana Iorio (ITA)
Chair, United Nations Global Forum for Road Traffic Safety (WP1 UN ECE)
Dr-Ing, Achim Kuschefski (GER)
Director, Institut für Zweiradsicherheite e.V. (ifz Germany)
Mr Tim Buche* (USA)
President & CEO of the Motorcycle Safety Foundation USA
Dr Rohit Baluja (IND)
President, Indian Institute of Road Traffic
Mr Jesper Christensen (DEN)
Director, FIM Public Affairs Commission
Mr Andrezej Witkowski (POL)
Chair, FIM Awards and Recognition Committee *Recused himself in 2017, MSF being a candidate.
"Stayin' Alive" Prevention Campaign – Federation of Swiss Motorcyclists (FMS) - Switzerland
The campaign aims to raise road safety awareness amongst motorcyclists and reduce accident rates. It innovates by speaking to riders in an inclusive way, through advertising and at events. Results show that the 2014-2017 campaign has succeeded in overcoming the defensive attitude towards accident prevention campaigns adopted by many motorcyclists up to now.
Impact Laboratory – Aragón Institute for Engineering Research, University of Zaragoza - Spain
This lab is dedicated to road safety for riders and handles numerous projects geared to rider safety, safer infrastructure, and safer motorcycles.
Liberty Rider - France
This French company is a leading innovator in the use of mobile phone technology to improve rider safety. Their Liberty Rider app places an automated call to emergency services in the event of a traffic accident.
Motorcycle Safety Foundation - USA
The MSF is a not-for-profit organisation and the main rider training provider in the USA. Through an innovative E-learning platform, it has reached out to 145,000 riders in 53 countries across the world to teach learner motorcyclists about safer riding.
Nepal Automobile Sports Association (NASA) - Nepal
NASA has been nominated for its innovative work in road safety in the form of a national campaign addressing all aspects of safer riding. It has also carried out advocacy work linked to the UN Decade of Action for Road Safety.
Norwegian Motorcycle Union (NMCU) – "Full Kontroll" - Norway
NMCU has developed the highly regarded rider training manual "Full Kontroll" and shared an English language edition with the whole motorcycling world free of charge. The latest addition is a set of videos to accompany the text.
Mr Omar Zarour - Jordan
Nominated for his dedication to improving road safety in Jordan and the wider Arab world, Mr Zarour has also devoted much of his free time over a period of two years to preparing an Arabic edition of the Norwegian rider training manual "Full Kontroll".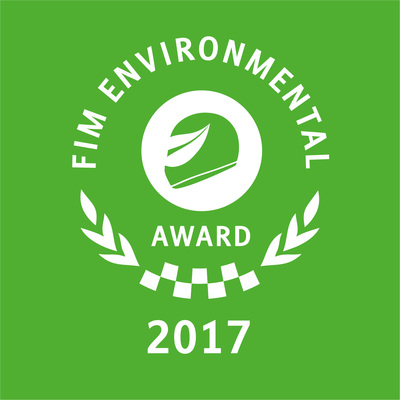 Environmental impact is one of the major issues when it comes to organising motorcycling events. The FIM has taken in consideration this impact and committed to raising awareness and promoting green solutions throughout the entire motorcycling community. In 1994, the first FIM Environmental Code was adopted, containing regulations and recommendations to improve the relationship between motorcycling and the environment and promote sustainable events.
Many factors have to be taken into consideration such as gas emissions, sound levels, waste management and social impact. The FIM International Sustainability Commission (CID) is committed to caring for the environment and this Award is a unique opportunity to promote innovative and environmentally friendly solutions.
Nominees for this award may be individuals, groups or organisations (FMNs, Clubs, Organisers Circuit Owners, Manufacturers, teams etc.) who have significantly enhanced environmental awareness and promoted eco- friendly behaviours. Their actions reflect the FIM's concern for protection and preservation of the environment, encouraging alternative energy, environmental management systems and green programmes. Negative impact on the natural environment must be minimised whilst positive impact must enhanced, making motorcycling an even more sustainable and green community.
JURY
Jill Savery (USA)
Sustainability consultant and advisor
Christina Martin (ESP)
Gestora Sostenibilidad en S.B. Ambiaudit, S.L.
Marius Matthee – CID Bureau (RSA)
International Environment Commission
Naysán Sahba (IND)
Senior Communications Division - UNEP
Jorgen Bitsch (DEN)
FIM Board of Directors member
Motorcycle Federation of Andorra (FMA) - Andorra
While organising several Trial, Enduro and Supermoto championships, the FMA has developed many green initiatives. Under the banner of the KiSS – Keep it Shiny and Sustainable – project, the Andorran Motorcycling Federation has promoted green attitude.
ISDE 2016 – Circuit of Navarra - Spain
This circuit focused on respecting, caring for and integrating the environment during the FIM 2016 ISDE. Following the KiSS project, KiSS Navarra established a vast range of measures to ensure respect for the environment. By means of electric staff vehicles or reconditioning of unused roads, for example, the ISDE in Navarra made a contribution to sustainable sport.
MSC Grevenbroich - Germany
The German Motocross club has launched a vast awareness programme as well as working to protect certain endangered amphibian species on their 260 km2 site. Through educational measures and acting on a continual basis, MSC Grevenbroich's volunteers have managed to secure the population of amphibians on their site as well as showing that motorsport and the environment are not polar opposites.
Mugello Circuit - Italy
Certified as a one of the most environmentally sustainable circuits, Mugello has a vast KiSS-related green programme. Its two main fields of action are separate waste collection and the fight against food waste. By installing recycling areas throughout the circuit and distributing recycling- kits to spectators, Italian circuit has demonstrated high- level of achievement.
The environmental panel of the Polish Automobile and Motorcycle Federation (PZM) - Poland
"Education" is the key-word for PZM's Environmental Panel. With a wide range of educational actions such as games, lectures and awareness-raising activities, they provide eco-friendly tips and information to youth and fans and promote their actions through social media.
SVEMO Environmental Commission - Sweden
SVEMO's main project is "Promotion of biodiversity and motorcycling". Vast areas of land are left undisturbed and as a result some species are disappearing, favouring a very restricted biodiversity. By maintaining "continuous disturbance" and moto tracks, this project helps meadows and other diverse habitats to flourish, thereby safeguarding biodiversity through motorcycling.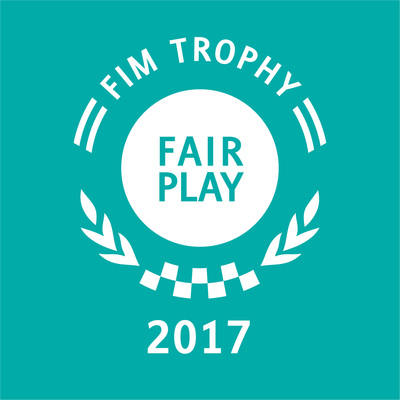 Sport is not just about winning – it is also about sportsmanship, respect, fairness and sharing. Fair Play, being a good winner as well as a good loser, is an essential part of all sports. But sometimes, winning or losing matters less than these core values sport teaches us. Let us not forget that sport may be a competition but it is first and foremost an activity to be enjoyed for its own sake.
Candidates must show outstanding conduct and a remarkable sense of respect, placing safety and camaraderie first. The FIM Fair Play Trophy is not necessarily awarded each year, and that gives it a special meaning to those who have the honour of receiving it. As part of the elite of motorsport, riders have a social responsibility and therefore must inspire fans with the sense of Fair Play that they demonstrate.
This year's candidates have both shown their sense of Fair Play by helping others in a distressing situation. Their commitment to such an act of Fair Play is admirable proof of support, kindness and solidarity. They are true role models for the motorcycling community.
JURY
Mr Andrzej Witkowski (POL)
(Chairman) - FIM Vice-President, Polish Federation (PZM)
Mr Pedro Venturo (PER)
(Member) - FIM Latin America President
Mr Wan Zaharuddin Van Ahmad (MAS)
(Member) - FIM Asia President
Mr Josep Punti (AND)
(Member) - Andorra Federation (FMA)
Mr Steve Aeschlimann (SUI)
(Member) - FIM CEO
Moto Clube do Porto - Portugal
John and Beth Pineo, two Canadian motorcyclists, were involved in a terrible traffic accident after attending the FIM Mototour of Nations in Porto in 2016. Whilst in hospital, the couple were regularly visited by members of the Moto Clube do Porto, who brought them fruit, pastries and reading materials. They also took care of relaying the couples' concerns to medical staff, in a country where not everybody is fluent in English, acting as liaison link with the hospital staff.
Jens Pester - Germany
During the 2016 ISDE in Spain, Jens stopped during the race to help an injured rider. Regardless of his own time loss, he brought the rider out of harm's way and gave him first aid. No one had stopped or reported the accident previously, and the German rider acted carefully and selflessly, making the injured rider his priority.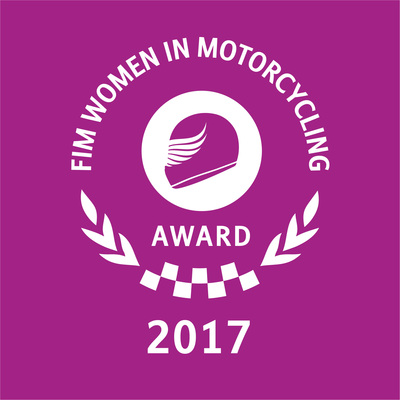 FIM Women in Motorcycling Award
It is part of the FIM's vision to increase and promote the presence of women in motorcycling. With this Award, through promotion, education and communication, the FIM and its Women in Motorcycling Commission (CFM) aim to encourage greater awareness of women active in all motorcycling–related activities.
This award aims to recognise, reward and celebrate those, individuals or organisations, who have significantly contributed to improve the presence of women at all levels. In line with CFM's "talent to come first" approach, the award-winners share common values and a commitment to increasing the standard of female motorcycling and the number of participants, as well as the representation of women in leading positions throughout motorcycling federations.
Candidates for the Award seek to help women to be increasingly valued and included in the motorcycling world, by cooperating and creating opportunities such as women-only competitions and "have-a-go" events and by promoting role models. They develop sport and activities for women, thereby opening the motorcycling world to all.
JURY
Ms Erin Sills (USA)
Landspeed world record holder
Mr Alex Hofmann (GER)
Former Grand Prix Rider and MotoGP commentator
Ms Martine de Cortanze (FRA)
Former Rally and Enduro Rider and 2015 FIM Woman Legend
Ms Tomo Igata (JAP)
Former GrandPrix rider and 2016 FIM Woman Legend
Mr Pedro Venturo-Markoch (PER)
FIM Latin America President
Ms Nita Korhonen (FIN)
CFM Director
Kiara Fontanesi - Italy
Women's Motocross Rider – 5 times WMX World Champion.
Leslie Porterfield - USA
Landspeed and Circuit Racing – A mentor involved in motivational speaking and working with charities. She works with many organizations promoting motorcycle awareness, especially women and motorcycling. As an ambassador to women and riding, she aims at breaking barriers and inspiring women and kids.
Female Track Day in Dubai – Sabah Mukri - UAE
Aims to create and organise the first ever female only track day in Dubai with the objective to encourage female riders to ride on track and have a safe and fun experience.
Toutes en Moto – Female Motorcycling Association - Switzerland
A not-for-profit association based in Geneva that organizes a large annual event to draw attention to and defend Women's Rights by using motorcycles as an example of emancipation, independence, freedom and dignity. Their motto is "Ride/Drive our lives".
Women's Commission – Portuguese Federation (FMP) - Portugal
The commission has five main objectives: 1) represent the interest of female riders and encourage more participation; 2) raise awareness among female riders; 3) encourage more female riders to join the competition; 4) organize events to promote women's participation; 5) organize specific female only events.
Missbiker – Community - Italy
The objectives are: 1) to promote motorcycling among women and increase women's presence both in touring & leisure as well as in competition; 2) encourage industry (manufacturers etc.) to provide better products and services to female riders; 3) create a network and community as well as organizing events, trainings etc.
Alan Critcher - Great Britain
Alan Critcher is a speedway enthusiast involved in promoting and raising the profile of female speedway riders around the world. He took part in a riding tour "Ladies Day" across UK to help promote women in Motorsport. He sponsored female Speedway riders to rife at various tracks around England (Carley Gittus AUS, Hayley Perrault USA, Micaela Bazan ARG...)
Enduro Xperience Da Mulher – Women's Enduro Experience - Brazil
The main goal is to encourage and support women to participate in FIM standard Enduro and Off-road competition, to offer to newcomers a welcoming and helpful environment, with guidance on the rules and help on the sections, empowering them and making them feel confident to participate in competitions.
Girls Racing Team – Female only Endurance Team
The team's objective is to be a "role model" and attract more female riders to Endurance. The results achieved by this female only Endurance Team show that it is possible for female riders to take part in this very demanding competition and discipline. It sets an example for other female riders who are looking to take part in competition.
Women's Committee - Motorcycling Western Australia - Australia
The MWA Women's committee was established in 2014 with the objective to promote and build women's/girls participation in motorcycle sport in Western Australia, as riders, volunteers, coaches and officials , to advocate on behalf of women/girls with promoters/clubs/state for opportunity and recognition, and to build social capital and support networks amongst participants to encourage longevity in the sport.