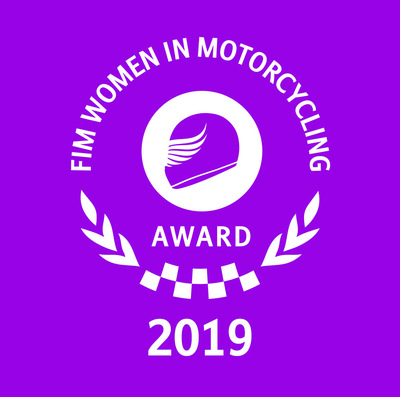 FIM Women in Motorcycling Award
The FIM Women in Motorcycling Award may be conferred on individuals, groups or organisations who have made a significant contribution to enhancing awareness of women in motorcycling or who have implemented projects/initiatives to improve the presence of women in all motorcycling- related activities. These projects, initiatives or contributions can be related to sporting or non-sporting activities and should be in alignment with FIM Advancing Women in Motorcycling Programme. They should provide mid-term or long-term solutions to help develop the presence of women in all motorcycling-related activities and have lasting effects and impacts on the awareness of women in motorcycling.
Australian Women in Motorcycling - Australia
Australian Women in Motorcycling fosters and encourages a positive community from all disciplines at a national level. The group seeks to assist, mentor, develop and endorse all women that are financial and affiliation members of Motorcycling Australia, with nationwide and regional reach throughout Oceania to more than a thousand women.
Biking Queens: Ride for Women's Pride - India
Founded by Dr Sarika Mehta, Biking Queens set out to empower women and prove to the World that females can not only ride motorbikes, but can do so in all sorts of difficult terrain and weather. Aimed at inspiring women in all walks of life, the project has organised numerous long- distance rides, including the All Women Ten Nations Ride (India to Singapore), All Women All India Ride and most recently the Ride for Women's Pride (India to London, UK).
East Coast Female Riders - Australia
East Coast Female Riders is an Australian motorcycle riding group focusing on empowerment and inclusiveness in the motorcycle community – welcoming riders regardless of age, gender or ethnicity. ECFR offers mentoring and support group chats to almost two thousand members, with moderators in different areas across Australia to offer guidance with group rides, one-on-one lessons, discounted safety gear and more.
Miss Biker - Italy
MissBiker is a community project created in 2014 to help resolve some of the most common issues for female riders in Italy, such as offering information on women's riding gear or finding female-centred motorcycle reviews. The group help women connect and organize rides in their area and offer support through an ever-growing list of commercial partners - such as mechanics, motorcycle shops and hotels - that offer discounts and opportunities to MissBiker members.
One make race for women in circuit racing - India
This national championship circuit race for women riders has attracted female riders from all over India, with some eighty-four participants having already taken part. Its most famous product so far is Aishwarya Pissay, winner of the 2019 FIM BAJAS World Cup in the Women's Category, whilst the likes of Ann Jenifer, Rehana Bee and Kalyani Potekar are regular participants representing India in the Asia Cup Road Racing series.
Sheemotos - USA
Raising Awareness for Women's PTSD recovery, Sheemotos is a collaboration of women in the USA that are committed to supporting fellow motorcyclists, sharing resources and providing much needed encouragement to "get back on the horse." The organisation promotes rider safety and advanced training resources, raising funds to sponsor scholarships for these courses with a current analysis of "throttle therapy" and PTSD recovery, as well as outsourcing provisions for more complex cases.
Stacey Heaney Racing - Australia
Stacey Heaney is a female motorcycle racer with twenty years of experience in road racing, motocross and endurance. Through coaching and mentoring roles at racing events, competitions and Women Only Ride Days, Stacey has formed a network of female riders that communicate about events, get together to prepare their bikes and provide each other with technical and moral support.
Yakhnich Motorsports athletes - Russia
The Yakhnich Motorsport Athlete programme is aimed at promoting motorsport in Russia and supporting athletes at national and international level. Led by Nataliya Lyubimova, a two-time female circuit racing champion in Russia, the programme unites racers from different disciplines and offers financial support, paying scholarships and bonuses, as well as providing training and rehabilitation at a professional sports base, whilst conducting promotional activities within all areas of the media.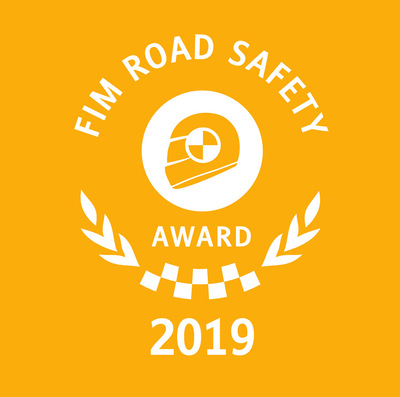 This year sees the tenth edition of this award, which was instituted as part of the FIM's contribution to the United Nations Decade of Action for Road Safety. Naturally the award is focused on improving road safety for riders of powered two-wheelers – motorcycles, scooters and mopeds. Examples of past winners include initiatives that introduced low cost motorcycle safety helmets to middle and low-income countries, helmet medical cards, safety rating systems, risk awareness, rider training manuals and road safety training for riders and other road users.
MotoCAP (Motorcycle Clothing Assessment Program) - Australia
MotoCAP is an independent rating scheme for motorcycle protective clothing. Led by Dr Liz de Rome, with the support of the Australian Motorcycle Council, MotoCAP is the outcome of almost twenty years of research and consultations. Evidence from crash studies indicated that the protective performance of motorcycle clothing was variable, and that many motorcyclists choose to ride unprotected in hot conditions. The aim of MotoCAP is to provide an independent process for testing and publicising the protective and thermal management performance of motorcycle clothing, to encourage usage and reduce injury rates.
Czech Police Headquarters "Let's start together all wheels down" - Czech Republic
Launched in 2018 by the Traffic Control Police Directorate of the Czech Police Headquarters, the "Let's Start Together all Wheels Down" project started as a transfer of good practice from abroad and was developed together with the Autoclub of the Czech Republic and its Association of Centres for Improving Driving Skills as a joint preventive activity focusing on the safety of motorcyclists. The aim of the project was to present new safety elements to motorcyclists and to arrange practical education. All training centres in the Czech Republic that teach safe driving have participated in the implementation of the project, which has reached three thousand motorcyclists each year so far.
Safety riding for bikers - Slovenia
The aim of Safety Riding for Bikers is to give Slovenian motorcyclists the opportunity to acquire knowledge on how to react in critical situations. Former police officers Brane Legan and Vojko Safran joined the AMZS Safety driving centre at Vransko, which opened in 2009, to help design different programmes in basic and advanced individual and group training on and off the roads. Using their own experience, which included many professional courses in foreign countries, they have trained new instructors for safe riding schemes over the last ten years and their courses are highly regarded by bikers in Slovenia.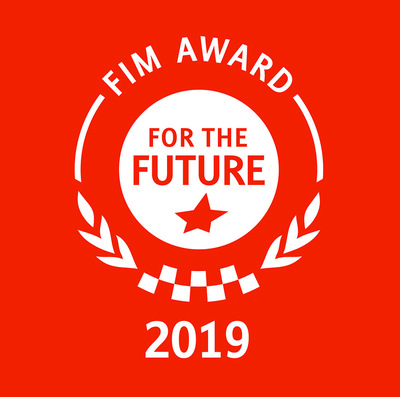 This is the second year for the "FIM Award for the Future" and is aimed at rewarding those who have contributed to improving and developing the presence of youngsters in all motorcycling related activities. These projects, initiatives or contributions can be related to sporting or non-sporting activities and provide mid-term or long-term solutions such as competitive opportunities at national, continental or international level, promoting role models and developing mentoring programs, creating new competitions or classes or be innovations from the industry or manufacturers dedicated specifically to youngsters.
GodSpeed – India
The GodSpeed initiative is designed to introduce the sport of Supercross to budding youngsters in India. Guided by seven-time national champion Shyam Kothari, some fifty youngsters are now actively involved in the project, with ten juniors having already graduated into the National Championship Junior Class, with one having progressed to world level. The GodSpeed Racing Team comprises talented professionals including ex-racers, technicians and marketing professionals, with the aim of delivering results on track and expediting and delivering quality output off it, creating a symbiotic relationship with spectators, racers, and sponsors.
Hobby Sport and First Steps - Italy
The goal of Hobby Sport and First Steps is to welcome an increasing number of young Italian riders into their project and teach them the importance of good sportsmanship and correct behaviour. With more and more youngsters applying for a national licence, their hobby becomes a more serious sport and by instilling these values, this pro- ject offers crucial support to riders in their approach to racing, but also to life.
Oceania Junior Cup - Australia
The Oceania Junior Cup was a new incentive for 2018/19 that is specifically targeted at the development of junior road racers within the Oceania and Australasia region. Meeting many of the challenges that the region's size and economy is able to sustain, the primary objectives of the project are to deliver training modules on race preparation, mechanics, mental health, nutrition, riding skills and media management. Targeting the eleven to fifteen-year-old age bracket, the cup is available to Oceania regional members and any other FIM FMNs, with the goal of putting a progression plan in place for further development beyond the Oceania Junior Cup.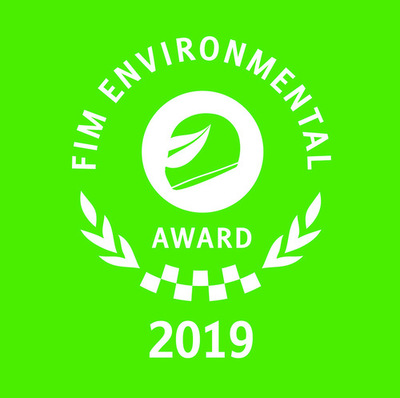 The FIM Environment Award 2019 recognises those who have significantly contributed to the preservation and protection of the environment, encouraging a greater awareness of environmental concerns. All of our candidates have done this either through the organization of sustainable events, by significantly promoting, publicizing or supporting the Ride Green Programme, or by enhancing the sustainable practice of motorcycling in another way – making significant contributions to pollution prevention, recycling, green purchasing, addressing environmental and social issues through sport and the generation of development of alternative energy, amongst other key issues.
Circuit of Barcelona – Spain
The Circuit of Barcelona-Catalonia has continued its long history of environmental action and sustainability with its strong commitment to the 3C Management of CirCuitCat: 'Consciousness, Commitment and Coherence.' Recent innovations include donation points for food excess, reusable cups, the promotion of sustainable mobility at Grands Prix, recharging points for electric vehicles and the switch to an official electric vehicle fleet, as well as using an electric supply with 100% renewable origin. The circuit also continued to back the KISS (Keep It Shiny and Sustainable) programme by FIM Ride Green, organising a series of activities including the inauguration of a Crater Forest, whilst local children were joined by FIM Ride Green environmental ambassador Marc Márquez in a workshop to build nest boxes for insects.
Trans Euro Trail – United Kingdom
The Trans Euro Trail (TET) is a volunteer-run, not-for-profit, fifty-one thousand kilometre adventure motorcycle route through Europe from the North Cape in Norway to Tari-fa in Spain, following legal and sustainable off-pavement and minor roads across thirty-three countries. Volunteers in each country collate and design their country's route by listening to suggestions and reports from riders and local communities. These routes are then collated and made available for free download, along with a Code of Conduct translated into all the European languages and a core ethos of 'Respect for the environment, respect for the trails, respect for the communities we travel through.' The TET Facebook community now stands at over twenty-four thousand members and is growing by over one thousand per month.
Moto de Campo Sostenible – Spain (RFME)
Moto de Campo Sostenible is a project created by the Spanish Federation (RFME) to promote and defend the rights of off-road motorcyclists, whilst simultaneously protecting the environment and promoting awareness at races and in schools. Working in favour of legislation that regulates motorsport in areas of natural beauty but without prohibiting the sport, the service offers advice on legal matters and fines related to motorcycle activity, provides access to legislative documents in different regions of the country, gives information about off-road facilities and riding courses, as well as organising competitions, prize giveaways and exclusive discounts on riding equipment and insurance. Over ten thousand members are already signed up to the innovative venture.