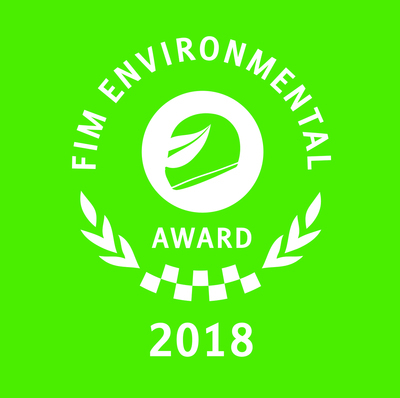 The FIM Environment Award 2018 recognises those who have significantly contributed to the preservation and protection of the environment, encouraging a greater awareness of environmental concerns. All of our candidates have done this either through the organisation of sustainable events, by significantly promoting, publicising or supporting the Ride Green Programme, or by enhancing the sustainable practice of motorcycling in another way – making significant contributions to pollution prevention, recycling, green purchasing, addressing environmental and social issues through sport and the generation of development of alternative energy, amongst other key issues.
Jury Members
Sheyla Nguyen
Executive Director of Sport and Environ- ment Alliance INC Australia
Alex Goldenberg
Chef du Service des sport & manifesta- tions à la Commune de Versoix & former CID coordinator
Kattia Juarez
CID FIM director and sustainability in sport advisor
Josep Punti
Member of the FIM and recognition committee and KiSS Programme organiser
Electrocross.nl - The Netherlands
The Electrocross series has been operating in the Netherlands since 2012 in Wanroij and opened a new centre in Amsterdam in 2018. Giving possibilities to kinds of riders from kids to grandparents, first timers to professionals and individuals to groups, the initiative teaches riders how to ride motorcycles powered by alternative energy sources on indoor and outdoor tracks in a well organised, easy-entry, noise-free and – most importantly – sustainable way.
Enduro Tenerife - Spain
Enduro Tenerife is a relatively new venture that allows amateur riders to experience the great landscapes of this island of the Canaries with professional monitor Massimo Matteoni. Appreciating and treasuring the beauty of this unique environment is key to their modus operandi, as riders roll down the tracks of the south of the island, taking in lunar landscapes near the sea, sand and volcanic rocks.
KISS Mugello 2018 - Italy
The KiSS ("Keep it Shiny and Sustainable") Programme started with its first edition ever at the Mugello round of MotoGP in 2013. The 2018 Programme concentrated its activities on separate waste collection and the importance of recycling, for example collecting used cooking oil from the hospitality units (saved around 0.395 tonnes of CO2), installing recycling bins and solar-powered waste compactors in the paddock and more than 50 recycling points in the spectator areas. Some 20,000 recycling kits were distributed to spectators and 120 free drinking water fountains were set up in order to reduce the consumption of bottled water and related waste, as well as numerous other initiatives.
Mindolo Moto Park Wildlife Partnership - Zambia
The Copperbelt Dirt Bike Racing Club based at Mindolo Dam Sports Park – venue of this year's MXoAN - in Zambia, have demonstrated how motorcycling can make a direct, positive impact on the local environment by raising funds from the local mines and companies to start a self-sustaining wildlife project. Employing four game guards to protect the animals from hunters, over the past four years they have helped re-stock the original wildlife of zebras, impalas, waterbucks and other antelopes, who feed off the lush grass irrigated by the many track sprinklers surrounding the circuit and retreat to the edge of the forest during racing and practice sessions.
PZM I do care about the Environment - Poland
Working within the frame of the Polish Automobile and Motorcycle Federation (PZM), the 'PZM I do care about the Environment' project has worked hard to educate riders, officials and spectators on green issues. Before the Final of the FIM Speedway Youth Gold Trophy in Toruń and during FIM Speedway Youth Gold Trophy Final 85cc in Rybnik they organised events that included lectures and presentations, games and in Rybnik green riding number jackets for riders.
Sky Ocean Rescue - Un Mare da Salvare - Italy
This project began in 2017 with the aim of inspiring simple everyday changes to prevent the world's oceans from drowning in plastic waste. The Sky Racing Team VR46 riders were the first standard-bearers for the initiative, becoming 'Ocean Heroes.' by spreading the message through social, digital and editorial channels, while also acting in a responsible way towards the seas' ecosystem in their everyday lives.
Eco Turismo – FMI, Italy
The Touring Commission of the FMI decided to offset the CO2 emissions of motorsport events in Italy by implementing projects designed to reduce the same amount of greenhouse gas. Selecting events that are likely to produce the strongest impact on the environment, the commission arranged for plants to be purchased according to the data arising from the footprint calculation, giving them directly to the community of the location where the event was taking place, as well as funding the restoration of botanical gardens.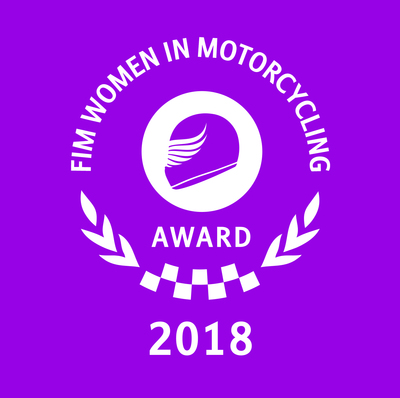 FIM WOMEN IN MOTORCYCLING AWARD
The FIM Women in Motorcycling Award may be conferred on individuals, groups or organisations who have made a significant contribution to enhancing awareness of women in motorcycling or who have implemented projects/initiatives to improve the presence of women in all motorcy- cling-related activities. These projects, initiatives or contributions can be related to sporting or non-sporting activities and should be in alignment with FIM Advancing Women in Motorcycling Programme. They should provide mid-term or long-term solutions to help develop the presence of women in all motorcycling-related activities and have lasting effects and impacts on the awareness of women in motorcycling.
Jury Members
Erin Sills (USA)
Land Spezd Holder
Martine de Cortanze (FRA)
2015 FIM Woman Legend (Rallies)
Tomo Igata (JPN)
2016 FIM Woman Legend (Circuit Racing)
Marco Comana (ZMB)
FIM Africa President
Representative of the A&R Committee
Nita Korhonen (FIN)
CFM Director
24MX Girls Racing Team – Sweden
The 24MX Girls Racing Team was Sweden's first and only all-female motocross team when it first launched back in 2015 with a three-rider line-up. Since then, under their motto 'act like a lady, ride like a boss', the team has expanded to include eleven licensed riders from all over the country, successfully created an all-girls class and inspired more all-female teams to compete in open competitions in Sweden.
Lara Pepler - Ducati Corse – UAEMC - UAE
Lara became the first woman to win a motorcycle series in the United Arab Emirates when she claimed the 2017/2018 UAE Sportsbike Championship Rookie Cup. Lara has also worked closely with Ducati UAE to start the very first Ducati only racing series, which will run in 2018/2019 as part of the UAE Championship, and she is the President of the UAE Desmo Owners Club, boasting 154 members.
Malmfältens MX Girls – Sweden
Started by members of the Malmfältens Motocross and Snowbile club in Gällivare above the arctic circle Sweden, Malmfältens MX Girls organised eight all-female sessions for riders of all levels and abilities in 2018. Starting from 65cc up to big bikes, the girls ride together for up to four hours at a time, ending with a heat race, and learning about all aspects of riding and competition from experienced mentors, giving them the foundation for a potential future in the sport.
Motorcycle Awareness – The Bike Insurer – United Kingdom
Motorcycle Awareness was a scheme to increase road safety in the masses, increase the amount of female bikers in Europe and make people more aware about grass root possibilities. The Bike Insurer website, which reaches 85% of the UK biker market, was able to spread the message to more than 100,000 people that motorcycling is for everyone despite a religion or belief.
Macrocampus - P. Arevalo Lopez - Spain
The Macrocampus of RFME Women's Commission of Motorcycling took place at the famous MotorLand Aragón circuit in Spain in April 2018, with the aim of Increasing the numbers of women interested in racing and motorcycling in general, as well as encouraging the relationship and communication between the riders and the Commission. Eighty riders spent three days learning about physical training, mechanics, social media tips and motorcycle practice.
Women & Girls in Trials in Australia - Australia
The success of the South Australia Championship Classes for Junior Women for the past 3 years has led to an increase in girls in the sport in South Australia and a host of new ideas and schemes, including new age-dictated classes in the junior categories and Mini Trial, for under 9 and non-competitive riders, were introduced at national level in 2018. The South Australian Women's Cup celebrated its 10th anniversary this year with an all-female officiating crew.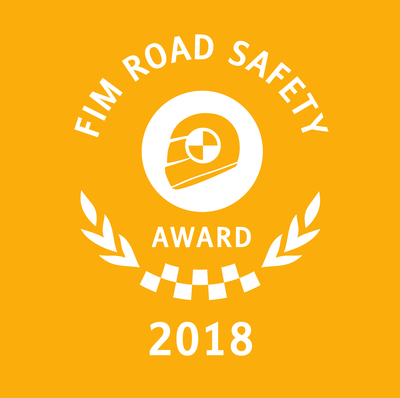 This year sees the ninth edition of this award, which was instituted as part of the FIM's contribution to the United Nations Decade of Action for Road Safety. Naturally the award is focused on improving road safety for riders of powered two-wheelers – motorcycles, scooters and mopeds. Examples of past winners include initiatives that introduced low cost motorcycle safety helmets to middle and low-income countries, helmet medical cards, safety rating systems, risk awareness, rider training manuals and road safety training for riders and other road users.
Jury Members
Mr Antonio Avenoso
Executive Director, European Transport Safety Council
Mr Tim Buche
President & CEO of the Motorcycle Safety Foundation USA
Dr Luciano Iorio
Chair, Road Safety Forum (WP1) of the United Nations Economic Commission for Europe
Mr Andrzej Witkowski
Chair of the FIM Awards and Recognition Committee
Trialgarten - Austria
This project, aimed at decreasing traffic deaths in Austria, was instigated by the Motorclub Laakirchen Austria / AMF Austria. Various initiatives were involved in the project, including trial courses that were mainly attended by students, apprentices, sport clubs and prospective novice drivers.
MIPS - Peter Halldin - Sweden
Peter Halldin is recognised for his work with the Multi-directional Impact Protection System, which mimics the safety system that we have in our head, where the brain can slide against the skull in the cerebrospinal fluid. Halldin came up with the idea alongside brain surgeon Hans von Holst and it is now implemented in over 300 helmet models in the bike, ski, equestri- an, motorcycle and MX market.
Club Pont Grup Safety School - Spain
Club Pont Grup Safety School is a formative action of Club Pont Grup, a school designed to organise safe driving courses for motorists who want to improve their level of driving and safety whatever their level. Since its foundation in 2012 the school has counted on the collaboration of multiple FIM MotoGP World Champions Kevin Schwantz and Jorge Lorenzo, and more recently with FIM Moto2 World Championship rider Xavi Vierge.
Steve Coe - USA
Steve Coe is recognised for his work in setting the new CEN standard for motorcycle clothing to address requirements of new EU law. This law demands that the motorcycle clothing industry demonstrates that its products meet the essential health and safety requirements of the new EU PPE regulation, otherwise it cannot legally continue to supply products for sale within the EU. Coe has been the leading draftsman of CEN TC162/WG9.
Kathmandu Road Safety Film Festival – Nepal
Every day in Nepal on average six to seven people are killed by road accidents, which is the major cause for the premature death in the country. The Kathmandu Road Safety Film Festival was created in order to create new and innovative ideas on road safety, establishing the concept as an important agenda, enhancing social and professional engagement and creating awareness on a national level in a variety of new and engaging ways.
Michael Woodford MBE - United Kingdom
Michael Woodford MBE is a tireless campaigner for road safety and is recognised for his important work regarding 'Automatic Headlight On' technology, which has been embraced by the motorcycle industry associa- tion in Europe (ACEM) since 2000 and was later made EU legislation. However, the majority of motorcycles sold in the world are still not fitted with AHO, a situation Mr Woodford has set out to change - his major achievement so far being to get the Indian authorities to adopt the technology.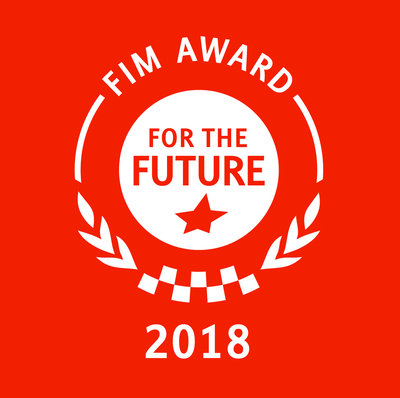 This year, the FIM is launching for the first time the "FIM Award for the Future" aimed at rewarding those who have contributed to improving and developing the presence of youngsters in all motorcycling related activities. These projects, initiatives or contributions can be related to sporting or non-sporting activities and provide mid-term or long-term solutions such as competitive opportunities at national, continental or international level, promoting role models and developing mentoring programs, creating new competitions or classes or be innovations from the industry or manufacturers dedicated specifically to youngsters.
Jury Members
Mr Josep Punti
Chairman Initiator and A&R Committee Member
Mr Robert Rasor
FIM Honorary Deputy President
Mr Stephan Carapiet
FIM Asia President and Representative of the A&R Committee)
Mr Fabio Muner
FIM Sports Director
Mr Damiano Zamana
FIM Programmes Director
Dutch Racing Academy - Circuit Racing - Max de Vriews - The Netherlands
The Dutch Racing Academy is a collaboration designed to fill the gap between two existing initiatives called RACE-KIDS, which is responsible for the first steps Dutch children make in road racing and the Dutch Racing Team - a professional race team in the FIM Junior World Championship that prepares talented riders for their step up to Grand Prix. The Academy not only offers support to develop riding skills, it also focuses on physical and mental training, school performance, health and creating budgetary opportunities.
G.Losell - Trial and MX - Sweden
The 'Free Trail Track Days' project was set up by project manager Gabriel Losell with the main objective of getting more people involved in motorcy- cling activity, by letting them try to ride motocross for free. Riders are able to borrow a bike and body protection and given trained instruction on riding and safety. Visiting 166 clubs across Sweden, so far around 10,000 riders have been able to take part in the project, with several of them progressing to the additional Motocross School project, which provides further subsidised opportunities for riders of all levels and background to take part.
Hieyte Bastien - electric MC – France
Hieyte Bastien has been racing electric motorcycles since 2012, demon- strating that they have a place in national and international competition by racing in rounds of the 125cc French Championship. Through his campaigning for alternative power to run alongside traditional methods, Bastien hopes to inspire 'the development of new technologies by means of the competition for means of transport future, as well as to make a gesture for the planet which we shall leave to our children!'
Inman Kelly - Speedway – AMA - USA
Modelled after the Gold Cup in Europe, Inman Kelly was fundamental in the implementation of the AMA / FIM Junior Speedway Silver Cup Champi- onship, which is now in its sixth year. This event gives young American racers the opportunity to experience the level of riding and preparation required in all areas - equipment, mental, financial and physical - to take their racing to the international stage.
Molenaar Carla - Circuit Racing – The Netherlands
Through this project youngsters between the ages of ten and fourteen years are given the opportunity to develop their talent in motorsports. By keeping the registration fee for the riders as low as possible, the aim is to give all children the possibility to participate and explore their passion in two-wheeled motorsport.
PitBike Kenya - MX – Kenya
PitBike Kenya teach children from age five years onwards to ride, starting on automatic Yamaha PW50s and progressing all the way to manual 125cc machines. With two separate tracks for beginners and intermediate riders in Ruiru, Kenya, they teach different topics from balance, body position, throttle and clutch control, to braking techniques, cornering, basic jumps and whoops, berm corner techniques, starts and racing.
SGP Academy - J.Ranking - Torben Olsen - United Kingdom & Europe
The SGP Academy is a project developed by BSI Speedway, working in conjunction with local federations and the FIM. The aim is to develop a worldwide programme that will give the future stars of the FIM Speedway World Championships an opportunity to advance but also attract new youngsters to our sport. Academies were run at the SGP races at Stockholm, Horsens and Cardiff, covering nutrition, media training, sponsorship, equipment and of course coaching on the world champion- ship SGP tracks in world class stadiums.
Stefy Bau - MX - Africa & USA
The project is simply to mentor a child in motocross so that the sport allows the child to realize their dreams. In this specific case, Stefy mentored Tanya Muzinda, a young girl from rural Zimbabwe who has become a global sport ambassador for Africa using the sport of motocross.
Wesley Butcher - Trial – United Kingdom
The Braintree and District Motorcycle club launched the "Junior Academy" with the aim of promoting the sport of trials to boys and girls in the local area under the age of twelve. The club purchased several electric trials bikes, charging minimal fees for kids to come and ride motorcycles in a safe, controlled, organised and legal manner.
David McCann, TORC - Enduro – Ireland
David McCann was put forward for this award by members of the TORC (Trial and Off-Road Club), in Ireland. Described as 'The Grassroot Godfather of Enduro motorcycling in Ireland', McCann gives selflessly to the club for the greater good of the sport, working alongside a dedicated team of members to run the best Enduro events in the country and futureproof the discipline from grassroot level upwards.
OHVALE GP - Manufacturer - Italy
Ohvale is a new concept of simple and intuitive four-stroke motorcycles, suitable for young riders from the age of seven. With sealed engines and the same rules in all countries, the one-make OHVALE GP-0 series is growing quickly all over the world, creating new racers and involving professional riders in school activites.
Trial Kindergarten – Trial - Slovakia
Headed up by international trial star Vladimir Kothay, this initiative is designed to bring young Slovakian children into motorcycle sport, teaching them the basics of trials riding and passing on the knowledge of the country's leading rider to the next generation. Holding training camps each week and developing the first junior categories in national competi- tions, Trial Kindergarten are hoping to take youngsters to international competition in the future.
Trial Academy – Trial - FMA - Andorra
The Andorra Trial Academy began in 2015, under the initiative of the Motorcyclist Federation of Andorra (FMA) and three trial riders: Jordi Pascuet from Spain and Josep Maria Pi and Oriol Pi from Andorra. By buying a dozen electric trial motorcycles and organising lessons for children in the town square of Sant Julià de Lòria, the Academy created a young base that could compete in the future and made motorcycling more accessible to local children, in a sustainable way. In 2018 a new team was unveiled, which now competes in the Trial Championship of Andorra, and one of the riders – 14-year-old Gaudi Vall, won the Spanish Trial Champi- onship in the category Juvenil A.
OSET Cups and Dynamos – Trial - United Kingdom
The OSET Cups and Dynamos is run by the OSET Electric Bikes Manufac- turer and is dedicated to encouraging children of all ages, ability and backgrounds to get involved in competitive trials and motocross events, while promoting the benefits and fun involved in motorcycling, and in particular electric motorbikes, to the next generation. As well as the OSET MX Academies, the primary objective of OSET Cups is to build confidence and motorcycle skills, whilst the OSET
Dynamos is a global club with thousands of members under the age of 18, who can share stories, tips, advice, photos, all around their love for motorcycling.
dmsj – deutsche motor sport jugend im DMSB e.V. - Germany
The dmsj – deutsche motor sport jugend – is the youth organisation of the DMSB and the dmsj-Volunteam (a composition of the words "volunteer" and "team") is a project in which currently 35 young people aged between 16 and 26 years are involved. It offers them the possibility of a volunteer engagement without having to undergo a prior time-con- suming education, who can thus become acquainted with the federations' structures in motorsport and step by step be introduced in an activity such as official, trainer or committee member, at one of two annual workshop weekends.
Hobby Sport & First Steps – FMI - Italy
Hobby Sport & First Steps is another initiative by the FMI to increase and develop the sport of motorcycling in Italy. These special starter courses allow youngsters to try every discipline, from Enduro to Motocross, Minibikes, Trial, Supermoto, Speedway and everything in between. The Hobby Sport courses are fun, non-competitive events, where the formation of any kind of classification or timing is expressly forbidden.
World Classic Racing bikes – Switzerland
The aim of the World Classic Racing bikes project is to safeguard, transmit and share the heritage and the history of Grand Prix races and motorcycles with the younger generations, by participating in major international classic motorcycle events and exhibitions.
Talent Promotion Dorna – Spain
Dorna's position alongside the FIM as a key player and pillar in our sport is longstanding and well-documented at the elite level, in MotoGP and World Superbike. For the past ten years they have also made heavy investment in various rookies' series and extended their collaboration to FIM National Federations and Continental Unions.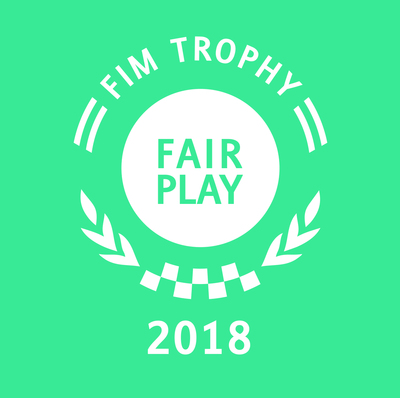 Sport is not just about winning – it is also about sportsmanship, respect, fairness and sharing. In order to encourage an awareness of the concept of Fair Play, the FIM created this Trophy to reward a significant act of fair play in motorcycling sport. This distinction, conferred on ten occasions since 1986, is awarded to individuals, riders, teams, FMNs, Clubs, spectators, organisers or firms that have displayed a great sense of fair play.
Sebastien VanBaelen – FMB - Belgium
Sebastien VanBaelen is an experienced Enduro rider who participates in the Belgian Enduro Championship for senior riders and also some interna- tional Enduro events. On the 28th of January 2018, the 41-year old was taking part in a famous international Enduro race, l'Enduropale du Touquet, in France, when he came across a stricken rider on a particularly fast, flat and dangerous section of the sandy track. As the majority of the field streamed past the rider at high speed, VanBaelen put himself at great risk to hit the brakes and return to the scene of the accident, riding in the counter-direction of the oncoming traffic. Protecting the grounded rider with his motorcycle and waving his arms for the other competitors to avoid further incident, the Belgian held his nerve and position for more than thirty heart-stopping seconds until the emergency services were able to assist. The incident was captured on camera, making VanBaelen a YouTube star, and rightfully reported in national and international press.