MX2
Andrea Adamo
Born on 22 August 2003 in Erice, Italy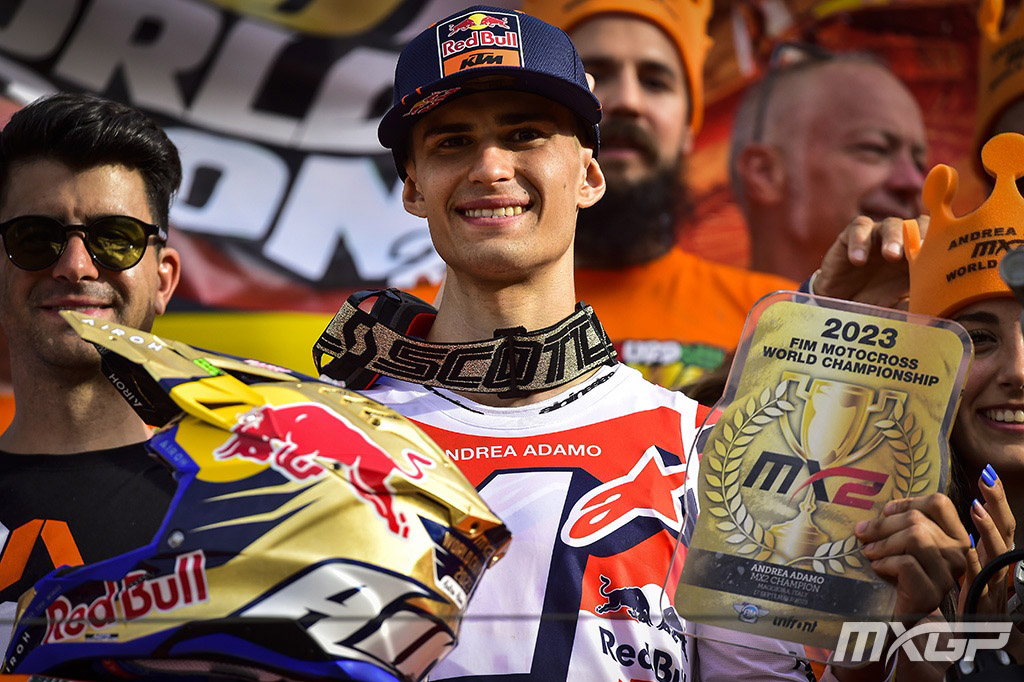 2023 FIM MX2 MOTOCROSS WORLD CHAMPION
COOL, CALM AND CONSISTENT!
Andrea Adamo – KTM inked his place in the history books as yet another in a long line of Italian FIM Motocross World Champions when he sealed the MX2 crown on home soil at the MXGP of Italy held at the iconic Maggiora circuit just one week before celebrating his twenty-third birthday.
A Sicilian, just like Italy's last male champion Tony Cairoli, Adamo started the year with only two full seasons of top-flight experience to his name, however what he lacked in experience he more than made up for in sheer speed and cool consistency.
Ranked eighth following his 2022 campaign, Adamo was hardly a name on everyone's lips at the start of the season, although people soon started talking about him following the opening round in Argentina where he finished the new points-paying Qualification race in second before equalling his career-best GP finish of second overall.
He was second again at round three in Switzerland and then raced to a debut GP overall victory next time out at Trentino. From here he began to pile up the points and for the next four rounds was never outside the top four overall until the championship reached its ninth round at Teutschenthal in Germany where he moved into the points lead.
While many riders may have faded under the pressure of carrying the red series leader's plate, Adamo thrived at the front and posted a series of rock-solid results despite numerous strong challenges.
A pair of moto wins at Vantaa in Finland earned him only his second career GP overall victory and provided a springboard for his final title push as the season moved into the closing stages.
Adamo clinched the crown with one round remaining with two third-placed finishes to underline the fact that consistency is key over the course of a long season.
PALMARES
FIM MX2 World Champion: 2023