E1 ENDURO & ENDUROGP
Andrea Verona
Born on 22 April 1999 in Thiene, Italy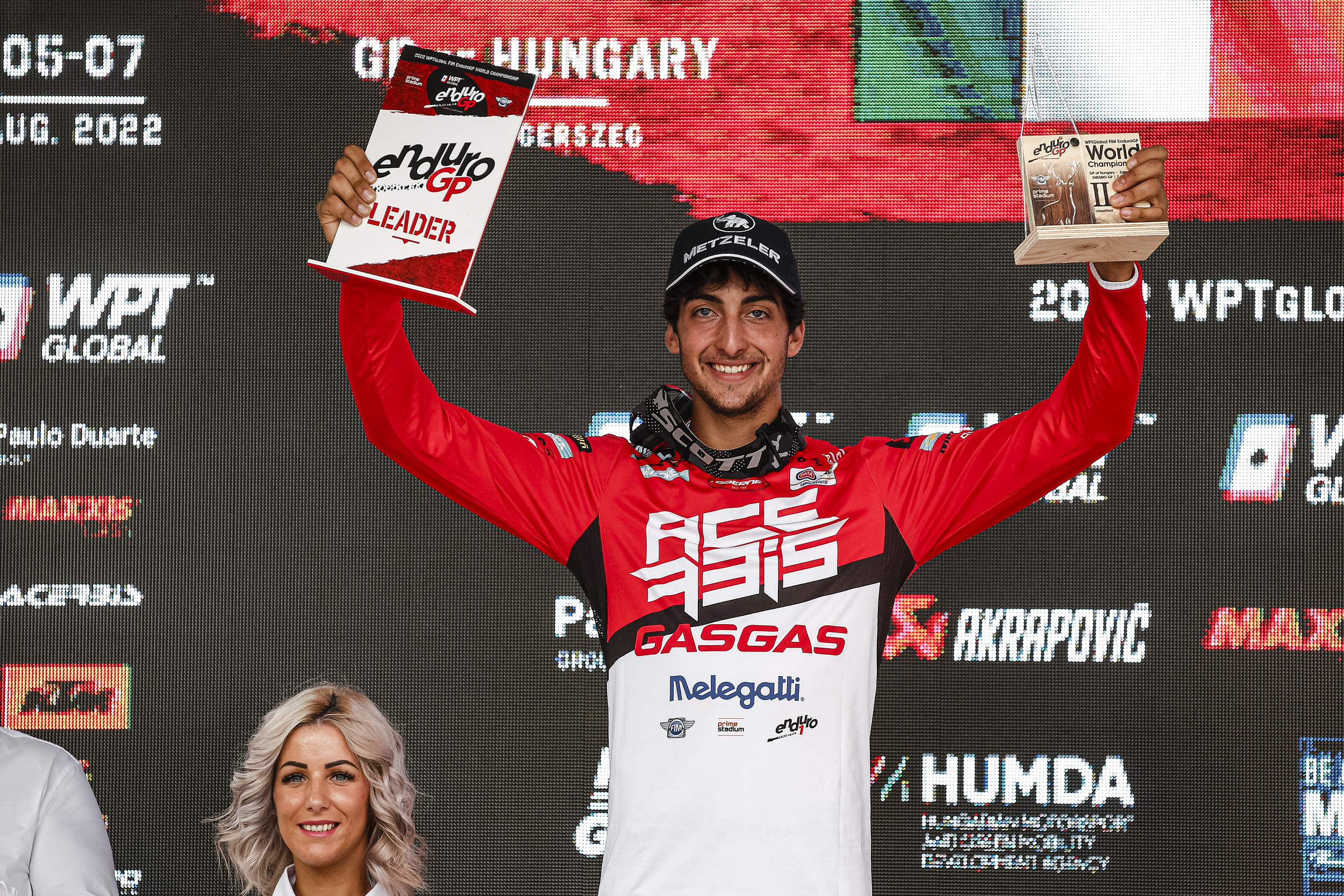 2022 FIM E1 ENDURO & ENDUROGP WORLD CHAMPION
TRIPLE TOP!
Entering his second season racing for the powerful GASGAS factory team, Andrea Verona had his eyes firmly on the big prize – the FIM E1 Enduro World Championship – and the Italian had every reason to feel confident.
Already a back-to-back champion in the division, Verona had enjoyed a full twelve months getting to grips with his new machine and another year of racing at the highest level under his belt.
Last season Verona won ten races from twelve starts and with this year's championship extended to seven rounds and fourteen points-scoring days there was even more silverware up for grabs – and the twenty-three-year-old certainly helped himself.
In fact, no-one else got so much as a look in from May to July as he went on a winning spree that only served to underline his dominance.
Tearing it up across rounds in Spain, Portugal, Italy and Portugal again, his rivals rarely got within thirty seconds of him, and he took his ninth consecutive win on the opening day in Slovakia before his veteran compatriot Thomas Oldrati – Honda finally managed to push him back into second on a wild and wet day in Gelnica.
With his dream of a perfect season ended – albeit by less than two-and-a-half seconds – Verona simply dusted himself down and made sure of his E1 hat-trick in Hungary with another double win before clocking off on top with, you guessed it, two more victories in Germany.
Over the last two seasons Verona has now won twenty-three out of twenty-six E1 races and his total World title tally now stands at six with many more surely to come.
TOP MAN!
This year will go down as the most successful season to date for immaculate Italian Andrea Verona – GASGAS who added two more World titles to his collection in 2022.
His hat-trick of E1 crowns is unquestionably a great achievement, but it is the FIM EnduroGP World Championship – contested across all open age classes – that singles out the rider who is pound-for-pound the biggest-hitter in the sport and Verona was the man landing the heaviest shots.
He backed up his victory on day one of the season-opener in Spain with second the following day and after this he rarely looked back.
Combining blistering speed with incredible consistency, the twenty-three-year-old embarked on a blitz of the EnduroGP podium.
A pair of third-placed finishes were next up in Portugal before he ran three-two in Italy and when the series returned to Portugal at the start of July, he strengthened his hold on the championship with two runner-up positions.
Verona's run of podium finishes was brought to a halt on an extremely muddy final day in Slovakia after he had carded second the previous day.
Despite this set-back, he was still in control of the title race and three-two finishes at the penultimate round in Hungary put the championship within reach.
Needing a total of just an unlucky-for-some thirteen points from the final round in Germany in mid-October, Verona kept it fast and tidy and his fifth on the opening day of competition was easily good enough for him to take a richly deserved title with one day still remaining.
PALMARES
FIM Youth Enduro World Champion: 2017
FIM Junior Enduro World Champion: 2019
FIM E1 Enduro World Champion: 2020, 2021, 2022
FIM EnduroGP World Champion: 2022
2021 FIM E1 ENDURO WORLD CHAMPION
VERONA AT THE DOUBLE!
Although his title-winning talent was never in any doubt, Andrea Verona (GASGAS) underlined his sheer class this year when he secured back-to-back Borilli FIM E1 Enduro World Championship crowns.
Adapting instantly to his switch to the Austrian-owned machinery at the end of last season, the Italian came out firing on all cylinders on the first day of the championship opener – the EnduroGP of Portugal – at Marco de Canaveses in mid-June to emerge on top ahead of former GP motocross racer Davide Guarneri (Fantic).
Guarneri reversed the positions on day two, so the pair went into their home EnduroGP of Italy the following weekend locked together on points.
It was at Edolo that Verona forged a lead that he would not relinquish all season with his double win putting daylight between himself and his fellow countryman.
Another double win ahead of Guarneri followed three weeks later at the EnduroGP of Estonia on the Baltic Island of Saaremaa and even slipping to third on the opening day of the EnduroGP of Sweden did not dent his title charge.
Back on top on day two at Skovde to re-establish his dominance, Verona emerged from the summer break looking super-sharp to double-up at the second EnduroGP of Portugal at Santiago do Cacem in early October.
One week later he sewed up the title on day one of the EnduroGP of France before signing off with his tenth win from twelve starts on day two.
2020 FIM E1 ENDURO WORLD CHAMPION
VERONA STEPS IT UP
After taking the Junior title last season, Andrea Verona (TM) marked his graduation to the open-age classes by promptly winning this year's E1 championship following a fierce season-long battle with his fellow Italian Thomas Oldrati (Honda).
Verona struck first, taking a narrow win from Oldrati on day one at the opening round – the GP of France – at Requista in mid-September and then enjoying a bigger margin of victory on day two ahead of home hero and former French motocross champion Jeremy Tarroux (Sherco) with Oldrati third.
Locking horns with Oldrati on home turf at the GP of Italy at Spoleto one week later, Verona came off second best on both days behind his more experienced rival, but as the series moved into its second half in November with the GP of Portugal at Marco de Canaveses, Verona was back on top on day one before Oldrati – third on the opening day behind Belgian Antoine Magain (Sherco) – again pushed him back to second on day two.
The championship returned to Marco de Canaveses one week later for the fourth and final round and, with the title on the line, Verona showed maturity belying his tender twenty-one years as he sealed the deal with a pair of comfortable wins from Oldrati to claim the crown by ten points.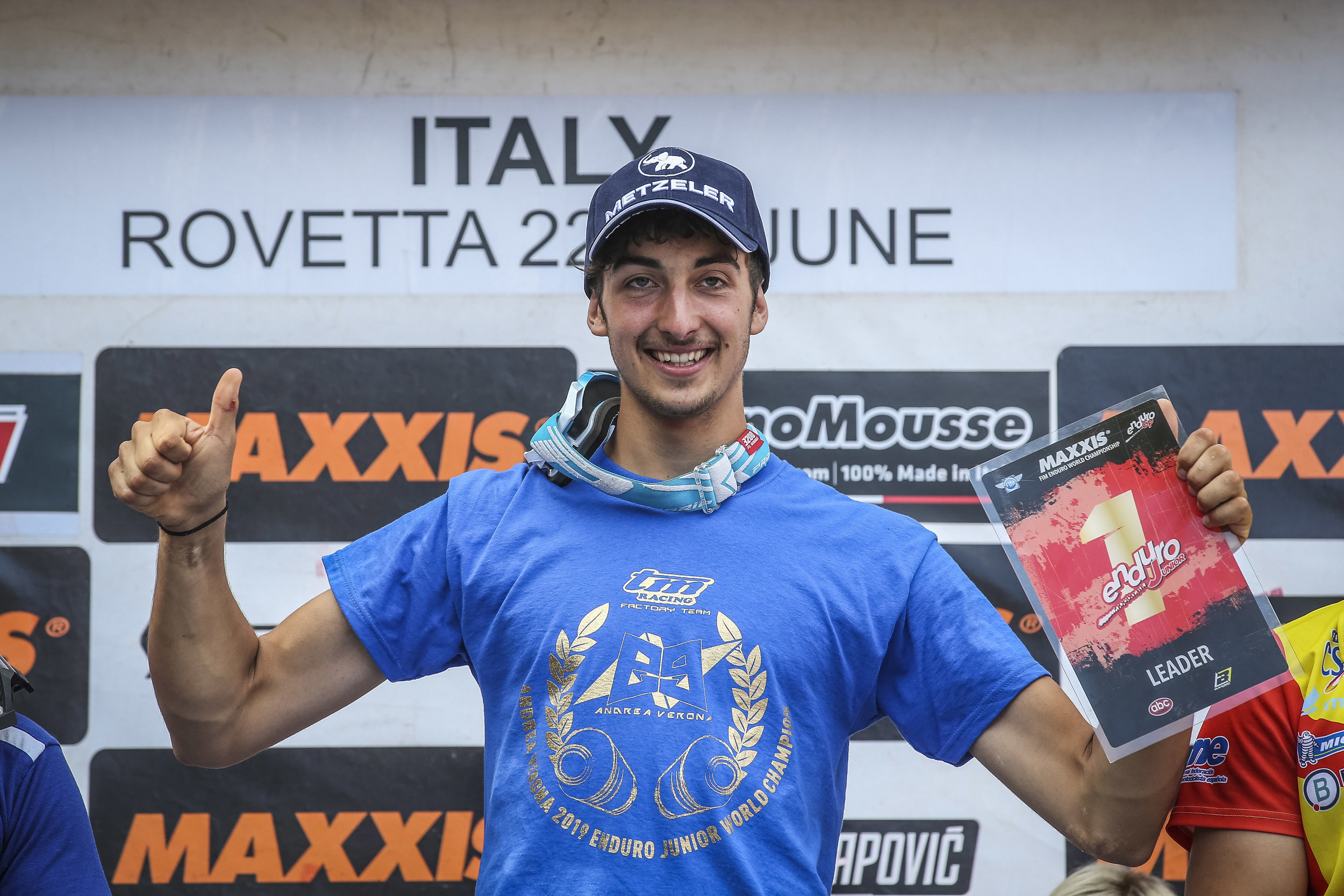 2019 FIM JUNIOR ENDURO WORLD CHAMPION
VERONA CONTINUES TO RISE
Andrea Verona (TM) absolutely dominated the FIM Junior Enduro World Championship in 2019, winning nine of the first ten days of the competition to wrap up the title with two rounds to spare. Only Roni Kytonen (Husqvarna) managed to take a day win away from Verona all season, the Finnish youngster coming out on top on the second day of the fourth round in Greece. Otherwise the Italian was imperious from the get-go, taking double victories in Germany, Portugal, Spain and finally in Italy, where he secured the championship in front of a jubilant home crowd at Rovetta.
Verona's form fully justified the faith of the Italian factory TM, who tied the youngster to a three year-contract at the start of last season after he clinched the FIM Youth Enduro World Championship in similar style in 2017. As soon as this year's Junior title was wrapped up, they turned their attention to the future, entering the 20-year-old into the senior EnduroGP category for the final two rounds of the 2019 season, riding a 250cc 2-stroke in the E1 class. Verona rose to the challenge, taking thirteenth in EnduroGP and fourth in E1 on his debut in the Czech Republic, following up with a sensational sixth place in EnduroGP - second only to Brad Freeman in E1 - on the first day of the final round in France.
In the absence of Verona in the Junior category, French rider Theo Espinasse (Sherco) won the final two rounds to secure the runners-up spot overall ahead of Spain's Enric Francisco Montlleo (KTM).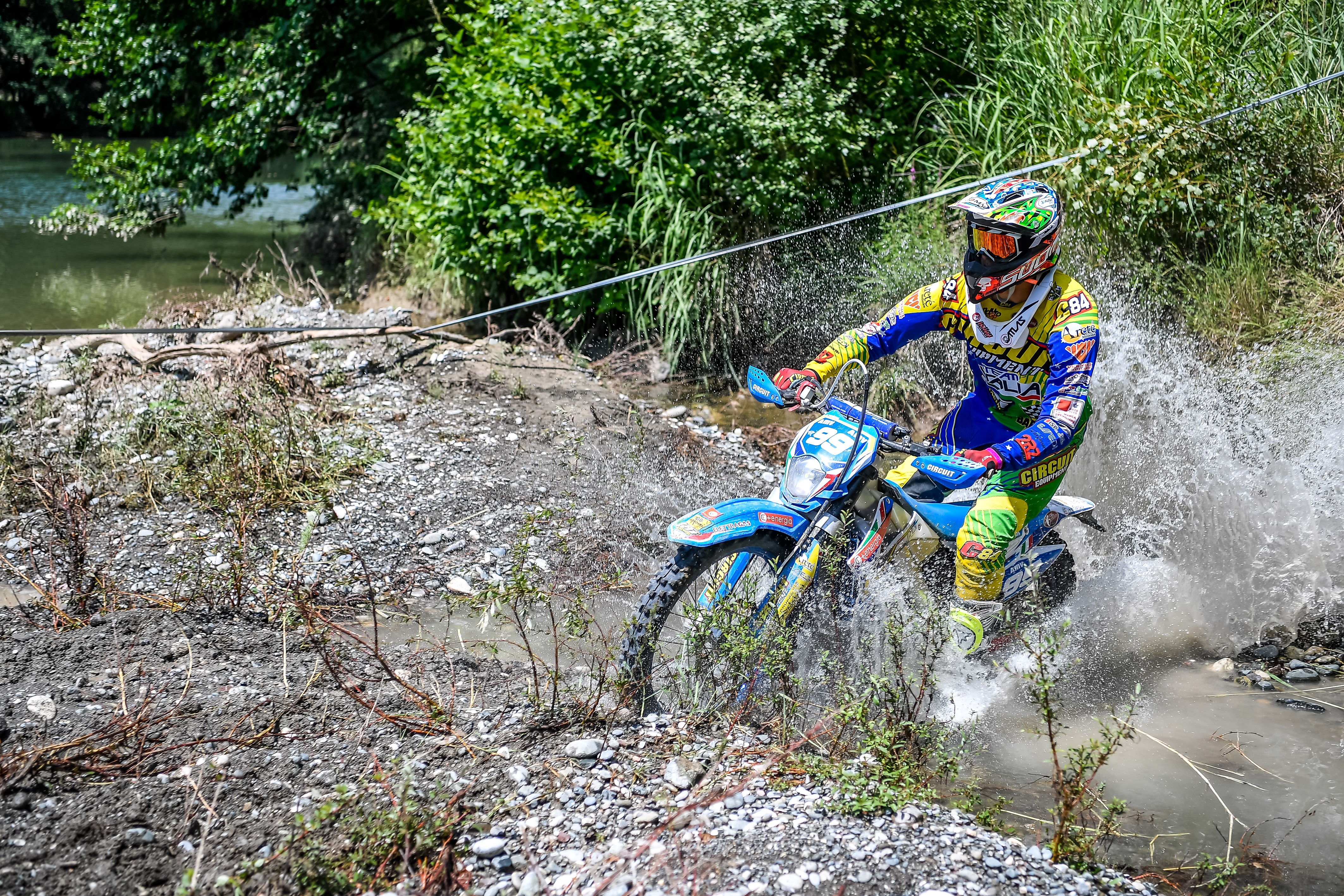 2017 FIM YOUTH ENDURO WORLD CHAMPION
THE BEST OF VERONA
Andrea Verona (TM) was deservedly crowned as the FIM Youth Enduro World Champion in 2017 after putting together a sensational run of nine unbeaten days in the 125cc category. Verona started the season with what proved to be a solid sixth place in an opening round in Finland that was dominated by local riders, with Hugo Svärd and Hermanni Haljala (Husqvarna) taking the wins, joined on the podium by compatriots Antti Ahtila (KTM), Roni Kytönen (Husqvarna) and Sweden's Emil Jonsson (KTM).
With only Svärd contesting the remainder of the season on a regular basis, Leo Le Quere (TM) and Ruy Barbosa (Husqvarna) emerged as the most consistent rivals to Verona, the Frenchman and the Chilean taking a second place apiece behind the Italian as he kicked off his winning streak at the second round in Puerto Lumbreras, Spain.
The trio were virtually ever-presents on the podium throughout the rest of the championship, however, neither could match the sheer speed of Verona and the 18-year-old got his first opportunity to wrap up the title at round six in Castelo Branco, Portugal. After taking his ninth consecutive victory on the opening day by some two minutes over Le Quere, the youngster almost lost his grip on the title on day two when he crashed on a special stage, dropping to third place but recovering to take second behind his French rival and secure the championship with two rounds to spare.