JUNIORGP
Angel Piqueras
Born on 30 November 2006 in Requena, Spain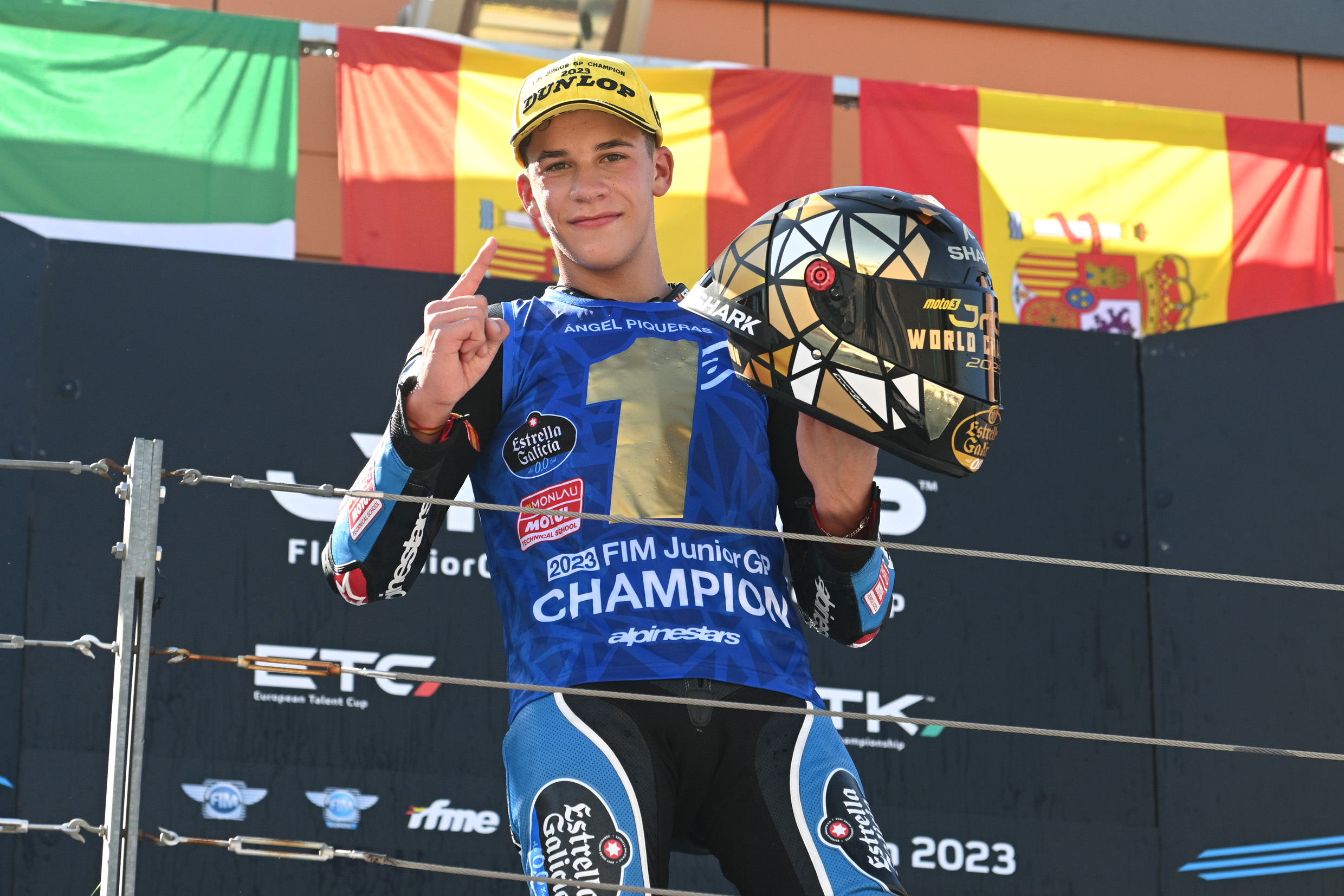 2023 FIM JuniorGP World Champion
BORN TO RIDE!
The son of a Motocross rider, Ángel Piqueras García – Honda has been born and bred around motorcycles and learned to ride at the tender age of just four years old.
Given his background it should come as no surprise that he is a talented off-road rider, but it is in the cut and thrust world of circuit racing where he is fast establishing a name for himself and this year he climbed another giant rung on the career ladder when he was crowned FIM JuniorGP™ World Champion with one round still to go.
With the championship getting under way at the start of May at the Circuito do Estoril in Portugal with a single race, the then sixteen-year-old missed out on victory by a fraction of a second in a dramatic photo-finish before he seized the series lead two weeks later with a dominant double win at the Circuit Ricardo Tormo at Valencia in Spain.
Staying on home ground, Piqueras' next stop was at the start of June at Jerez where a last-lap pass rewarded him with victory in the opening race before an audacious move in the final corner carried him from sixth to third in race two.
The championship chase moved back to Portugal and the Autodromo Algarve for round four at the beginning of July where Piqueras backed up a seventh in race one with second in race two and two weeks later he maintained his momentum in this incredibly competitive class with three-six finishes in Barcelona.
The series then took a break of almost three months until the start of October when round six was staged at MotorLand Aragon in Spain and with a sixty-eight point lead at the start of the sole race, Piqueras' fourth win of the season was easily enough to sew up the title.
PALMARES
FIM JuniorGP™ World Champion: 2023