ISDE WOMEN
Australia
Team Manager: Donald Atkins
Riders: Jessica Gardiner, Tayla Jones, Mackenzie Tricker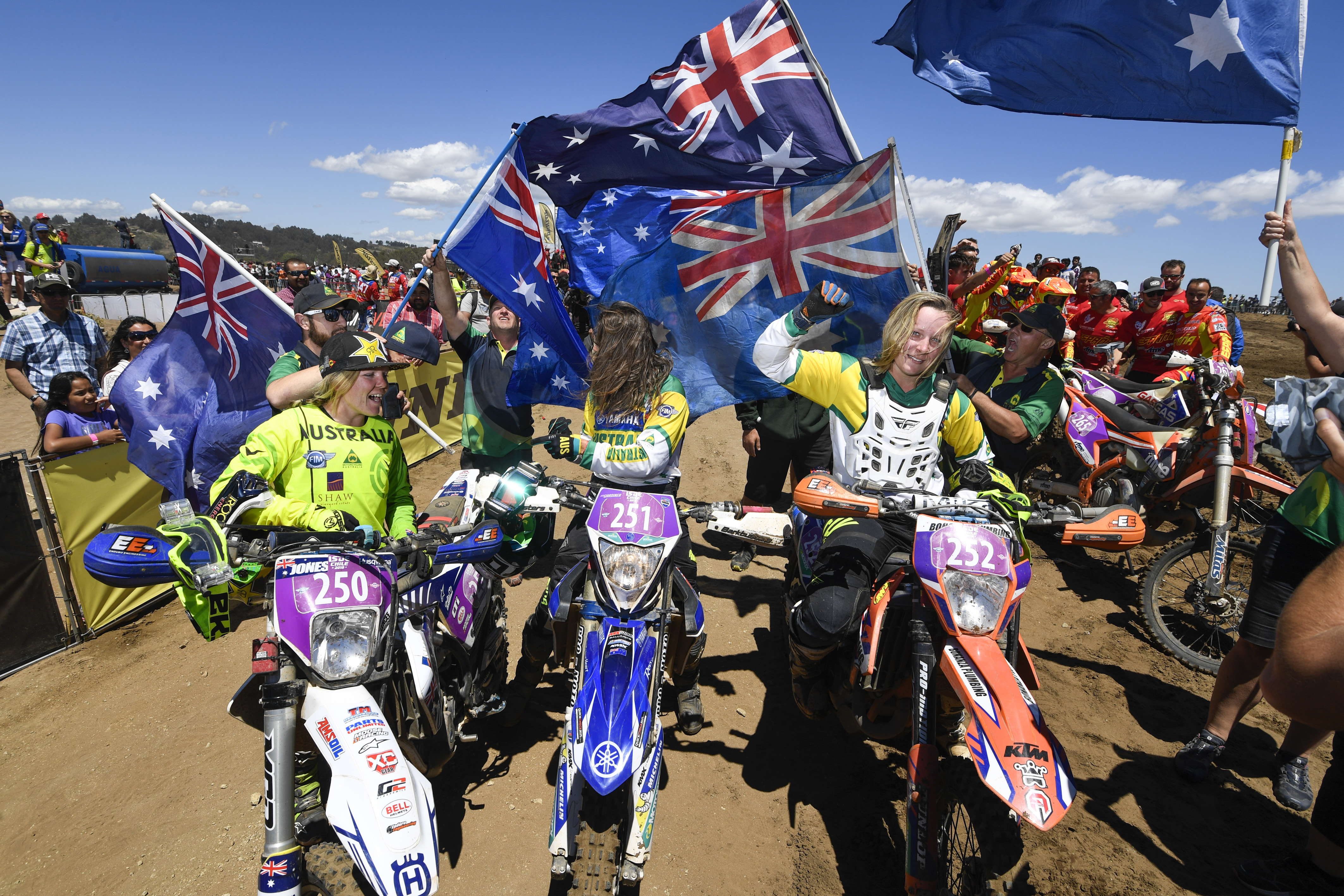 2018 FIM ISDE WOMEN'S WORLD TROPHY
2017 FIM ISDE WOMEN'S WORLD TROPHY
Team manager: Donald Atkins
Riders: Jessica Gardiner, Tayla Jones, Jemma Wilson
AUSSIES ALRIGHT FOR FIVE
The Australian ladies' team continued their domination of the FIM ISDE Women's Trophy with a fifth consecutive success in the 2017 edition held in Brive, France, but not before the USA gave an impressive indication of things to come. The strongest initial challenge to the title holders came from Spain, who were helped by Laia Sanz (KTM) to a forty-two second lead on the opening day. However, the Spaniards' time at the top was short-lived as two of their team riders failed to reach the finish of day two.
Meanwhile Australia topped the second day with a one-minute and eight second gap over the USA to take the overall lead by three-and-a-half minutes, and even with Jessica Gardiner (Yamaha) riding with a broken finger on day three they extended their advantage to almost six minutes. Australia topped the class again on day four to create a seven-minute and fifteen second cushion over the USA, and over the final two days Gardiner, Tayla Jones (Yamaha) and Jemma Wilson (Yamaha) put the finishing touches to a near faultless week to claim a fifth consecutive class victory.
However, they will have taken notice of the performance of their American counterparts, who clinched their first day win on day five and followed up on day six to claim the overall runner-up spot despite all three team members - Kacy Martinez (KTM), Rebecca Sheets (KTM) and Brandy Richards (KTM) - having never competed before at the ISDE. France were third, ahead of Sweden, Italy, Canada, Portugal, Slovakia and Spain.