125CC JUNIOR
Bailey Malkiewicz
Born on 9 October 2001 in Australia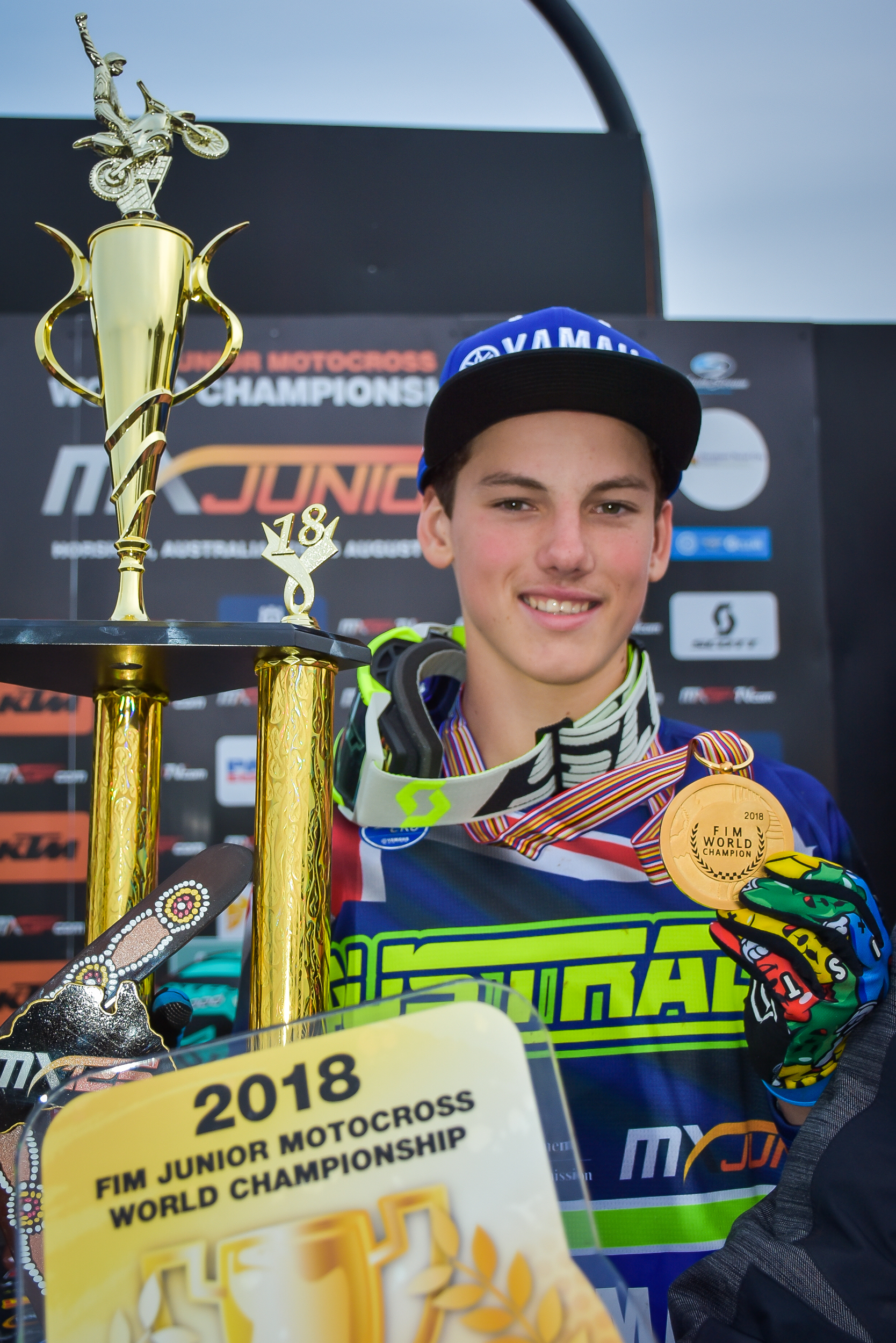 2018 FIM 125CC JUNIOR MOTOCROSS WORLD CHAMPION
BAILEY BREAKS THROUGH
Bailey Malkiewicz (Yamaha) won the FIM 125cc Junior Motocross World Championship on home soil in Australia after an epic battle with Italy's Mattia Guadagnini (Husqvarna) over two motos. A superb day of racing in Horsham started with chilly temperatures and overcast skies but the clouds subsided just in time for the start gates to drop and the crowd were treated to some warm winter sun and some red-hot racing.
Guadagnini took the holeshot in the first race and after rounding the first turn in third, Malkiewicz quickly moved up to second and gave chase. On the second lap the Australian drew alongside the Italian as they entered a tight left-hand turn and the pair collided, with Malkiewicz falling from his bike. He quickly remounted and hung on to second place, but couldn't bridge the gap to the clear race winner.
The second moto provided another thrilling head-to-head between the pair that thankfully lasted much longer than just two laps, Malkiewicz taking the early lead this time until a mistake on lap five let Guadagnini through. Malkiewicz stayed close and kept the pressure on and on lap 13 of 15 Guadagnini finally cracked, crashing and handing the win and the title to his rival.
Guadagnini remounted to finish third but had to settle for the runner-up spot in the championship, with Petr Polak (KTM) from the Czech Republic completing the podium in third place overall after consistent third and second-place finishes in the two races.
PALMARES
1 World title – 2018
Malkiewicz, already a multiple Australian Junior Champion, is already competing in the senior championships in his home country and is certain to be one to watch on the world stage in the coming years.