SPEEDWAY GRAND PRIX
Bartosz Zmarzlik
Born on 12 April 1995 in Szczecin, Poland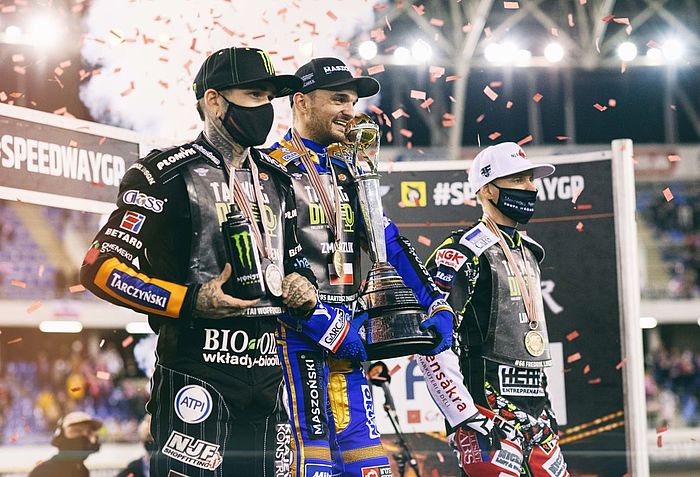 2020 FIM SPEEDWAY GRAND PRIX WORLD CHAMPION
IT'S ZMARZLIK AT THE DOUBLE
After becoming the youngest ever rider to finish on a Speedway GP podium on his Grand Prix debut in 2012 aged just seventeen, it is safe to say that Bartosz Zmarzlik made an immediate impact and he has been making his presence felt at the sharp end of the sport ever since.
Ending the year in second in 2018, his 2019 title made him a national hero to Polish fans and he underlined his status as a superstar of the shale this season by doing the double following an incredibly tense eight-round series.
His 2020 championship got off to a rocky start when he failed to make the final on the opening night at Wroclaw in Poland at the end of August, but a third-placed finish twenty-four hours later gave him a solid result to build from as his compatriot Maciej Janowski set the pace.
Two weeks later he won round three at Gorzow in Poland, although did not make the final the following night as Sweden's Fredrik Lindgren moved into the lead.
The turning point for Zmarzlik came at rounds five and six in Prague in mid-September when he set the Czech Republic's capital city on fire with two wins that handed him a slim championship lead heading into the final two rounds at Torun in Poland two weeks later.
Back on home ground, Zmarzlik picked up fourteen precious points for fourth at round seven before putting the title beyond doubt at the final round with his fourth win of the season seeing him end the year sixteen points clear of Britain's Tai Woffinden.
PALMARES
FIM World Champion – 2020, 2019
FIM Under 21 World Champion – 2015
FIM Under 21 Team World Champion – 2015, 2014, 2012