SUPERENDURO
Billy Bolt
Born on 17 August 1997 in Newcastle, United Kingdom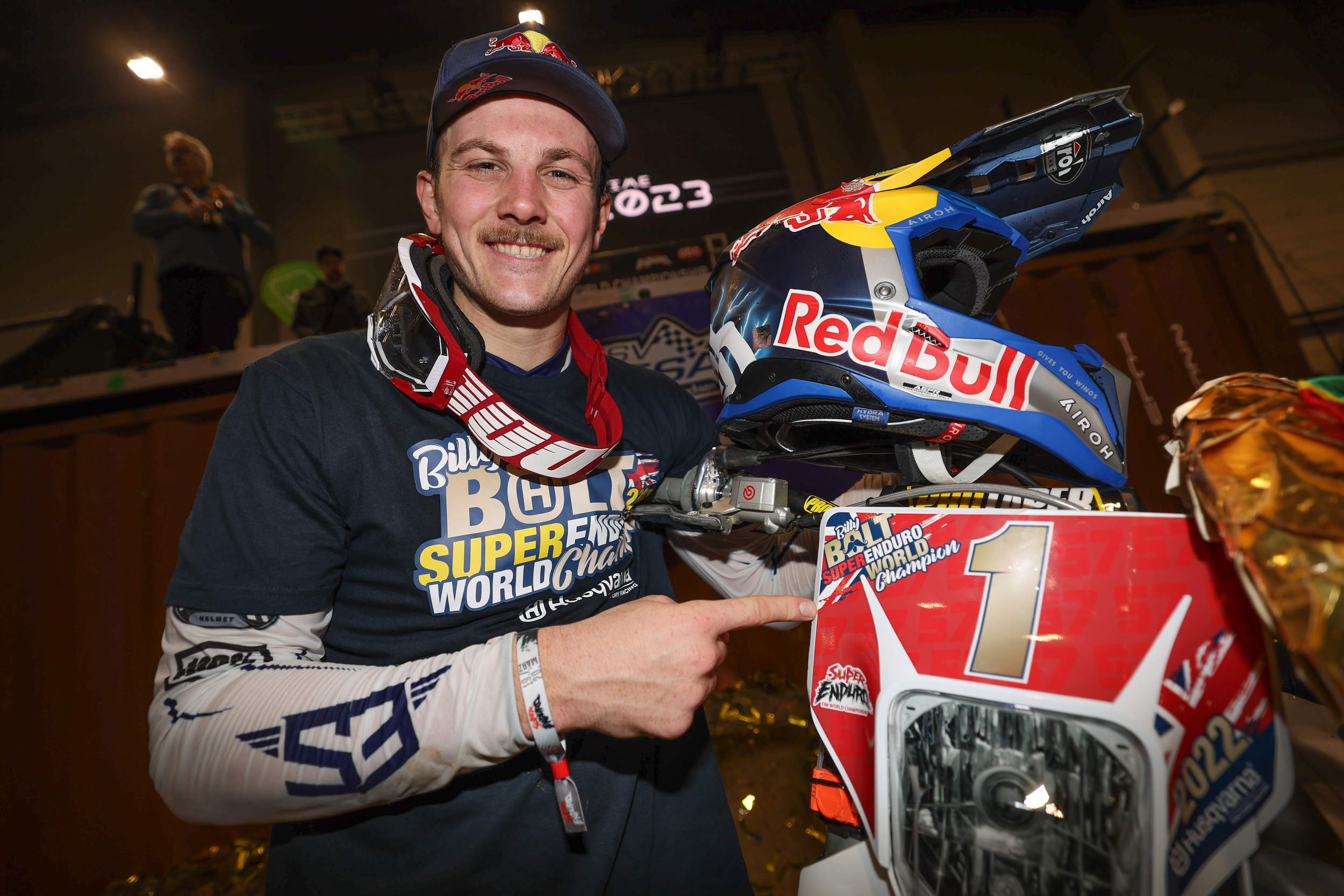 2022 FIM SUPERENDURO WORLD CHAMPION
LIGHTNING BOLT!
A wrist injury scuppered his defence of the FIM Hard Enduro title while he held the series lead, but by then Britain's William 'Billy' Bolt – Husqvarna had already secured his second FIM SuperEnduro crown.
The former Trial rider has switched codes with dramatic effect and when speed meets technical skill, he is a major player wherever and whenever he rolls up.
The twenty-five-year-old kicked off his campaign in Poland in early December and after setting SuperPole he nailed a clean sweep of all three wins on the short, technical circuit.
Bolt was back at the front next time out in Budapest in Hungary two months later with his worst result a second place to go with a pair of wins that further underlined his dominance.
Round three was staged in the Pais Arena in Jerusalem, Israel, where Bolt reigned supreme with another full-house of race victories – including an error-free eighteen-second win in the final moto of the night – on a narrow circuit that brought out the best in the world-class field.
The series signed off at the end of March with back-to-back rounds in Germany where Bolt extended his run to fourteen wins from fifteen races to confirm his status as the best SuperEnduro rider on the planet. He also placed first in all five SuperPoles – a fantastic feat that has never been achieved before.
Bolt's performance in Germany demoralised his opposition and simply served to add to his legion of fans. After all, on the opening night in Riesa he could have just done enough to take the title, although the knowledgeable spectators knew he was there for the show and Bolt is not a rider to disappoint.
PALMARES
FIM SuperEnduro World Champion: 2020, 2022
FIM Hard Enduro World Champion: 2021
World Enduro Super Series Champion: 2018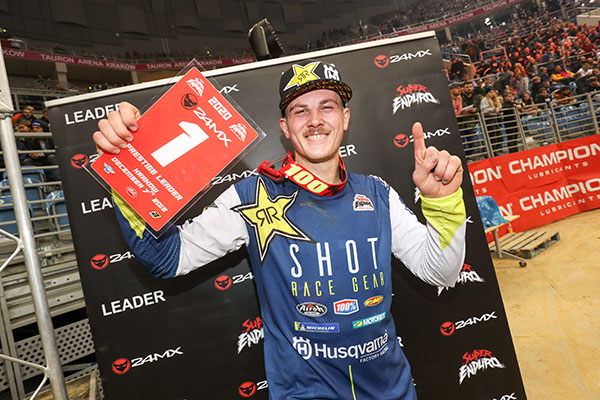 2020 FIM SUPERENDURO WORLD CHAMPION
BILLY WHIZZ
A serious leg injury sustained at the end of 2018 meant Billy Bolt (Rockstar Energy Husqvarna) was forced to sit out last year's SuperEnduro World Championship, although the tough twenty-three-year-old battled back in emphatic style in 2020 to take the title.
The championship runner-up in 2018 in his rookie season, the former youth Trial star was devastated to pick up the injury – a broken left fibula – but despite nerve damage to his foot resulting from the break he was back in action last year and focused on returning to full fitness in time for the 2020 SuperEnduro series.
Kicking off in Krakow in December 2019, Bolt came out firing on all cylinders in what was just his sixth-ever SuperEnduro World Championship event and gave his confidence a huge boost by defeating off-road legend Tadeusz Blazusiak (Red Bull KTM) in his own backyard.
Following the Christmas holidays, the championship resumed in early January in Riesa in Germany and Bolt was beaten back to fourth by Blazusiak, Spain's Alfredo Gomez (Rockstar Energy Husqvarna) and fellow British rider Jonny Walker (Red Bull KTM), however you cannot keep a good man down for long.
Round three in La Coruña in Spain two weeks later saw Bolt bounce back to the top with Blazusiak second to set up a thrilling showdown at the fourth and final round at the beginning of February in Budapest. It was Walker who won in the Hungarian capital from Blazusiak, but Bolt's third-placed finish – and his record of seven wins from twelve starts – was good enough for the championship.