E3 ENDURO
Brad Freeman
Born on 5 July 1996 in Rugeley, Great Britain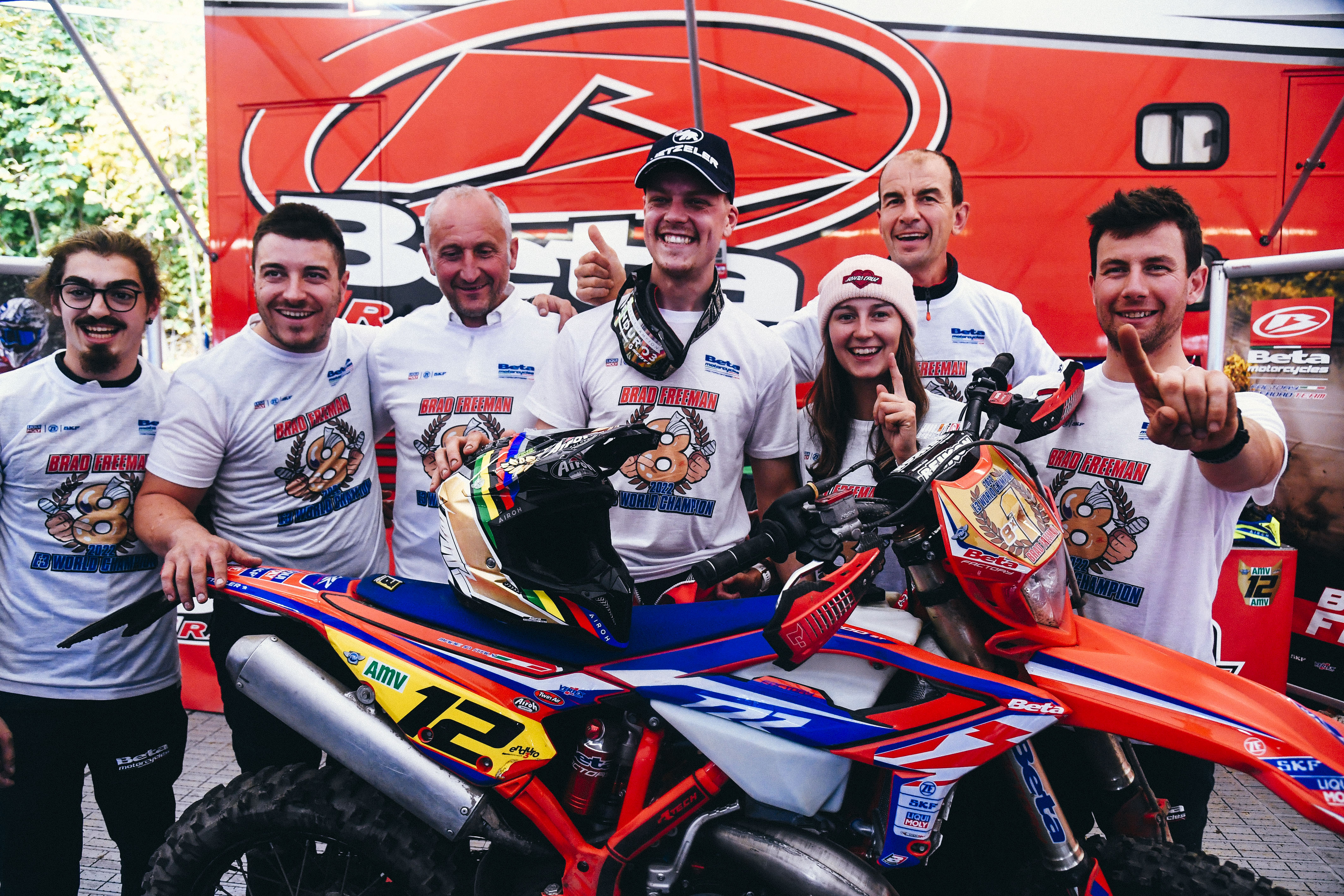 2022 FIM Enduro3 World Champion
THREE AND NOT SO EASY!
Conventional wisdom dictates that it is harder to defend a title than to win one in the first place, but British lion Bradley Freeman – Beta does not appear to struggle too much with this!
In his fifth season in open-age competition, Freeman raced to his third consecutive FIM E3 Enduro World Championship, but after last year's perfect season he was forced to fight every step of the way.
The twenty-six-year-old was on fire from the word go in Spain where he kicked off his title defence by topping the podium on both days and when he finished first on day one in Portugal his rivals could be forgiven for getting a sense of déjà vu.
However, mistakes dropped Freeman down to seventh on day two and suddenly a chink in his armour appeared.
A disappointing weekend in Italy could have been costly, though Freeman has demonstrated time and time again that when the going gets tough he rises to the occasion.
A double win as the series returned to Portugal restored his momentum and he scored two more wins in Slovakia before slipping to seven-five finishes at the penultimate round in Hungary.
Trailing season-long rival Mikael Persson – Husqvarna from Sweden heading into the series finale at Zschopau in Germany in mid-October, Freeman rode out of his skin to record his fourth double win of the season and take the title by just three points.
Freeman has now won a world championship every year since he clinched the Junior crown in 2017 with his record currently standing at an amazing eight!
PALMARES
FIM Junior Enduro World Champion: 2017
FIM E1 Enduro World Champion: 2018, 2019
FIM EnduroGP World Champion: 2019, 2021
FIM E3 Enduro World Champion: 2020, 2021, 2022
2021 FIM E3 Enduro & EnduroGP World Champion
A PERFECT SEASON!
In just his fourth season in open-age competition, Brad Freeman (Beta) demonstrated his total dominance of the big-bike class of the Borilli FIM Enduro World Championship.
Any clean sweep of any class in any championship in any sport is a remarkable achievement, but that is exactly what the twenty-five-year-old British rider managed in the E3 division this season as he retained the title, he won in 2020.
What made his perfect E3 season even more incredible was the strength in-depth of his rivals, although Freeman systematically took the World class field apart over the course of two separate rounds in Portugal and events in Italy, Estonia, Sweden and France.
With two days of competition at each round that works out at twelve wins from twelve starts – now add that to his unbeaten season in 2020 when he won eight from eight and that equates to a win-streak of twenty consecutive races in E3 following his move up from the E1 class.
Well on his way to becoming a legend of the sport, Freeman has now won a World Championship every year since he clinched the Junior crown in 2017 and the icing on the cake this season was that he regained the coveted EnduroGP title too.
BACK ON TOP!
When he lost his prized EnduroGP crown in dramatic fashion in the final test of the final day of last year's series when his fuel tank ran dry, Brad Freeman was devastated. Sure, the E3 title was some consolation, but the EnduroGP class is the one everyone wants to win so it was a bitter pill for him to have to swallow.
Freeman has never been a rider to roll over – his incredible winning record is positive proof of this – and true to form he came out swinging at the opening round in Portugal, winning on the opening day at Marco de Canaveses in mid-June to establish an advantage he would maintain all season.
With riders from all open-age classes eligible for points in EnduroGP, the talent on display is dazzlingly deep and Freeman had to settle for second on day two, though that only served to stoke the fire in his belly.
A pair of wins next time out in Italy saw him build on his lead and despite strong season-long pressure from Spain's Josep Garcia (KTM), Freeman's amazing consistency paid dividends.
Over the remaining eight points-paying days, Freeman claimed two more wins, five runner-up positions and was third on the opening day of the EnduroGP of Sweden at Skovde to run out champion by a commanding eighteen-point margin.
The saying goes that revenge is a dish best served up cold, but Freeman's red-hot form over all six rounds and twelve days certainly roasted his rivals.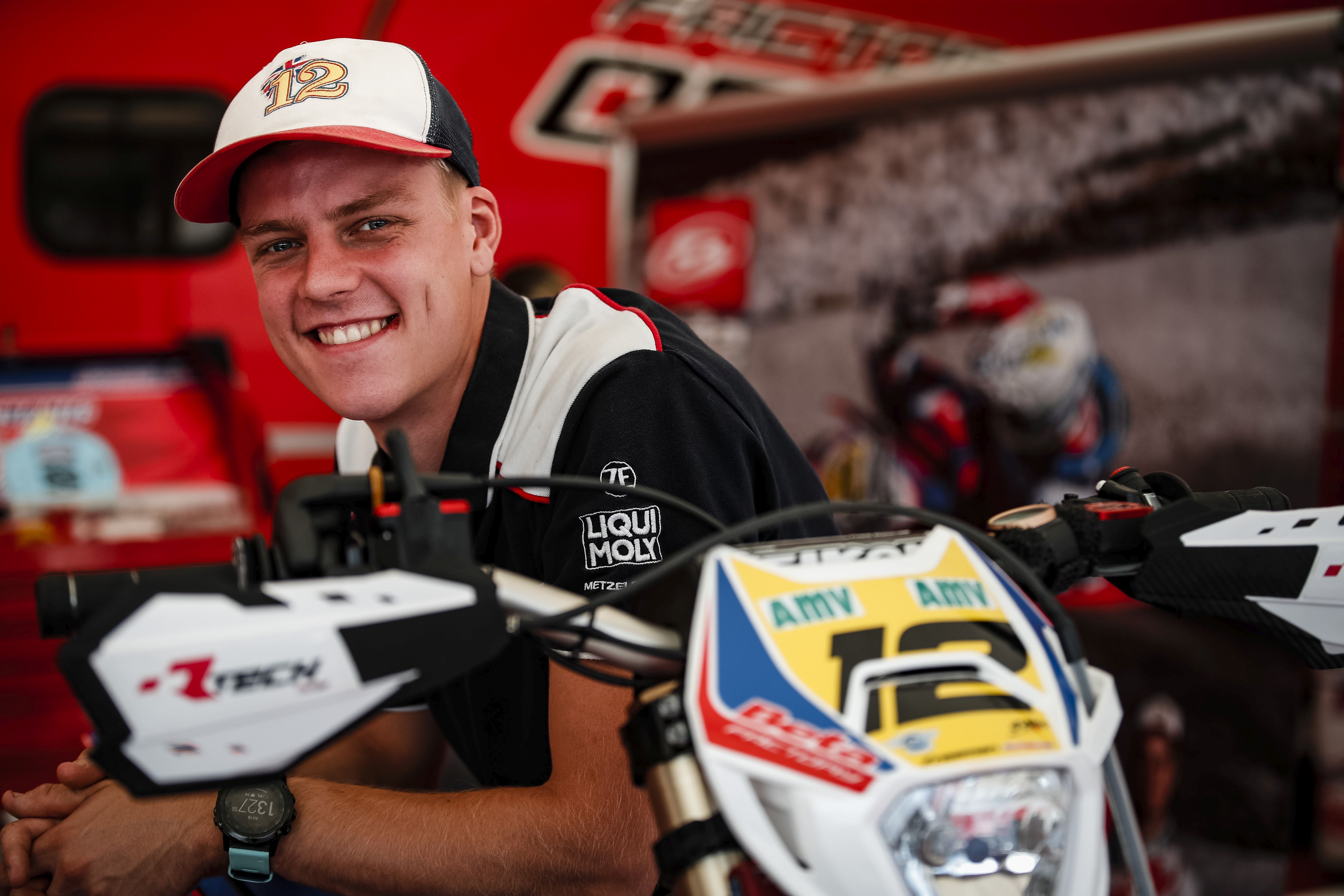 2020 FIM E3 ENDURO WORLD CHAMPION
FREEMAN'S STRAIGHT EIGHT
It is hard to believe that Brad Freeman (Beta) has only completed three seasons in open-age competition, but he has certainly got the silverware to prove it after adding this year's E3 championship to the EnduroGP title and pair of E1 crowns he has already won following his Junior class victory in 2017.
For Freeman 2020 has been a season of mixed emotions – he shifted his focus to the E3 class and won with a perfect eight wins from eight starts, although he lost his coveted EnduroGP title to his team-mate and rival Steve Holcombe after running out of fuel in the final test on the final day.
The season kicked off with the GP of France at Requista in mid-September and Freeman was immediately on the pace, topping the opening day's E3 standings by almost thirty seconds from former GP motocross racer Davide Guarneri (TM) from Italy before holding his nerve to run out winner by just thirteen seconds on day two ahead of Jaume Betriu.
A week later at the GP of Italy at Spoleto and Freeman doubled up – both times from Betriu who was almost two minutes behind on both days – and he made it six wins in a row with Betriu again twice following him home after the action switched to Marco de Canaveses in Portugal for back-to-back rounds in November.
One week later Freeman completed his unbeaten season in E3 with two wins from Betriu giving him a twenty-six-point winning margin and helping to cushion the disappointment of seeing the EnduroGP crown slip through his fingers.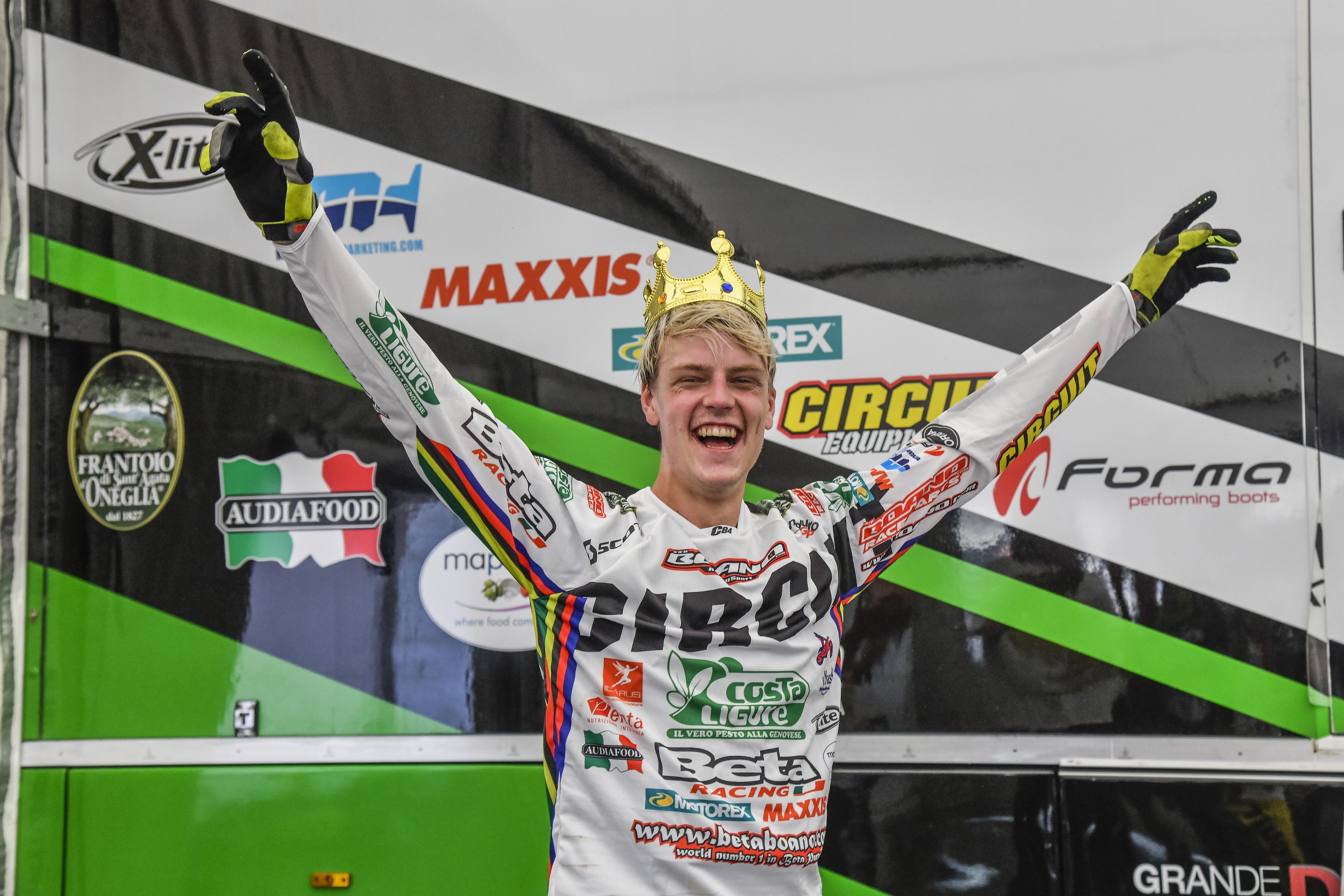 2019 FIM ENDUROGP & E1 WORLD CHAMPION
BRAD WINS BATTLE OF THE BRITS
Brad Freeman (Beta) continued his astonishing rise through the ranks of Enduro to become the FIM EnduroGP World Champion in just his second season of open-age competition, coming out on top of a Battle of Britain with defending champion Steve Holcombe (Beta) and former Junior champion Daniel McCanney (TM). Freeman, who took the Junior crown in 2017 and the E1 title last year, added the premier-class title to his burgeoning repertoire despite a midseason injury scare.
After conceding the opening three days of the season to Holcombe in Germany and Portugal, Freeman opened his account on the second day in Valpaços and followed up with double victories in Spain and Greece. However, the twenty-three-year-old badly broke his collarbone in a crash on the last special test in Serres and had to ride through the pain barrier to score crucial points in Italy a week later. Holcombe, struggling himself with an illness that plagued much of his season, was unable to fully capitalise as McCanney and the veteran Alex Salvini (Honda) shared the wins.
A three-month break before the next event in the Czech Republic gave Freeman the opportunity to regain full fitness and after wrapping up his second E1 title there, he turned his attention to the premier-class title in France and produced another dominant double to become a four-time FIM World Champion.
FREEMAN ON FIRE
Brad Freeman (Beta) made a resounding defence of the FIM E1 Enduro World Championship in 2019, taking the title with a round to spare despite a midseason injury scare.
Last year's rookie champion was untouchable in the E1 class this season, winning every single day of competition in Germany, Portugal, Spain and Greece before a shoulder injury dented his record. The twenty-three-year-old badly broke his collarbone in a crash on the last special test in Serres, but he produced a heroic ride in Italy just a week later to score two third places, sensationally registering the fastest time on the final extreme test on the third day of competition.
Italian rider Thomas Oldrati (Honda) and his impressive rookie compatriot Matteo Cavallo (Sherco) shared memorable home wins in Rovetta, but after undergoing surgery during the summer break, Freeman returned to reclaim his rightful place on the top step of the podium in the Czech Republic. The British rider's success in Uhlirske Janovice was followed by another double victory at the final round in Ambert, France, to finish the season with a forty-one-point advantage over Oldrati, who edged the runner-up spot by just three points from Cavallo - last year's FIM Junior Enduro World Champion.
Freeman, who won the Junior title in 2017, also claimed the overall EnduroGP crown in 2019 and is now a four-time FIM World Champion.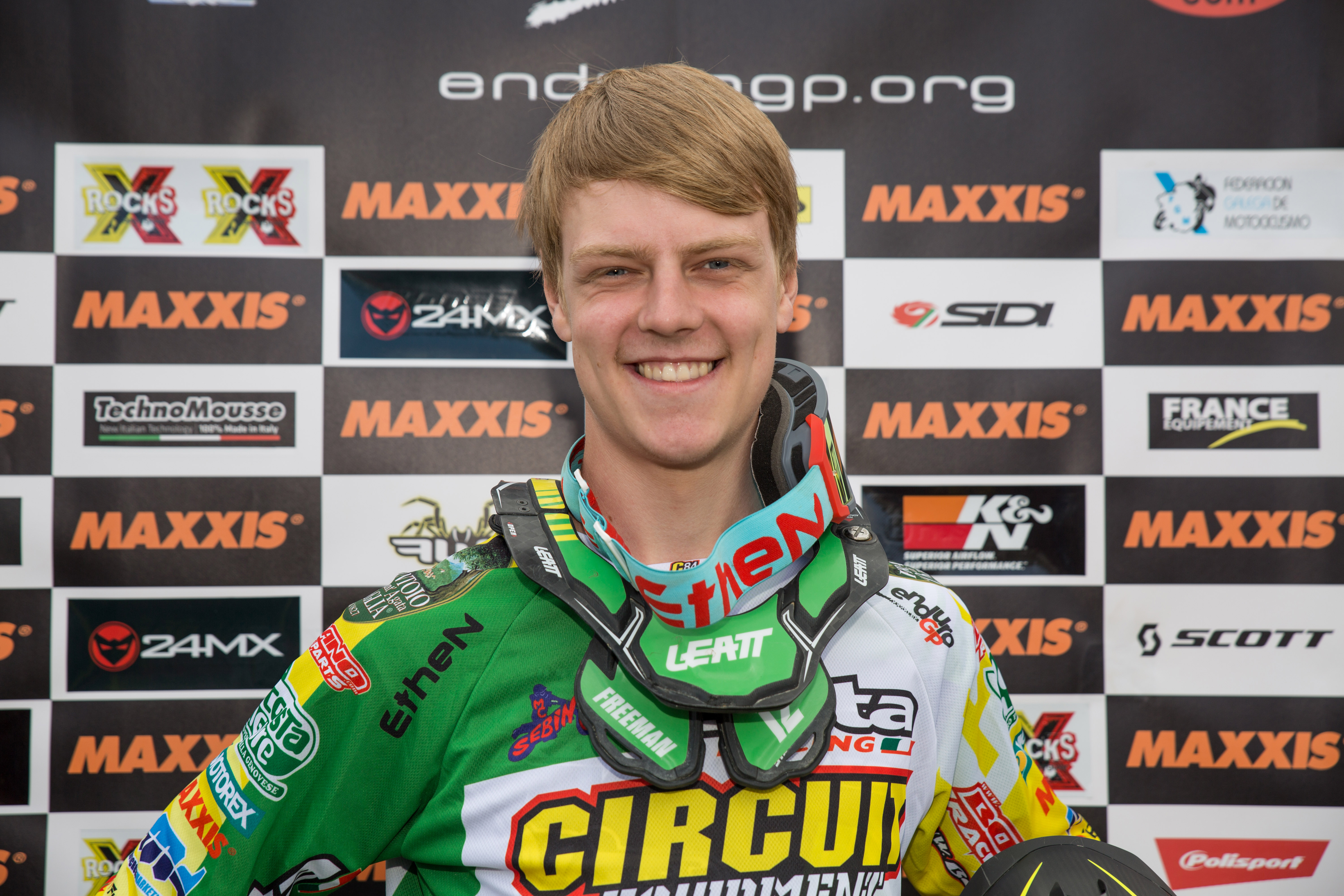 2018 FIM E1 ENDURO WORLD CHAMPION
FREEMAN TAKES FLIGHT
Brad Freeman (Beta Boano) sensationally claimed the FIM E1 Enduro World Championship in his first season at senior level, at the end of an incredible year that also him finish runner-up in the elite EnduroGP category. The British youngster, who won the FIM Junior Enduro World Championship title in 2017, made the step up in 2018 with little to prove and everything to learn – or so it seemed.
However, it took the 22-year-old just three rounds to take his first E1 victory in Portugal, overcoming early championship rival Jamie McCanney (Yamaha) on a memorable second day in Castelo Branco. Prior to that McCanney had taken four victories from five days of competition, with Eemil Pohjola (Gas Gas) taking the other on home turf at the opening round in Finland.
Once Freeman broke his duck, though, there was no looking back and his first E1 success was immediately followed at the next round in Estonia by a maiden overall EnduroGP victory that established him as a threat to Steve Holcombe (Beta) in the elite category.
An E1 double in Tallin was then added to with further doubles in Trentino, Edolo and Methamis, setting up a title shot at the final round in Rüdersdorf. Freeman took his chance with both hands in Germany, sealing a tenth straight victory on the opening day to leave McCanney with no response.
Signing off with another win on day two, Freeman ensured that he'd amassed more World Championship points in 2018 than any other rider, whilst second place for McCanney on both days secured the runner-up position for the Brit. Two fourth places for Antoine Basset (Gas Gas) sealed third overall for the Frenchman.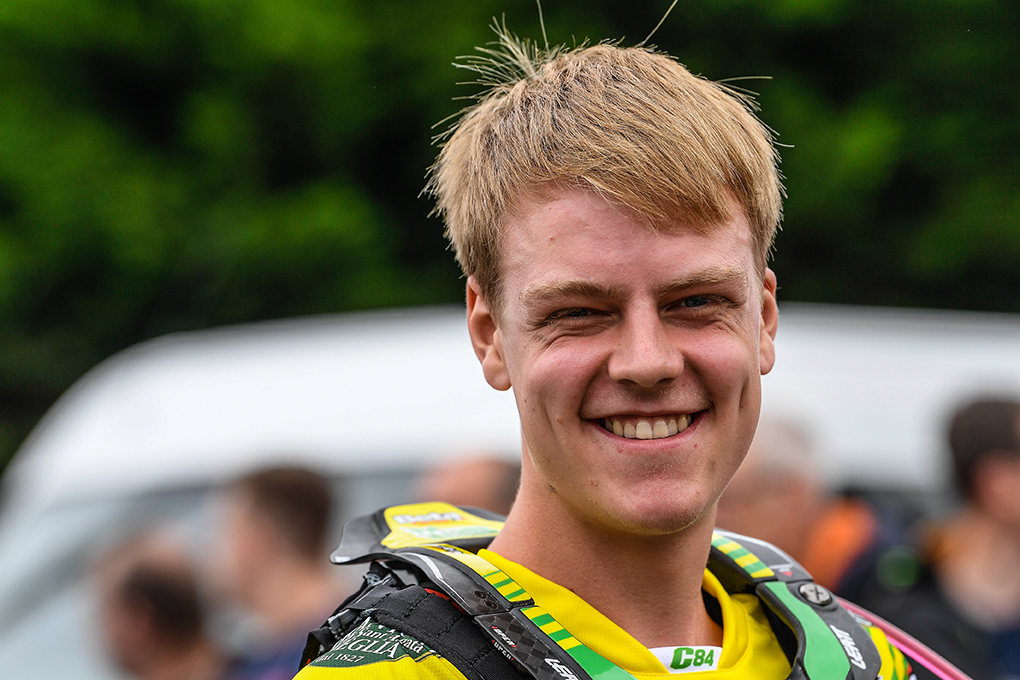 2017 FIM JUNIOR ENDURO WORLD CHAMPION
FREEMAN TAKES JUNIOR CROWN
Brad Freeman (Beta) emerged victorious from one of the closest title battles in the Enduro discipline in 2017 as he claimed the FIM Junior Enduro World Championship by just four points from Davide Soreca (Honda). The British youngster missed the first round of the series in Helsinki, where Italy's Soreca finished second to local Finnish wildcard Eemil Pohjola (Husqvarna), but came roaring back to score maximum points at round two in Spain.
After that Soreca was only able to topple Freeman from the top of the podium on one further occasion, on day one of his home round in Spoleto, Italy, whilst Swedish pair Albin Elowson (Husqvarna) and Mikael Persson (Yamaha) also took a day win apiece, as Freeman dominated the remainder of the season and closed to within four points of the championship summit going into the final round in Zschopau, Germany.
With Soreca only managing third on the first day behind Elowson and the victorious Freeman, the battle went down to the very last special tests. However, just when it looked like Freeman had done enough to win, having opened up a healthy lead with just one lap remaining, a rear brake issue during the final enduro and extreme tests saw Soreca close to within five seconds with just the final motocross test remaining. Under extreme pressure, Freeman responded with the second outright fastest time, topping the special test, the day and with it the championship.