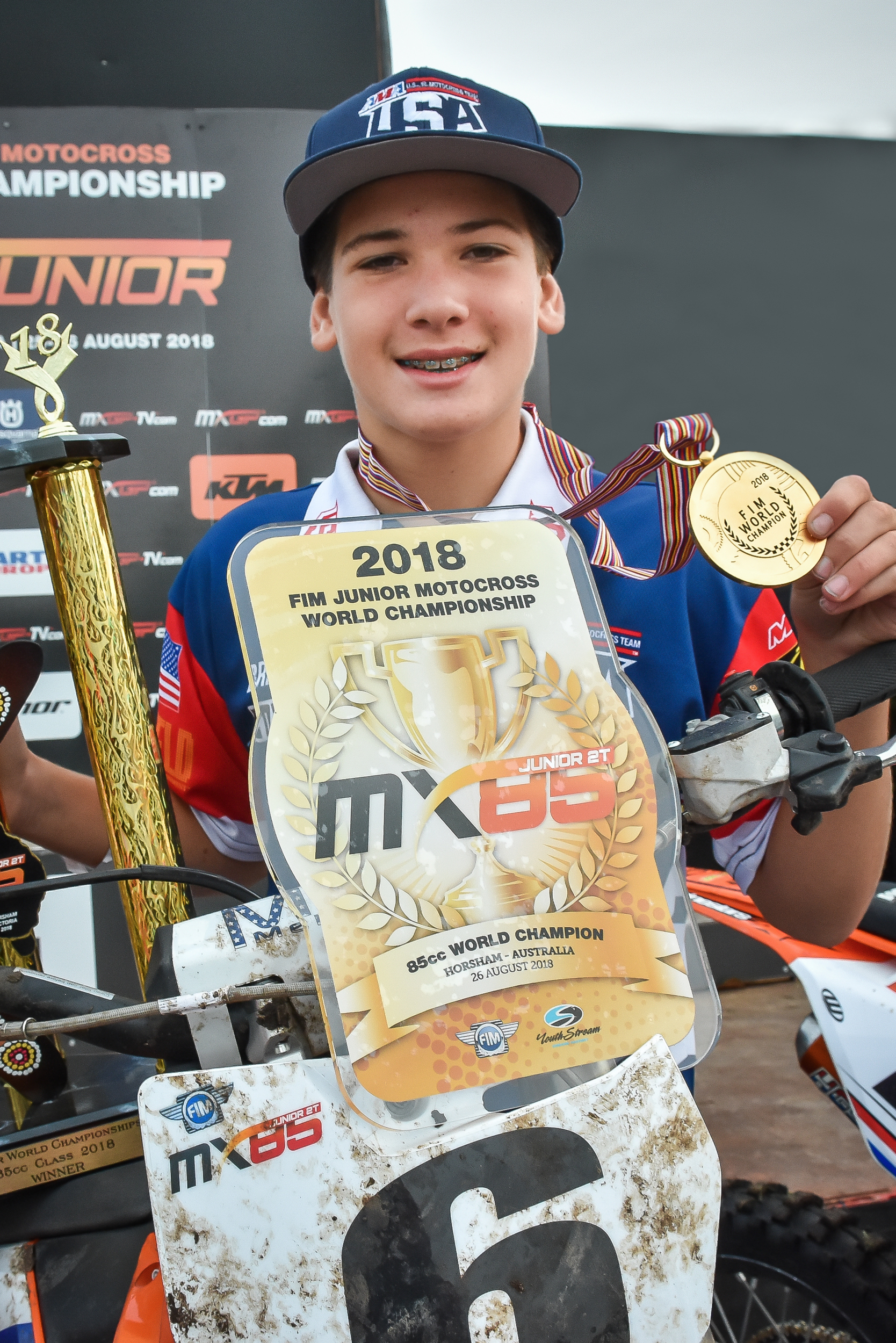 2018 FIM 85CC JUNIOR MOTOCROSS WORLD CHAMPION
CADEN KEEPS HIS COOL
Caden Braswell (KTM) is the 2018 FIM 85cc Junior Motocross World Champion after two cool rides to third and first at an eventful single-round event at Horsham, Australia.
The fourteen-year-old from Shalimar, Florida, progressed through the ranks since he began racing at the age of six, following in the footsteps of his father, who also raced. Caden went on to the compete in the Mini Os, and then at the famed Loretta Lynn´s – the proving ground for many young American motocross racers – winning an AMA South Carolina State Championship and earning selection for the first Team USA line-up to compete in the FIM Junior Motocross World Championship since 2014.
The annual event is held in a similar format to an MXGP round, with the outcome determined by two races. Braswell grabbed the holeshot in the first race and was in front until he suffered an issue with his knee brace locking up. The American dropped back down the field but managed to fix the issue and charged back up to third, as Belgium's Liam Everts (KTM) - son and grandson of legendary FIM World Champions Stefan and Harry – took a clear win.
After Everts unfortunately crashed out of the second moto, Braswell took full advantage, recovering from a terrible start that saw him outside the top twenty in the first turn. Again, he showed his talent as he scythed through the field to take the victory at the chequered flag.
Kay de Wolf (KTM) claimed the runner-up spot with a second place and a sixth, whilst Dutch compatriot Kay Karssemakers (KTM) also made the overall podium for the second time in as many years after finishing fourth in both races.
PALMARES
World title – 2018