WOMEN'S TRIAL
Emma Bristow
Born on 29 October 1990 in Boston, United Kingdom
2022 FIM Women's Trial World Champion
EIGHTH WONDER!
The mark of a champion is not necessarily the ability to deliver a knock-out performance on demand – having the fortitude and raw desire required to climb up off the floor and keep fighting is a rare quality that all truly great athletes must also possess.
This season Emma Bristow – Sherco demonstrated that she has what it takes to battle back from the disappointment of losing her TrialGP Women crown in 2021 and once again deliver the goods on the world stage.
After narrowly missing out an eighth-straight title last season, the thirty-two-year-old British lioness re-established her dominance over the best feet-up females on the planet this time around with a cool, calculated display of precision riding.
Leading from the get-go with a devastating double win at the opening round in Spain, Bristow then went two-one at Sant Julià de Lòria in the Pyrenean principality of Andorra and backed this up with a one-two at Neunkirchen when the series visited Germany for the first time since 2016.
The final destination of the title hung in the balance heading into the series decider – the TrialGP of Italy – and Bristow was in fantastic form in Ponte di Legno in early September.
Keeping her cool over the opening day's competition to record a clear win and extend her championship advantage, Bristow put the title out of reach of her rivals on day two with her sixth victory of the campaign.
Attributing her eighth crown to old-fashioned hard work and maintaining a positive mental attitude at all times, 2022 will be remembered as the year Bristow bounced back to her brilliant best.
PALMARES
Hertz FIM Women's Trial World Champion – 2022, 2020, 2019, 2018, 2017, 2016, 2015, 2014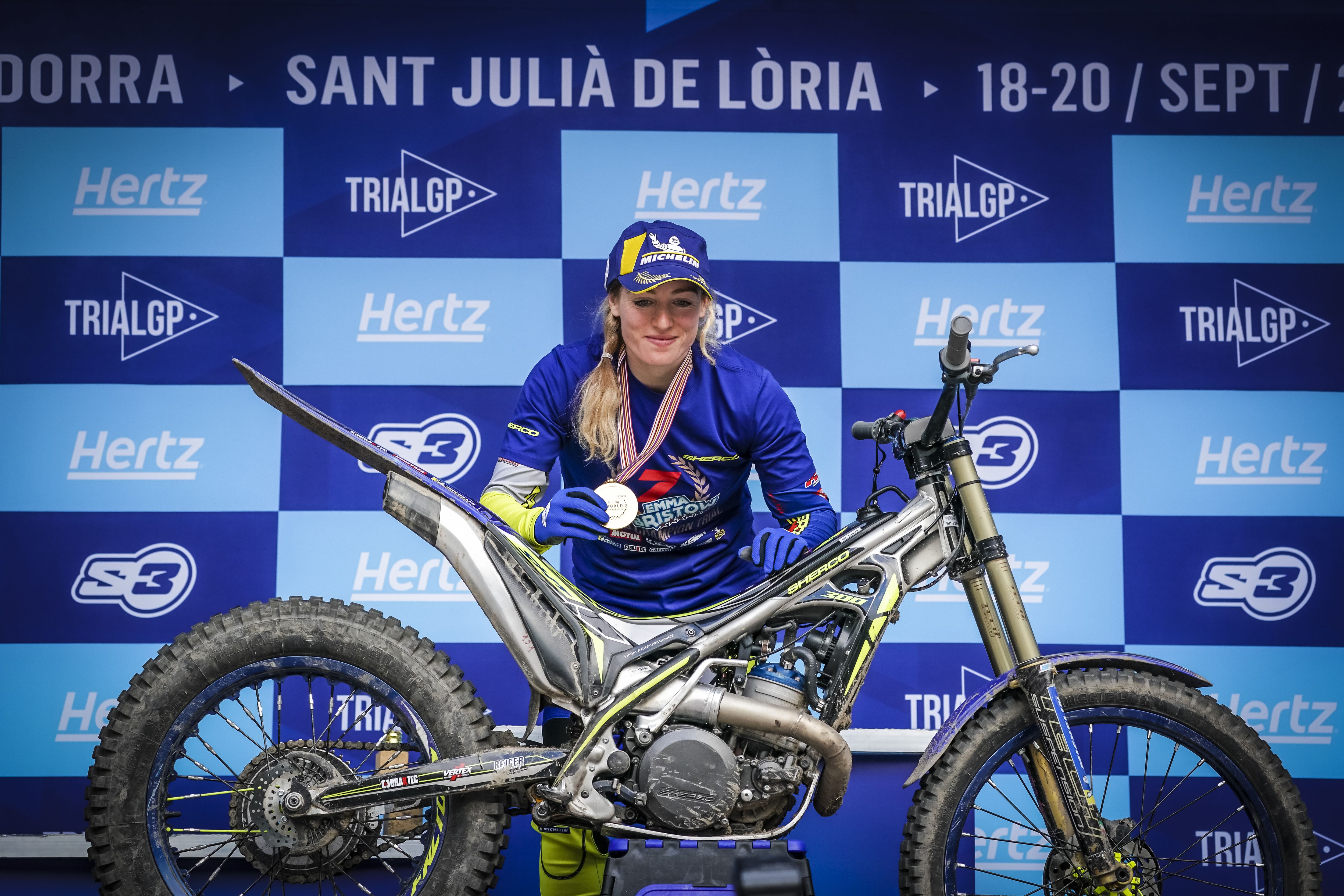 2020 FIM WOMEN'S TRIALGP WORLD CHAMPION
SEVENTH HEAVEN FOR BRISTOW
Emma Bristow (Sherco) underlined her status as the greatest female Trial rider of her generation with a third consecutive unbeaten season carrying the thirty-year-old to her seventh TrialGP Women title in a row.
A four-time British Youth Champion, Bristow made her FIM Trial World Championship debut in 2006 when she finished an unlucky-for-some thirteenth and actually dropped a place the following season after contesting just one of the three rounds staged that year.
However, in 2008 she broke into the top-ten with a sixth-placed ranking which she matched in 2009 before her breakthrough season in 2010 when she climbed to fourth and claimed an inaugural podium finish with third at the opening round in France.
From 2011 to 2013 Bristow finished second in the championship – picking up her first day victory in 2013 following her switch to Sherco – before embarking on a title-winning run that continues to this day.
Although pushed hard throughout the 2020 season by the Spanish pairing of Berta Abellan (Vertigo) and Sandra Gomez (TRRS) who shared the podium with her on all six points-scoring days of competition, neither could stop Bristow who now has not lost a World round since the final day of the 2017 campaign.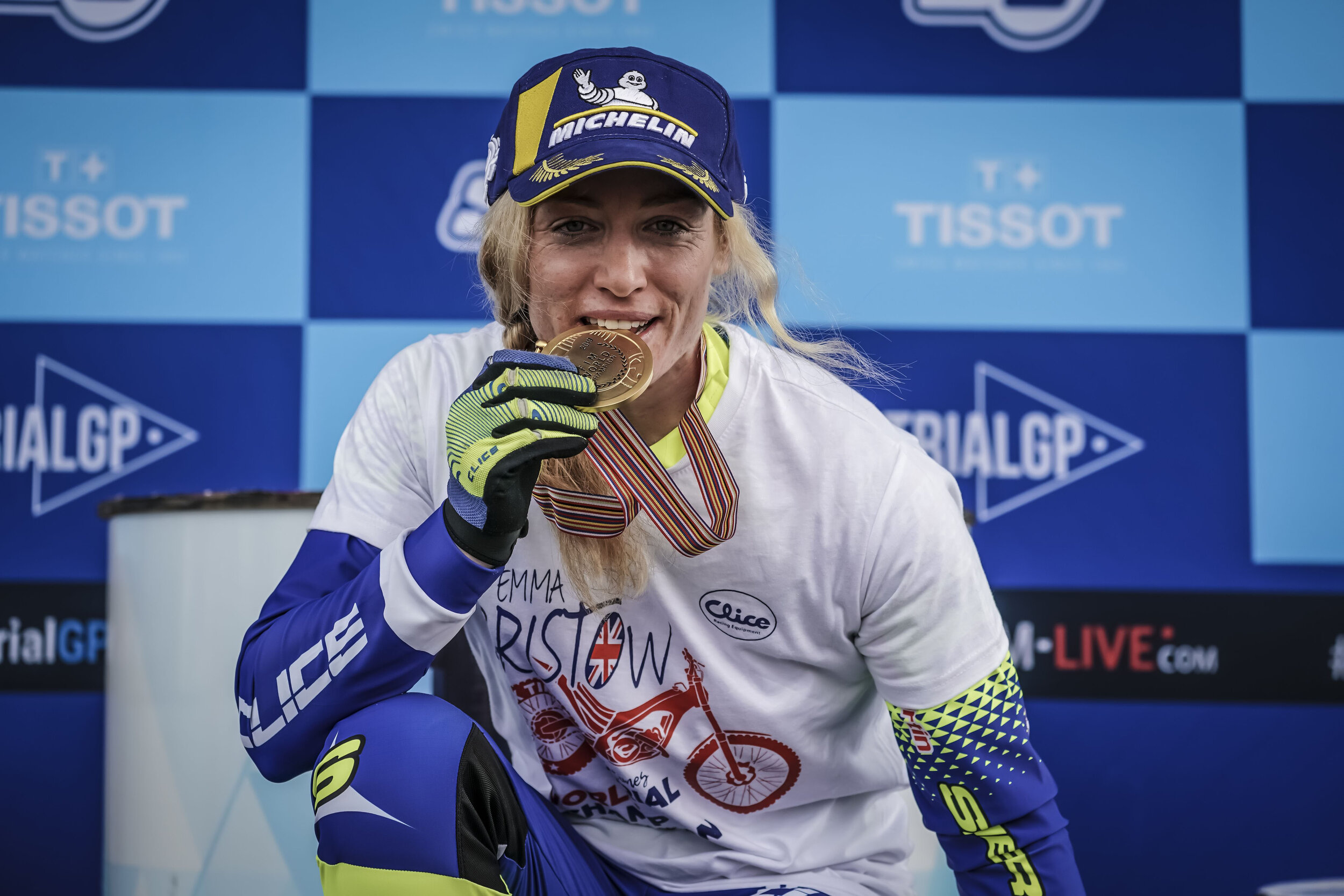 2019 FIM WOMEN'S TRIALGP WORLD CHAMPION
BRISTOW HITS RIVALS FOR SIX
Emma Bristow (Sherco) put together another unbeaten season to claim the FIM Women's Trial World Championship for the sixth successive year. Since becoming the first British rider to win the title in 2014, Bristow has finished second at just three events in the ladies' discipline, winning every other round available and she has now not been bettered since the final round of 2017.
The twenty-nine-year-old, who has been riding since the age of four and was a four-time British Youth Champion, made her first international appearance in this competition back in 2006, when she rode to ninth place in the Andorra round. She took her first podium in 2010 and finished runner-up for three successive seasons, which included a maiden victory in 2013 after a successful switch to Sherco. The relationship between rider and manufacturer wielded a first title in 2014 and Bristow has barely looked over her shoulder since, comfortably outclassing closest rivals Berta Abellan (Vertigo) and Sandra Gomez (TRRS) in each round of this year's series.
Abellan and Gomez both shared the podium with Bristow at every single event but the first, in Japan, when their fellow Spanish rider Neus Murcia Sadurní (Gas Gas) scored an impressive third place, behind Gomez in second. Otherwise it was Abellan in second and Gomez third after each day of competition, meaning that they would also finish in those respective positions behind the all-conquering Bristow in the championship for the second successive campaign.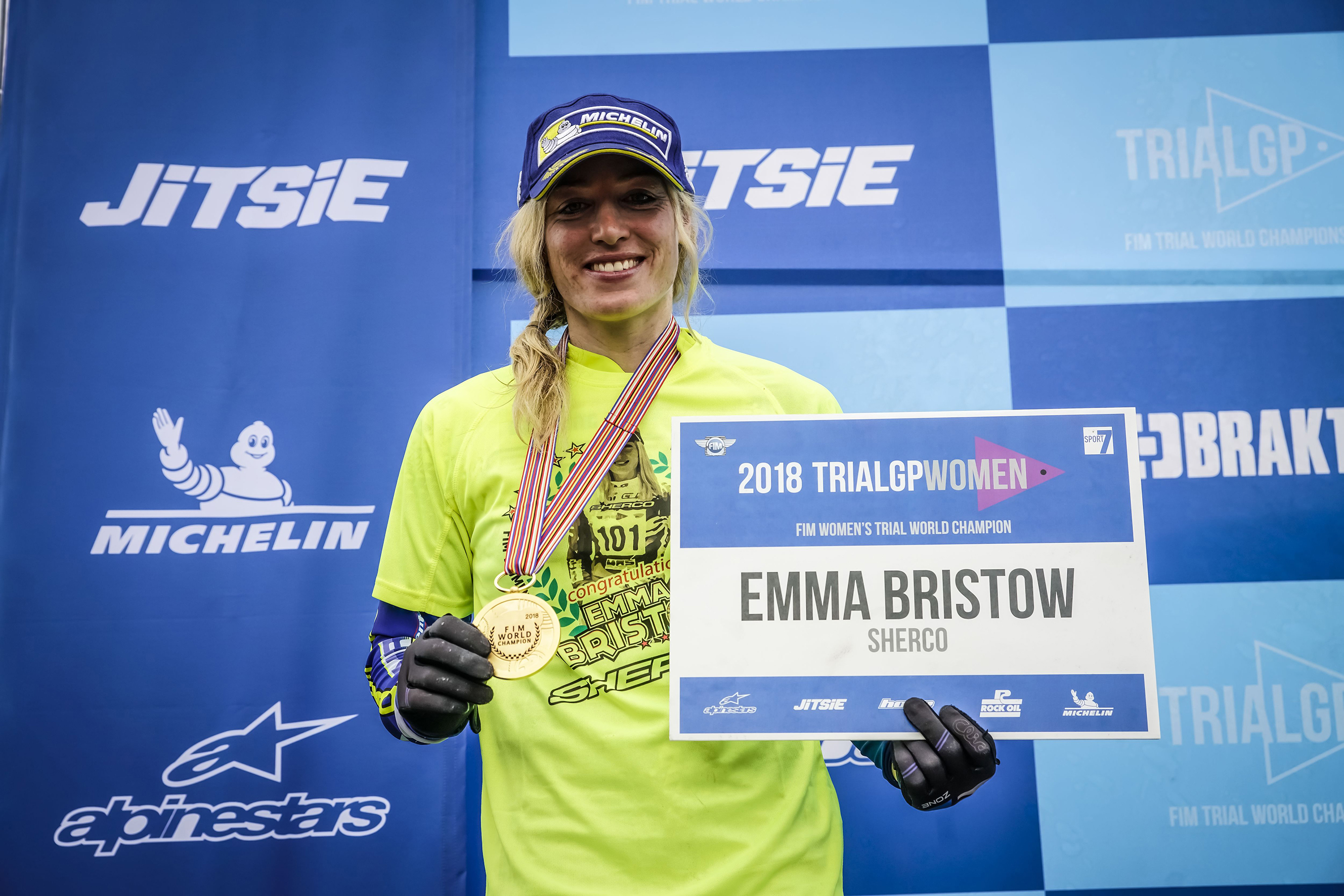 2018 FIM WOMEN'S TRIALGP WORLD CHAMPION
EMMA'S FAMOUS FIVE
Emma Bristow's reign as the Queen of Trial will last for at least another year after the 27-year-old completed an unbeaten season in the FIM Women's Trial World Championship. With the feet-up females competing over a shorter four-round championship across three venues, Bristow (Sherco) won all four Trials to finish the season with a 22-point advantage over Berta Abellan (Vertigo).
With the opening event at Motegi in Japan making up two rounds of the championship, Bristow went toe-to-toe with her Spanish rival Sandra Gomez (Gas Gas) on the opening lap of the opening Trial as they gapped the field by a big margin to go into lap two on five marks each. On the second lap the British rider, showed her class to add just two to her total as Gomez crumbled under the pressure and dropped a further fifteen. A score of sixteen on the second day was less than half that of second-placed Maria Giro (Montesa) and with Gomez down in seventh place, the tone for the season was set.
Gomez was back on the podium at the Alpine ski resort of Auron in France but conceded second place to Neus Murcia (Beta) by a single mark, meaning Bristow's victory effectively left her needing just a finish in the decisive final round at her home GP in Silsden, Great Britain.
However, Bristow made sure she signed off in style in front of a huge crowd on the hills of Addingham Moorside, trading cleans with Ingveig Hakonsen (TRRS) through the first five sections and posting a first lap of seven, before controlling the second lap to win by nineteen marks over the Norwegian. Meanwhile, Abellan came home third to secure second position in the championship ahead Gomez.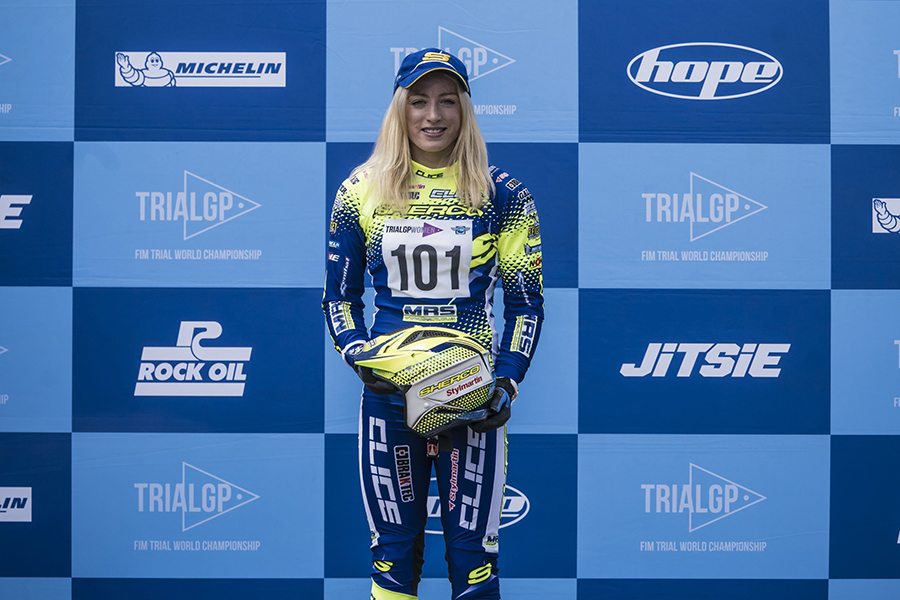 2017 FIM WOMEN'S TRIALGP WORLD CHAMPION
BRISTOW: THE UNSTOPPABLE FOURTH
Emma Bristow (Sherco) saw her stunning 100% win record, which stretched back to May 2015, finally come to an end in the final round of the 2017 FIM Women's Trial World Championship but even that wasn't enough to stop her from claiming an impressive fourth straight title.
After virtually faultless rides in the previous three rounds of the season – two in the USA and one in the Czech Republic – Bristow arrived to the final round at Arco di Trento in Italy with a thirteen-point lead over Spain's Sandra Gomez (Gas Gas). With Gomez holding a ten-point cushion over Theresa Bauml (Beta) from Germany, the top three positions looked secure before the action got underway in Italy, but Bauml had other ideas, finishing just a single mark behind the rampant Bristow on the opening lap.
A maximum on section two of the second lap put Bristow almost immediately on the back foot and following a three just two sections later she was left watching helplessly as the German matched her clean for clean to take a memorable win by four marks. However, second place was still easily good enough for the British star to take her fourth consecutive FIM World crown by a healthy fifteen-point margin, whilst Gomez ended the day two marks behind Bristow in third to hang on to the runner-up spot in the championship ahead of the impressive Bauml.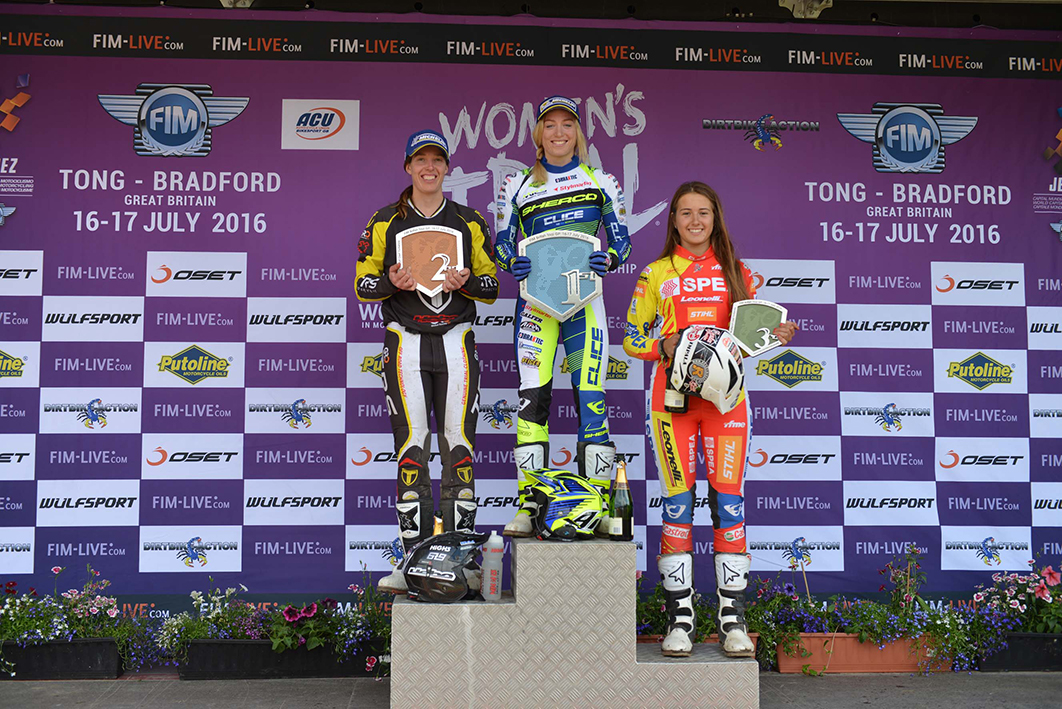 2016 FIM WOMEN'S TRIAL WORLD CHAMPION
BRISTOW HITS TREBLE TOP
Emma Bristow - Sherco romped to her third consecutive FIM Women's Trial World Championship with a 100% win record in 2016. The 25-year-old Brit opened the three-round season with a double victory in her home round at Tong, Yorkshire, a result she repeated at the second event in Italy. With each rider's final tally to be decided by their best four results, Bristow's 80-point haul from the opening two rounds secured the championship with a day of competition to spare.
Whilst Becky Cook – TRS was second behind her British compatriot on both days at Tong, her third-place onthe opening day at Chiampo was chalked off due to a technical infringement, which combined with a second placed for impressive Spanish newcomer Sandra Gomez - Gas Gas, who led the opening lap, and a career-best finish of second on day two for Donna Fox – Sherco , the chase for the runner-up spot in the championship was wide open going into the final round at Isola 2000 in the southern French alps.
In the end it went to Gomez, who bagged another second ahead of podium debutant Sarah Bauer-Sherco, as Bristow signed off with another win. Meanwhile, Cook claimed third overall after a tie-break with Spain's Berta Abellan - Beta.