SIDECAR MOTOCROSS
Etienne Bax & Ondřej Čermák
Etienne Bax (Driver)
Born on 9 August 1988 in Bergeijk, Holland
Ondrej Cermàk (Passenger)
Born on 27 February 1985 in Příbram, Czech Republic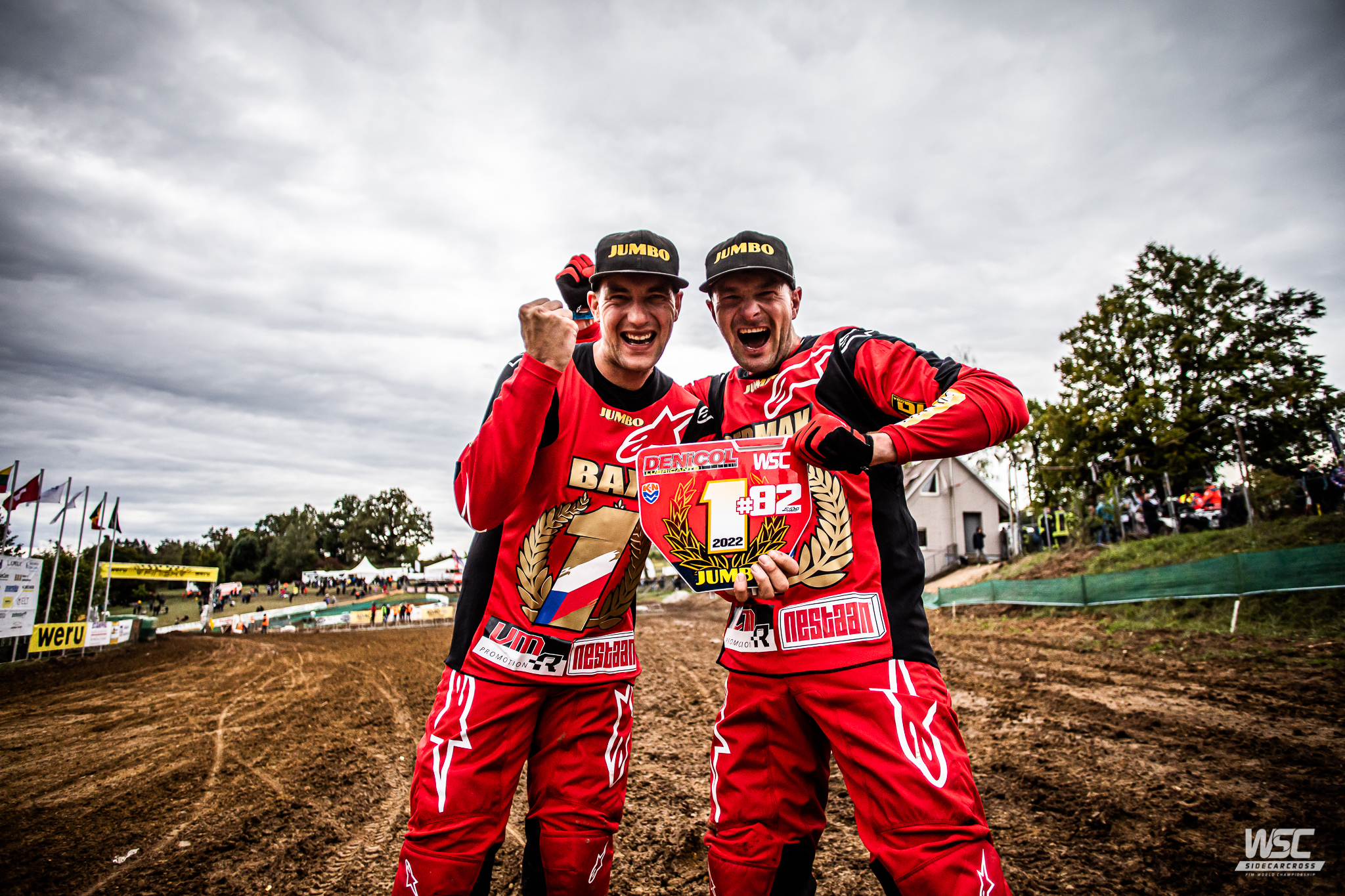 2022 Sidecar Motocross World Champions
ETIENNE BAX - FIVE STAR!
Dashing Dutchman Etienne Bax made it three FIM Sidecar Motocross World Championship titles in a row – and five in total – after a nail-biting 2022 three-wheeled war decided over six rounds and twelve motos.
The thirty-four-year-old – partnered by the Czech Republic's Ondřej Čermák following a split with Nicolas Musset at the end of last season – further underlined his reputation as the leading sidecar motocross rider of his generation.
Along with his five World crowns, Bax was also runner-up from 2012 to 2014 – statistics that only go to confirm his dominance of the sport over the last eleven years.
Kicking off the season in late April on his home soil – or, rather, sand – of Markelo, Bax got his title defence off to the best possible start with a double win.
He then lost the championship lead four weeks later, on the spectacularly steep slopes of Loket in the Czech Republic when, after bringing it home in second in the opening moto, a mechanical issue dropped him back to nineteenth.
The former roofer who turned professional in 2015 got his mojo working again with a win in race one at the punishing Lommel circuit in Belgium at the end of June before a first turn crash in the second moto forced him to come through the pack to fourth.
His title hopes took another blow in early July in Estonia when he backed up third in race one with a win second time out, only to be docked ten places for a yellow flag infringement which cost him the championship lead.
After carding one-three finishes at Kaplice in the Czech Republic he clinched the crown by just four points when he went one-two at a dramatic final round in Germany in mid-September.
PALMARES
FIM Sidecar Motocross Rider World Champion: 2015, 2017, 2019, 2021, 2022
ONDREJ CERMAK - A DREAM COME TRUE!
After coming so close to realising his dream of becoming FIM Sidecar Motocross Passenger World Champion last season, Ondrej Cermak finally achieved his long-held ambition in 2022.
A fighting third in 2021 alongside Julian Veldman, Cermak teamed up with defending FIM Sidecar Rider World Champion Etienne Bax this year and the rest, as they say, is history!
At the age of thirty-seven, Cermak – who works as a paramedic – was the senior crew member and he needed to call upon his hard-earned experience as the championship chase went all the way down to the wire.
Following a double win at the series opener in Markelo in Bax's native Holland at the end of April, a mechanical problem on his home turf one month later in the second race at Loket dropped the pair to nineteenth after a storming second in the first moto.
Winner of the first moto one month later in late June in the bottomless, unforgiving sand of Lommel in Belgium, Cermak's title ambitions were back on track until a crash in the first turn of race two saw him and Bax playing catch-up.
The pair carved their way through the field for a fighting fourth though lost the overall win on a tie-break.
Cermak was back in front following July's fourth round at Lange Motokeskus in Estonia with a three-one card before the championship lead was snatched away with a ten-position penalty for a yellow flag infringement in the second race.
However, solid one-three finishes at Kaplice in the Czech Republic kept him in the hunt and the title was clinched by just four points with one-two scores at a dramatic final round in Germany in mid-September.
PALMARES
FIM Sidecar Motocross Passenger World Champion: 2022