ENDURANCE TEAM
F.C.C TSR Honda France
Team Manager: Masakazu Fujii (JPN)
Riders: Freddy Foray, Alan Techer, Josh Hook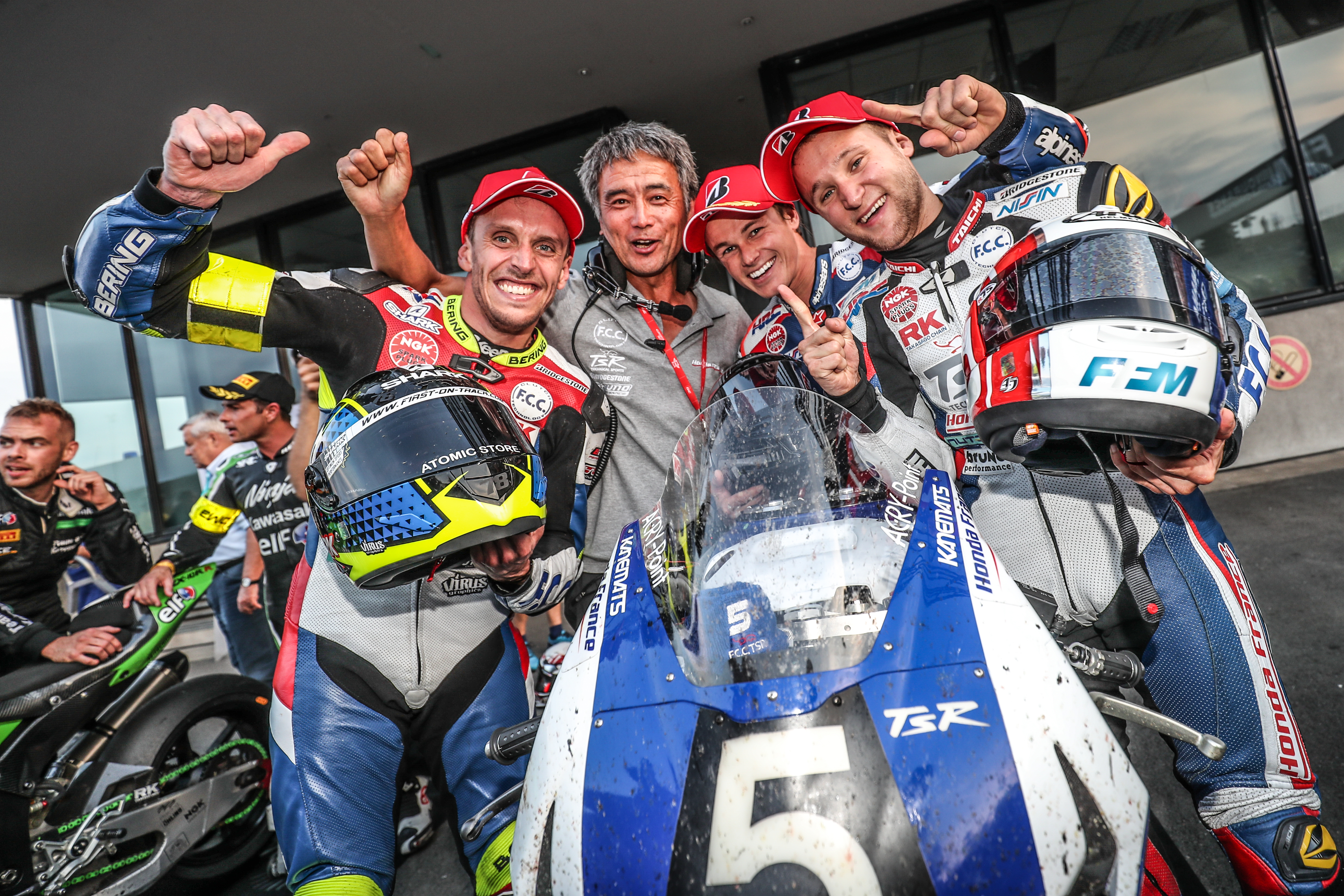 2018 FIM ENDURANCE TEAM WORLD CHAMPION
F.C.C. TSR Honda France (Freddy Foray, Alan Techer and Josh Hook) became the first Japanese team to claim the FIM Endurance World Championship title in the history of the series, after a dramatic final-round decider at the world-famous Suzuka 8 Hour. In a race won for the fourth successive year by the Yamaha Factory Racing Team, the jubilant Japanese crowd had double cause for celebration as the two French riders and the Australian took Masakazu Fujii's team to the title with fifth place.
Fujii headed up a new alliance for 2017-18 between the vastly experienced Honda France and Team FCC TSR, one of the great Japanese endurance specialists, with the aim of strengthening Honda's presence at the highest level of the discipline. Fujii united existing TSR team members and Honda France employees with technicians from the Spanish structure Bruno Performance to create the perfect blend both on the track and in the garage.
Riding a CBR1000RR Fireblade prepared at the TSR workshops in Suzuka, Foray, Techer and Hook made a promising start to the season as they led the Bol d'Or last September, even though they crashed and finished sixth, as defending champions GMT94 Yamaha (David Checa, Niccolò Canepa and Mike Di Meglio) claimed the win.
However, the trio made history next time out at Le Mans, making F.C.C. TSR Honda France the first Japanese team ever to win the 24 Heures Motos – also Honda's first win there since 2006 - and shot to the top of the standings. They hung on by a single point after taking third behind YART Yamaha and GMT94 Yamaha at Slovakiaring, but extended their lead to ten points with a second victory from pole position at Oschersleben. Fifth place in that grand finale at Suzuka, combined with sixth for GMT94 Yamaha, was enough to secure a historic title by thirteen points.
PALMARES
Endurance Team World Champions - 2018