125CC JUNIOR
Gianluca Facchetti
Born on 29 March 2000 in Italy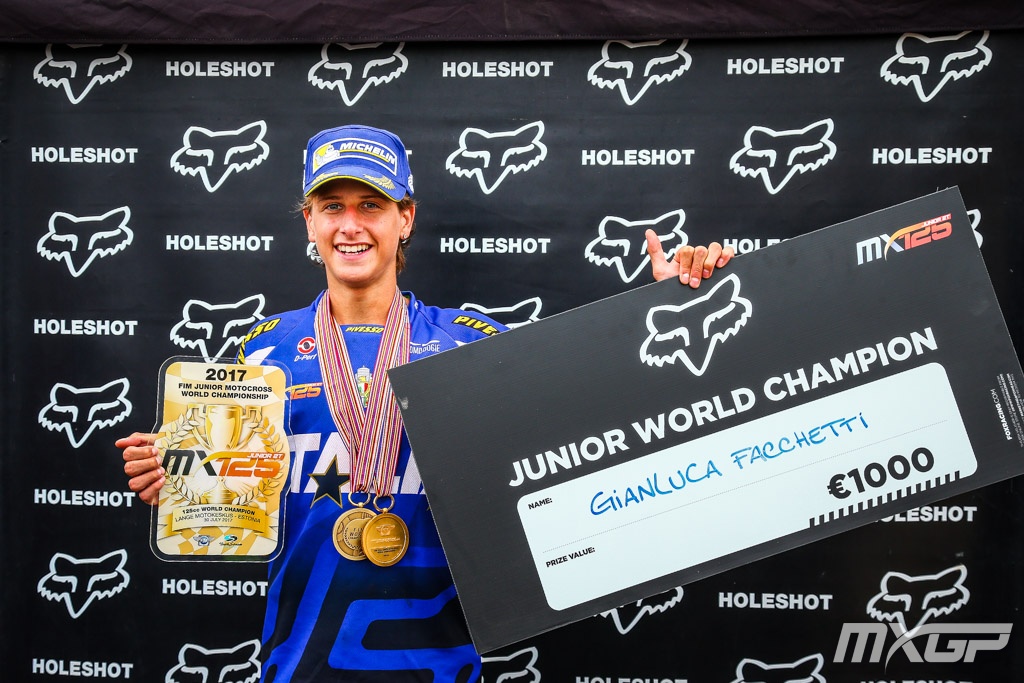 2017 FIM 125CC JUNIOR MOTOCROSS WORLD CHAMPION
FIERY FACCHETTI SMOKES THE FIELD
Gianluca Facchetti (Husqvarna) formally announced himself as the next Italian star of motocross by winning both motos of the FIM 125cc Junior Motocross World Championship in Tartu, Estonia, in stylish fashion as he dominated a forty-rider field around the Lange Motokeskus circuit.
In race one the 17-year-old led the field across the Holeshot line, closely followed by French youngster Brian Moreau (KTM), heading every subsequent lap to claim a clear victory, four seconds ahead of Denmark's Mikkel Haarup (Husqvarna), who reeled in and passed Moreau late in the race. In race 2 Facchetti had another good jump off of the gate and was even more dominant, at one point holding a sixteen-second gap as he comfortably took the flag again – this time by eight and a half seconds from Norway's Kevin Horgmo (KTM). Third place for Haarup secured second overall, with Horgmo's fourth in race 1 enough to outscore Moreau, who dropped out of the podium positions with a 3-4.
As a national junior champion Facchetti has been touted as his country's next big thing for some time now but two years ago he sustained multiple injuries including a shattered pelvis in a traffic accident that threatened to end his burgeoning career. However, in a year that saw his legendary compatriot Antonio Cairoli return to the pinnacle of the sport as FIM MXGP World Champion, Facchetti proved he is also firmly back on track to follow in his friend's footsteps.
PALMARES
World title – 2017