WOMEN'S TRIAL DES NATIONS
Great Britain
Riders: Emma Bristow, Donna Fox, Jess Bown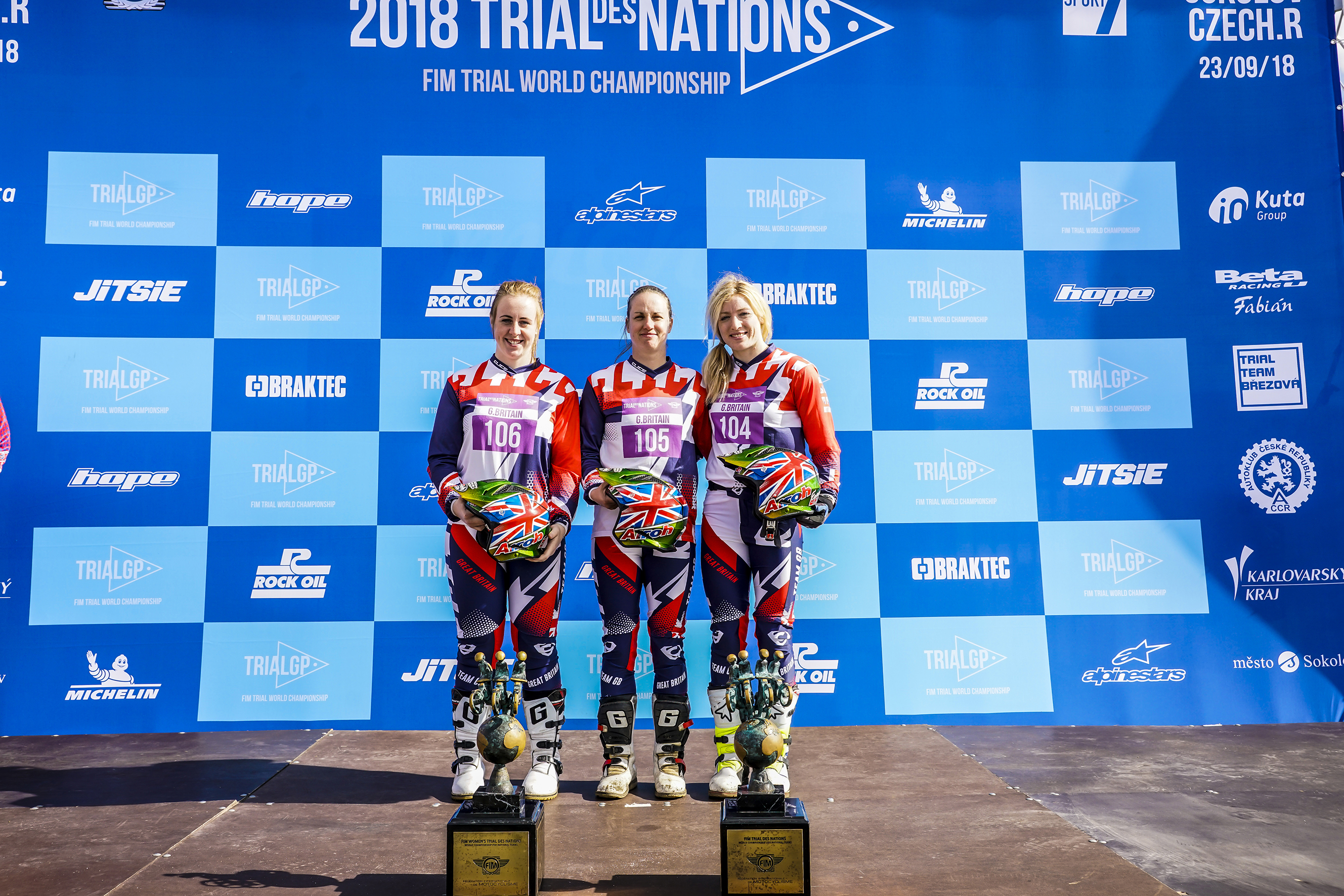 2018 FIM WOMEN'S TRIAL DES NATIONS
LIONESSES BITE BACK
The FIM Women's Trial des Nations proved to be another epic battle between Great Britain and last year's champions Spain in soaking conditions at the Sokolov venue in the Czech Republic. Competing alongside the men for the first time in the competition's rich and illustrious history, individual World Champion Emma Bristow (Sherco) remained unbeaten in 2018 as she led Donna Fox (Montesa) and Jess Brown (Scorpa) to revenge over their Spanish counterparts, regaining the title they last won in 2016 and making it eight successes in total since since the Women's team event was first introduced back in 2000.
With the best two scores through each section counting towards a country's result, riders from twenty-three nations faced a mixture of man-made hazards featuring huge boulders and more natural terrain in nearby woods where grip was at a minimum. Day-long torrential rain and plunging temperatures added to the drama and forced organisers to modify the sections as the event became a war of attrition.
With the defending champions fielding Sandra Gomez (Gas Gas), Berta Abellan (Vertigo) and Neus Murcia (Beta) it was always going to be a fierce contest with the British Lionesses leading by just five marks at the halfway stage before pulling clear on lap two to record a hard-earned twelve-mark victory.
Meanwhile, Theresa Bauml (Montesa), Vivian Wachs (Gas Gas) and Ina Wilde (Gas Gas) came home in a comfortable third position for Germany, ahead of Norway and Italy.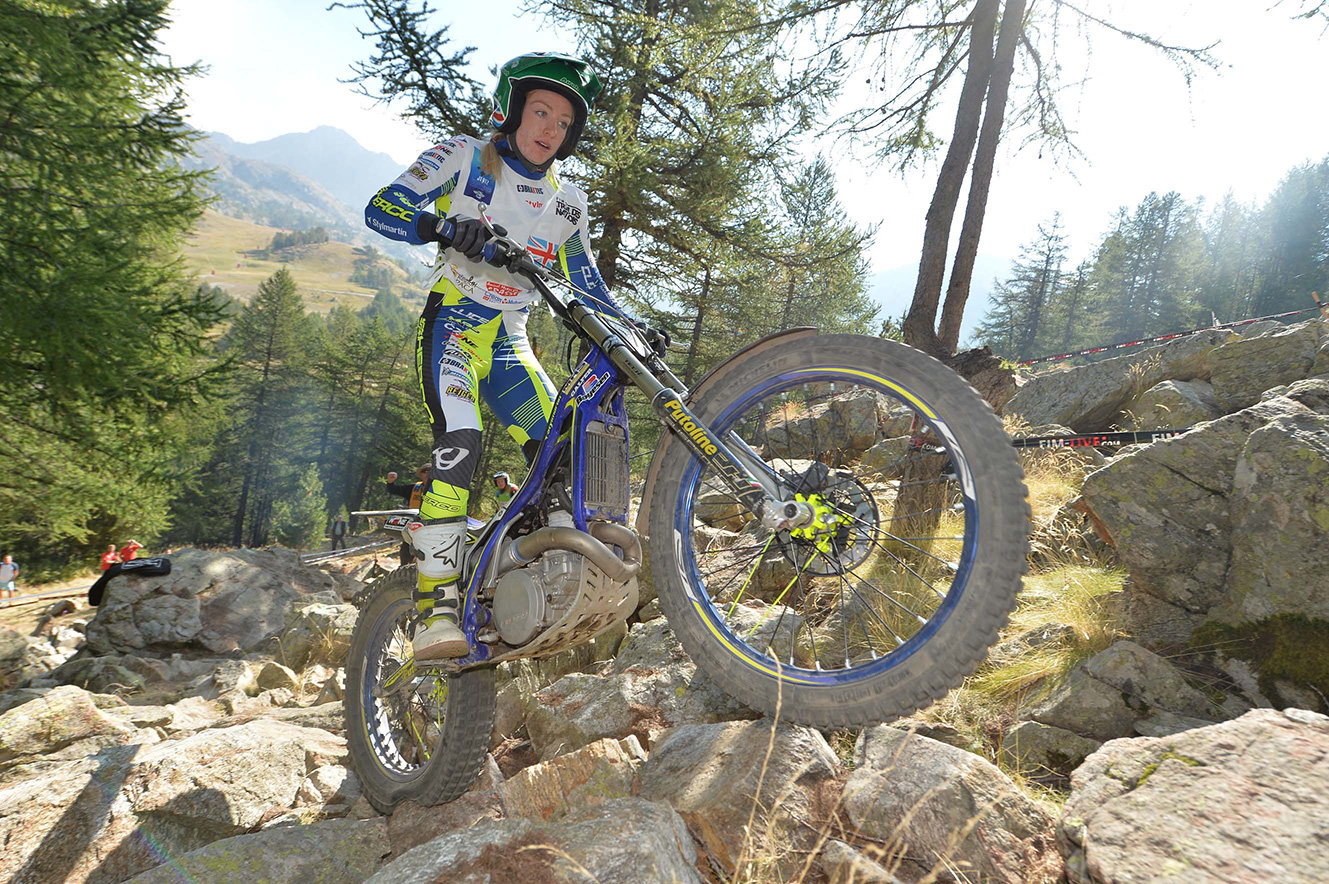 2016 FIM WOMEN'S TRIAL DES NATIONS
GB WOMEN SET NEW WIN RECORD
Great Britain's Women extended their winning run in the FIM Women's Trial des Nations, the formidable trio of Emma Bristow - Sherco, Rebekah Cook -TRS and Donna Fox – Sherco stretching their record to four wins in a row and seven in total to become the outright leaders in terms of victories since the event was first introduced back in 2000. Against the stunning backdrop of the French mountains at the ski resort of Isola 2000, the Spanish line up of Sandra Gomez - Gas Gas, Berta Abellan - Beta and Mireia Conde - Beta put up a strong challenge as they fought to win back the title their country last held in 2012.
However, after two tense laps of fifteen sections just five marks split the two nations, with the best two scores from each hazard counting towards the final team total. As Great Britain successfully defended the title the runner-up spot was anything but a formality for Spain, who had to hold off a strong challenge from Germany. Sarah Bauer -Sherco, Theresa Bauml - Beta and Ina Wilde - Gas Gas did their absolute best to match the second place they recorded twelve months ago, but eventually ended the day six marks back from the Spaniards, with the top three countries finishing the Trial well ahead of the other chasing nations.