ISDE WORLD TROPHY
Great Britain
Riders: Steve Holcombe, Nathan Watson, Jed Etchells, Jamie McCanney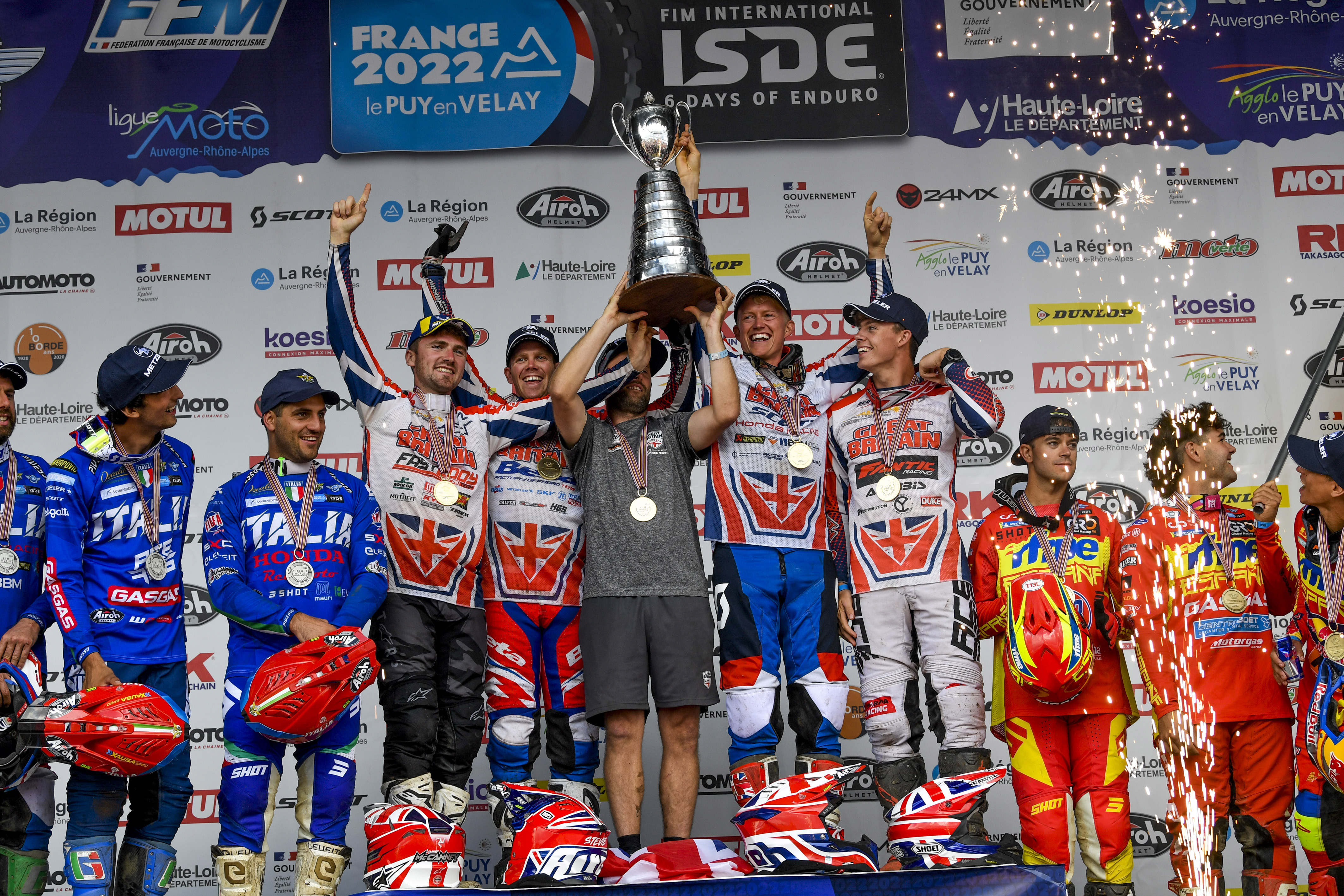 2022 FIM INTERNATIONAL SIX DAYS OF ENDURO WORLD TROPHY
BEST OF BRITISH!
Winners of the inaugural FIM International Six Days' Enduro World Trophy all the way back in 1913, overall team success has eluded Great Britain ever since 1953, but that all changed in 2022!
The ISDE is not just a race, it is also a war of attrition and despite boasting numerous World individual champions in the intervening sixty-nine years, the big prize has proved to be elusive for the British Trophy Team.
However, this time around at the ninety-sixth edition of the event, the four-man team of Steve Holcombe – Beta, Nathan Watson – Honda, Jed Etchells – Fantic and Jamie McCanney – Husqvarna meant business from day one as they locked horns with defending champions Italy along with France, Spain and the USA.
Competing at Le Puy-en-Velay in southern France at the end of August and start of September, these five nations quickly established themselves as the leading lights following a tense opening day which saw them all finish within a minute of each other.
As the event progressed, Britain and Spain began to ease clear of the chasing pack and with just the final day's Cross Test to go it was the British awesome foursome that held a four-minute and twenty-two second lead.
With victory within sight, but defeat just one slip away, the British team took care of business to once again be crowned the World's number one Enduro nation.
Italy overtook Spain in the dying seconds of the Cross Test to secure second by just over half-a-second following almost thirteen hours of no-holds-barred racing with the host nation fourth ahead of the USA.
PALMARES
FIM International Six Days' Enduro World Trophy Champions: 1913, 1924-1929, 1932, 1936-1938, 1948-1951, 1953, 2022