MOTOCROSS OF NATIONS
Italy
Riders: Toni Cairoli, Alessandro Lupino, Mattia Guadagnini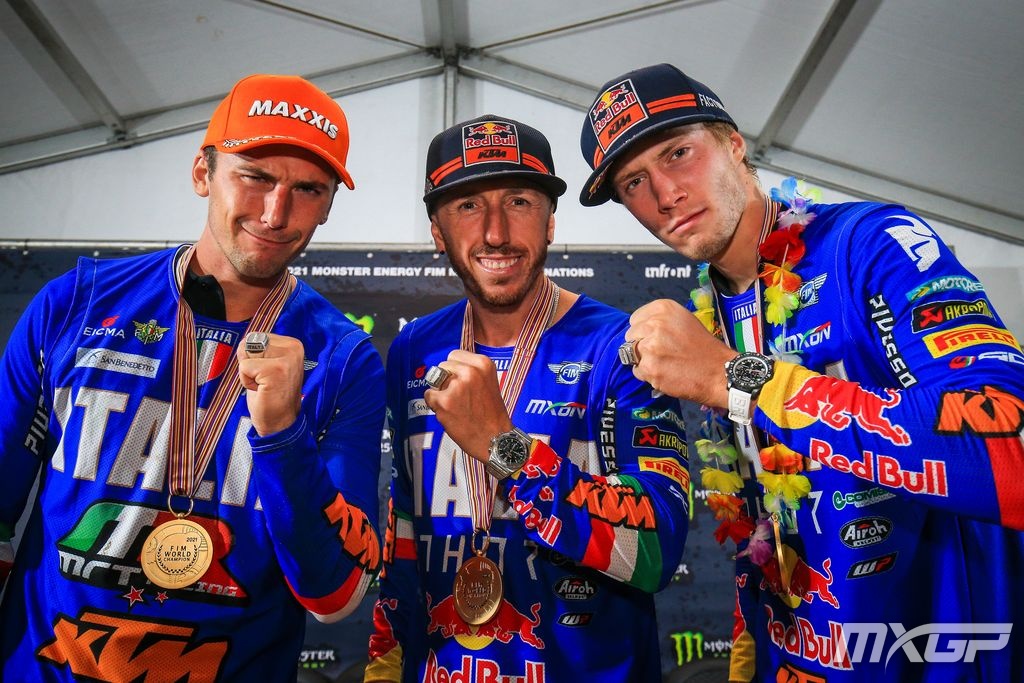 2021 FIM MOTOCROSS OF NATIONS
ITALIAN STALLIONS ARE VICTORIOUS!
'Veni, vidi, vici' – translated from Latin it means 'I came, I saw, I conquered'. Toni Cairoli (Red Bull KTM) has it inked into his flesh and the Italian legend, in his swansong season, finally achieved the ultimate accolade when he led his country to victory at the FIM Motocross of Nations over the last weekend in September.
It has been a long time coming. For almost two decades Cairoli has been plugging away, but it has always been a case of close, but no cigar. Stand-out MXoN moments include 2012 when he went 1-1 at Lommel, but he has never had the back-up to take the top step.
This all changed for him on home soil at Mantova where he was so ably supported by veteran Alessandro Lupino (Marchetti KTM) and teenaged talent Mattia Guadagnini (Red Bull KTM).
It was a close-run thing – heading into the third and final moto of the day Italy led Belgium by just a single point – but while Jeffrey Herlings (Red Bull KTM) and Glenn Coldenhoff (Monster Energy Yamaha) ran 1-3 to drag defending champions Holland back into contention, Cairoli's second-placed finish sealed the deal for the host nation.
Everything rested on this final moto. The FIM Motocross of Nations can be won and lost in the blink of an eye and the Italians held their nerve. Herlings won by almost a minute, but Cairoli's second was all the Italians needed to win for the first time since 2002 when Andrea Bartolini, Alessio Puzar and Chicco Chiodi did the business.
Coldenhoff's third gave Holland second on the day from Team GB's trio of Ben Watson (Monster Energy Yamaha), Shaun Simpson (SS24 KTM) and Conrad Mewse (Hitachi KTM fuelled by Milwaukee).
PALMARES
MXoN World Champions - 2021, 2002, 1999