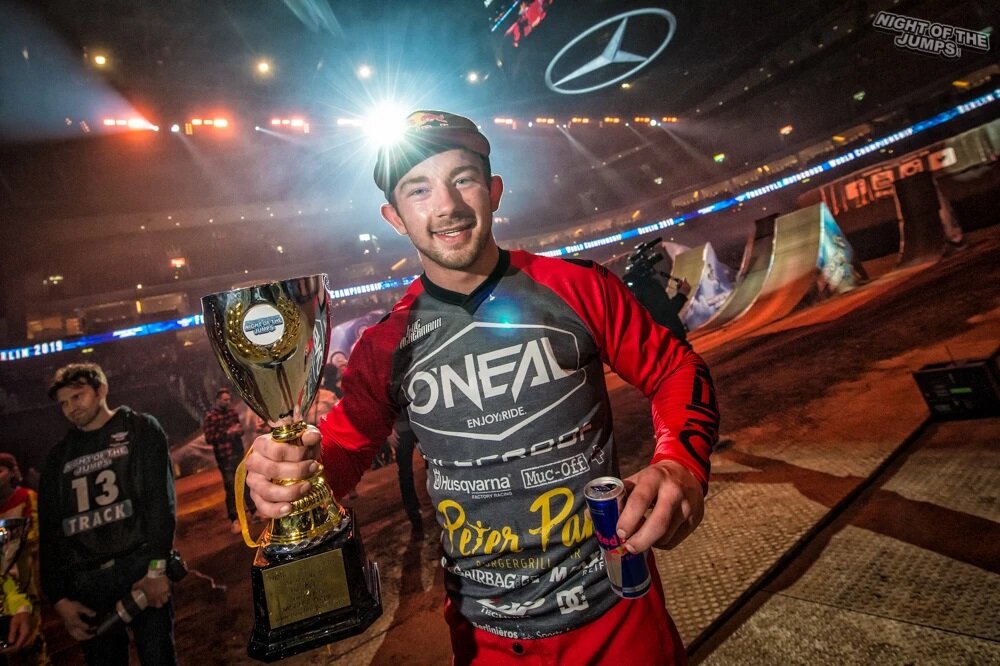 2019 FIM FREESTYLE MOTOCROSS WORLD CHAMPION
THE LUC OF A CHAMPION
Luc Ackermann claimed the FIM FreeStyle Motocross World Championship title in 2019, ending a run of five years of dominance for his great rival Maikel Melero in dominant fashion. After taking the silver medal last year, the German leapfrogged the Spaniard in the 'Night of the Jumps' rankings by winning all but one round this time, and with the riders' lowest score of the season written off from their final total he effectively ended the campaign with a maximum points-haul.
Just as they had done last season, Ackermann and Melero fought fiercely throughout the year, although this time the young German had added consistency to his impressive range of skills. After spectacular victories in front of vociferous home crowds in Berlin and Munich, Ackermann endured a disastrous first ever visit for the series to Lake Zurich, Switzerland, when he crashed heavily and missed out on the final. Impressive Australian Paterson Bowden put together a strong challenge for the win in his breakout season but Melero's experience told in the final and a first victory of the year kept him in title contention.
The decisive 'Night of the Jumps' came in August in Daqing, the fifth different Chinese city to be visited by the series in the past eight years. Whilst Bowden unfortunately could not compete due to visa issues, Ackermann returned to his best with a sensational run despite dewy ramps in the final - landing his Front Flip, Flair, 360 Nac Nac and Surfer Tsunami Flip and finishing with a Double Backflip to secure the gold medal in style.
PALMARES
FIM Freestyle Motocross World Champion – 2019