SIDECAR
Markus Schlosser & Marcel Fries
Markus Schlosser (Rider)
Born on 24 January 1972 in Seeberg, Switzerland
Marcel Fries (Passenger)
Born on 2 March 1967 in Menziken, Switzerland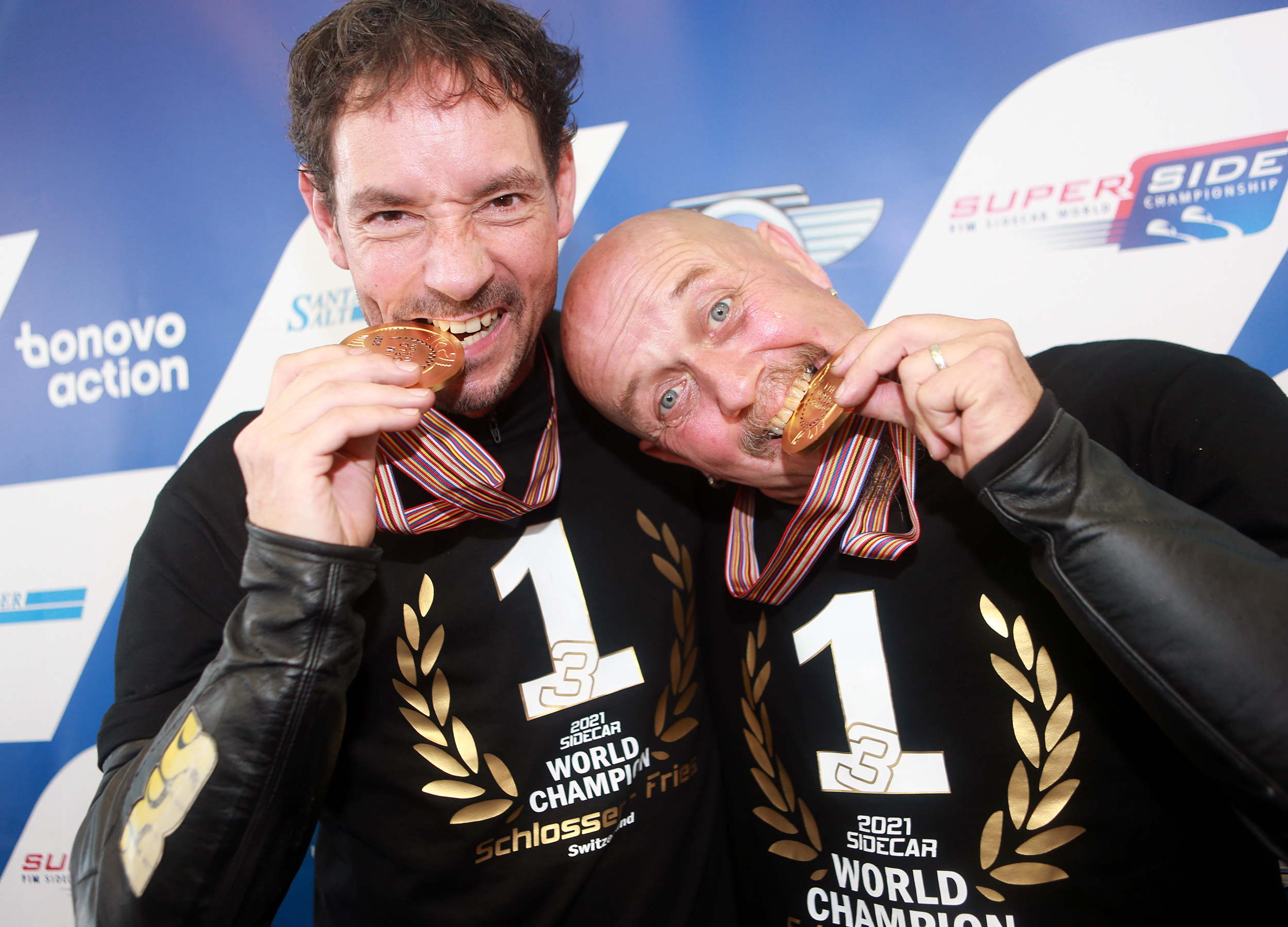 2021 FIM SIDECAR RIDER WORLD CHAMPION
SWISS MISSILE!
A hugely-experienced competitor who has been racing since the early 1990s, forty-nine-year-old Markus Schlosser – along with his compatriot Marcel Fries – became Switzerland's first FIM Sidecar World Champions since 1994.
A multi-time champion both at home and in Germany, Schlosser has been racing outfits for three decades and has two FIM bronze world championship medals with his first dating back to 1998, but he had to wait until this year to strike gold.
The seven-round series got under way at Le Mans in June where Schlosser ran two-one to secure the overall and take an early lead before travelling to the Pannonia Ring in Hungary two weeks later where he further extended his advantage with a dynamite double win.
Schlosser's title hopes suffered a cruel blow at Donington Park in early July when after a close second in the opening leg a catastrophic engine failure as he left the paddock for race two put him out, although he bounced straight back three weeks later at Assen – the 'Cathedral of Speed – with his second double win of the series.
Next up was Rijeka in Croatia where Schlosser tightened his stranglehold on the championship with a one-two before he did the double yet again, this time at the penultimate round at Oschersleben in Germany.
With most of the hard work done and following the cancellation of the round at Brands Hatch, Schlosser rolled into Estoril in Portugal at the end of October with one hand on the championship trophy.
In rapidly worsening conditions a third-placed finish in race two was easily good enough to earn him the World title he had been chasing after for so long.
FRIES FLIES!
Compared to the new breed of young guns, Marcel Fries' motorsport career started relatively late and he was thirty-nine when he started racing in 2006.
He had already proved himself as a World-class passenger with compatriot Jakob Rutz as driver, although it was not until he joined forces with Markus Schlosser for the 2019 season that the podiums began to flow with three coming in their debut year together in the FIM Sidecar World Championship.
With last year's championship cancelled because of the ongoing pandemic, Fries was forced to wait twelve months before he could spring back into action, but he immediately found himself spraying the winners' champagne from the top step of the podium after victory in Le Mans with two-one finishes.
Just two weeks later he was victorious again – this time thanks to a double win at Hungary's Pannonia Ring – and even a blown engine before the start of race two at Donington Park in early July could not stop the momentum he had built up with Schlosser.
A double win at Assen in Holland followed three weeks later and a one-two at Rijeka in Croatia saw him back on top of the podium for the fourth time in just a few months.
Next up was Oschersleben in Germany where he found himself a double winner yet again and with the penultimate round at Brands Hatch cancelled, he sewed up his first FIM Sidecar World Championship title – and the first for a Swiss crew since 1994 – at the series finale at Estoril in Portugal.
PALMARES
FIM Sidecar Rider World Champion - 2021
PALMARES
FIM Sidecar Passenger World Champion: 2021