SIDECAR MOTOCROSS
Marvin Vanluchene & Ben van den Bogaart
Marvin Vanluchene (Driver) born on 26 December 1995 in Tielt, Belgium
Ben Van den Bogaart (Passenger) born on 24 September 1989 in Turnhout, Belgium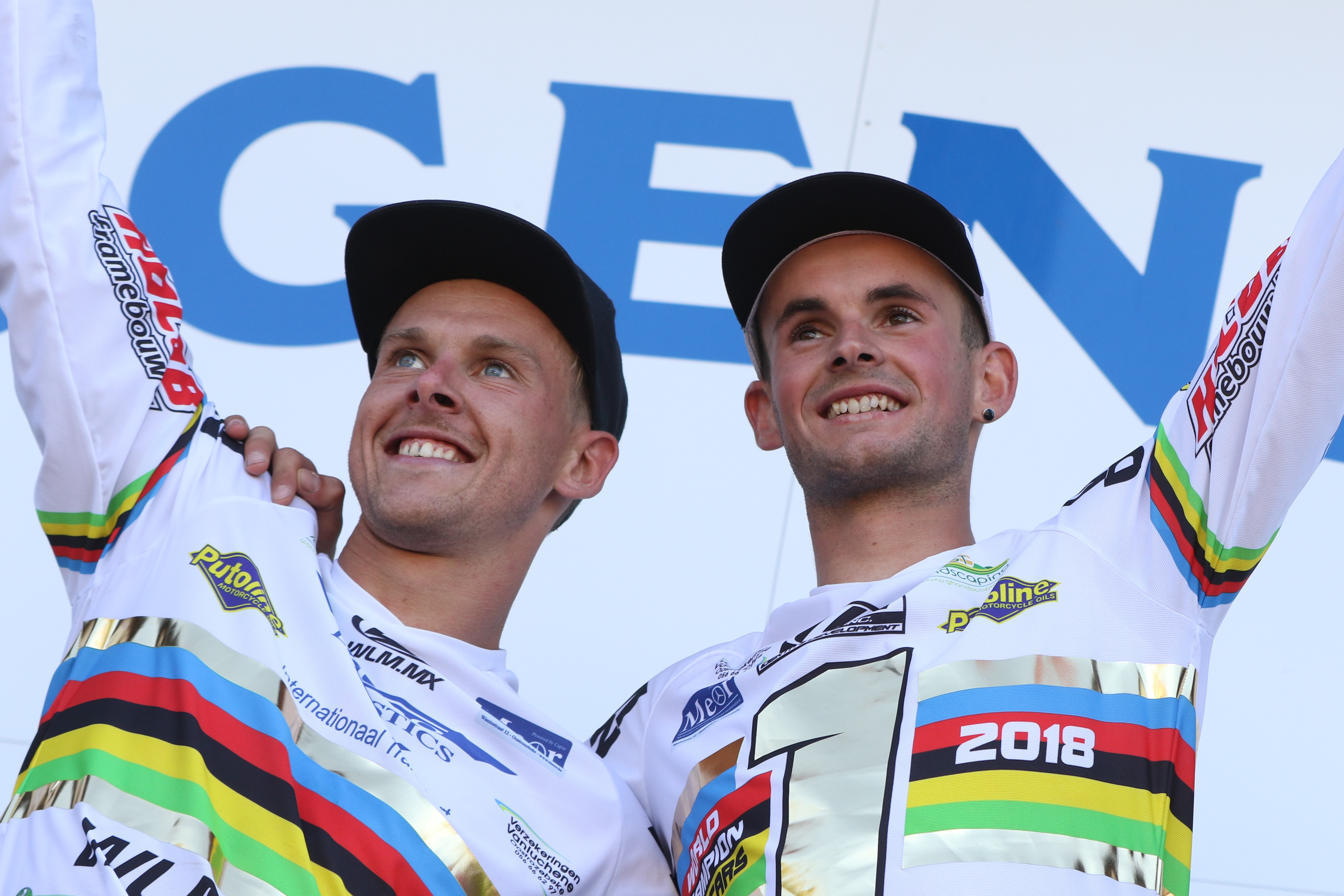 2018 FIM SIDECAR MOTOCROSS WORLD CHAMPIONS
MARVELLOUS MARVIN LEADS NEW WAVE
The FIM Sidecar Motocross World Championship has a new star and a new World Champion in the shape of 22-year-old Marvin Vanluchene, who claimed the 2018 title alongside experienced passenger Ben van den Bogaart after a season full of drama from the opening round.
Forced to start from the back of the grid at Oss following a qualifying infringement, last year's World Champion Etienne Bax mounted an incredible fightback only to crash out of second place and suffer a double break to his collarbone that effectively wrecked his title defence. 2017 runner-up Valentin Giraud then saw his passenger Elvijs Mucenieks suffer a broken back during morning warm-up for the third round in Talavera de la Reina, Spain and when Dutch legend and early series leader Daniel Willemsen was also injured in a freak road accident, the way was open for the young guns to capitalise.
Guided by the experienced hand of three-time champion Van den Bogaart, Vanluchene did exactly that, taking his first win in Spain with further victories in the Ukraine, Czech Republic – where he scored the double –,Latvia (Cesis), Estonia and Switzerland. Meanwhile 21-year-old Koen Hermans, who also had a World Champion passenger in the shape of Nicolas Musset, also emerged as a championship contender, pushing for the red plate with wins from the opening round.
Hermans proved to be the strongest threat to Vanluchene but after the pair shared wins in Estonia, the Belgian proved to be the more consistent finisher and despite a double for the Dutchman in Latvia (Stelpe), Vanluchene and Van Den Bogaart were able to wrap up the title in style with a second leg victory at the penultimate round in Switzerland.
PALMARES - VANLUCHENE
Rider's World Title – 2018
PALMARES - VANLUCHENE
4 Passenger's World Title – 2018, 2016, 2014, 2013