LONG TRACK
Matthieu Trésarrieu
Born on 2 March 1986 in Bordeaux, France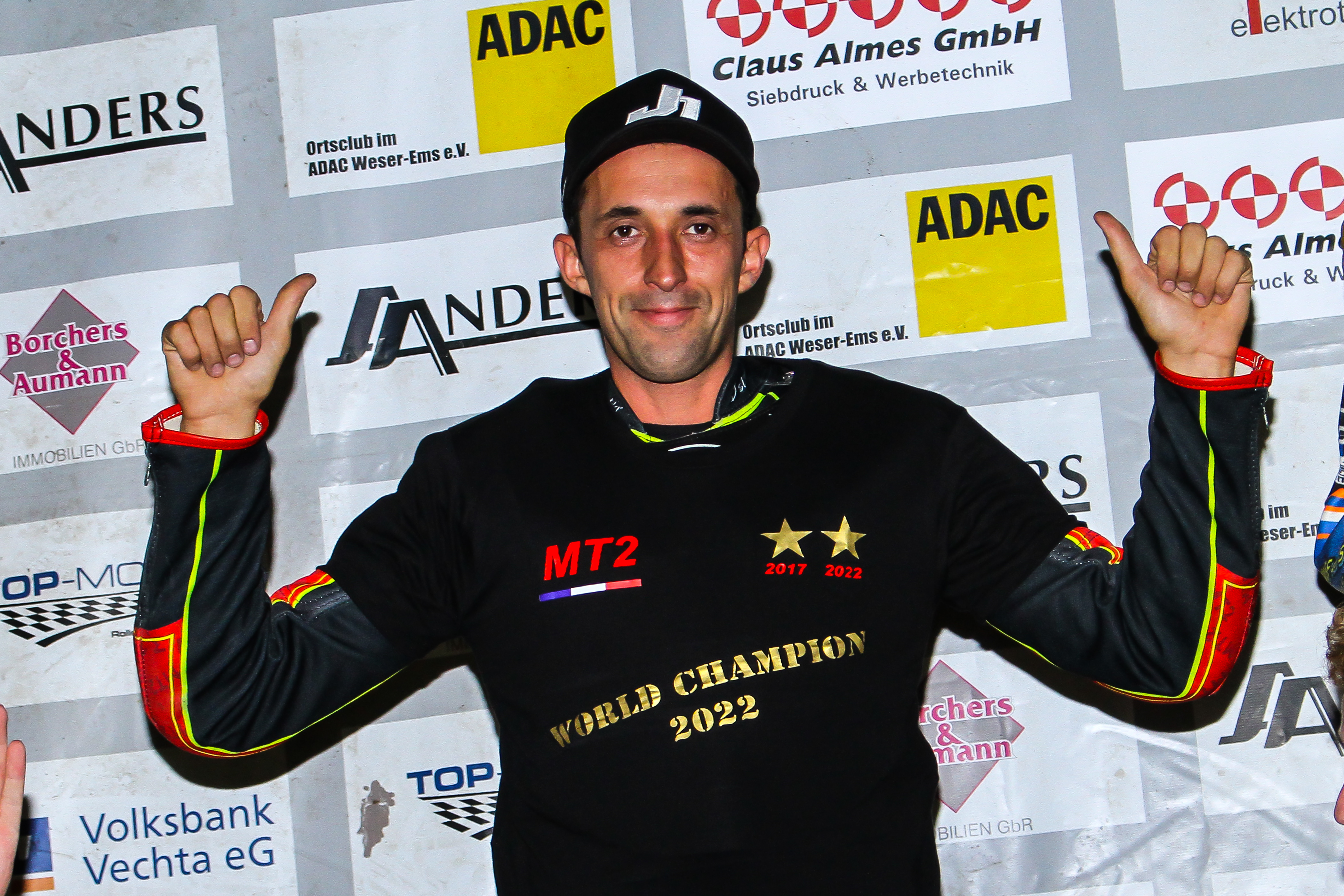 2022 FIM Long Track World Champion
RETURN OF THE KING!
Flying Frenchman Mathieu Trésarrieu has been a regular competitor in the FIM Long Track World Championship for almost two decades and has savoured the sweet taste of success on numerous occasions.
All the way back in 2007 he ended the series in third, but he had to wait another nine years before he could match this finish again.
In 2017 he was finally crowned champion and he then went on to win a string of bronze medals before adding a second FIM gold medal to his trophy cabinet this year.
The championship kicked off in Rzeszow in Poland in June where the thirty-six-year-old – who did not contest the series last season – finished fourth on a day when reigning champion Romano Hummel from Holland suffered badly from mechanical issues.
Moving to Muhldorf in Germany the following month, Trésarrieu swept to victory and the championship lead and, still in Germany, he extended his advantage to thirteen points with the win at round three at Scheessel at the end of August.
Next up was his home round at Morizes in early September and, just a stone's throw from Bordeaux, Trésarrieu did not disappoint the fiercely partisan fans who turned out in their thousands to watch him complete his hat-trick and move into a very healthy twenty-one-point lead with just two rounds to go.
With one hand already on the championship silverware, Trésarrieu travelled to the German city of Vechta one week later and a date with destiny.
Young British rider Zach Wajtknecht stopped the Frenchman's win-streak with a career-first victory, but second place was easily good enough for Trésarrieu to regain the title with one round – at Roden in Holland – still to go.
PALMARES
FIM Long Track World Champion: 2017, 2022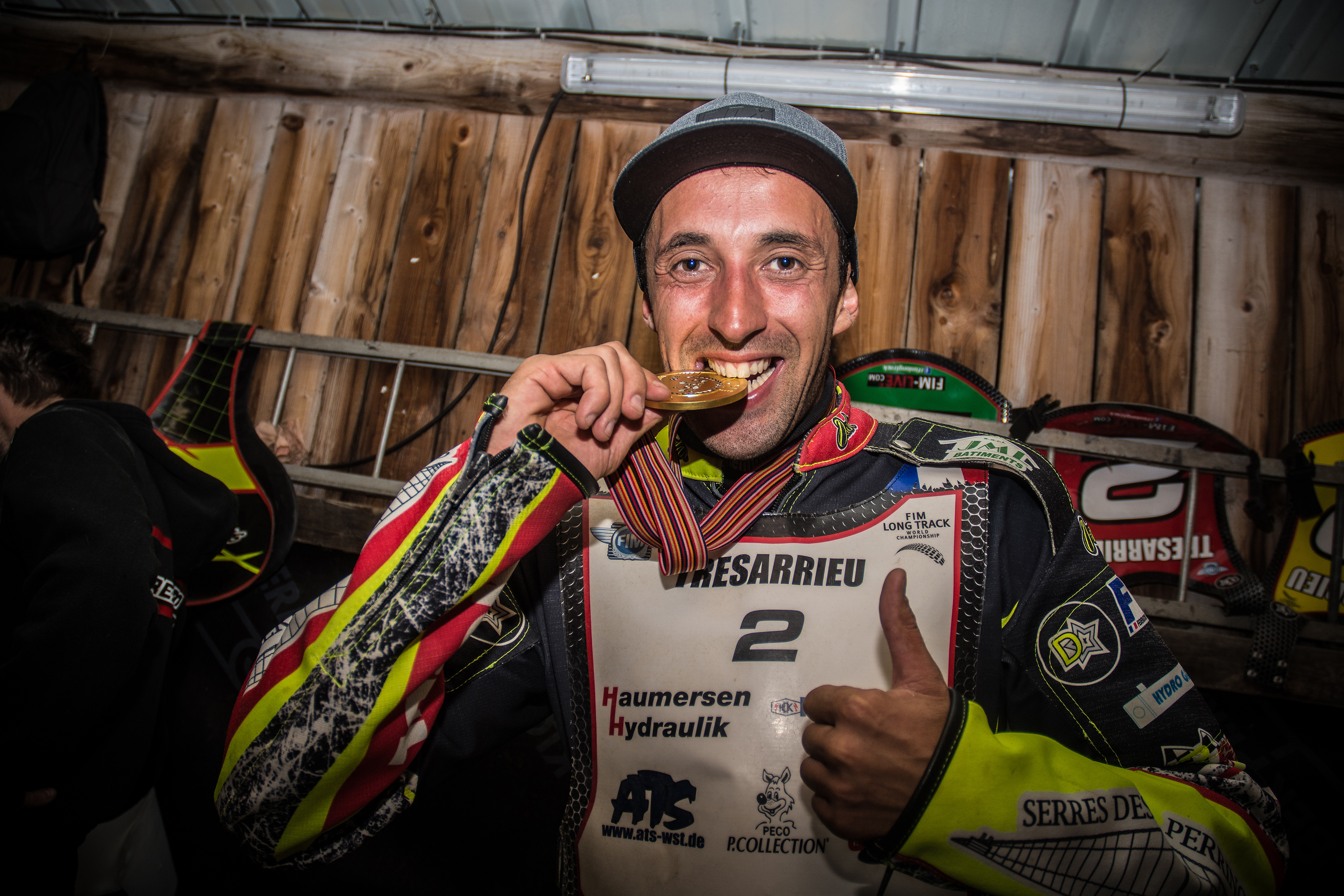 2017 FIM LONG TRACK WORLD CHAMPION
MON DIEU MATHIEU!
Mathieu Trésarrieu ended France's long wait for its first FIM Track Racing gold medal when he collected the FIM Long Track World Championship in September after a thrilling meeting in Morizes went to the final race before the title was decided. Tresarrieu, the youngest of three racing brothers, held his nerve to maintain a four-point lead he had taken into the last round to become the first Frenchman to win this competition.
Although he had headed the series from the second round Tresarrieu had to fight off a strong challenge from German debutant Michal Hartel but reached the final knowing that he needed only one point to secure his place in history. The 30-year-old used his experience to sit contently in fourth place and follow the battle at the front as Hartel's challenge faltered.
The bronze medal in the series went to Czech rider Josef Franc. Thanks to strong performances in the second part of the series he was able to overhaul James Shanes, another debutant with a bright future whose fourth place is another significant achievement and an optimistic pointer to the future of this track racing discipline and the next generation of racers.
With young riders such as Hartel, Shanes and Dutch newcomer Romano Hummel ready to challenge the established stars, the future of Long Track is looking bright.