SPEEDWAY UNDER 21 OF NATIONS - SoN2
Poland
Team Manager: Rafal Dobrucki
Riders: Mateusz Cierniak, Bartolomiej Kowalski, Wiktor Przyjemski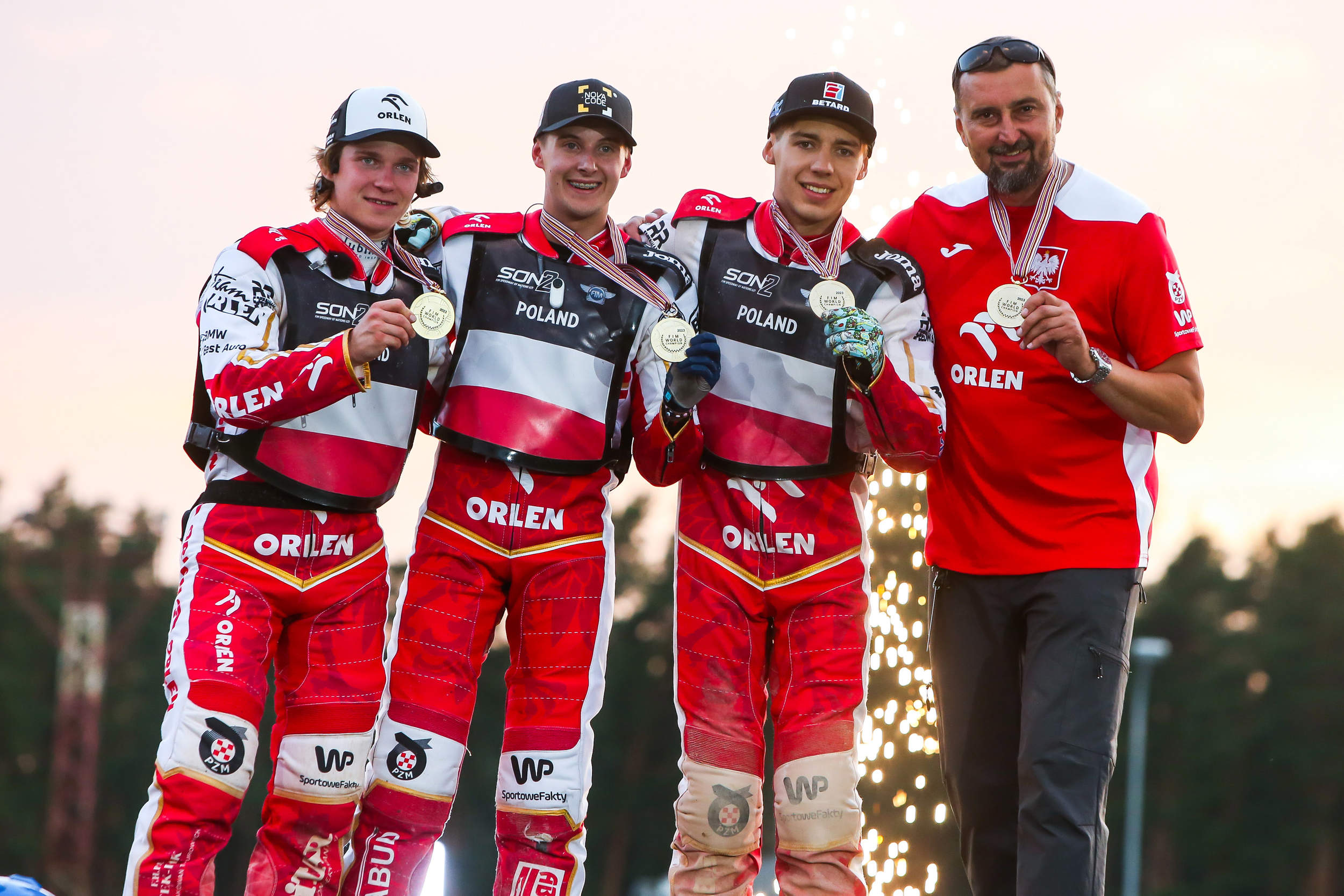 2023 FIM SPEEDWAY UNDER 21 OF NATIONS WORLD CHAMPIONS - SoN2
TEN OUT OF TEN!
Poland has been the dominant force in the FIM Speedway of Nations Under 21 (SON2) competition ever since it was first held in 2005 and the 2023 edition was no exception with their three-man team racing to a sixteenth victory this year in the Latvian capital of Riga in August.
Such is their command of the contest; a Polish team has only failed to stand on the top step of the podium three times in nineteen years and their victory in 2023 was their tenth in a row.
Comprising of reigning FIM SGP2 champion Mateusz Cierniak, Bartlomiej Kowalski and Wiktor Przyjemski, the Polish team looked to be in complete control as soon as the tapes went up on the first block of Heats in the Bikernieki Speedway Stadium.
Over the course of the twenty-one Heat races, the Polish trio pulled clear of the chasing six nations, scoring an impressive thirty-nine points to book their place in the Grand Final where they were joined by Denmark who defeated Latvia in a close-run Grand Final Qualifier.
Tensions were understandably running high for the adrenalin-fuelled winner-takes-all Grand Final, but Cierniak and Przyjemski – both veterans of last year's winning team – kept their cool to finish first and second and ensure the title was Poland's for another year.
Cierniak will be too old to be eligible next season and he signed off his SON2 career in style as the stand-out rider of the meeting, scoring twenty-two out of a possible twenty-four points in the Heats before winning the Grand Final by just under a second from his team-mate.
PALMARES
16 World titles, 2005, 2006, 2007, 2008, 2009, 2012, 2014, 2015, 2016, 2017, 2018, 2019, 2020, 2021, 2022, 2023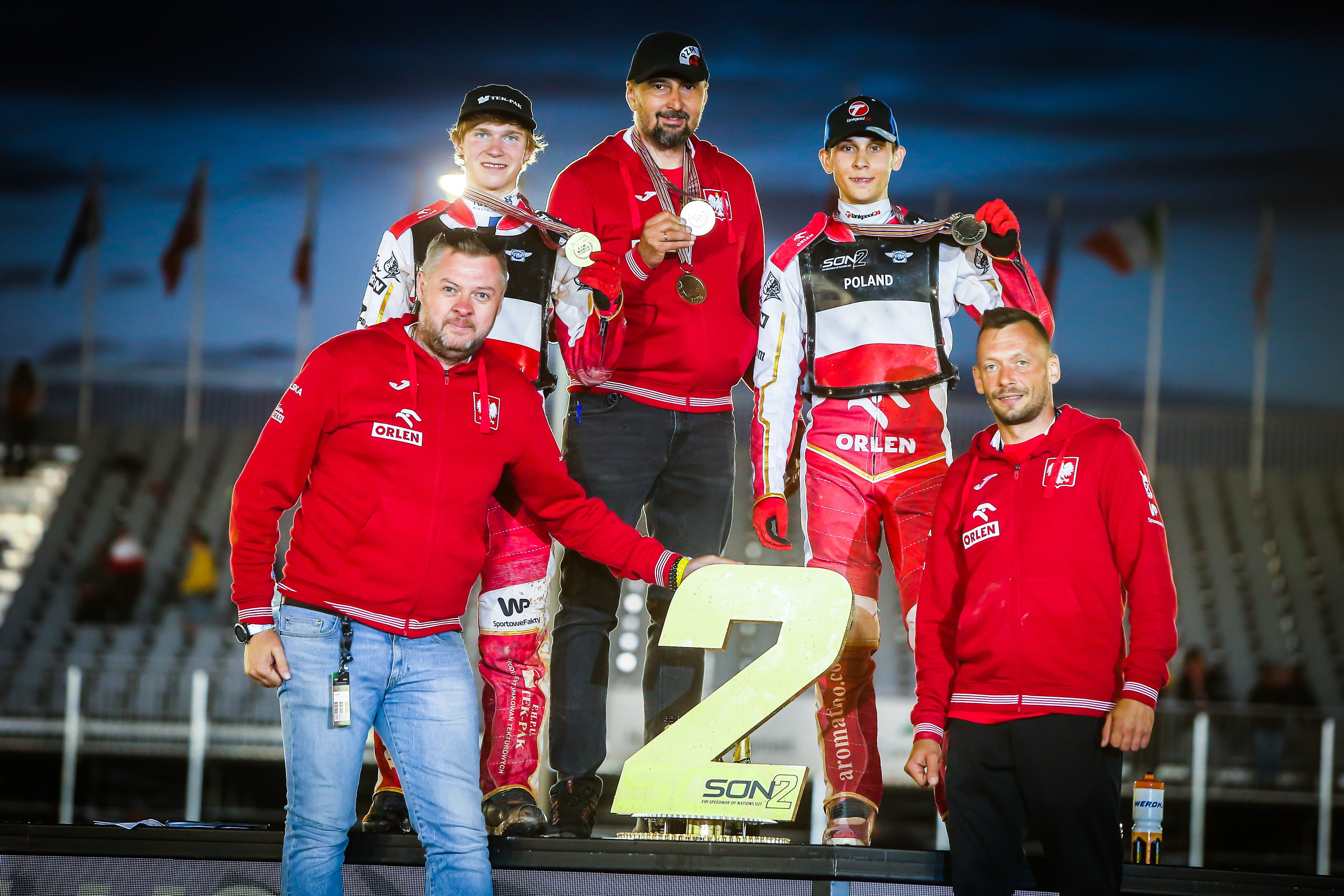 2022 FIM SPEEDWAY UNDER 21 OF NATIONS WORLD CHAMPIONS - SoN2
POLES APART!
The FIM Team Speedway Under 21 contest – rebranded as SON2 this season – has been almost exclusively dominated by up-and-coming Polish stars since its inception in 2005 and there was no change this time around with the proud nation claiming a ninth win in a row to take its total up to fifteen victories in eighteen years.
Returning to a three-man format, the event was staged alongside the FIM Speedway of Nations at the Vojens Speedway Center in Denmark at the end of July.
The Poles were reduced to two riders when Wiktor Przyjemski crashed hard and sustained a hand injury, but in his absence team captain Jakub Miskowiak and Mateusz Cierniak – who would clinch the SGP2 title just a few months later – stepped up to maintain their country's incredible win-streak.
The decisive moment came in the final when Miskowiak – who was a member of last year's winning team – took the chequered flag ahead of the Czech Republic's captain Jan Kvech after Czech rider Petr Chlupac suffered a mechanical problem which dropped him behind Cierniak.
Great Britain ended the night in a fighting third to match its finishes in 2020 and 2021, meaning the home nation – which won the series in 2013 before the current Polish shut-out commenced – missed out on a podium finish for the first time since 2012.
PALMARES
FIM Team Speedway Under 21 World Champions: 2005, 2006, 2007, 2008, 2009, 2012, 2014, 2015, 2016, 2017, 2018, 2019, 2020, 2021, 2022
2020 FIM TEAM SPEEDWAY UNDER 21 WORLD CHAMPION
Team Manager: Rafal Dobrucki
Riders: Wiktor Lampart, Norbert Krakowiak, Wiktor Trofymov, Jakub Miskowiak, Dominik Kubera
LUCKY THIRTEEN
The Polish quintet have become the team to beat in the FIM Team Speedway Under 21 World Championship category and this year's victory marked a fantastic thirteenth time they have triumphed over the best young riders in the World.
The showdown took place in Outrup, Denmark, at the start of September and was fought out over twenty fiercely contested legs, but Poland's title defence got off to a shaky start when Norbert Krakowiak fell in the first heat and took no further part in the event.
However, his four remaining team-mates rose to the occasion with Dominik Kubera – who less than a month later would place second in the individual FIM Speedway Under 21 World Championship – emerging as Poland's top scorer to help his country to a four-point win over the host nation with Great Britain a further ten points off the pace in third.
Top individual performer was Daniel Bewley from Great Britain who, aided by the double points on offer for playing his team's Joker, scored a total of seventeen that was three points better than Kubera and four more than Wiktor Lampart and dashing Dane Tim Sorensen.
Out of its five-man squad, two riders – Lampart and Kubera – had already tasted victory with the team with Lampart part of the winning line-up in 2019 and 2018 and Kubera taking gold in 2019 and 2017.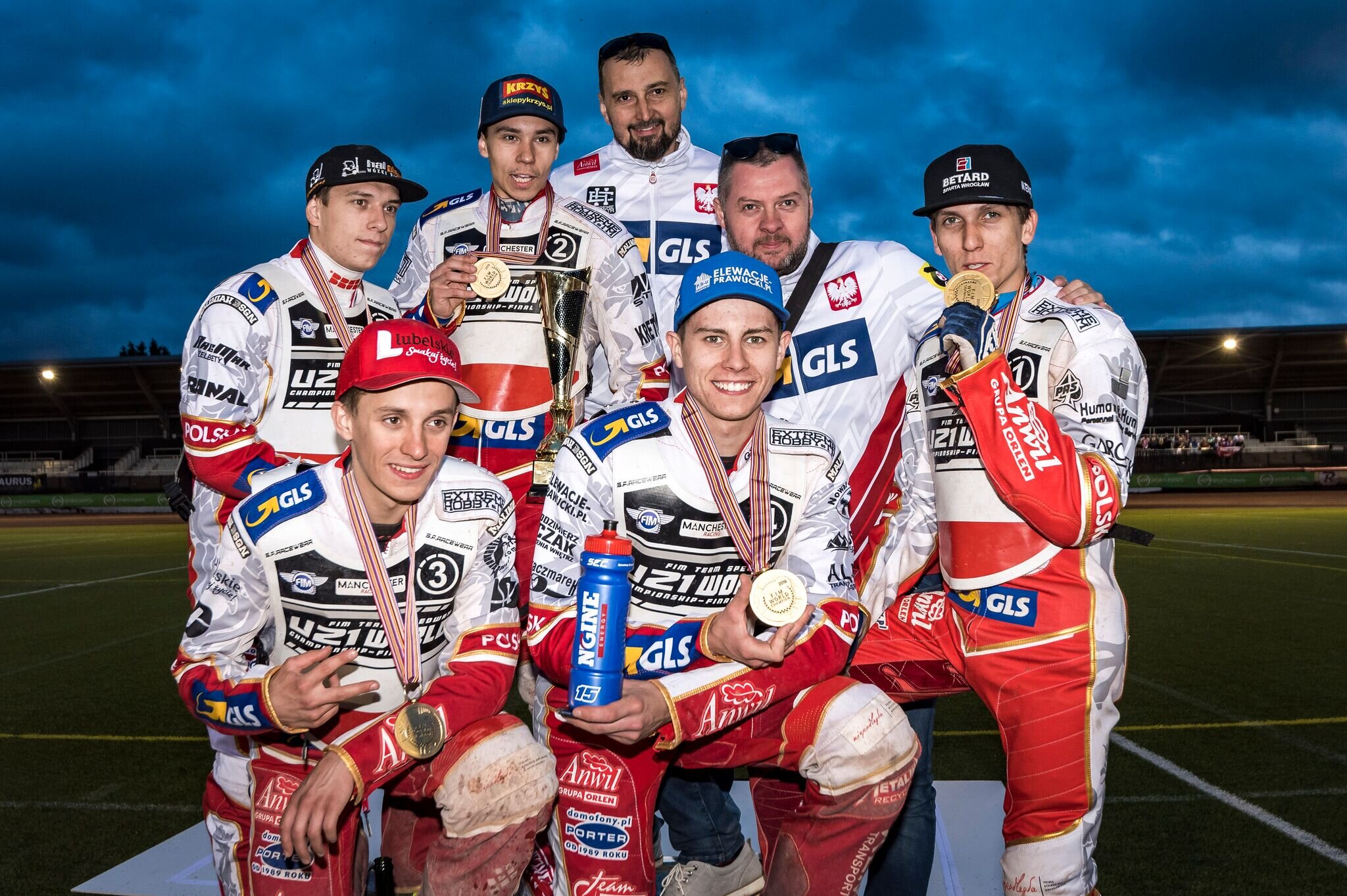 2019 FIM TEAM SPEEDWAY UNDER 21 WORLD CHAMPION
Team Manager: Rafal Dobrucki
Riders: Bartosz Smektala, Maksym Drabik, Wiktor Lampart, Dominik Kubera, Michal Gruchalski
GOLD AGAIN FOR POLAND
Poland comfortably retained their FIM Team Speedway Under 21 World Championship title at the National Speedway Stadium in Manchester, with a line-up featuring three of last year's title-winning team, two of whom - Bartosz Smektala and Maksym Drabik - were also individual world champions at this level. Smektala and Drabik were again joined by last year's reserve rider Wiktor Lampart as well as Dominik Kubera and Michal Gruchalski, who were cheered on by the many Polish fans in the crowd as they dominated the scoring from the first race.
The Polish team took the lead by heat three and although Smektala was their top scorer, each of the team won at least one race and it was this strength in depth that secured their twelfth title in the discipline. 
The silver medal was taken by a Great Britain team led from the front by captain Robert Lambert, who was the individual star of the meeting, dropping only one point to Smektala in the opening race and providing a great finale to the meeting with a superb first bend drive around the outside of Drabik and Denmark's Frederik Jakobsen that secured second place overall.
That finish meant Great Britain leapfrogged Denmark in a reverse of last year's result, stealing the runners-up spot by only two points in the final count.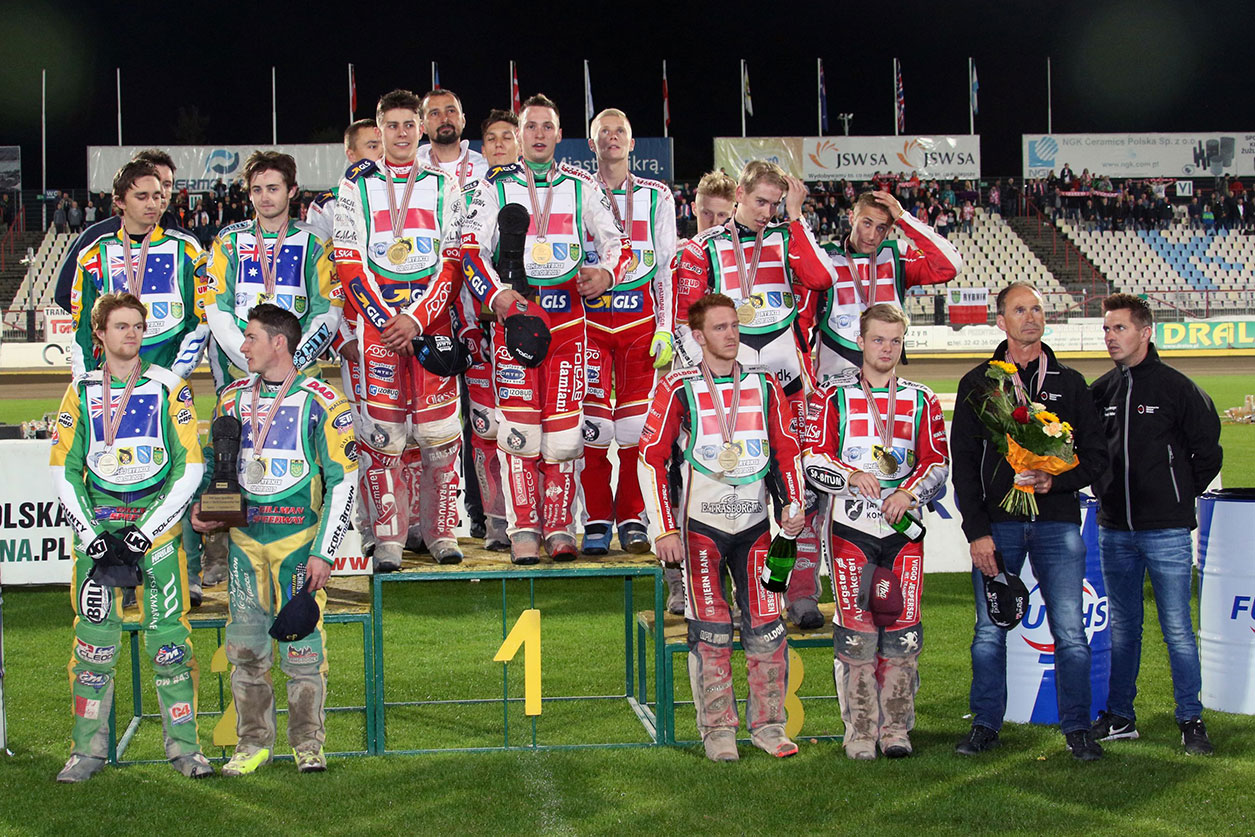 2018 FIM TEAM SPEEDWAY UNDER 21 WORLD CHAMPION
Team Manager: Rafal Dobrucki
Riders: Bartosz Smektala, Maksym Drabik, Rafal Karczmarz, Wiktor Lampart
ELEVENTH HEAVEN FOR POLAND'S YOUNGSTERS
Poland's latest generation of sideways stars defended their crown in the FIM Team Speedway U21 World Championship in August, with a line-up featuring three of last year's title-winning team. Bartosz Smektala, Maksym Drabik and Rafal Karczmarz were joined in Outrup, Denmark, by reserve rider Wiktor Lampart, who proved to be the surprise package of the meeting as his team took a fifth consecutive gold medal ahead of their Danish hosts, with Great Britain taking bronze.
Karczmarz had been called into replace the injured Dominik Kubera and despite his first race fall, the young Poles had established a five-point lead by Heat 9. It was an advantage they were able to hold for the remainder of the meeting, fighting off a late challenge from the Danes, whose last opportunity disappeared when a clash in Heat 19 saw Patrik Hansen disqualified and left Poland needing just two points to secure an eleventh championship gold in the rerun.
Smektala top-scored for Poland but their hero was Lampart, who took over from Karczmarz for the remainder of the meeting and scored eleven valuable points. For Denmark, Frederik Jacobsen scored thirteen points whilst Andreas Lyager picked up twelve, including a superb last lap pass to beat Drabik in Heat 17 to keep the Danish hopes alive.
Great Britain relied heavily on Dan Bewley, their only heat winner, whilst Sweden, weakened by the absence of injury victims Alexander Woentin and captain Joel Kling, managed only four points from an inexperienced squad, who were never able to match the speed of their rivals.
2017 FIM TEAM SPEEDWAY UNDER 21 WORLD CHAMPION
Team Manager: Rafal Dobrucki
Riders: Bartosz Smeklata, Kacper Woryna, Maksym Drabik, Dominic Kubera, Rafal Karczmarz
PERFECT TEN FOR POLAND
Poland's youngsters took their tenth FIM Team Speedway U21 World Championship title on home soil in Rybnik with a devastating second half to the meeting, collecting 27 points out of 30 in the final 10 heats. Heavy rain overnight had left the track unfit for practice although the track staff worked wonders and produced a surface that caused no problems to the riders and produced some good racing.
With last year's individual World Champion Max Fricke taking his first rides since suffering a serious back injury, Australia were always sure to face a difficult task to contain the rampant Poles, however Jack Holder and Brady Kurtz scored twelve points each to match the home team in the early stages, with debutant Josh Pickering also making a promising contribution.
The Aussies had held a one-point lead at the halfway stage but the young Poles dug deep and secured their victory with three races remaining, going on to complete the meeting with a ten-point advantage. Poland scored in every race except for Heat 8 when captain Kacper Woryna shed a chain.
Denmark took the bronze medal after a heroic effort from reserve rider Frederik Jakobsen, who scored nearly half of the team's points from his five rides. Despite narrowly leading Denmark in the early stages, Great Britain were never able to match the others for speed and looked sadly underpowered, collecting only three points in the last twelve heats. Robert Lambert was their top scorer with nine points.