SPEEDWAY GRAND PRIX
Poland
Team Manager: Marek Cieslak
Riders: Patryk Dudek, Maciej Janowski, Piotr Pawlicki, Bartosz Zmarzlik, Bartosz Smektala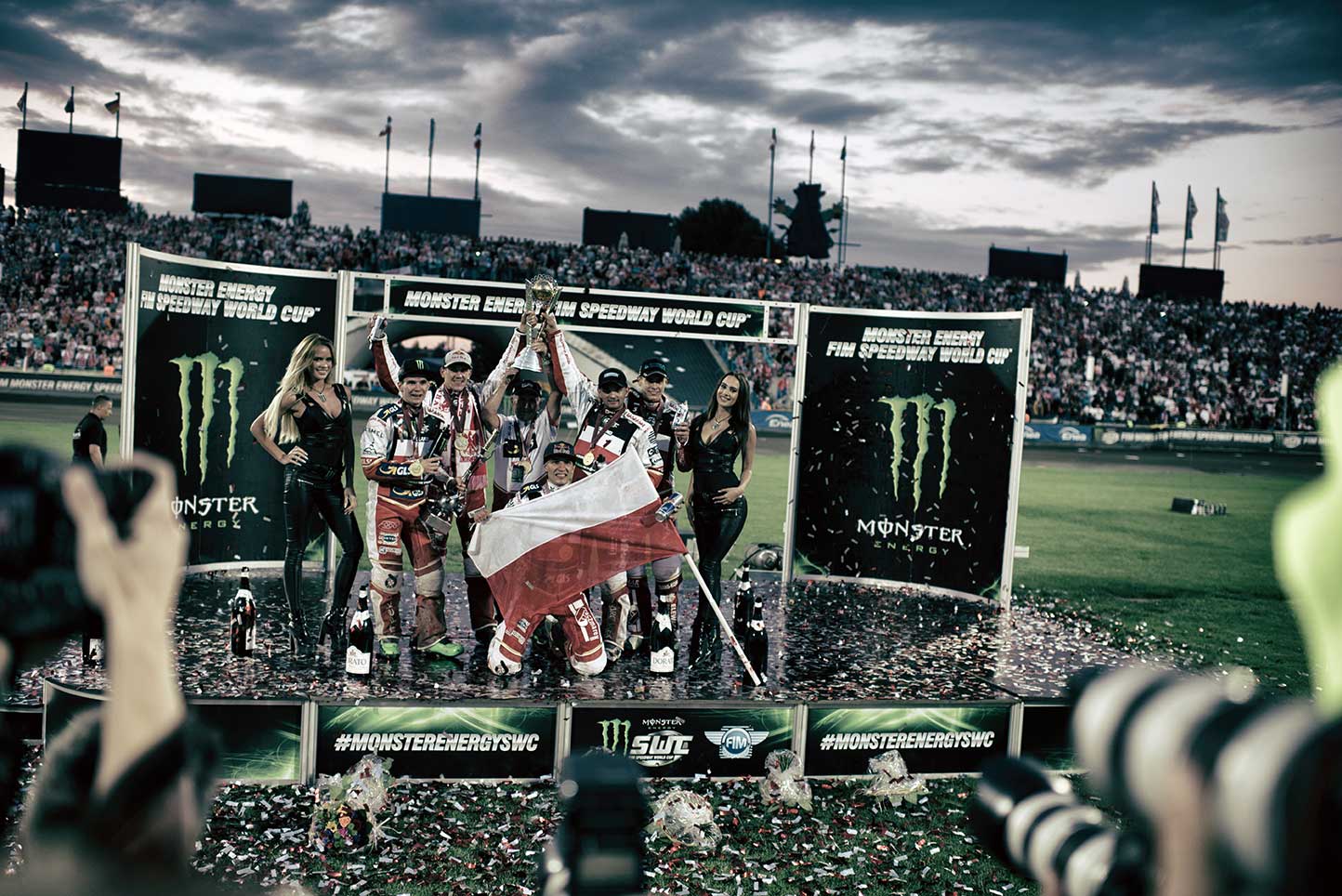 2017 FIM SPEEDWAY WORLD CUP
SUPERPOWER POLAND STILL IN CHARGE
Poland Team Manager Marek Cieslak took his gold medal tally to seven in Leszno as his latest young team demolished the opposition in the Final of the Monster Energy FIM Speedway World Cup. Providing twelve of the heat winners, the Poles were in control from the start and their 50-point total was the best in this competition since they won in Gorzow in 2011. Only Sweden were able to provide any real opposition with Antonio Lindback at his spectacular best and fellow Grand Prix star Freddie Lindgren in support, although the team lacked the strength in depth needed to challenge the Poles.
As host nation Poland had been seeded directly to the Final but Sweden had won their qualifier in Vastervik and Great Britain similarly in Kings Lynn. Russia however had battled through a tough Race Off meeting after losing their number 2 rider Grigory Laguta who was sensationally banned only hours before the meeting after failing a drug test during a Polish domestic meeting.
Laguta's absence made the Russians even more determined to succeed and they saw off competition from a disappointing Australian team and an emerging Latvian side to win the eliminator by a huge 13-point margin. Although they were unable to repeat this feat in the Final, they did enough to push Great Britain into fourth place and the emergence of this young Russian team was one of the features of this year's event.
Meanwhile Poland, featuring four former U21 Speedway World Champions in Patryk Dudek, Maciej Janowski, Piotr Pawlicki and Bartosz Zmarzlik, as well as this year's silver medalist in Bartosz Smektala, show no signs of relinquishing their grip on the Ove Fundin trophy.