SPEEDWAY YOUTH - SGP3
Rasmus Karlsson
Born on 4 April 2008 in Kumla, Sweden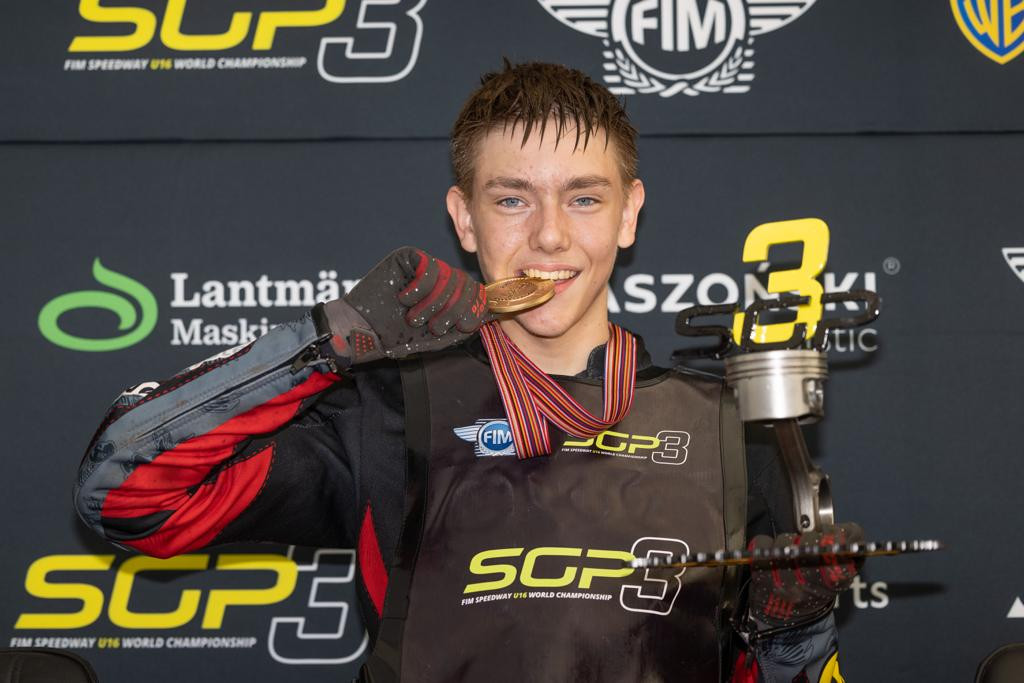 FIM Speedway Youth World Champion - SGP3
THRILLER IN MALILLA!
To win titles it is not enough to merely be fast and talented – you need the mindset of a champion as well – and although he is just fifteen years old, super Swede Rasmus Karlsson showed his mental fortitude when he raced to the FIM Speedway Youth World Championship (SGP3) on home ground in Malilla in mid-July.
Following its highly successful relaunch as SGP3 last season by promoter Discovery Sports, the championship gives riders aged under sixteen on 250cc machines the opportunity to showcase their skills to Speedway fans around the world and Karlsson did exactly that, although he needed to draw on his reserves of mental strength to achieve victory.
Just two days earlier, Karlsson contested the SGP3 semi-finals at nearby Västervik where he only just made the qualifying grade so he was not among the hot tips for a podium finish when he lined up alongside eighteen rivals at Malilla's famous Skrotfrag Arena the night before the FIM Speedway Grand Prix of Sweden.
Karlsson, however, was fully focused on the title and his night got off to a great start when he won his first two Heat races to claim a share of the lead, although a pair of second-placed finishes in his next two Heats dropped him to second with the title resting on the fifth and final block of Heats.
With nineteen Heats consigned to the history books, Karlsson rolled up behind the tapes for the twentieth and last Heat of the programme knowing that victory would be good enough for the title, but second would mean a run-off for the crown.
Keeping his cool, Karlsson started behind defending champion Mikkel Andersen before making a pass just before the end of lap two that ensured he became Sweden's first-ever SGP3 champion.
PALMARES
FIM Speedway Youth World Champion (SGP3): 2023