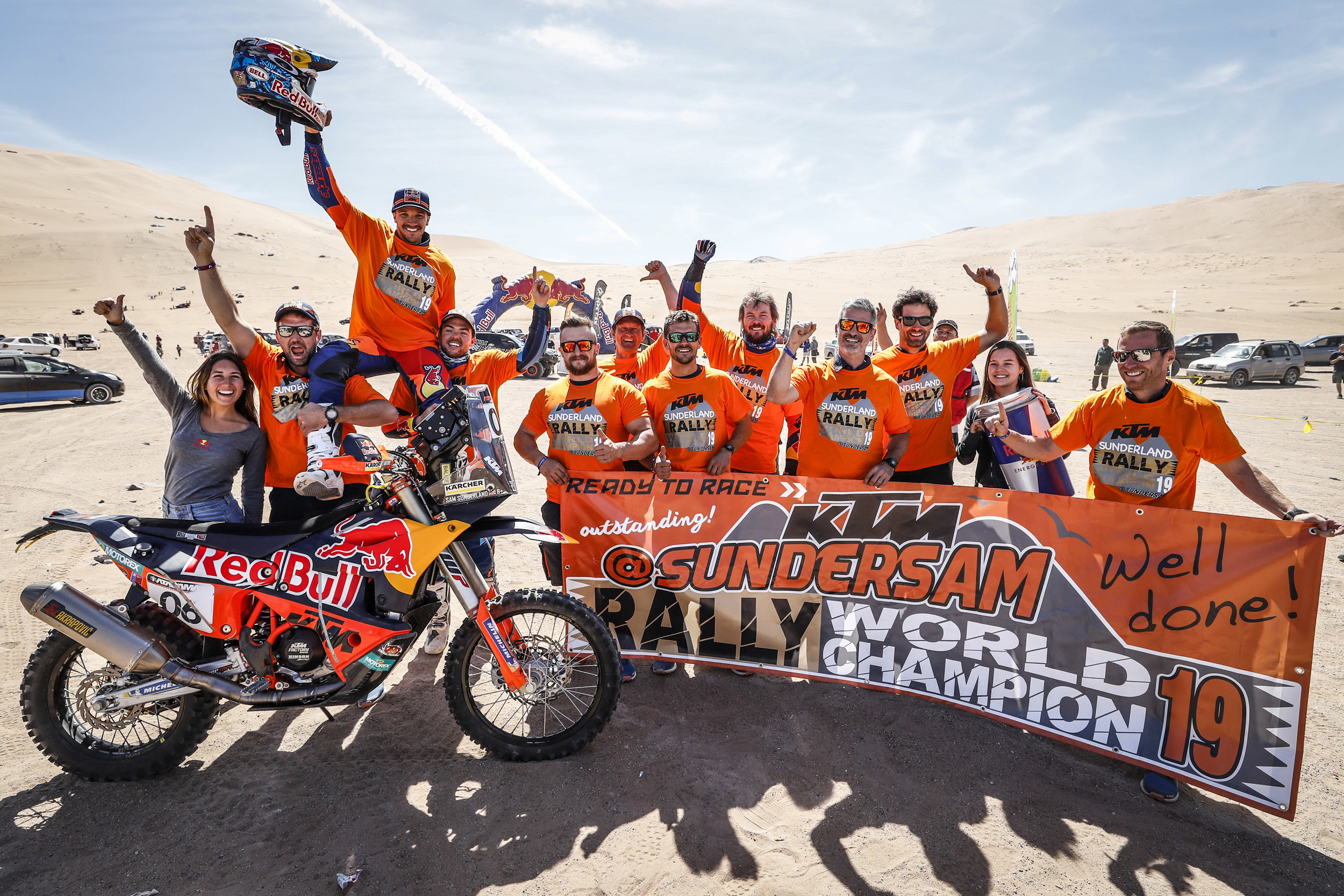 2019 FIM CROSS-COUNTRY RALLIES WORLD CHAMPION
SUNDERLAND'S WONDERLAND
Sam Sunderland (KTM) ensured that there would be no repeat of his 2017 disappointment, when he missed out on the title at the final round, by wrapping up the 2019 FIM Cross Country Rallies World Championship with a round to spare.
In the absence of 2017 and 2018 champions Pablo Quintanilla (Husqvarna) and Toby Price (KTM) through injury, 2016 runner-up Sunderland stepped up to secure a commanding opening-round win at the Abu Dhabi Desert Challenge over impressive youngsters Nacho Cornejo (Honda) of Chile, who took two stage wins, and Argentina's Luciano Benavides (KTM).
Round two saw the spectacular Silk Way Rally included on the FIM calendar for the first time, the riders taking on five thousand kilometres from Irkutsk in Russia, through the Taiga forests of Eastern Siberia and then crossing the Mongolian steppes to finish in the Gobi Desert in China. This time Sunderland prevailed over Andrew Short (Husqvarna) and Adrien Van Beveren (Yamaha) to set up his title chance at Rally Atacama in Chile.
Quintanilla returned from an eight-month absence since injuring his ankle on the Dakar Rally to win his home round on the final stage, whilst Price also came back from a long lay-off due to a broken scaphoid, winning the prologue stage as well as the fourth desert stage to take fourth overall. However, second position for Sunderland was enough to seal the title and emulate factory team-mates Price and Matthias Walkner as a winner of both the Dakar Rally and the FIM Cross-Country Rallies World Championship.
PALMARES
World title – 2019