WOMEN'S TRIAL DES NATIONS
Spain
Riders: Sandra Gomez, Berta Abellan, Neus Murcia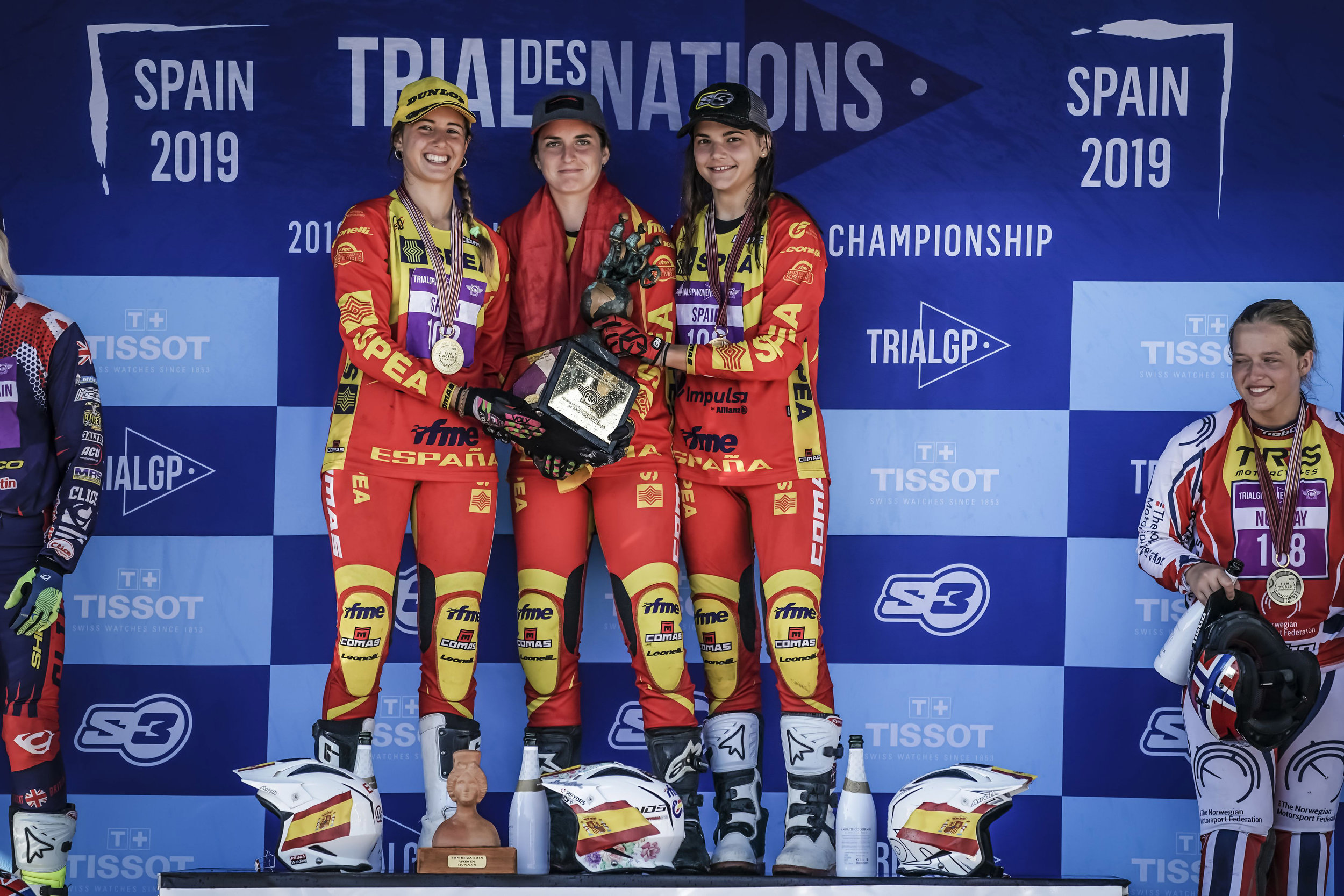 2019 FIM WOMEN'S TRIAL DES NATIONS
SPAIN STEP UP AGAIN
Spain's ladies returned to the top step of the podium in the FIM Women's Trial of Nations in 2019, having reluctantly conceded to their great rivals Great Britain last year. Riding on home soil on the Balearic island of Ibiza, Sandra Gomez (TRRS), Berta Abellan (Vertigo) and Neus Murcia (Gas Gas) wrestled back the title they last held in 2017, taking charge from the start with their opening lap score of just two - a full six marks ahead of the Brits.
Represented by six-time FIM Women's Trial World Champion Emma Bristow (Sherco) along with Donna Fox (Montesa) and Jess Brown (Scorpa), the British ladies fought back hard, although their second lap total of just two was still a mark behind the near-perfect Spaniards. Meanwhile, after ending qualification in second, Norway kept the momentum going and their team of Huldeborg Barkved (Gas Gas), Ingveig Hakonsen (TRRS) and Erika Melchior (Sherco) ended the event in a solid third, eight marks behind Great Britain, but four ahead of Germany's Theresa Bauml, Vivian Wachs and Sarah Bauer (all TRRS).
This year no fewer than ten teams competed in the event, representing countries from Europe, Australia and United States, with Team USA – comprising Kylee Sweeten (Sherco), Maddie Hoover (Gas Gas) and Louise Forsley (Scorpa) – taking fifth, a further four marks behind Germany. For Spain, this was their eighth success since the ladies' event was launched back in 2000, bringing them level with Great Britain.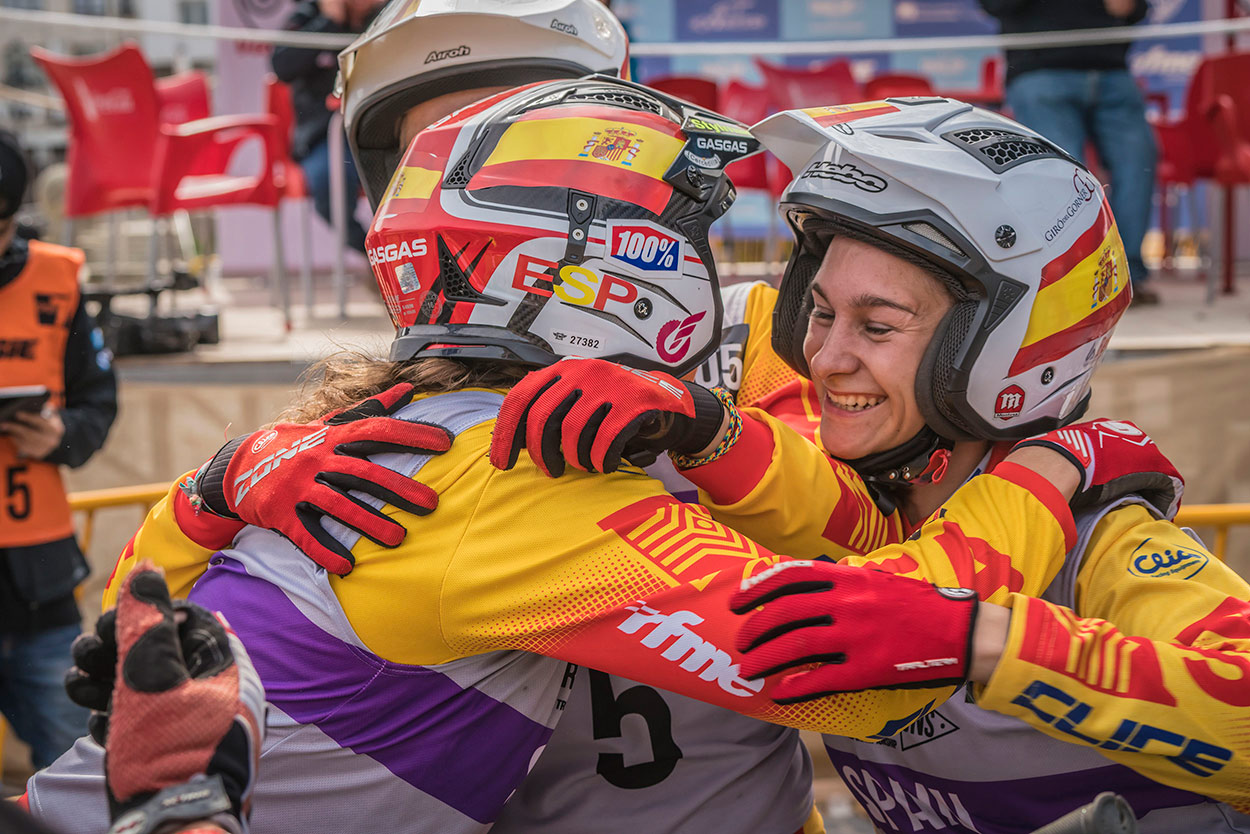 2017 FIM WOMEN'S TRIAL DES NATIONS
Team manager: Salvador Garcia
Riders: Sandra Gomez, Berta Abellan, Maria Giro
SPANISH WOMEN WIN ON HOME SOIL
Great Britain's hopes of a fifth straight FIM Women Trial des Nations title were left in tatters at Baiona after an almost faultless display of sparkling Spanish brilliance was rewarded with a famous victory on home soil. Roared on by their passionate and partisan fans, the Spanish trio of Sandra Gomez (Gas Gas), Berta Abellan (Beta) and Maria Giro (Montesa) parted with just one miserly mark conceded on the penultimate section of the Trial.
The defending champions, led by reigning TrialGP Women's Champion Emma Bristow (Sherco), started the day on the back foot after a disaster in the timed qualification section when, despite posting the fastest time by almost three seconds, a stray mark dropped them back to sixth, while Spain comfortably topped qualification so had the advantage of being last away.
With warm, sunny conditions the fifteen sections plotted over a two-kilometre course on rocks around a headland on the Atlantic coast remained dry and grippy, which meant that the slightest slip would be punished. Great Britain were playing catch up from as early as section six on the opening lap where they lost three marks. Despite matching the Spanish score-for-score on lap two the damage was already done and the Brits were forced to concede defeat.
Tied on three marks with Great Britain after the opening lap, the German team saw their chances of a fifth consecutive podium finish disappear on lap two after they added a further eight marks to their total, allowing Norway to claim a surprise first Women's TDN podium since 2002.