TRIAL DES NATIONS
Spain
Riders: Toni Bou, Adam Raga, Jaime Busto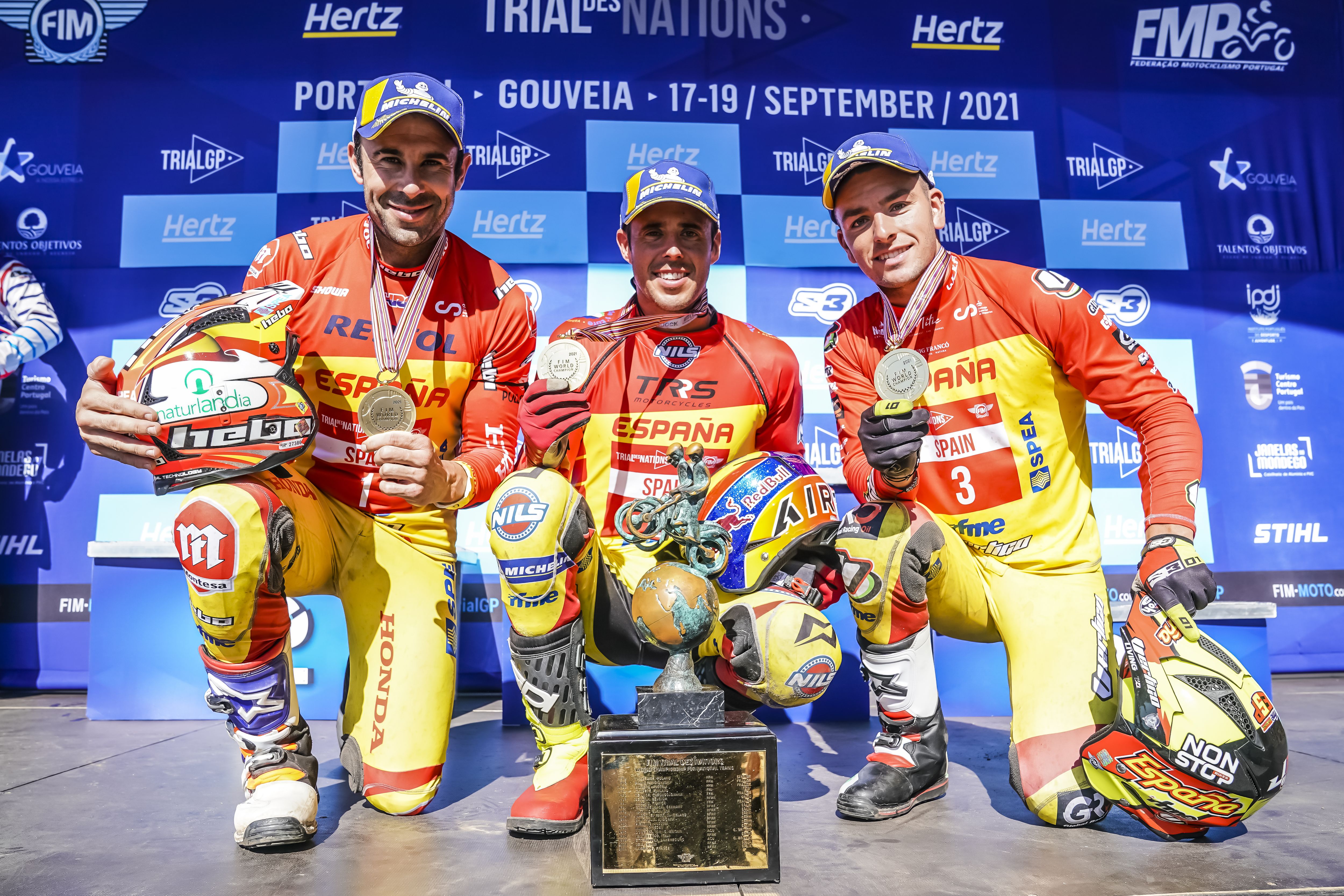 2021 FIM TRIAL DES NATIONS WORLD CHAMPIONS
BACK WITH A BANG!
Following the cancellation of last season's Hertz FIM Trial des Nations because of the ongoing pandemic, the biggest single event on the international trial calendar was staged this year at Gouveia in Portugal at the end of September.
Starting as clear favourites with the world TrialGP top-three in the form of Toni Bou (Montesa), Adam Raga (TRRS) and Jaime Busto (Vertigo), the Spanish trio duly replicated the form book and dominated, parting with just a single mark on unlucky-for-some section thirteen on lap two.
All that stood between Spain and a clean sheet, the thirteenth section was plotted on a super-steep banking with mud dragged out of the river that ran through it and it was here the Spanish team parted with its one and only mark of the event.
To put things into proper context, the skilful second-placed French team ­– comprising Benoit Bincaz (Beta), Teo Colairo (Beta) and Alexandre Ferrer (TRRS) – finished on thirty-six, just to hammer home just how dominant Spain is.
With most teams fielding three riders with the best two scores through each section counting towards the final total – making it a true team effort – Spain underlined its position as the powerhouse of the sport. The proud nation has now won every men's TdN staged since 2004.
Raga is the most successful rider in the history of the event with eighteen TdN titles to his name with his first victory coming in 2001, closely followed by Bou who has been on the winning team on sixteen occasions and Busto who has represented his country three victorious times.
PALMARES
Hertz FIM Trial des Nations Champions - 2004 to 2021, 2001, 2000, 1998, 1991 to 1996, 1989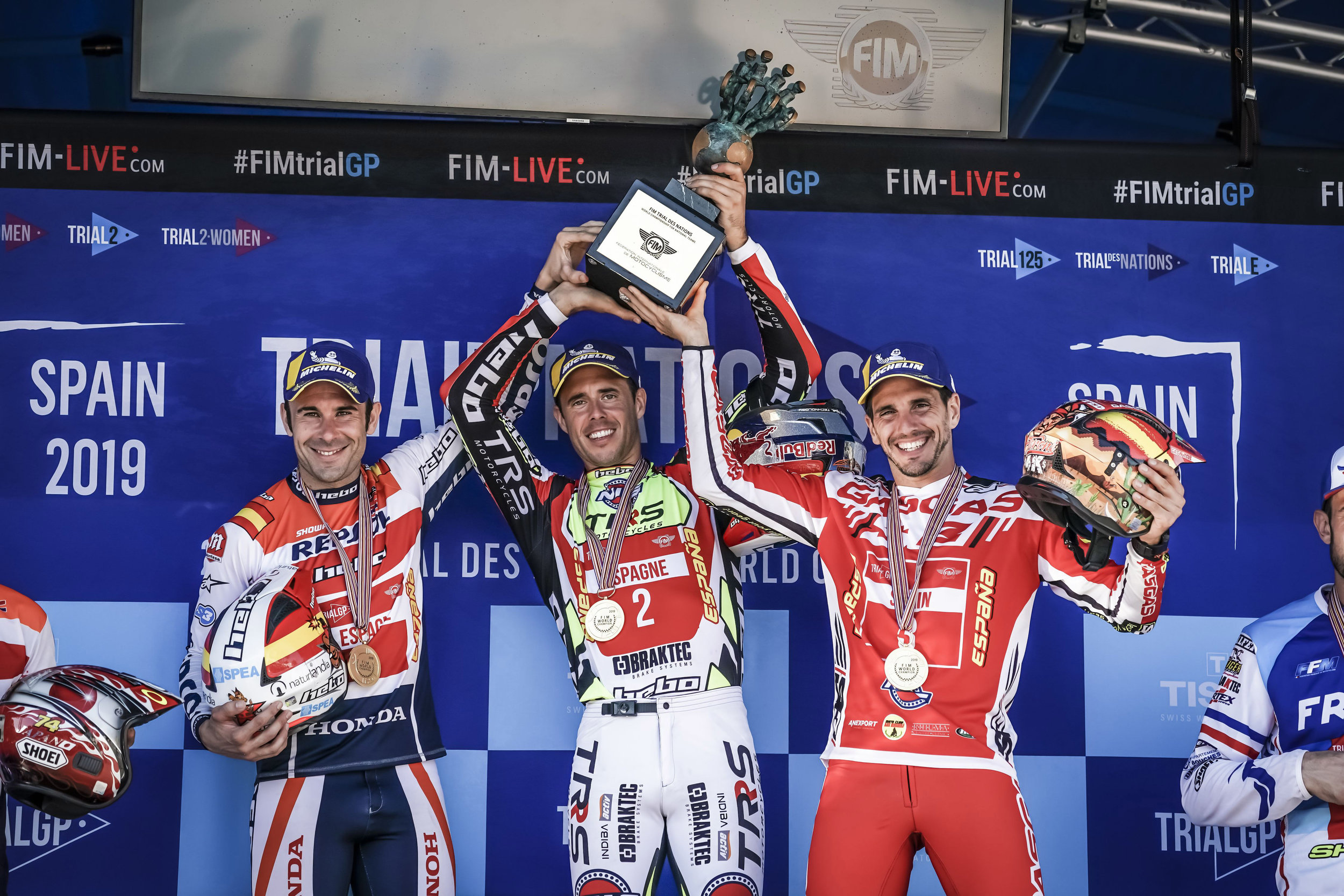 2019 FIM TRIAL DES NATIONS
SPAIN PARTY ON IN IBIZA
Unbeaten in the FIM Trial des Nations since 2004, the Spanish men's team of Toni Bou (Montesa HRC), Adam Raga (TRRS) and Jeroni Fajardo (Gas Gas) kept their country's incredible winning streak going with home victory on the Mediterranean party island of Ibiza. The Spanish men's team started the competition as firm favourites following thirteen-time FIM Trial World Champion Bou's comprehensive win in the qualification session and all three riders brought their A game to the Balearic island. With the best two scores to count through each section, they were in dominant form on a course predominantly plotted on the island's rocky coastline.
Comfortably leading at the halfway stage on a score of just two, compared to second-placed Japan – represented by Takahisa Fujinami (Montesa HRC), Kenichi Kuroyama (Yamaha) and Tomoyuki Ogawa (Montesa) – who trailed on twelve, they then parted with just another two marks on lap two. Japan upped their game to incur only a further seven marks on the second lap, however the damage was already done and Spain claimed the crown yet again.
Benoit Bincaz (Beta), Alexandre Ferrer (Sherco) and Teo Colairo (Gas Gas) put France on the podium with a total of twenty-four as the British team of James Dabill (Beta), Jack Price (Gas Gas) and Toby Martyn (Gas Gas) came home fourth on twenty-seven, almost twenty marks ahead of Italy's Matteo Grattarola (Honda), Luca Petrella (Beta) and Gianluca Tournour (Gas Gas) in fifth.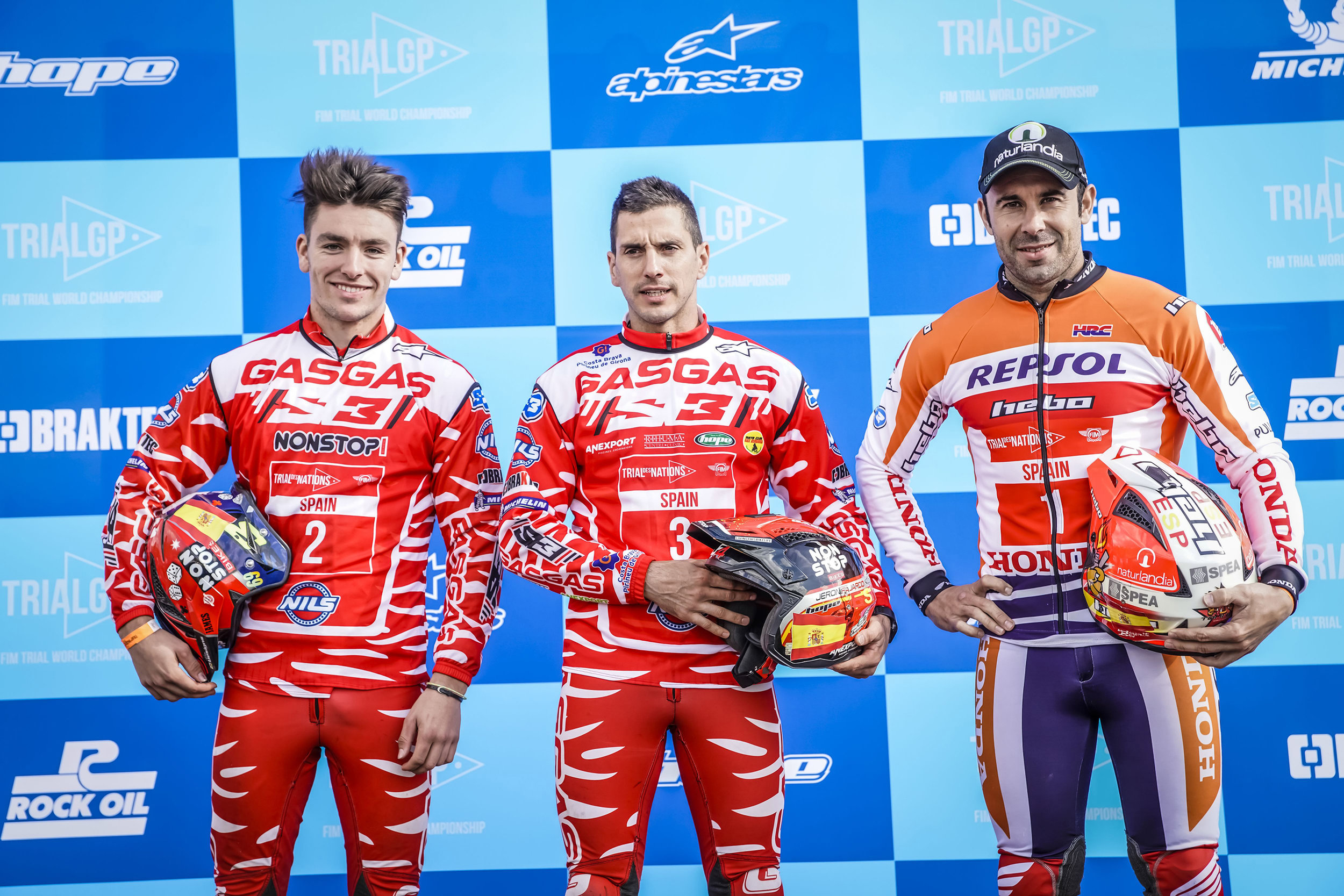 2018 FIM TRIAL DES NATIONS
Team manager: Salvador Garcia
Riders: Toni Bou, Jaime Busto, Jeroni Fajardo
SPAIN REIGN IN THE RAIN
Spain stormed to a fantastic fifteenth consecutive FIM Trial des Nations victory at a wet, wild and spectacular Sokolov venue in the Czech Republic with their three-man team of Toni Bou (Repsol Honda), Jeroni Fajardo (Gas Gas) and Jaime Busto (Gas Gas) reigning supreme in the men's category.
The all-star Spanish line-up initially got off to a slow start and actually trailed the French trio of Benoit Bincaz (Scorpa), Alexandre Ferrer (Sherco) and Loris Gubian (Gas Gas) after the first four sections, but when the going got tough then Bou and company got going.
While the Spanish demonstrated their clear superiority to lead the field, Great Britain, France and Japan went toe-to-toe for the remaining podium positions with the balance swinging in each nation's favour as the Trial progressed.
Following the opening lap Spain's total of just twenty gave them a clear advantage, even after nineteen time penalties were added to their total. France were second with fifty-one on observation and five on time followed by Great Britain's James Dabill (Beta), Jack Price (Gas Gas) and Toby Martyn (Montesa), who had parted with fifty-six marks in the sections and collected eight time penalties.
The Japanese trio of Takahisa Fujinami (Repsol Honda), Kenichi Kuroyama (Yamaha) and Tomoyuki Ogawa (Montesa) had dropped fifty-three, but picked up twenty time penalties, which put them fourth.
On the second lap Spain extended their advantage as Great Britain, revelling in the UK-style conditions, picked up the pace to secure the second step of the podium by eleven marks from France as Japan struggled to get to grips with the deteriorating conditions and their challenge fell away. Italy ended the day a distant fifth ahead of Norway and Germany.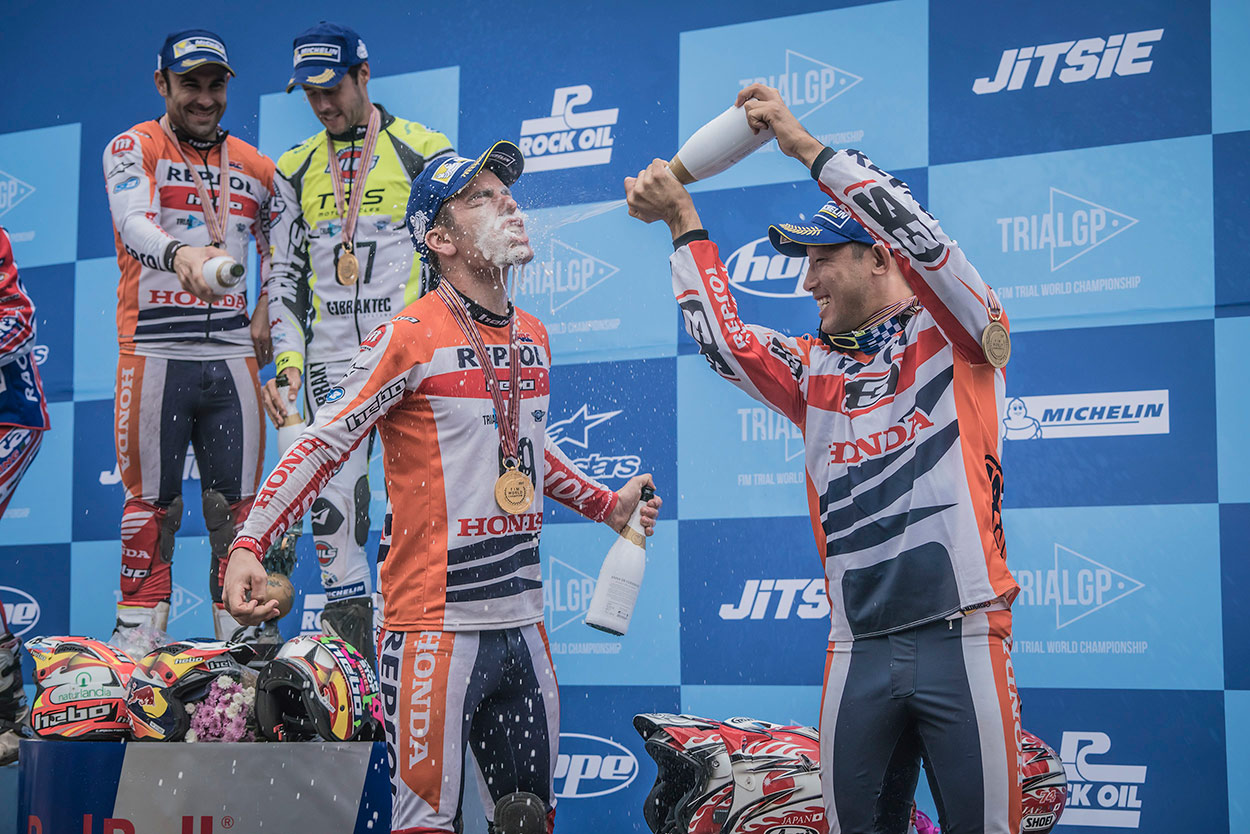 2017 FIM TRIAL DES NATIONS
Team manager: Salvador Garcia
Riders: Toni Bou, Adam Raga, Jaime Busto
SPAIN REIGN SUPREME
Home heroes Spain underlined their complete dominance of top-flight Trial by storming to an emphatic victory at the 2017 FIM Trial des Nations at Baiona, in the process extending their record-rewriting winning streak at the event to a phenomenal fourteen on the bounce. Fielding the three top-ranked riders in the world this year, led by reigning and eleven-time FIM Trial World Champion Toni Bou (Montesa-HRC), with Adam Raga (TRRS) and Jaime Busto (Montesa-HRC), the Spanish team were simply untouchable on the towering coastal rocks lining the Atlantic coastline.
Following a comfortable qualification win on Friday, Spain had the advantage of starting at the back of the seven-nation field although such was their mastery of the fifteen sections they could have started at the front without fear of being challenged. With the best two results in each section counting towards the teams' overall scores, Spain wasted little time in opening up a commanding lead - much to the vociferous home fans' delight - and after the first seven sections led Great Britain by ten marks, an advantage they comfortably maintained at the halfway stage.
With light rain beginning to fall which made the sections slippery, Spain then moved up a gear and completed the second lap for the loss of just one mark to take their total to a sensational six. A late five almost dropped Great Britain into the clutches of Japan, but cleans on the final two sections kept them three marks clear in second place.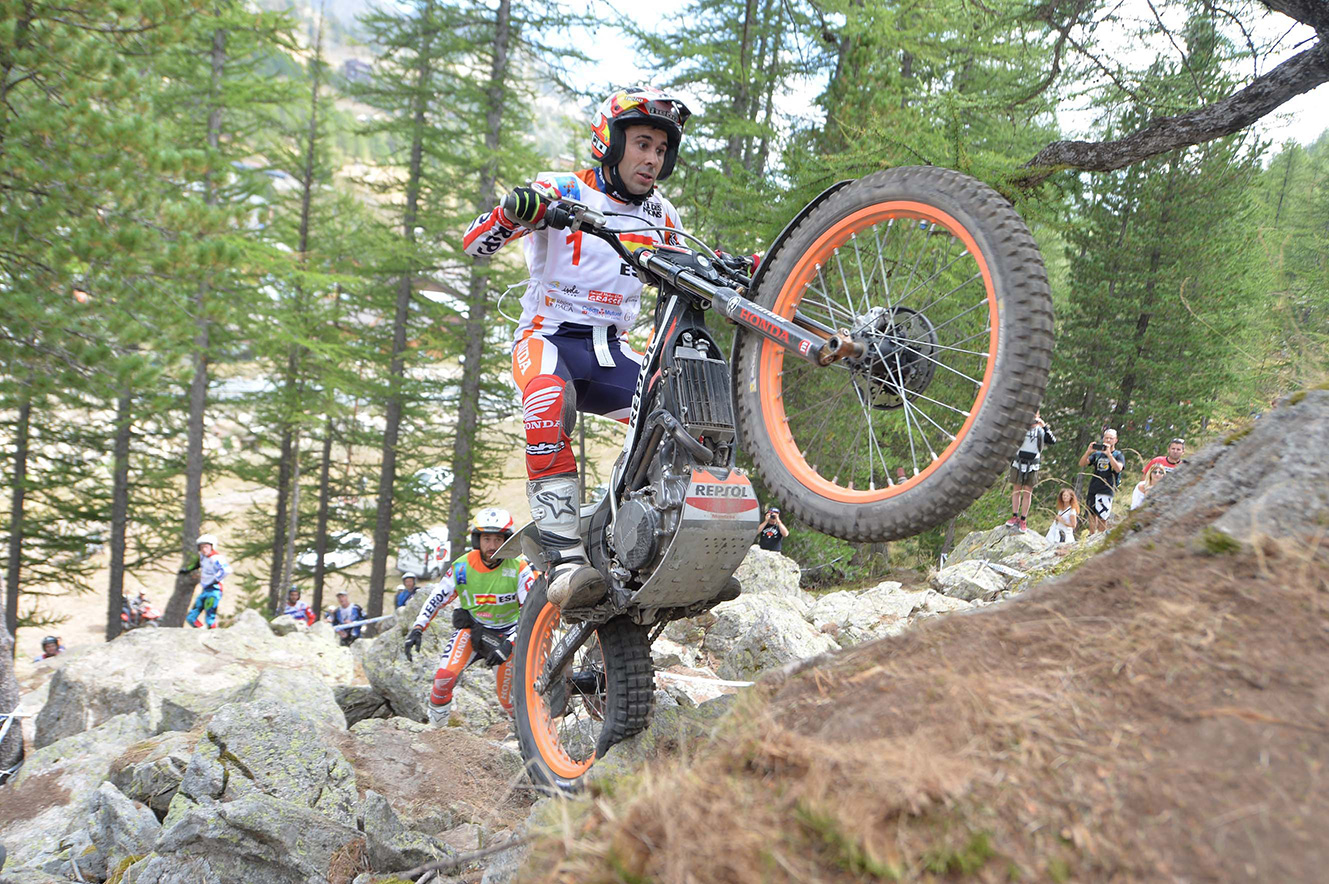 2016 FIM TRIAL DES NATIONS
SUPER SPAIN TAKE THIRTEENTH STRAIGHT TITLE
The 2016 edition of the FIM Trial des Nations proved to be an unlucky number for the pretenders to Spain's crown, as the defending champions proved unbeatable for the thirteen consecutive year. Toni Bou - Repsol Honda, Adam Raga - TRS and Albert Cabestany - Sherco remained faultless throughout the two laps of eighteen sections at Isola 2000, France, backing up their status as hot favourites with their country's twenty-third title in the team discipline even though they were made to work hard for their win as both runners-up Japan and third placed Great Britain recorded single-digit final scores.
The experienced trio of Takahisa Fujinami - Repsol Honda, Kenichi Kuroyama - Yamaha and Tomoyuki Ogawa - Honda did Japan proud as they posted lap totals of five and two respectively to secure second spot by a single mark in what proved to be a low scoring Trial for the leading three nations, which played out in dry and sunny conditions despite the predicted heavy rain. The GB squad of James Dabill - Vertigo, Jack Price - Gas Gas and Iwan Roberts- Beta were worthy of third position, having been pushed off the podium last year by France. The home nation could also be pleased with their showing in front of their fans, finishing the day seven marks in front of Italy in fourth.