ENDUROGP & E2 ENDURO
Steve Holcombe
Born on 16 May 1994 in Barnstaple, Great Britain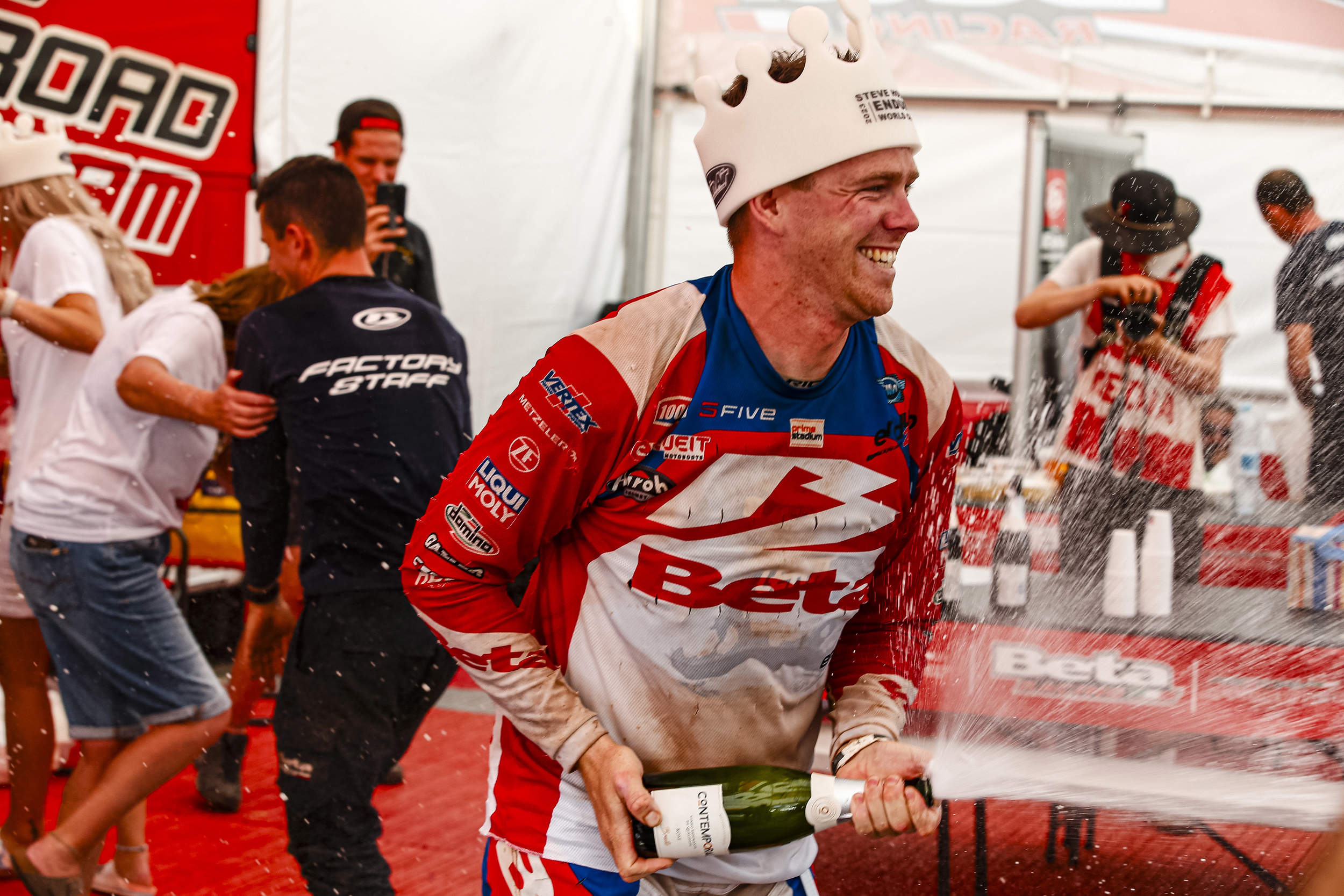 2023 FIM ENDUROGP & E2 WORLD CHAMPION
HOLCOMBE GOES FOURTH!
While an FIM Enduro World Championship title is an amazing achievement on its own, it is the FIM EnduroGP World Championship crown for the best performing rider regardless of class over the full seven-round series that is the sport's biggest prize and this year Steve Holcombe – Beta raced to his fourth in seven years.
After two fruitless seasons without an individual honour to his name, the battling British rider rolled up at the opening round in Italy following off-season shoulder surgery determined to perform and he certainly did not disappoint.
His results at Arma di Taggia/San Remo at the start of April placed him third in the EnduroGP standings and a pair of thirds in the class at the second round at Lalín in Spain ensured he remained in contention. He then maintained his one-hundred per cent EnduroGP podium record in Finland at the end of May with two-three scores and began to make inroads on the leader one week later in Sweden where he backed up a third on day one with victory on day two.
With his compatriot and team-mate Bradley Freeman, who was heading the EnduroGP title chase unable to score at round five in Slovakia, Holcombe took full advantage to move to the top of the points table with one-two finishes before the series took a well-earned break.
Reconvening again for two rounds in Portugal three months later, Holcombe maintained his healthy lead with two more podium finishes at the EnduroGP of Portugal at Valpaços before he sealed the deal at St Andre/Santiago do Cacem where even a crash on day two still saw him run out winner by twelve points and he also secured the FIM E2 Enduro World Championship crown.
DOUBLE DELIGHT!
For a rider so accustomed to winning, the last couple of seasons have been tough for Steve Holcombe – Beta who was forced to endure two years without an individual title with his sole podium-topping success on the global stage coming last season as part of Great Britain's victorious FIM ISDE World Trophy Team.
However, as the saying goes you cannot keep a good man down and the twenty-nine-year-old star was firmly back on top this year to win his second FIM E2 Enduro World Championship.
A shoulder injury put him out of the reckoning in 2022 and following surgery over the winter Holcombe started the season fully energised and after making a switch to a 350cc four-stroke model from the 390cc machine he raced last year he has enjoyed a super-successful season – although it has not been a walk in the park.
A pair of second-placed finishes at the opening round in Italy was a rock-solid start and a double win next time out in Spain was rewarded with a share of the series lead which he then made his own following a run of five successive day victories through Finland and Sweden and on day one in Slovakia.
A second on day two in Gelnica ensured that he was still leading the pack as the series took a three-month break before concluding with back-to-back rounds in Portugal.
Racing to two-one finishes at the EnduroGP of Portugal at Valpaços at the start of October, a second on the opening day at St Andre/Santiago do Cacem was a solid foundation for his final push for the title and even a crash on day two that restricted him to fourth could not deny him the title and the icing on the cake was a fourth FIM EnduroGP World Championship as the top performer over all seven rounds.
PALMARES
FIM E2 Enduro World Champion: 2020, 2023
FIM EnduroGP World Champion: 2017, 2018, 2020, 2023
FIM E3 Enduro World Champion: 2016, 2018, 2019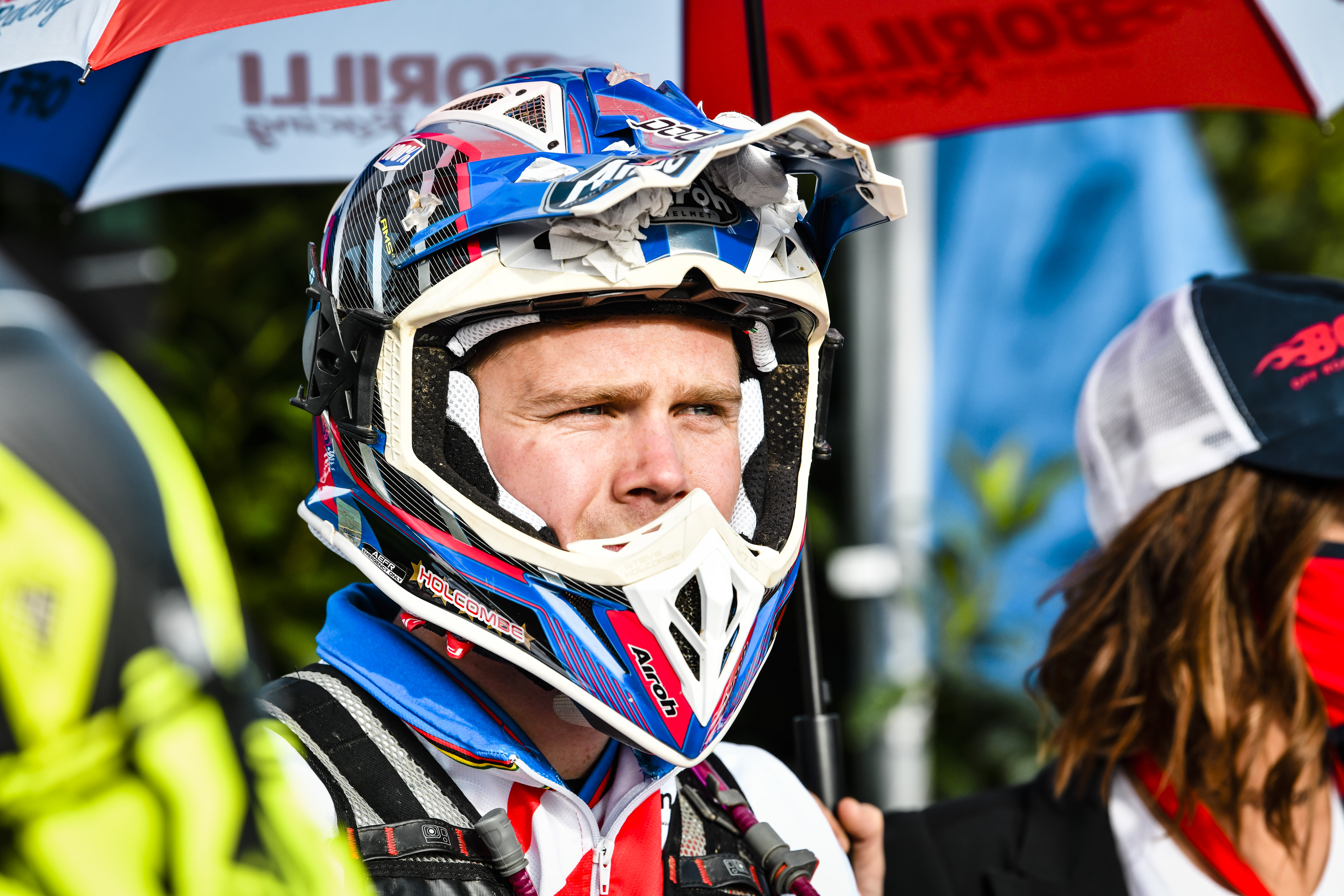 2020 FIM ENDUROGP & E2 WORLD CHAMPION
HOLCOMBE REGAINS COVETED CROWN
Having lost his prized EnduroGP title last year to his team-mate and fellow British rider Bradley Freeman, Steve Holcombe (Beta) rolled out at the GP of France at Requista – the opening round of the 2020 championship – in mid-September with a point to prove.
Holcombe's challenge started with two wins from Freeman in France. It was desperately close on both days with Holcombe only 0.27 ahead on day one and just over three seconds clear on day two, but he headed to round two one week later at Spoleto in Italy with maximum points.
Freeman struck back with a forty-five-second winning margin on the opening day of the GP of Italy, on the second day made tougher by heavy rain it was Holcombe once more in control to maintain his series lead heading into the final two rounds held one week apart in November at Marco de Canaveses in Portugal.
Holcombe won on the first day at round three, despite having slipped to third on day two as Josep Garcia (Red Bull KTM) and Freeman punished him for crashing.
At the final round Holcombe looked to be in total control on the opening day, but two crashes on the penultimate test handed victory to Freeman and the pair headed into the final day of competition separated by just four points.
Freeman set a scorching pace all day and looked to have the win – and the title – in the bag until the fateful final test when his tank ran dry, allowing Holcombe to regain the crown and complete his hat-trick of EnduroGP championships.
SUPERSTAR STEVE TAKES E2 TITLE
With seven FIM Enduro World Championship titles in just five years, Steve Holcombe (Beta) has forged a hard-earned reputation as one of the leading lights of his generation and the twenty-six-year-old's talent burned even brighter this season.
Emulating his two-title tally of two years ago, Holcombe added his first E2 championship and a fantastic third EnduroGP crown to his already hugely impressive CV in 2020.
Holcombe kicked off his E2 campaign with maximum points following a dominant double win at the GP of France at Requista in mid-September. Almost twenty-four seconds up on Loic Larrieu (TM) after the opening day of the 2020 championship, he then defeated the Frenchman by just under thirty seconds on day two.
A week later at Spoleto in Italy, Holcombe kept his E2 win-streak going with another pair of victories. Larrieu again chased him home and was in contention on day one before Holcombe picked up the pace on a wet and slippery day two to win by over one-and-a-half minutes.
Holcombe made it five wins in a row on day one of the GP of Portugal, staged in early November at Marco de Canaveses, but Spain's Josep Garcia (Red Bull KTM) – returning to the championship after three years away – pushed him hard all day and then demoted him to second on day two to inflict his first E2 defeat of the campaign.
The fourth and final round was held one week later at the same venue where Holcombe and Garcia again exchanged wins and runner-up positions with Holcombe emerging as champion with a thirty-eight-point advantage ahead of Larrieu.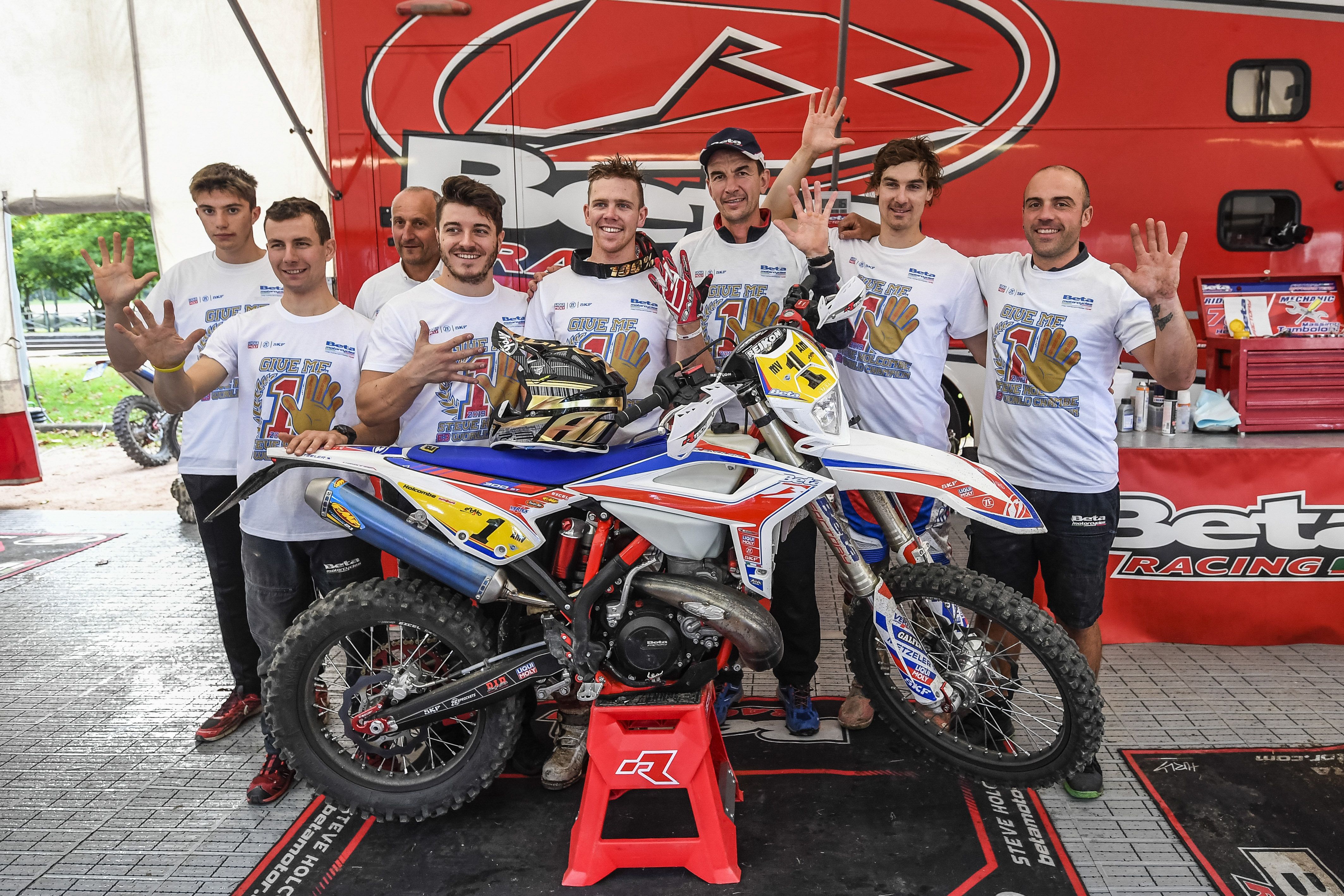 2019 FIM E3 ENDURO WORLD CHAMPION
HOLCOMBE HANGS ON FOR FIVE
Steve Holcombe (Beta) successfully defended the FIM E3 Enduro World Championship title in 2019, despite battling throughout the season with a debilitating illness. After dominating the opening round of the season in Germany – taking wins on each day in both E3 and EnduroGP - Holcombe was hit by what was later diagnosed as a virus ahead of the second round in Portugal.
Nevertheless, the Brit battled on to claim another double in Valpaços before taking 1-2 results in both Spain and Greece. As the virus took a stronger hold, Holcombe reluctantly considered withdrawing from the Italian round and even ending his season early, but when his main EnduroGP title rival Brad Freeman (Beta) was ruled out with a broken collarbone, he bravely saddled up to close the gap in the premier class.
Daniel McCanney (TM) did his best to keep the pressure on with a third win of the season at Rovetta, although Holcombe was irrepressible and another double success in the Czech Republic set him up to clinch the E3 title on the first day of the final round in France. Setting the fastest time on four of the day's nine special tests, he maintained his class advantage and raced on to victory, clinching a memorable fifth title in just four years of senior competition.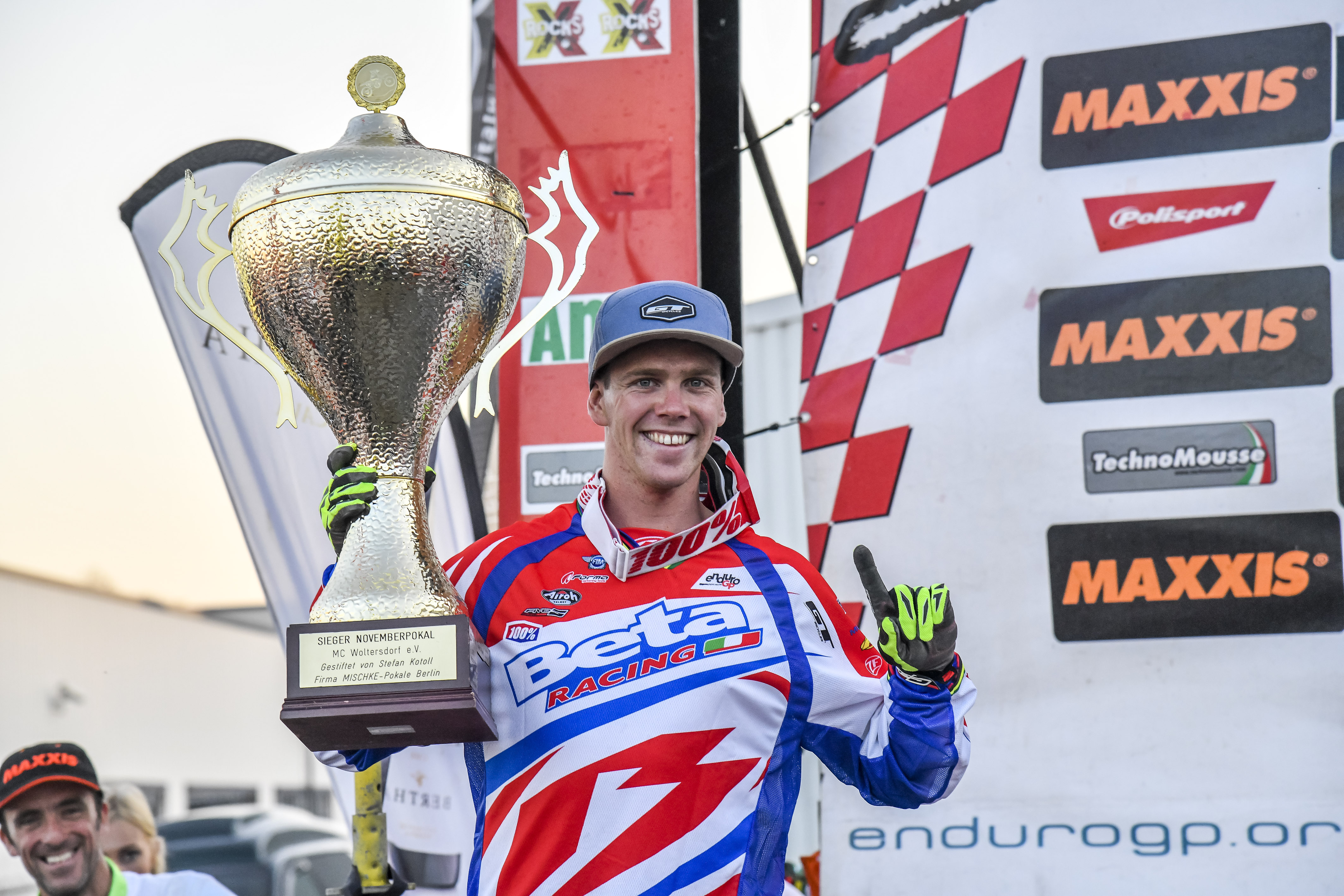 2018 FIM ENDUROGP & E3 WORLD CHAMPION
ALL RISE FOR HOLCOMBE
Steve Holcombe (Beta) successfully defended the FIM EnduroGP World Championship in 2018, with a dominant finish to a rollercoaster campaign that started with defeat at the opening round.
Picking up only a handful points as home stars Aleksi Jukola (KTM) and Eero Remes (TM) took the wins in Finland, Holcombe then broke two ribs on the second lap of round two in Spain but after a day one triumph for the experienced Alex Salvini (Husqvarna), Holcombe proved his championship credentials as he fought through the pain to win on day two.
After a Salvini double in Portugal, last year's FIM Junior Enduro World Champion Brad Freeman (Beta Boano) then scored a breakthrough debut win on just his fourth outing in the Senior ranks in Estonia, which was followed by back-to-back wins for Salvini that opened up an eight-point advantage for the Italian in the standings following his single-day triumph in Trentino.
As Holcombe slowly battled back to full fitness, the Brit produced arguably his best performance of the season over the small stones and roots of Edolo and, as Salvini struggled in his home round, he took over at the top of the championship for the first time, establishing a 35-point lead with two rounds remaining.
After sharing the wins with his Italian rival in France, Holcome went into the final event in Rüdersdorf needing to secure just a handful of points in order to lift the overall EnduroGP crown but he did it in style, signing off on top of the podium to confirm his status as the leading Enduro rider in the world.
Meanwhile, a disastrous final day for Salvini saw him slip from the championship podium by just three points, as Freeman completed an impressive rookie season in the runner-up position with the consistent Remes moving up to third.
E3 Championship
HOLCOMBE DOUBLES UP
Steve Holcombe (Beta) reclaimed the FIM E3 Enduro World Championship he last won in 2016 with a dominant campaign in the class, despite sustaining a nasty injury early in the season.
After missing the podium at the opening round in Finland, won on both days by local expert Aleksi Jukola (KTM), the Tallin event proved to be the only two days he would finish outside the top two in the E3 class for the remainder of the season - despite picking up two broken ribs at the second round!
After conceding an opening day win to Danny McCanney (Gas Gas) in Spain and Christophe Nambotin (Gas Gas) in Portugal, bouncing back to win the second day in both, Holcombe then strung together doubles in Estonia, Italy and France, as well as a single-day win in Trentino, to leave himself with a 36-point advantage going into the final round.
If there were any lingering questions about Holcombe's fitness or finesse, he answered them in style at Rüdersdorf, smashing out another double on the weekend that also saw him crowned 2018 FIM EnduroGP World Champion.
Three-time FIM World Champion Nambotin and McCanney put up a brave resistance, sharing the podium together with Holcombe on six occasions, with the Frenchman picking up six second places – one more than the Brit - to add to his win at Castelo Branco, and shade the runner-up position in the championship by just two points.
However, neither of them had an answer for Holcombe, who at the age of 24 is already a four-time FIM World Champion.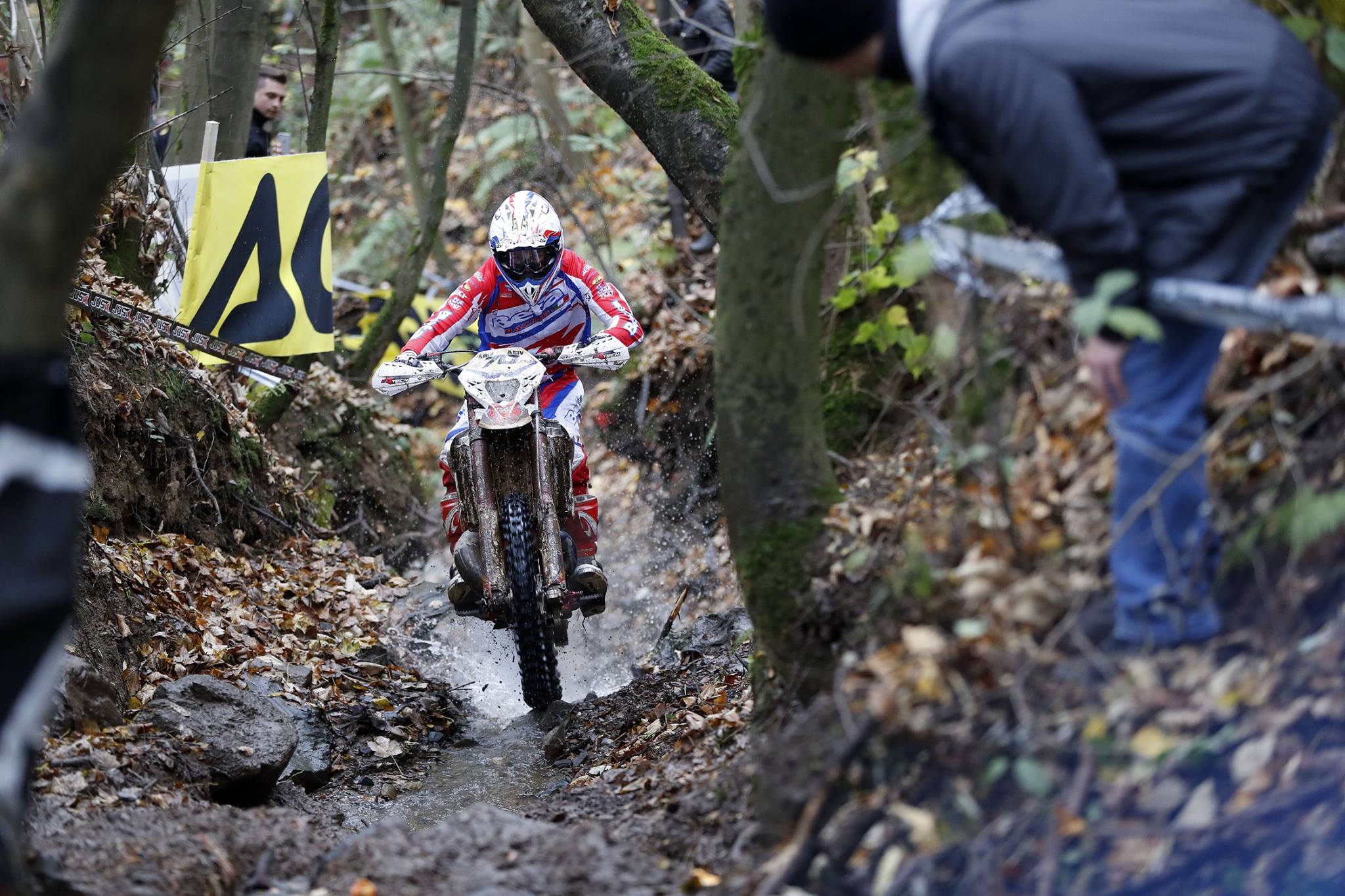 2017 FIM ENDUROGP WORLD CHAMPION
HOLCOMBE BEATS ALLCOMERS
Steve Holcombe (Beta) claimed his second Enduro title in as many years when he clinched the coveted FIM EnduroGP World Championship at the final round in Germany in October. In just his second season as a full-time rider, Holcombe backed up his surprise 2016 E3 title with another sensational campaign, clinching Enduro's premier-class crown in style with his fifth victory of the year at Zschopau.
With EnduroGP established as a standalone category in 2017, as opposed to the title going to the cumulative best of E1, E2 and E3 like last year, Holcombe established his intentions with second place at an opening round won by home wildcard Antti Hellsten (Husqvarna) in Finland, after a close battle with defending champion Matt Phillips (Sherco), who took third.
Holcombe and Phillips again went head-to-head at the next round in Spain, joined by three-time former World Champion Christophe Nambotin (KTM) in a thrilling three-way battle that eventually went the way of the Australian. Frenchman Loic Larrieu (Yamaha) then took a special first EnduroGP win for him and Yamaha at the GP of Italy as Holcombe extended his championship lead in second place. The Brit was again second to Nathan Watson (KTM) in Greece and when he took a third day win of the season in Portugal he had one hand on the trophy.
A sensational performance in his home round, a unique Enduro Sprint at Hawkstone Park, when he dominated each of the six runs, gave Holcombe a forty-point advantage going into the final round. Far from riding within himself to secure a safe title, the 27-year-old headed off the challenge of Nambotin and Larrieu to finish with a flourish.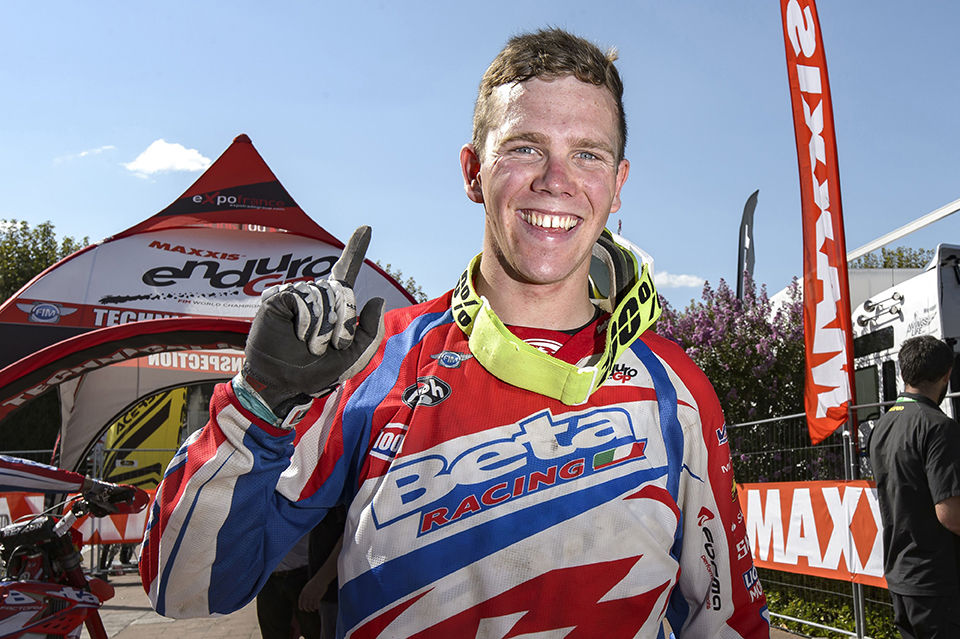 2016 FIM E3 ENDURO WORLD CHAMPION
ALL HAIL HOLCOMBE
Steve Holcombe (Beta) announced his arrival as Enduro's newest star, clinching the FIM E3 Enduro World Championship and even challenging for the EnduroGP title in his debut season. The 22-year-old Brit stepped up from the FIM Junior Enduro World Championship after finishing third in 2015, convincing Beta to team him up with former FIM E2 Enduro World Champions Johnny Aubert and Alex Salvini for 2016. The pair's experience rubbed off on the newcomer, who took three day wins from the opening two rounds to claim a surprise lead in the championship.
Holcombe proved his early form was no fluke over the remainder of the season, taking a further nine wins including three doubles in Sweden, Italy and France. The first day of that final round at Cahors proved to be his title-clinching ride, taking the lead on the opening lap and leaving title rivals Manuel Monni (TM) and team-mate Aubert in his wake. Third place for Aubert meant that the 36-year-old had completed a famous championship one-two for Beta, with Monni following up his second place with fourth on day two to seal his career-best championship finish in third.
Holcombe's day two victories in Portugal and Italy, as well as his double in Sweden, were all good enough for maximum EnduroGP points, propelling him onto the championship podium in the historic first season for the new series.