ENDURANCE TEAM
Team SRC Kawasaki France
Team Manager: Gilles Stafler
Riders: David Checa - ESP, Jeremy Guarnoni - FRA, Erwan Nigon - FRA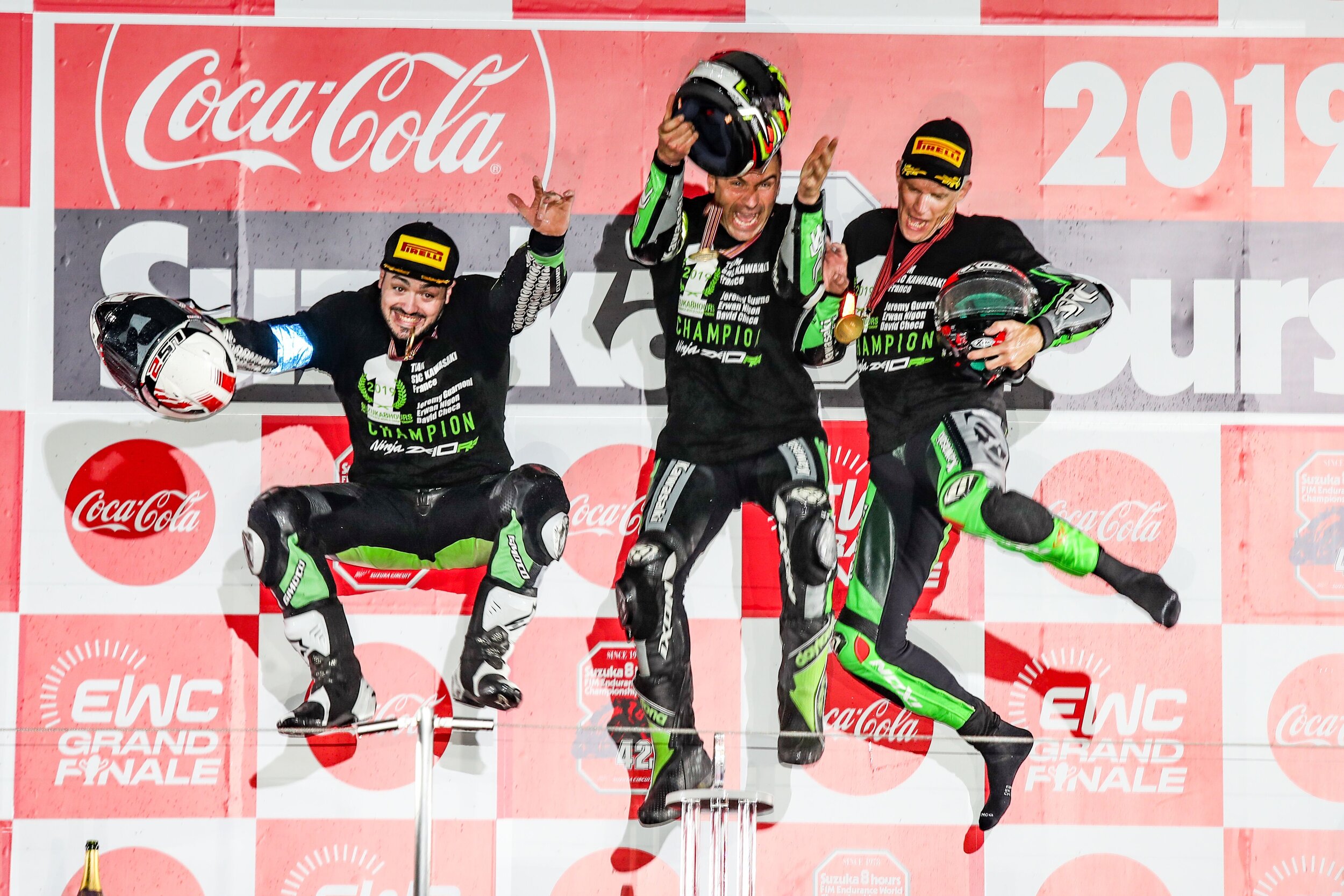 2019 FIM ENDURANCE TEAM WORLD CHAMPION
EPIC FIM EWC FINALE FOR KAWASAKI
The 2018-2019 FIM Endurance World Championship went all the way to a nail-biting final round, with three teams taking title aspirations to the legendary Suzuka 8 Hours event. Team SRC Kawasaki France (David Checa, Jeremy Guarnoni, Erwan Nigon) travelled to Japan holding a five-point lead over the Suzuki Endurance Racing Team (Vincent Philippe, Etienne Masson and Gregg Black), with defending champions F.C.C. TSR Honda France (Freddy Foray, Josh Hook and Mike Di Meglio) a further twelve points behind, after an epic season of FIM EWC racing that saw the championship lead change hands at every round.
F.C.C. TSR Honda France began their title defence with a win at the Bol d'Or by just fifty-four seconds over YART Yamaha (Broc Parkes, Marvin Fritz and Niccolò Canepa) but two crashes at the 42nd edition of the 24 Heures Motos in Le Mans saw the Japanese team cross the line in thirty-fifth place and lose the series lead to race winners Team SRC Kawasaki France. There was more drama in an epic 8 Hours of Slovakia Ring, where Team SRC Kawasaki France endured mechanical issues in a race won by YART, whilst second place for SERT moved them to the top of the standings.
Two crashes for SERT and a resultant tenth-place finish at the 8 Hours of Oschersleben, combined with a second win of the season for F.C.C. TSR Honda France and second place for Team SRC Kawasaki France set up the Suzuka decider.
With the Japanese factory teams running away at the front, SERT were lapping in ninth place and looking certain to win their sixteenth World title when engine failure just five minutes from the end signalled heartbreak for legendary team manager Dominique Méliand in his final race. Behind them, Team SRC Kawasaki France were safe in eleventh position and a red flag just moments later signalled a dramatic title success for the French team.
PALMARES
Endurance Team World Champions - 2019