LONG TRACK OF NATIONS
The Netherlands
Riders: Romano Hummel, Dave Meijerink, Mika Meijer, Jannick de Jong
Team Manager: Patrick Roth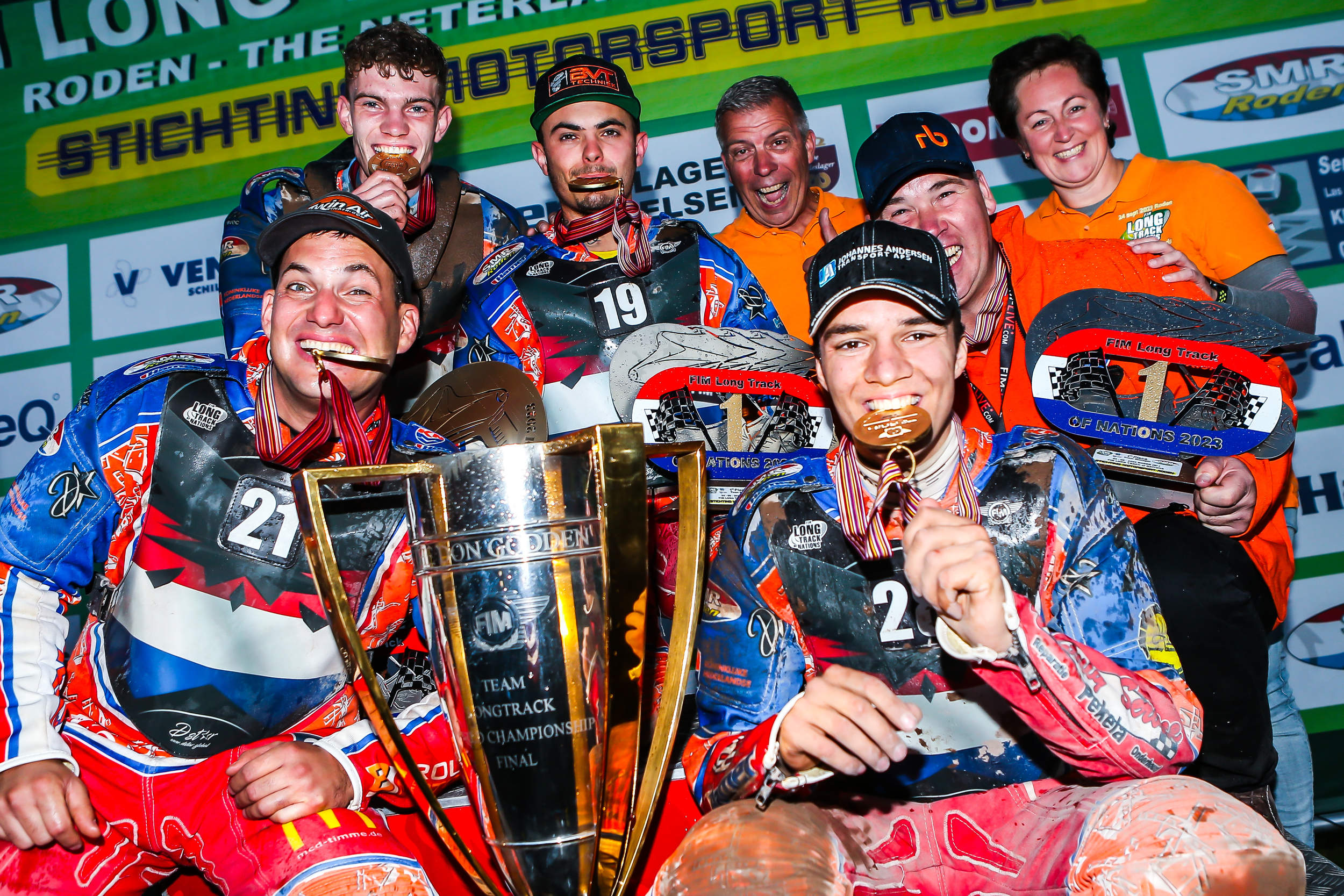 2023 FIM Long Track of Nations World Champions
DUTCH DELIGHT!
Heading into the 2023 FIM Long Track of Nations (LToN) with home advantage and a team capable of challenging defending champions Germany who have dominated the competition since it was first staged in 2007, the Netherlands finally completed their hat-trick of victories on an historic day for the Dutch.
Captained by Jannick de Jong – who was making his ninth LToN appearance and who had represented his country on the two previous occasions the Netherlands had won the competition in 2013 and 2016. With Jannick very ably backed-up by Romano Hummel, Dave Meijerink and Mika Meijer, the Dutch also had to contend with talented teams from Great Britain, France, the Czech Republic, Finland and Denmark in addition to Germany.
The Speed Centre Roden, which lies around one-hundred-and-seventy kilometres north-east of Amsterdam, was packed with Dutch fans hoping to see the host nation make history and they were not disappointed on a momentous day in late September.
Led by newly crowned 2023 FIM Long Track World Champion Martin Smolinski along with Erik Riss, Jörg Tebbe and Stephan Katt, Germany traded blows with the Netherlands throughout the Heat races to set up a show-stopping Grand Final where Hummel emerged as the stand-out star.
Unbeaten on the day with six Heat wins, twenty-four-year-old Hummel – the 2021 FIM Long Track World Champion – was in fantastic form on a very tough and technical track and he sealed the deal for his nation with a seventh victory of the afternoon in a dramatic and adrenalin-charged Grand Final.
In the battle for the third step of the podium, Great Britain defeated a fighting Finnish team to earn their first podium finish since 2018.
PALMARES
FIM Long Track of Nations Champions: 2013, 2016, 2023