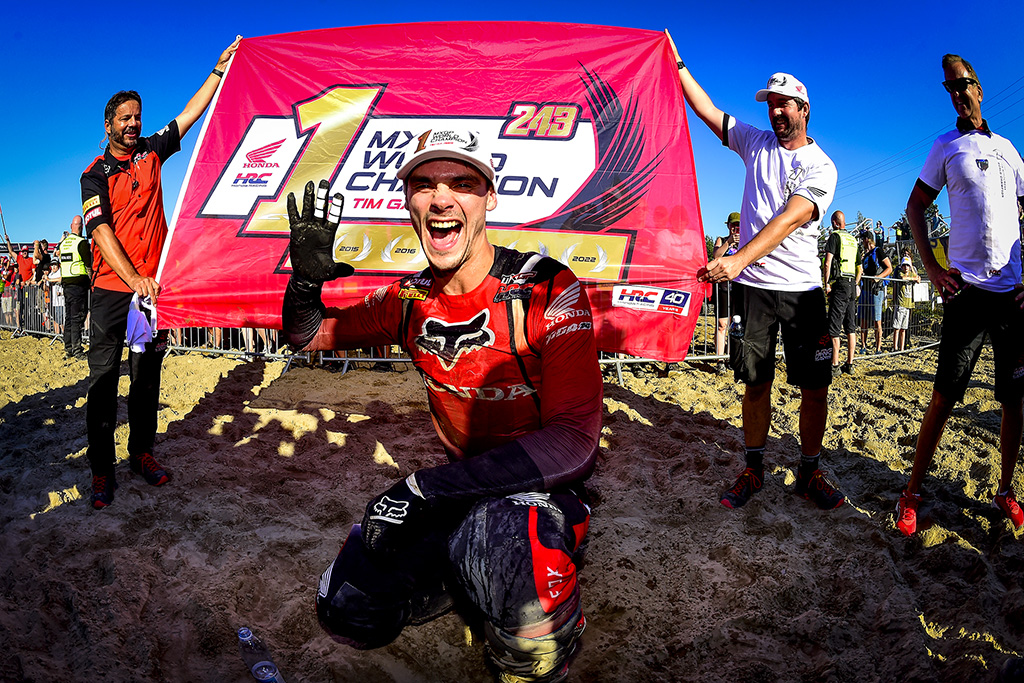 2022 MXGP FIM Motocross World Champion
FIVE STAR TIM!
At the relatively young age of twenty-six, Tim Gajser has already secured his place in motocross folklore as a five-time world champion across the top classes and the mighty Honda Racing Corporation's most successful racer ever.
To be HRC's all-time number one is no mean feat given the footsteps he is following in – all-time greats like Graham Noyce, Andre Malherbe, Dave Thorpe and Eric Geboers spring to mind – but Gajser has earned the accolade and shows no sign of slowing down.
The Slovenian hero has dominated MXGP in 2022 and sewed up his fourth 450cc title with two rounds still to run to make it five world crowns in just eight years.
Gajser's rise to the top has been meteoric. A European champion in the 65cc, 85cc and 125cc classes and a Junior 125cc world champion, he signed to HRC for his first full year in the MX2 world championship and has been a contender ever since. His MX2 title came in 2015 and he immediately moved up to win the blue-ribbon MXGP crown in his rookie season.
Injury problems dropped him out of the mix for a couple of years, but he was back on top in 2019 and again in 2020.
After falling twenty points short of the title in 2021, Gajser has been in charge this year from the get-go and won the overall at six of the opening seven grands prix of the season to establish a commanding lead he would not let go of.
Out of the eighteen world championship rounds held this year, Gajser has emerged triumphant in ten of them with a fantastic fourteen moto wins carrying him to an eventual advantage of one-hundred-and-six points over his nearest rival.
PALMARES
FIM Junior 125cc World Champion – 2012
FIM MX2 Motocross World Champion – 2015
FIM MXGP Motocross World Champion – 2022, 2020, 2019, 2016
2020 FIM MXGP WORLD CHAMPION
TIM'S THE HAT-TRICK HERO
It takes someone very special indeed to start breaking records at the revered Honda Racing Corporation, but Tim Gajser – who took his third MXGP title this season and his fourth World Championship in total for the team – is, well, very special!
At the tender age of just twenty-four, Gajser – a national hero in his native Slovenia – is now the most successful motocross racer in the forty-five-year history of HRC having surpassed Belgian legend Andre Malherbe's total of twenty-seven GP wins and three World titles.
Gajser's rise to the top has been meteoric. A European champion in the 65cc, 85cc and 125cc classes, Tim signed to HRC for his first full year in the MX2 world championship and has been a contender ever since. His MX2 title came in 2015 and he immediately moved up to win the blue-ribbon MXGP crown in his rookie season.
Following two years beset by injury problems Gajser won again in 2019, but this season – after a string of consistently strong scores though no overall GP win – he had to wait until round nine before taking the series leader's red plate and round eleven before he stood on top of the podium.
By this point the writing was on the wall for his title rivals and once the pieces of the puzzle began to fall into place Gajser hit his stride. In the final seven rounds he topped the podium four times, was second on three occasions and won seven of the final twelve motos to take the title by one-hundred-and-two points and raise his total of GP wins to twenty-nine.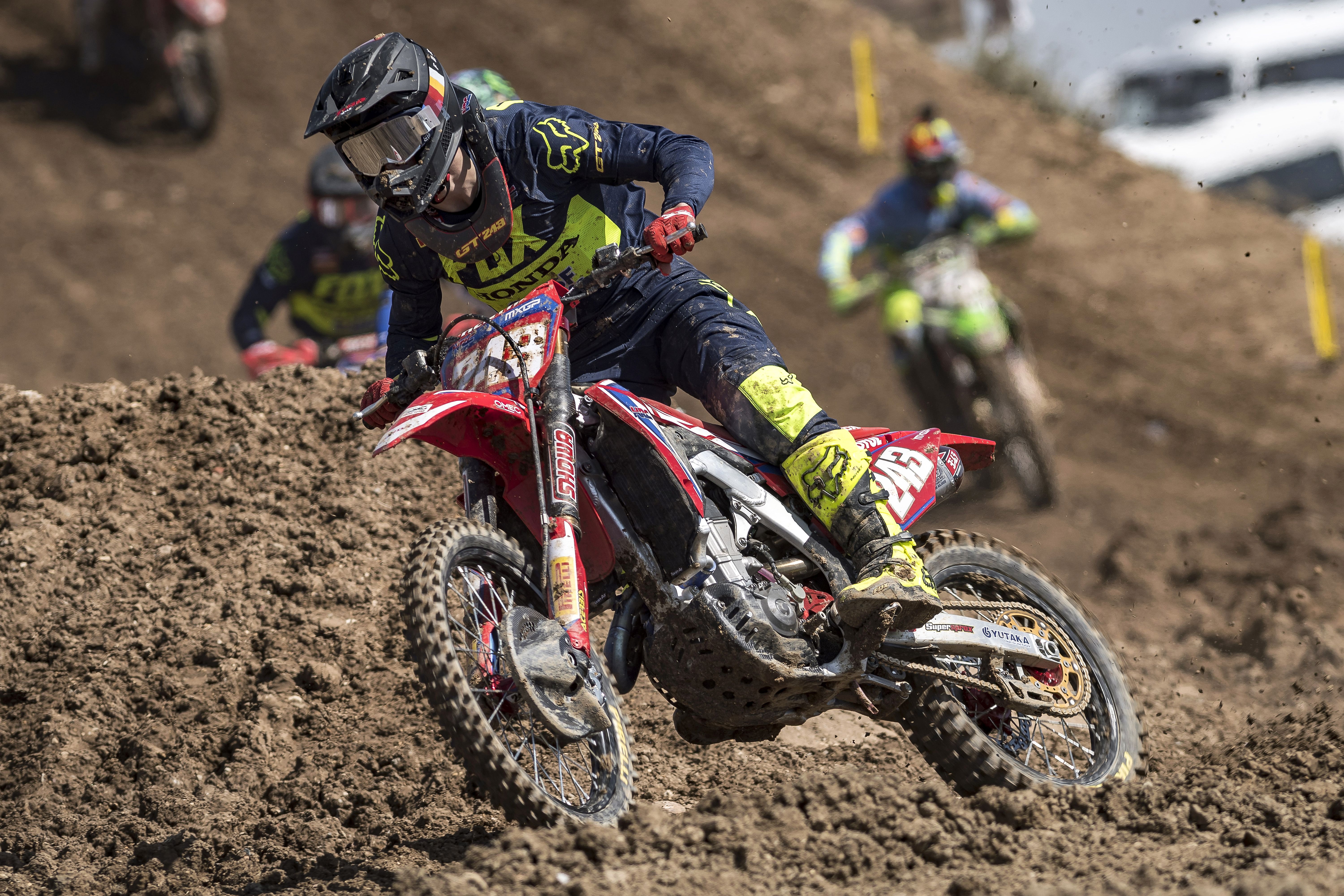 2019 FIM MXGP WORLD CHAMPION
IT'S GOLD AGAIN FOR GAJSER
Tim Gajser (Honda) bounced back from two seasons of disappointment to reclaim the FIM MXGP Motocross World Championship he won as a rookie in 2016, putting together his most impressive campaign yet to win the title with three rounds to spare. Gajser, who also won the MX2 title in 2015, proved virtually unbeatable at stages of the year although there is no doubt his passage was facilitated somewhat by a mid-season injury to eight-time FIM World Champion Antonio Cairoli (KTM), who won six of the first ten races of the season before breaking his elbow.
Cairoli raced on for three further rounds; the MXGPs of Portugal, France and Russia, where Gajser took consecutive doubles and embarked on a seven-round streak of overall wins - the longest in Honda's illustrious history –including Latvia, Germany, Indonesia and Asia (also run in Indonesia).
Twelve race wins out of a possible fourteen turned a forty-point deficit into a one hundred and seventy-three-point lead that the Slovenian controlled on the championship's return to Europe, sealing another victory in the deep sand of Lommel before wrapping up the title at historic Imola.
Gajser now joins a very select list of riders who have won three FIM Motocross World Championships on board a Honda, alongside Andre Malherbe (1980, 1981, 1984), David Thorpe (1985, 1986, 1989), Georges Jobe (1987, 1991, 1992) and Eric Geboers (1987, 1988, 1990).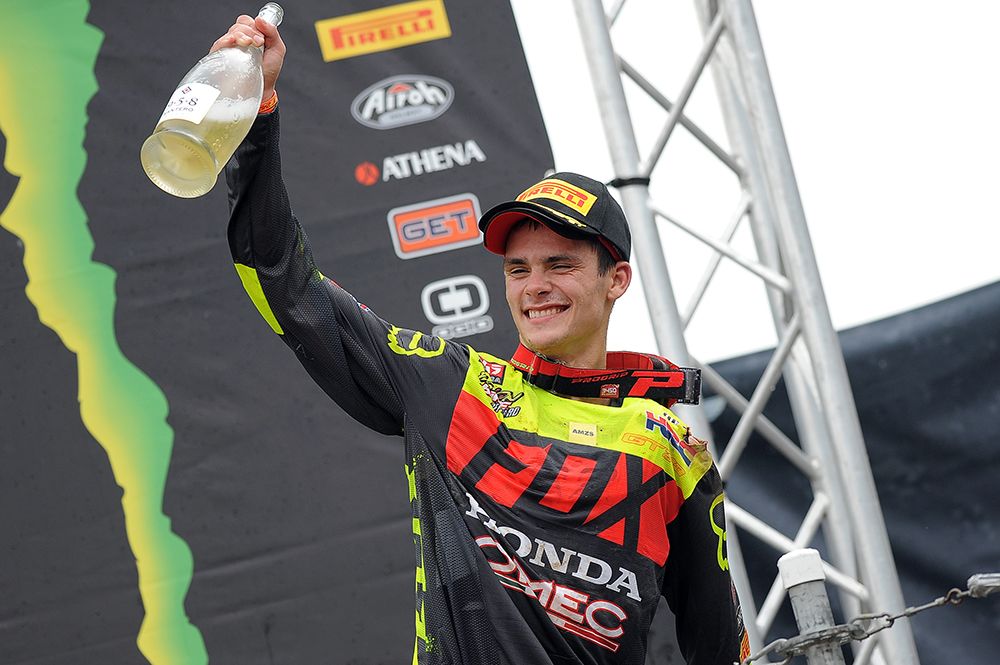 2016 FIM MXGP WORLD CHAMPION
GAJSER STEPS UP IN STYLE
For the second year in a row the FIM MXGP Motocross World Championship was rocked by the skill, bravery and attacking aggression of a rookie. 2015 FIM MX2 World Champion Tim Gajser (Honda) made a late decision to vault into the premier class for 2016 and it proved an inspired move. The strong Slovenian, who trained and practised with the bigger CRF450RW even during his MX2 tenure, immediately adapted to the rigours of racing the larger motorcycle and threw his distinctive yellow cap into contention for the title from the very first Grand Prix at Losail, Qatar with a surprising double success.
Still only 19 years of age and pushing experienced rivals such as reigning number "1" Romain Febvre (Yamaha), Max Nagl (Husqvarna), Antonio Cairoli (KTM) and Gautier Paulin (Honda), Gajser proved his desert dominance was no fluke by winning another three of the first six Grands Prix in Argentina, Mexico and Latvia as the band of noisy supporters from Slovenia grew and grew at the fences.
His podium run would last until round thirteen, by which point Gajser was becoming attached to the red plate as series leader. Bumps in Belgium and Holland meant he would have to wait until the penultimate round at the Charlotte Motor Speedway in North Carolina to be Honda's first premier-class champ since 2000 and the first back-to-back victor in different categories since Greg Albertyn in 1992-93. Eight-time World Champion Cairoli finished championship runner-up ahead of Nagl.