TRIALGP / X-TRIAL
Toni Bou
Born on 17 October 1986 in Piera, Spain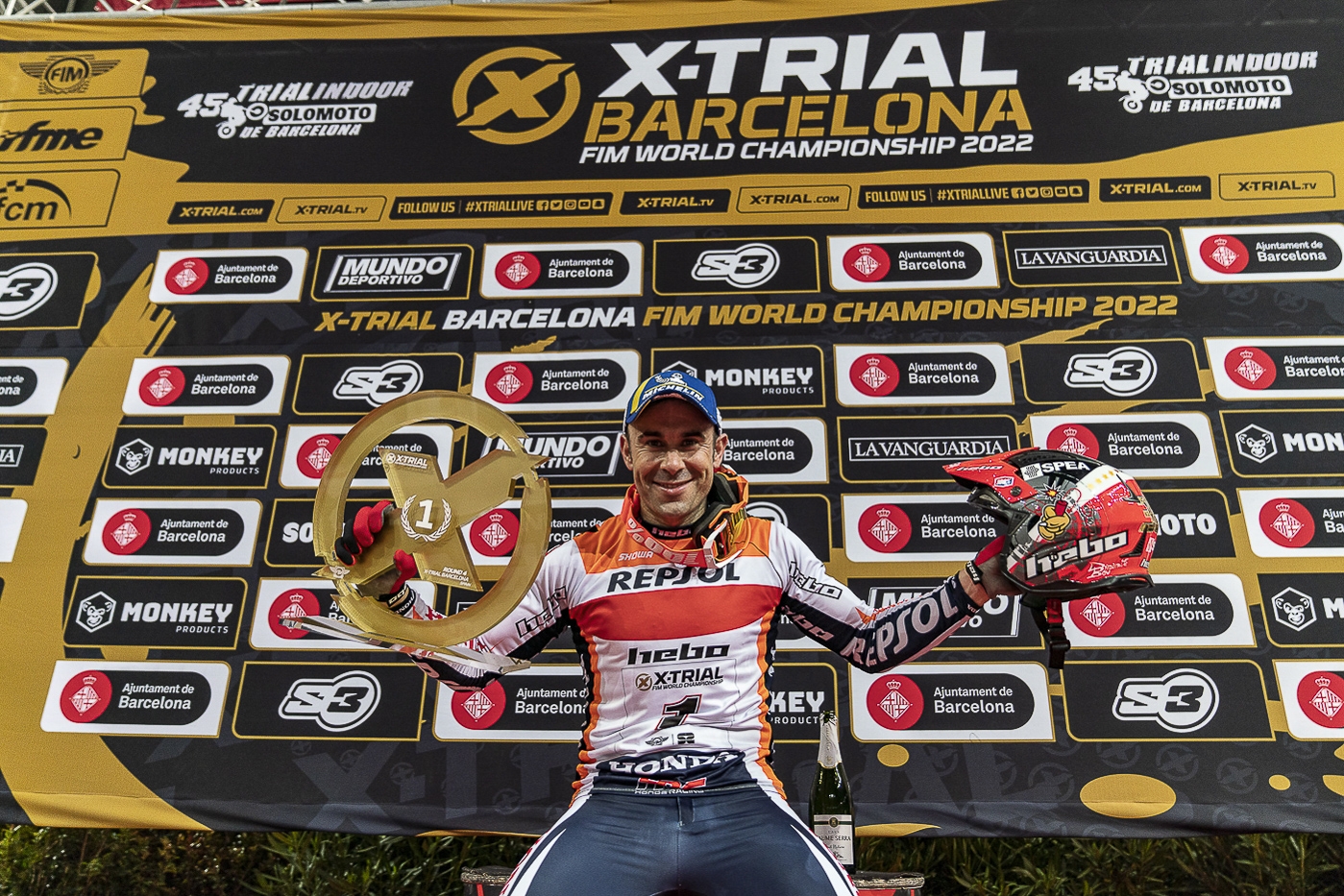 2022 FIM X-TRIAL WORLD CHAMPION
THE TONI EXPRESS!
Toni Bou – Montesa has made a career out of setting records – and then rewriting the record books.
All the way back in 2007 the now thirty-six-year-old Catalan embarked on a win-streak and he has not stopped streaking since with a sensational sixteenth consecutive FIM X-Trial World Championship this year.
To give you an idea of just how dominant Bou has been, the next-best indoor athlete is Dougie Lampkin who secured his fifth and final X-Trial crown in 2001.
With his background in bicycle trials, Bou has carried this skill-set across to the motorised version and helped revolutionise the sport in the same way as his illustrious predecessors Bernie Schreiber, Jordi Tarres and Lampkin did with his incredible technique perfectly suited to indoor events.
Bou has the ability to make the impossible look easy which can sometimes mask his incredible work ethic, but sublime natural skills will only get you so far and it is in the off-season when championships are won and lost and no-one trains harder than him.
His form in 2022 has been jaw-dropping. Bou kicked off this year's campaign with a conclusive eleven-mark victory in Nice in early March and a fortnight later, with the series remaining in France for round two, he held his nerve to win by one mark in Chalon-sur-Saône from long-time rival and friend Adam Raga – TRRS.
On home turf he then dominated rounds three and four in Madrid and Barcelona at the start of April before the cancellation of the scheduled series finale, meant that with only one round in Andorra in October to go he had built up an unsurmountable advantage at the top of the table.
PALMARES
FIM X-Trial World Champion – 2022, 2021, 2020, 2019, 2018, 2017, 2016, 2015, 2014, 2013, 2012, 2011, 2010, 2009, 2008, 2007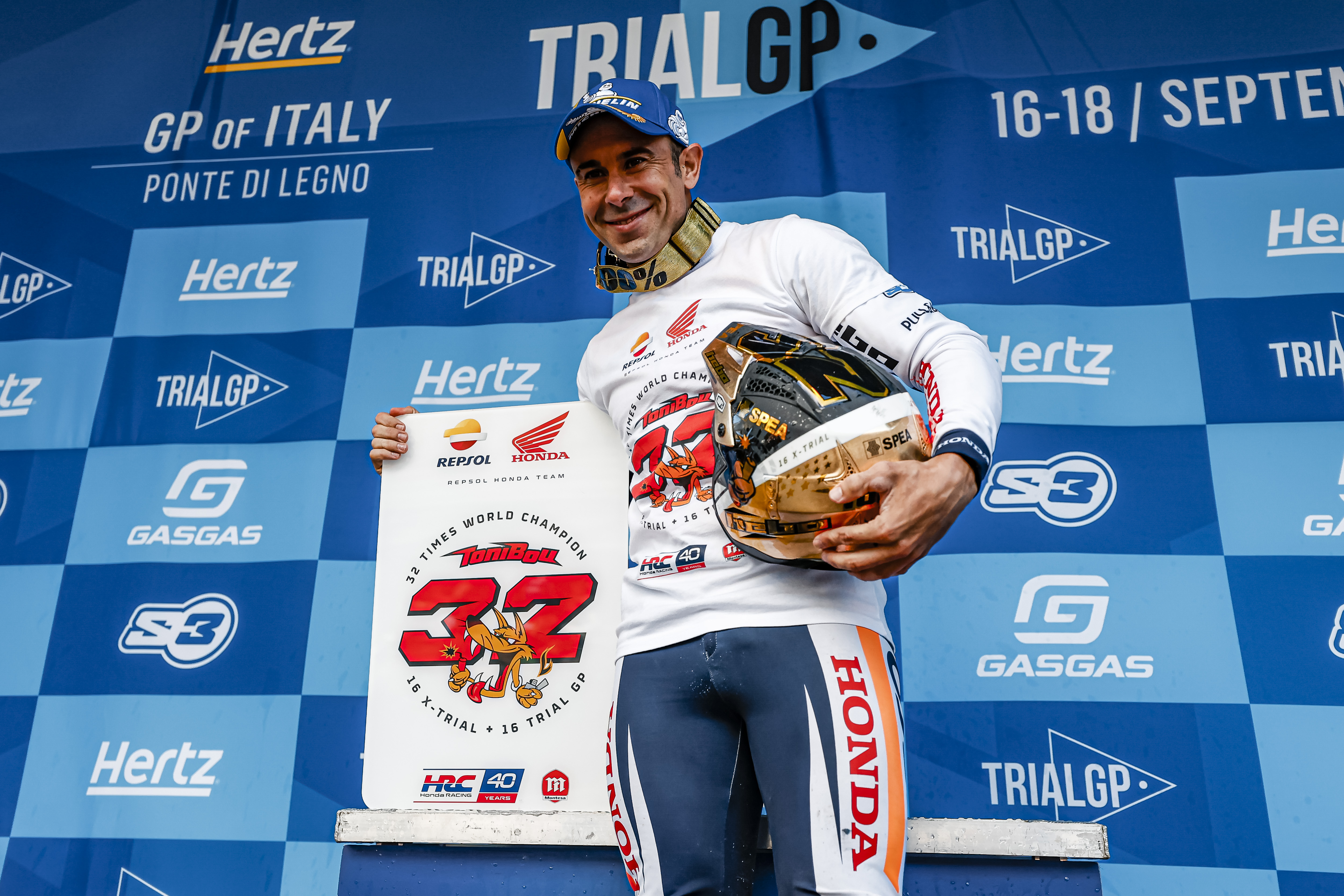 2022 FIM TRIALGP WORLD CHAMPION
BOU-DACIOUS!
He may not win all the battles and he tasted defeat three times this season, but for the last sixteen years Toni Bou – Montesa has developed a hugely desirable habit of winning all the wars.
The thirty-six-year-old Spanish superstar has towered head and shoulders above all his rivals on the global stage since 2007 with his sublime skills and incredible work ethic carrying him to a scintillating sixteen consecutive outdoor titles.
Records are set to be broken and ever since 2014 when he took his eighth FIM TrialGP crown – in the process eclipsing the seven-title totals of Trial legends Jordi Tarres and Dougie Lampkin – Bou has turned rewriting the history books into an annual event.
His 2022 campaign started with a shock defeat on the opening day of the championship – the TrialGP of Spain – at L'Hospitalet de L'Infant, but true to form he was back on top on day two.
Slipping to second again on day one in Andorra, Bou regrouped and fired back by blazing a trail across Germany, Belgium and France with a run of five wins that must have shattered the spirit of his challengers.
With just two days of competition remaining, Bou was sitting pretty at the top of the standings and he put the ultimate outcome beyond doubt with a second-placed finish on day one of the TrialGP of Italy at Ponte di Legno in the shadow of the Alps.
With the title secured for yet another season, Bou then signed off on top to ensure his winning margin was a massive fifty-one points – his most comfortable crown-clinching cushion for a decade!
PALMARES
Hertz FIM Trial World Champion – 2022, 2021, 2020, 2019, 2018, 2017, 2016, 2015, 2014, 2013, 2012, 2011, 2010, 2009, 2008, 2007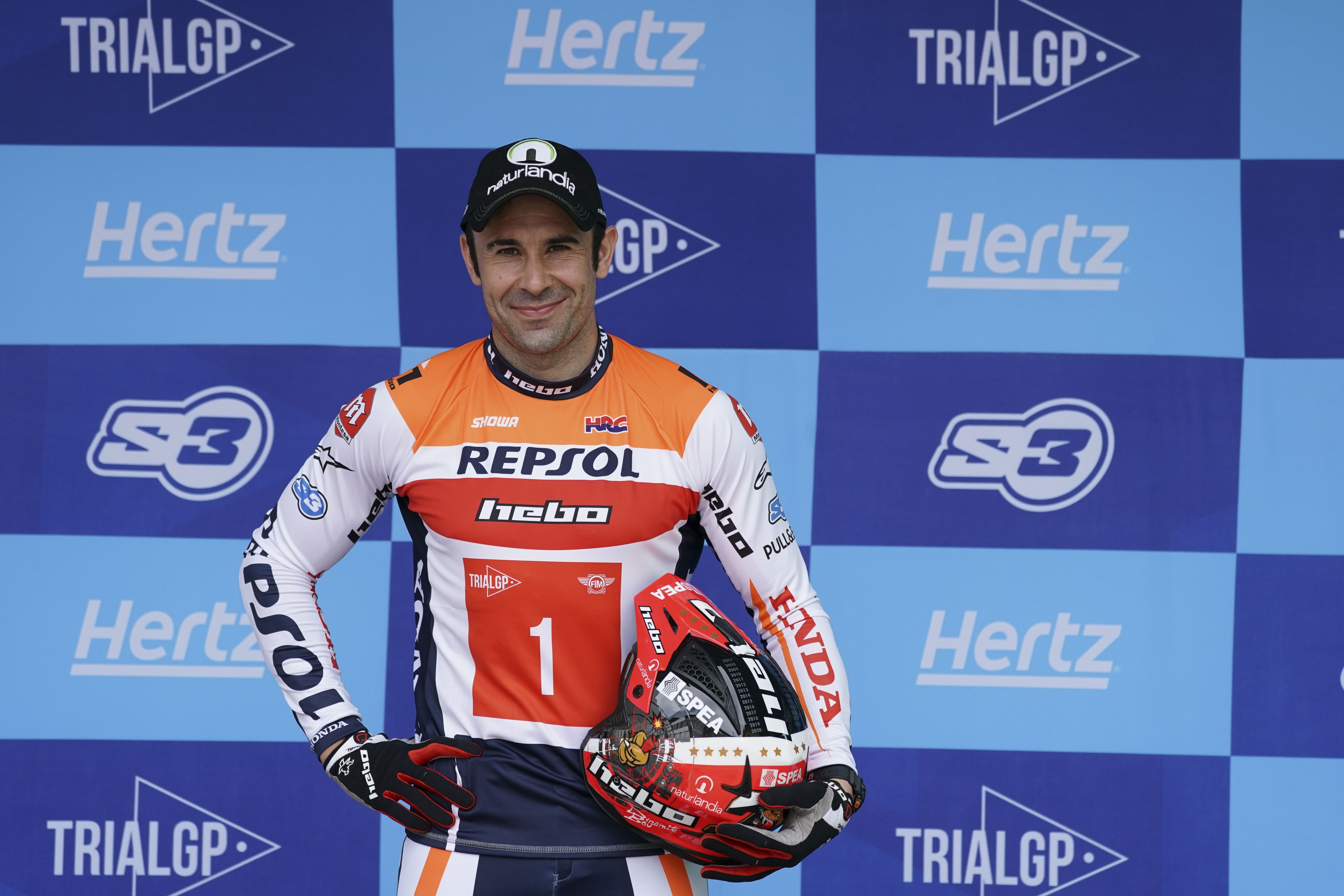 2021 FIM TRIALGP WORLD CHAMPION
FABULOUS FIFTEEN FOR BRILLIANT BOU!
Toni Bou (Montesa) continued to rewrite the record books in 2021, claiming his fifteenth consecutive FIM TrialGP title in dominant fashion.
A big question mark hung over the fitness of the thirty-five-year-old Catalan king, who now calls the tiny Pyrenean principality of Andorra home, after he broke his leg in a training accident less than a month before the start of the championship. However, his injury proved to be only a slight set-back and he recorded an impressive seven TrialGP victories out of a possible nine to extend his all-time win record to an incredible one-hundred-and-twenty-five.
Bou's title-winning legacy stretches all the way back to 2007 and he has proved to be the rider to be reckoned with ever since that first championship, notching up one-hundred-and-sixty-seven podium finishes along the way.
He kicked off his 2021 campaign on top with victory on the first day of the Italian TrialGP at Tolmezzo in mid-June before slipping to second the following day behind his veteran Japanese team-mate Takahisa Fujinami.
Back in charge the following month at Charade in France, Bou then won on the opening day in Andorra in late August, though had to be content with third on day two behind his compatriots Adam Raga (TRRS) and Jaime Busto (Vertigo).
As we have seen so many times before, when the pressure is on Bou's ability to soak it up and rise to the occasion is unparalleled. If onlookers thought he might be wavering after day two in Andorra he showed everyone who is boss and reeled off victories at Cahors in France and on both days at Pobladura de las Regueras in Spain before putting the championship beyond reach with victory at the Portuguese TrialGP at Gouveia.
His eventual winning margin was a very healthy twenty-two points, putting him more than a round victory clear of his nearest rival.
2021 FIM X-TRIAL WORLD CHAMPION
THE MASTER!
Can anyone dethrone Toni Bou? He may now call Andorra home, but he will always be the Catalan King and his fifteenth straight FIM X-Trial World Championship title – combined with his fifteenth straight outdoor crown – only serves to hammer home the message that he is the greatest of all time.
With a massively abbreviated series due to the pandemic, this year's championship fight was reduced to just two rounds which made for a super-intense, super-condensed battle and – surprise, surprise it was the Spanish superstar who came out on top.
The thirty-five-year-old was the man to beat at the opening round in Andorra at the start of November, recovering from a shaky start to emerge as a clear winner following clean rides in his heat and the final ahead of his compatriots Adam Raga and Jaime Busto.
Two weeks later he sealed the deal in Barcelona's famous Palau Sant Jordi – arguably the true home of indoor trial – to make yet another entry into the record books as motorcycle sport's most successful rider.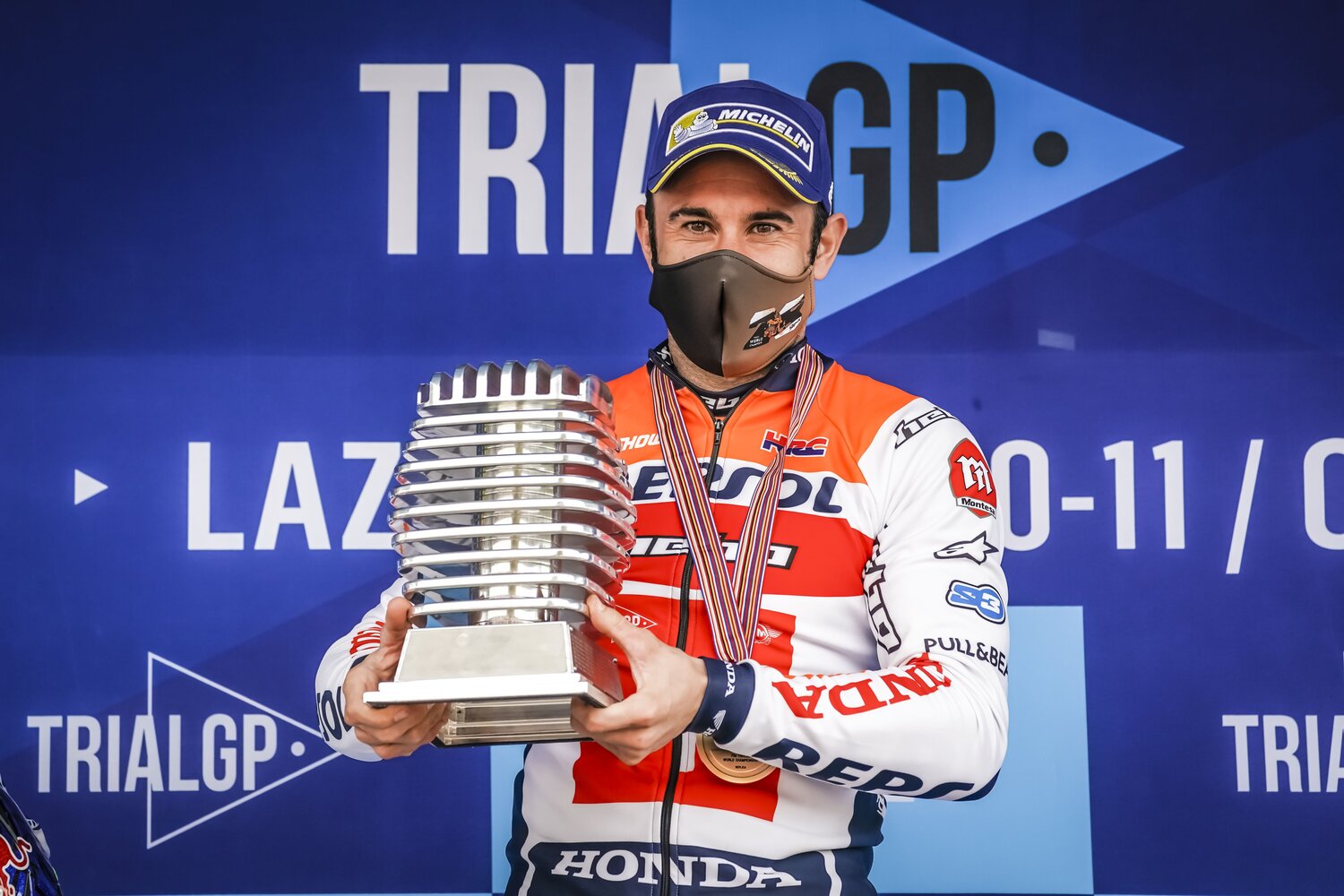 2020 FIM TrialGP World Champion
THE BOU SHOW ROLLS ON
The greatest rider in the history of the sport of Trial, over a long and glittering career Toni Bou (Repsol Honda) has consistently rewritten the record books – starting in 2014 when he took his eighth FIM TrialGP title to eclipse the total of seven apiece shared by Trial legends Jordi Tarres and Dougie Lampkin.
This year – after claiming his fourteenth consecutive FIM X-Trial World Championship in the spring – Bou raised his TrialGP total up to a fabulous fourteen titles in a row and added another six event wins to his record to take his tally to an incredible one hundred and eighteen outdoor victories.
The thirty-four-year-old started his 2020 campaign with a win on day one of the French TrialGP, but an old shoulder injury caused him problems on day two and he dropped to third behind Adam Raga (TRRS) and Jaime Busto (Vertigo) – his first defeat since day two of the Japanese TrialGP in June 2018.
It was business as usual for Bou at round two in Spain where he recorded a double win, but he slipped to second behind Raga on the opening day of competition at the Andorran TrialGP. The result kept his long-time rival's title hopes alive, although – as we have seen so many times before – when the going gets tough, Bou gets going and by signing off with victory on day two in Sant Julià followed by a double win at the final round in Italy, his winning margin of thirty-one points made 2020 look much more comfortable than it actually was.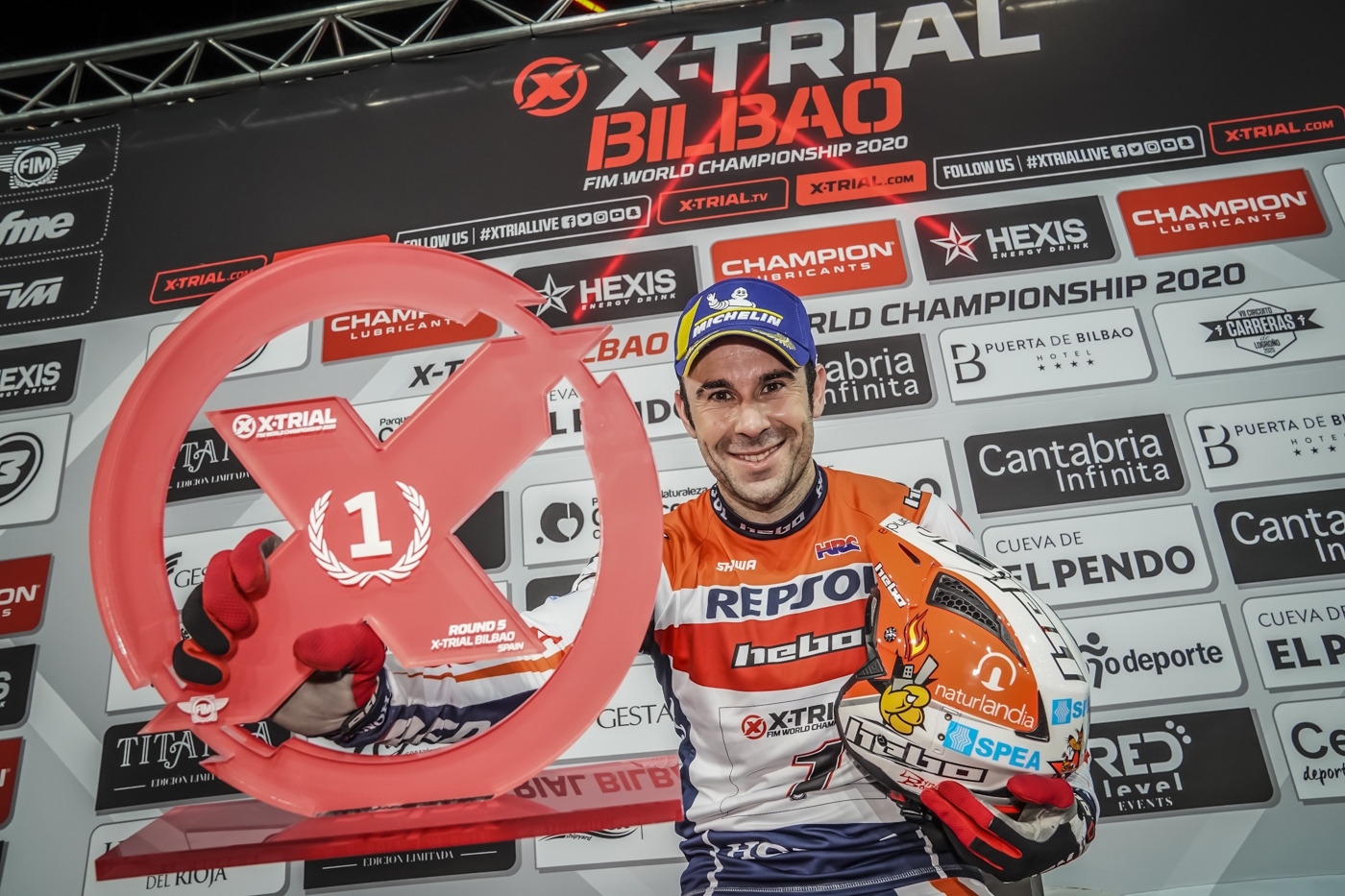 2020 FIM X-TRIAL World Champion
IT IS AN INSIDE JOB
Spectacular! Sublime! Sensational! Trial journalists are running out of superlatives to describe Spanish superstar Toni Bou (Repsol Honda) and with good reason – he just keeps winning.
The thirty-four-year-old Catalan rewrites the record books on an annual basis and his 2020 FIM X-Trial World Championship takes his total to an astounding fourteen in a row. To put this incredible feat into perspective, the last record holder was Dougie Lampkin who managed 'just' five from 1997 to 2001.
Originally scheduled over six rounds, the 2020 series was shortened to five when the final event in Andorra was cancelled because of COVID-19 regulations, but by this point Bou was already unbeatable after recording a full-house of wins and taking his total of X-Trial victories to sixty-seven.
The action actually got under way in November 2019 with the opening round staged on Reunion Island, the French overseas territory in the Indian Ocean. Bou beat his long-time rival Adam Raga (TRRS) in the final to take an early lead in the championship that he simply refused to relinquish.
A week later the riders were back in France for the first-ever X-Trial Rennes where Bou again beat Raga and following the Christmas break the reigning champion maintained his stranglehold on the title at round three – X-Trial Budapest – in mid-January. It was close – Bou only beat Raga on a tie-break – but, nevertheless, Bou was now fifteen points clear at the top of the championship.
Bou went into X-Trial Barcelona carrying back and rib injuries, though he still defeated Raga in the final before signing off with another victory in Bilbao that put the championship out of reach.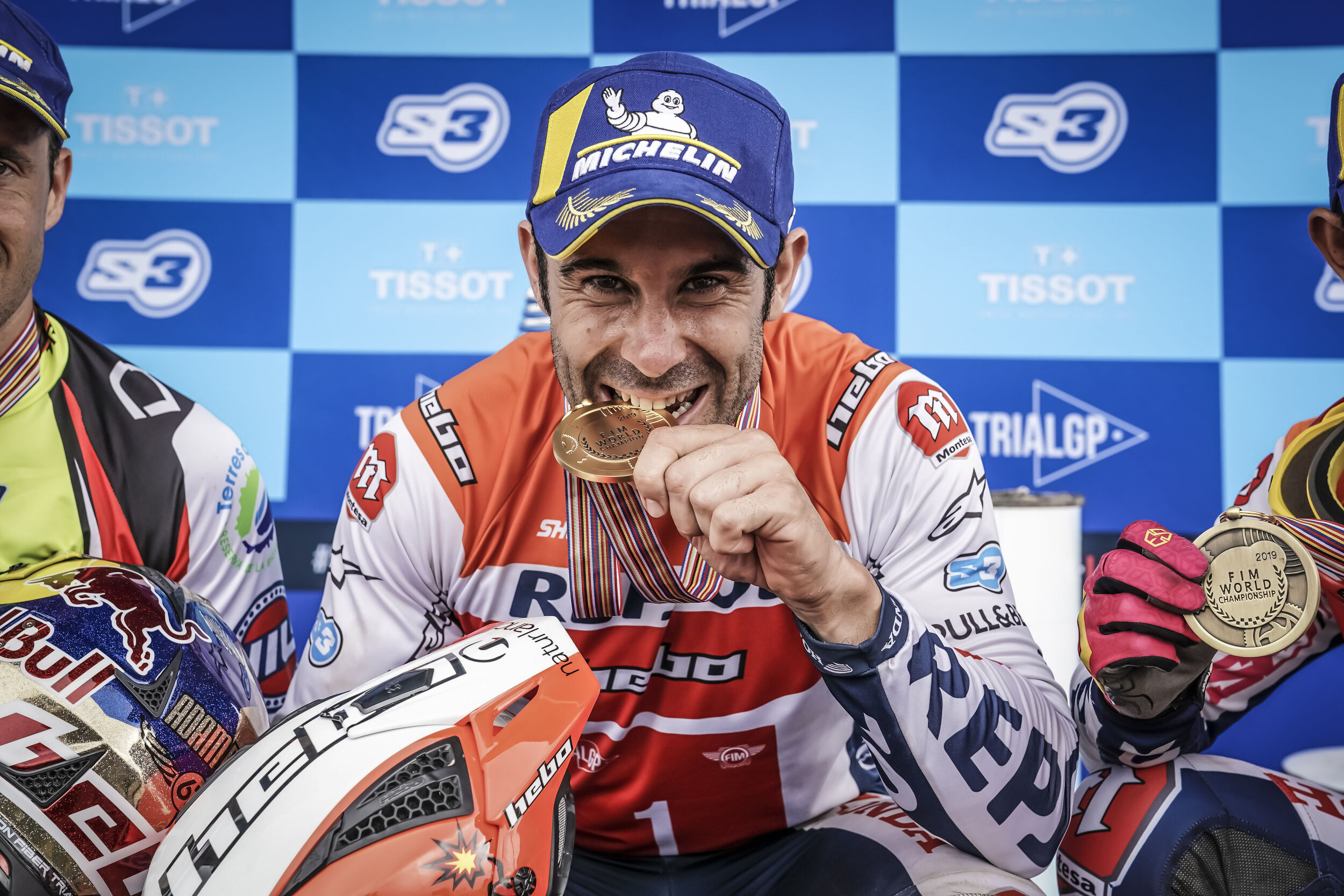 2019 FIM TRIALGP WORLD CHAMPION
BOU CEMENTS LEGEND STATUS
Toni Bou (Montesa-HRC) became a twenty-six-time FIM World Champion with yet another successful defence of the FIM TrialGP World Championship, his thirteenth consecutive title in the discipline. Free from the pain of the injuries that dogged his 2018 campaign, when he still won seven out of nine events, Bou was untouchable throughout a dominant 2019.
After success at the first six events of the season, Bou confirmed the championship with his thirteenth win on the bounce since Andorra last season - his one hundred and eleventh career victory – at the penultimate round of the season in France. "This is not a miracle, it's a legend" read the slogan printed across the Repsol Honda Team celebration t-shirts, although in the eyes of trial aficionados around the World, Bou can virtually walk on water. Bou's success at the Auron event was not the only title celebration for his Repsol Honda Team, who also won the Manufacturers title to make it twenty-one and counting for Montesa.
At a hot final round of the season just north of Benidorm in his native Spain, Bou signed off on top to make it seven wins from seven starts, ahead of his long-term rival Adam Raga (TRRS), who scored his sixth second-place of the season to secure the runner-up spot overall for the twelfth time. Veteran Japanese rider Takahisa Fujinami (Montesa-HRC) secured his fifth podium to take third.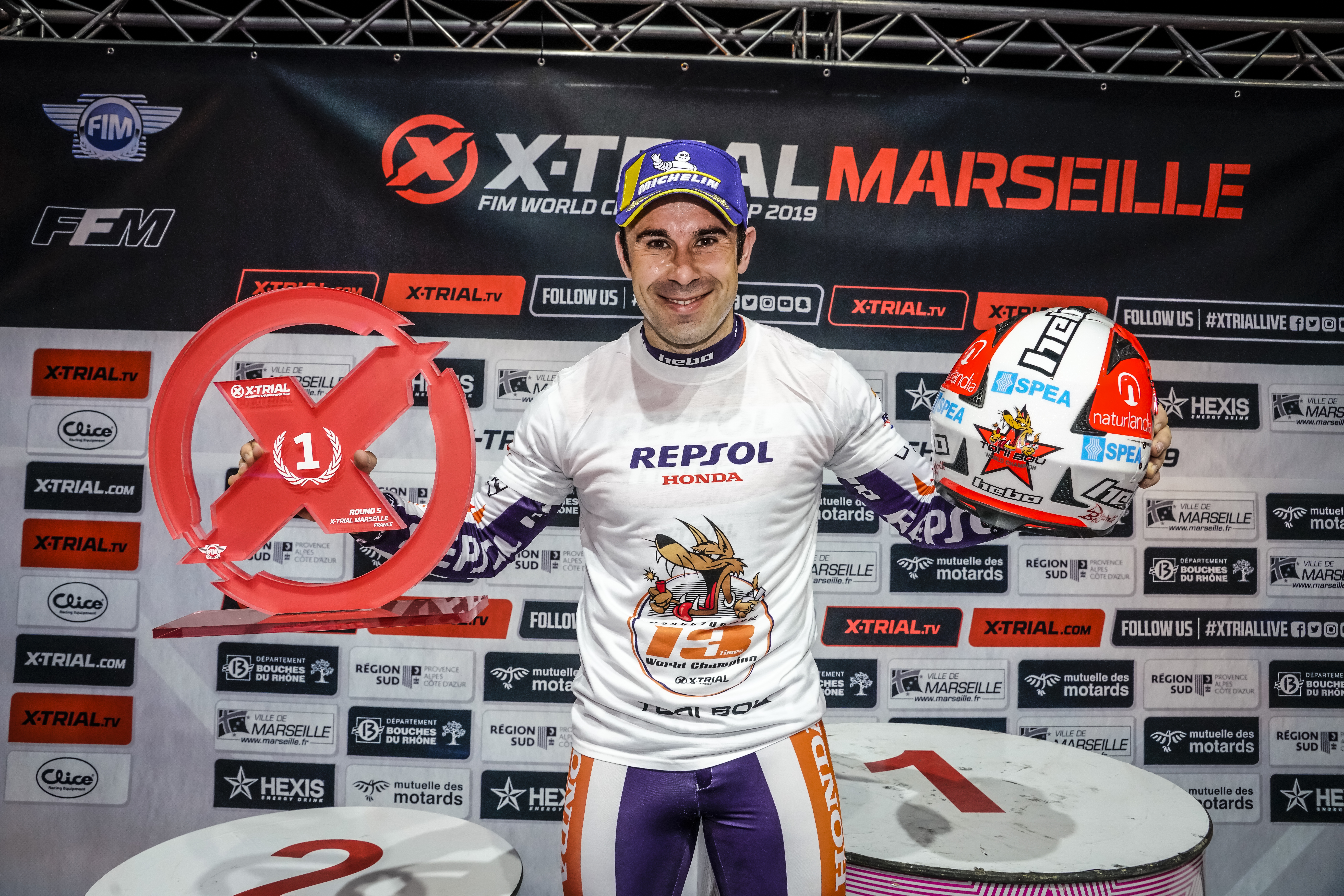 2019 FIM X-TRIAL World Champion
BOU BEATS BAD LUCK FOR TITLE NUMBER 13
Toni Bou (Montesa-HRC) overcame his rivals and also a fair dose of misfortune on his way to a thirteenth title in the 2019 FIM X-Trial World Championship. After fracturing his ribs at an exhibition event in Japan just weeks before the start of the season, Bou was a doubt for the opening round in Budapest, having missed the final round of the previous season at the same venue with injured vertebrae.
The thirty-two-year-old answered any doubts about his fitness with a resounding victory in Hungary, only for his season to flash before his eyes again when a heavy fall in the semi-final at the next round in Barcelona left him with an injured back and brought back painful memories of 2018. However, Bou remounted to take a hugely-important second place behind Adam Raga (TRRS), staying level on points with his great rival at the top of the championship despite seeing a nine-year unbeaten run at his home round come to an end.
An historic victory on X-Trial's first ever visit to Bilbao was followed by another milestone for Bou in Granada, where the series returned for the first time in a decade, as he racked up his sixtieth career victory in indoor competition. After then wrapping up the title with another win at the penultimate round in Marseille, the legendary Spaniard signed off with win number sixty two and a seventy-fifth career podium in Andorra.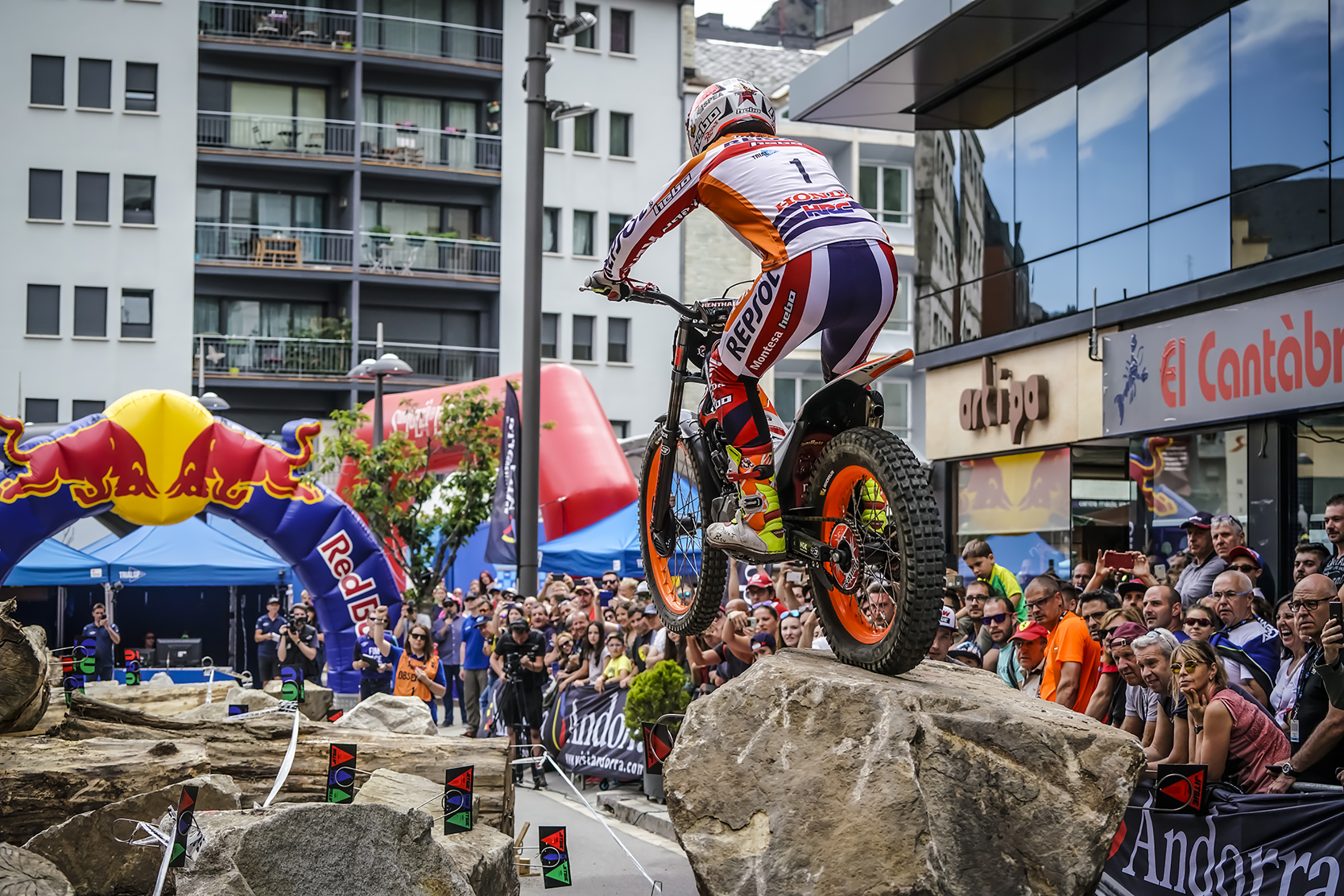 2018 FIM TRIALGP WORLD CHAMPION
BOU BOUNCES BACK
Toni Bou (Montesa) made a resounding return from the back injury that ruled him out of the final couple rounds of the 2018 X-Trial season to rediscover his best form in the FIM Trial World Championship and take an unprecedented twelfth consecutive title in the outdoor discipline, making him a 24-time FIM World Champion.
After opening the season with victory on home soil in the foothills of the Pyrenees at the spectacular Camprodon venue, the Catalan rider's unbroken run of championships was thrown into doubt at a sensational second-round double-header in Japan, where Jeroni Fajardo (Gas Gas) ended a nine-year wait for his second career victory on the first day, as Bou missed out on the podium for the first time since 2012. Bou recovered to take second place on day two but could do nothing to stop Jaime Busto (Gas Gas) from taking a memorable first career win.
For Bou the wait for a 100th career victory had to wait for another two rounds, with his 99th in Andorra taking him level on all-time wins with Dougie Lampkin before he finally claimed the outright record in Gouveia, Portugal. Further wins in France and Belgium made it four in a row for Bou and set up a title shot at the penultimate round of the season in front of a huge crowd in the legendary Lampkin's home town of Silsden, Great Britain, regarded as the spiritual home of Trial.
It was another tough trial for Bou on the hills of Addingham Moor, with Spanish compatriot Miquel Gelabert (Sherco) taking a shock early lead, but Bou kept up the pressure on lap two until the youngster cracked, taking a close victory over long-time rival Adam Raga (TRRS) to claim the championship with a round to spare.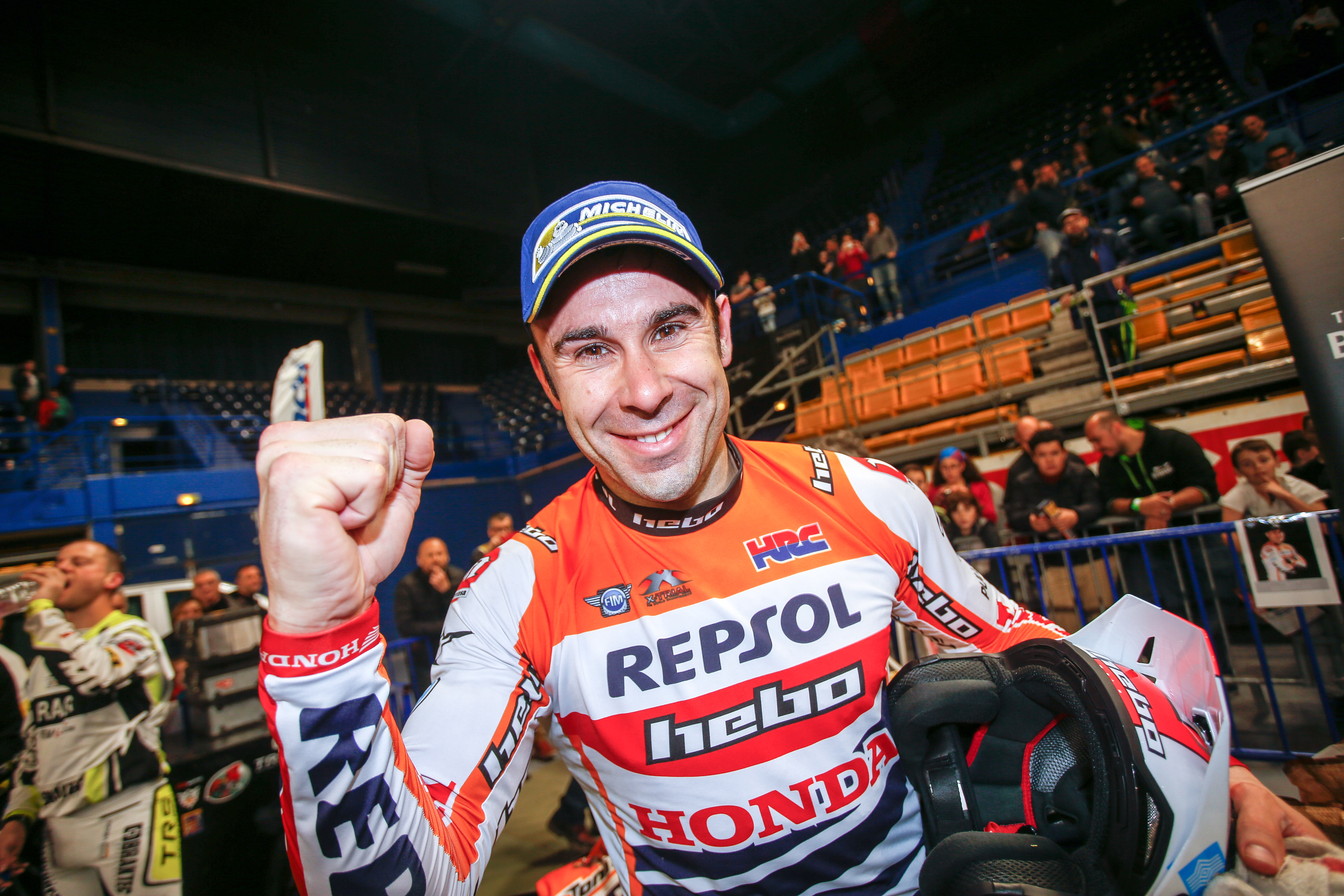 2018 FIM X-TRIAL WORLD CHAMPION
UNBREAKABLE BOU TAKES TWELFTH TITLE
New rules, a revised format, and a potential season-ending injury were not enough to prevent the unstoppable Toni Bou (Montesa-HRC) from taking the 2018 FIM X-Trial World Championship, his twelfth straight title in the discipline.
Bou started the season in typically impressive fashion, taking five straight wins in Vendée, Montpellier, Toulouse, Strasbourg and Barcelona – his twelfth on home soil in a spectacular event that was only decided in the penultimate section. In front a packed crowd of 9,000 fans at Palau Sant Jordi, the Spaniard got the better of long-term and local arch rival Adam Raga (TRS) by a six-mark margin.
It would prove to be a decisive result when a fall in a non-championship event in France left Bou with three fractured vertebrae and threw his record run of titles into doubt, with Raga sensing the chance for a fifth crown of his own. Unfortunately for Raga, though, the cancellation of X-Trial Seville reduced the calendar to seven events which, combined with new regulations that discard each rider's worst result of the season, meant that with just two rounds remaining Bou's early advantage could not be overhauled.
Bou showed incredible heart to compete just a month after his accident and win the opening round of heats in Paris, before withdrawing from the remainder of the event due to his injury. With Bou also missing the final round in Budapest, Raga finished on a high with victory in X-Trial's first ever visit to Hungary, but once again the season belonged to the impeccable rider from Piera.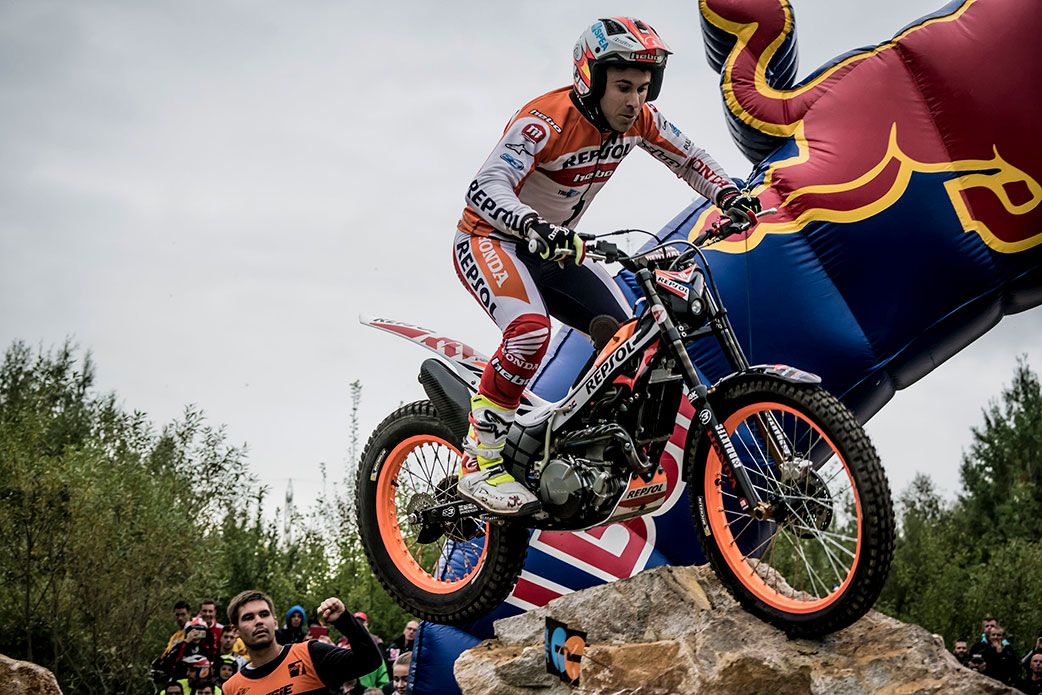 2017 FIM TRIALGP WORLD CHAMPION
TRIAL LIFE IS BOU-TIFUL
Toni Bou (Montesa-HRC) extended his historic run of FIM Trial World Championship success with his eleventh consecutive title in the discipline to again match his achievement in X-Trial and become a twenty-two-time FIM World Champion.
Still just thirty years of age, the most dominant rider in the history of Trial once again rewrote the record books with a round to spare, wrapping up the title in Sokolov, Czech Republic, despite tasting defeat for only the second time this season to his long-time rival and compatriot Adam Raga (TRRS).
By that time Bou already had seven victories to his name, including double wins at TrialGP Japan and TrialGP USA, and he signed off from the season on top at TrialGP Italy, the eighth and final round, with another commanding victory over Raga.
Jaime Busto (Montesa-HRC) took third in Italy to seal third in the championship and cap off an impressive campaign that saw him get the better of his illustrious team-mate at round three in Andorra, where he finished second to Raga.
Worryingly, though, for any pretenders to Bou's crown, the Spaniard celebrated his latest title by announcing a three-year extension to his contract with HRC that will now run until the end of 2021, taking the factory and rider to an incredible fifteen seasons together.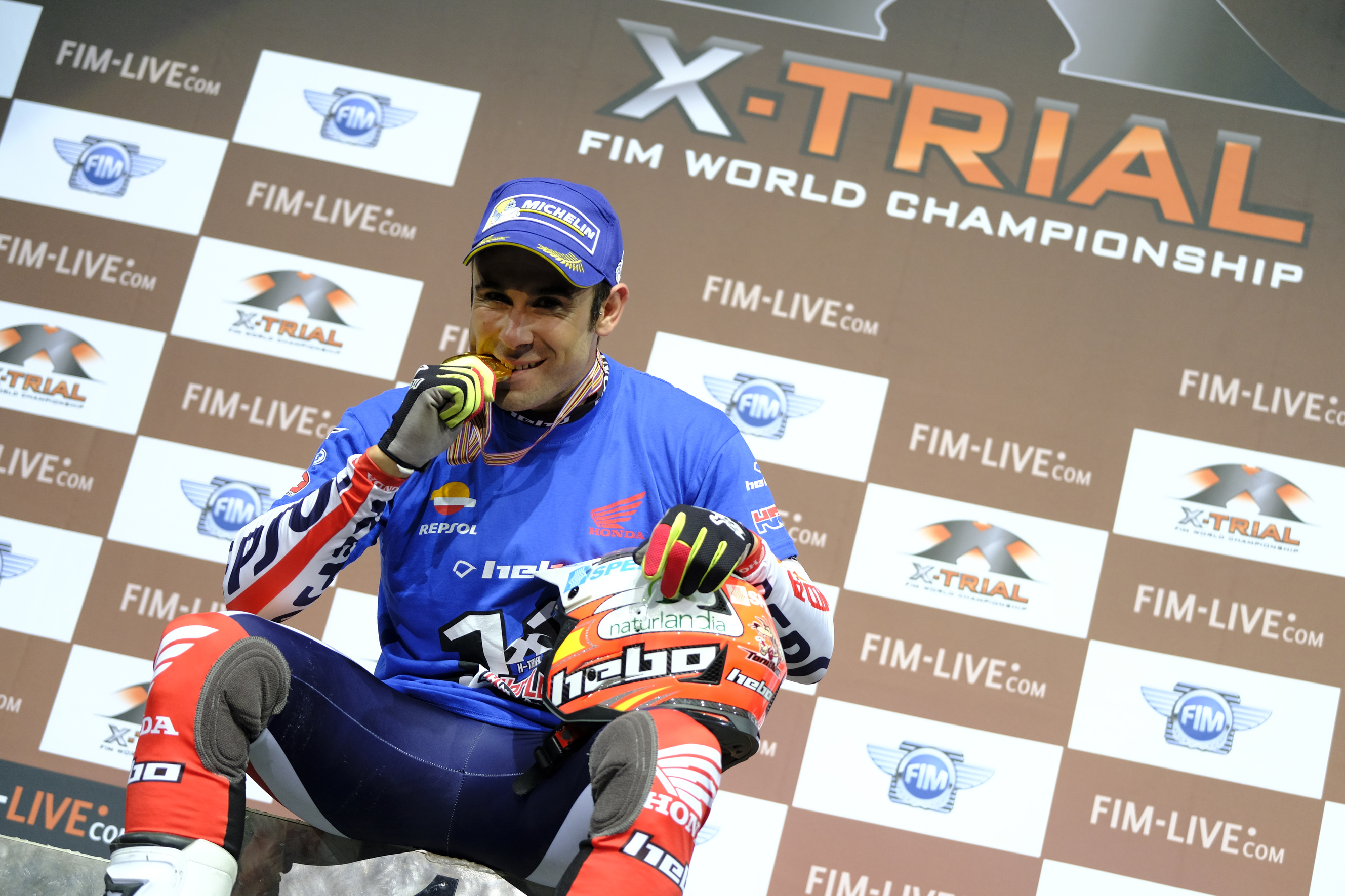 2017 FIM X-TRIAL WORLD CHAMPION
ELEVENTH HEAVEN FOR BOU
It may have only been a four-round season but the 2017 FIM X-Trial World Championship was still long enough for the irrepressible Toni Bou (Montesa-HRC) to hit a number of new milestones in the sport, and although he cruised to his eleventh straight title in the indoor discipline, it wasn't without a fight from his long-term arch-rival Adam Raga (TRRS).
Bou kicked off the campaign with his eleventh victory in his home town, capping off the 40th anniversary night of Indoor Trial in Barcelona with a dominant performance at the Palau Sant Jordi, where he picked up just five marks throughout. The Spaniard then headed to the Arena Nova of Wiener Neustadt in Austria and took his 50th career indoor victory in round two before recovering from a shaky start to notch a third win from three on a crucial night in Marseilles, France.
Third on the qualifying lap, Bou set a zero on the tricky second obstacle of the final lap, where Raga picked up five points, eventually hanging on to win by just a single point from his fellow Spaniard. Victory for Raga would have set up a winner-takes all final round in Nice but with Bou returning to France with a fifteen-point advantage, he knew he only needed to make the final to secure the title. A fourth win without a single penalty point was a fittingly commanding end to another masterful season from X-Trial's living legend.
2016 TRIALGP WORLD CHAMPION
TEN-TIME TONI!
Toni Bou – Repsol Honda claimed his tenth consecutive title in the FIM Indoor / X-Trial World Championship but he was pushed all the way by his Spanish compatriot Adam Raga - TRS in a series that was reduced to just four rounds. Four-time former champion Raga made the perfect start to the season with a shock win at the opening round in Sheffield, UK, but Bou equalised in the pair's home round in Barcelona, claiming the win as Raga took second. The third round of the season in Wienner Neustadt, Austria, proved crucial as Raga could only manage third behind Albert Cabestany - Sherco, allowing the victorious Bou to open up an eight-point advantage with just one round remaining.
An early setback in section two of the qualifying round in Marseille, France, saw him pick up a five-mark penalty but that was the only blot on Bou's copybook on an historic night in the Palais des Sport. The final was a masterly exhibition of Bou's riding prowess as he cruised through all five sections without picking up so much as a single mark. Raga sealed the runner-up spot in the championship with third on the night behind Cabestany, who was again third overall. Bou has now clinched the championship every year since 2007 and has broken just about every possible record in the discipline.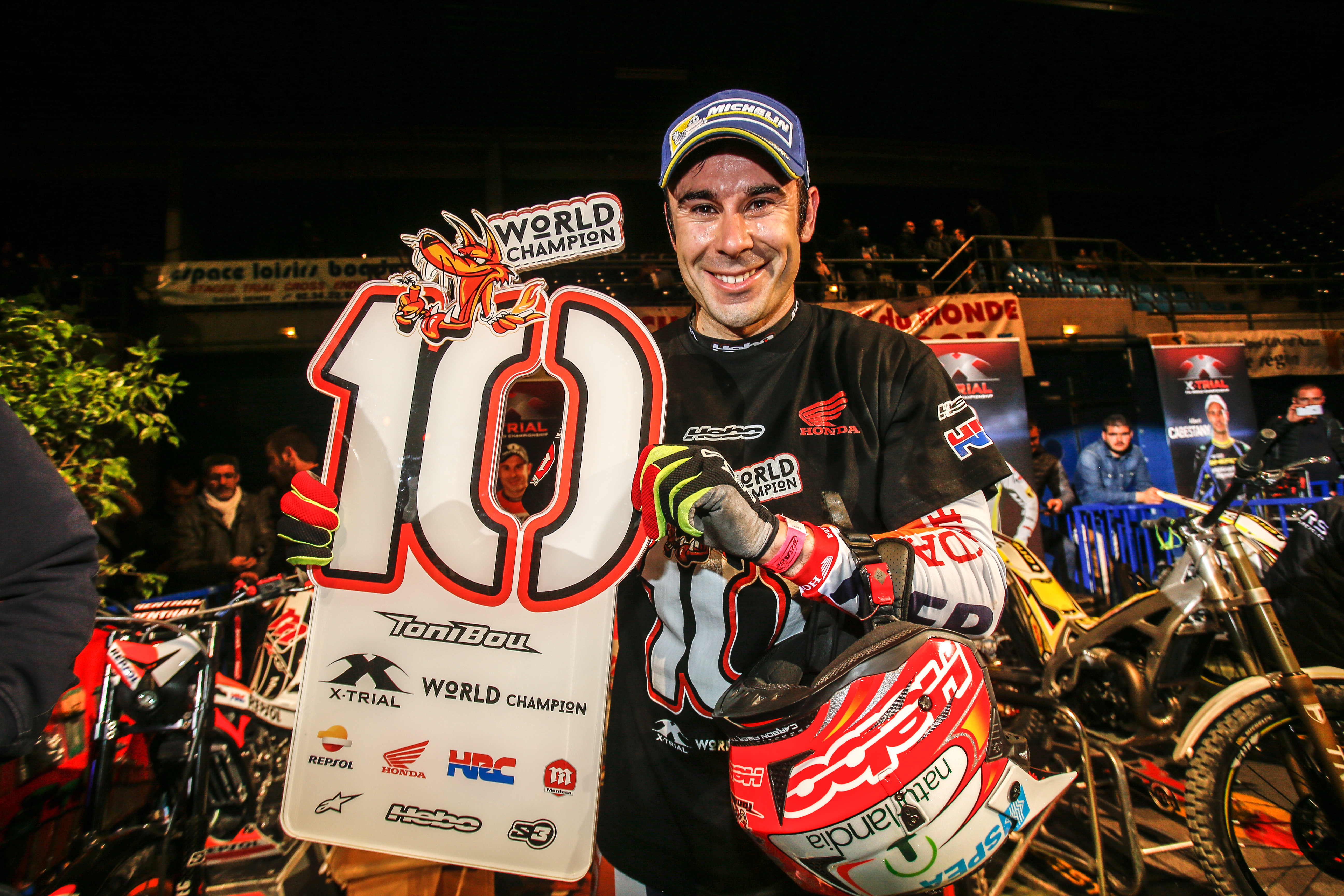 2016 FIM X-TRIAL WORLD CHAMPION
TAKE A BOU TONI!
Toni Bou – Repsol Honda made motorsport history in the 2016 FIM Trial World Championship, taking his tenth consecutive title in the discipline to match his achievement in X-Trial and become a twenty-time FIM World Champion. Defending his title with an iron fist from the opening round of the season at Cal Rosal in his native Spain, where he took his 76th career victory, Bou went on to add a further ten wins and three podium positions in the fourteen-counting day championship.
Pushed all the way by his great rival Adam Raga - TRS - the last man since Bou to win the FIM Trial World Championship back in 2006 – Bou headed into the final round in Chiampo, Italy, needing only a top-seven finish to secure the title. There was no holding back from Bou, however, as he completed three laps of the twelve-zone course with just 13 points – an incredible 43 less than second-placed Raga – to wrap up the championship in style. Bou put the shine on one of his greatest ever seasons on the second day, taking another win, as his veteran team-mate Takahisa Fujinami – Repsol Honda clinched fifth place to seal a creditable third in the championship after a season plagued by injury.