6 DAYS WORLD TROPHY
USA
Riders: Taylor Robert, Johnny Girroir, Dante Oliveira, Cole Martinez
Manager: Antii Kallonen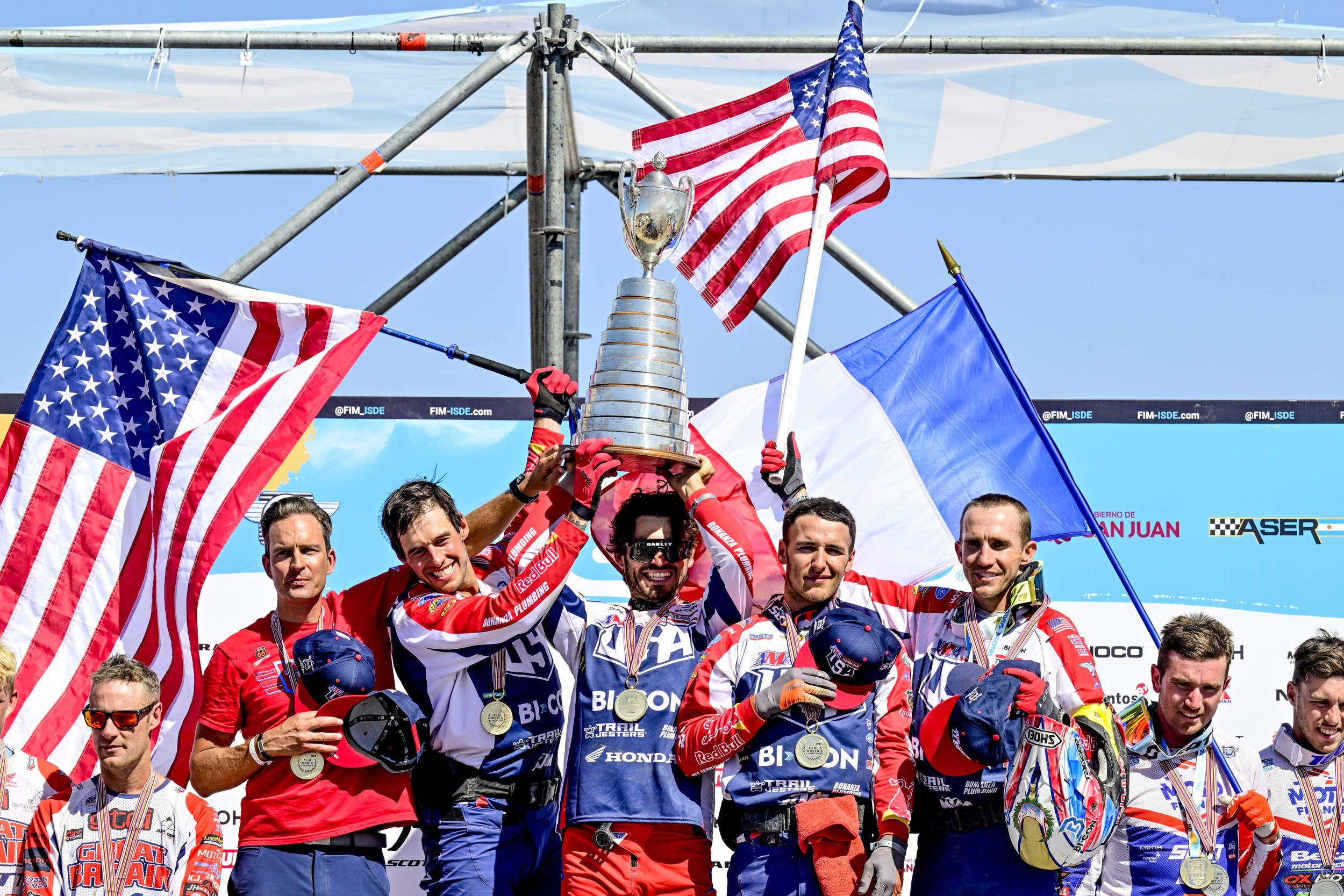 2023 FIM INTERNATIONAL SIX DAYS OF ENDURO WORLD TROPHY
THIRD TIME'S A CHARM!
For such an off-road motorcycling powerhouse as the USA, it perhaps comes as a surprise that their victory this year in the FIM International Six Days' Enduro (ISDE) World Trophy competition was just the nation's third in an illustrious event that can trace its history all the way back to 1913.
The USA's first win came as recently as 2016 in Spain, and they then doubled up three years later in Portugal before completing their hat-trick in 2023 in Argentina with all three victorious teams featuring Taylor Robert – KTM, who announced his retirement just before the 2023 ISDE started.
The thirty-three-year-old from Arizona was joined this year in San Juan by compatriots Johnny Girroir – KTM, Dante Oliveira – KTM and Cole Martinez – Honda and the American quartet dominated on the opening day's action, winning by nearly two minutes chased by defending champions Great Britain.
Day two saw the USA again on top, but this time they were almost three-and-a-half minutes ahead of second-placed Great Britain and once an early advantage had been established, they controlled the competition from the front of the field.
The USA then won again on day three – this time from Italy – and the result was repeated on day four, although the Italians put in a serious challenge to the American dominance when they finished less than four seconds behind.
Having moved into second overall on day four, France finished day five just under three minutes behind the leading nation before the USA put the seal on an incredibly successful event by completing their clean sweep of all six days of competition when they came out on top of a hard-fought final day by nearly two-and-a-half minutes from Great Britain.
When all six days' times were added together, the USA's eventual winning margin was an impressive seventeen minutes and three seconds over France with Great Britain third a further one minute and twenty seconds adrift.
PALMARES
FIM International Six Days' Enduro World Trophy Champions: 2016, 2019, 2023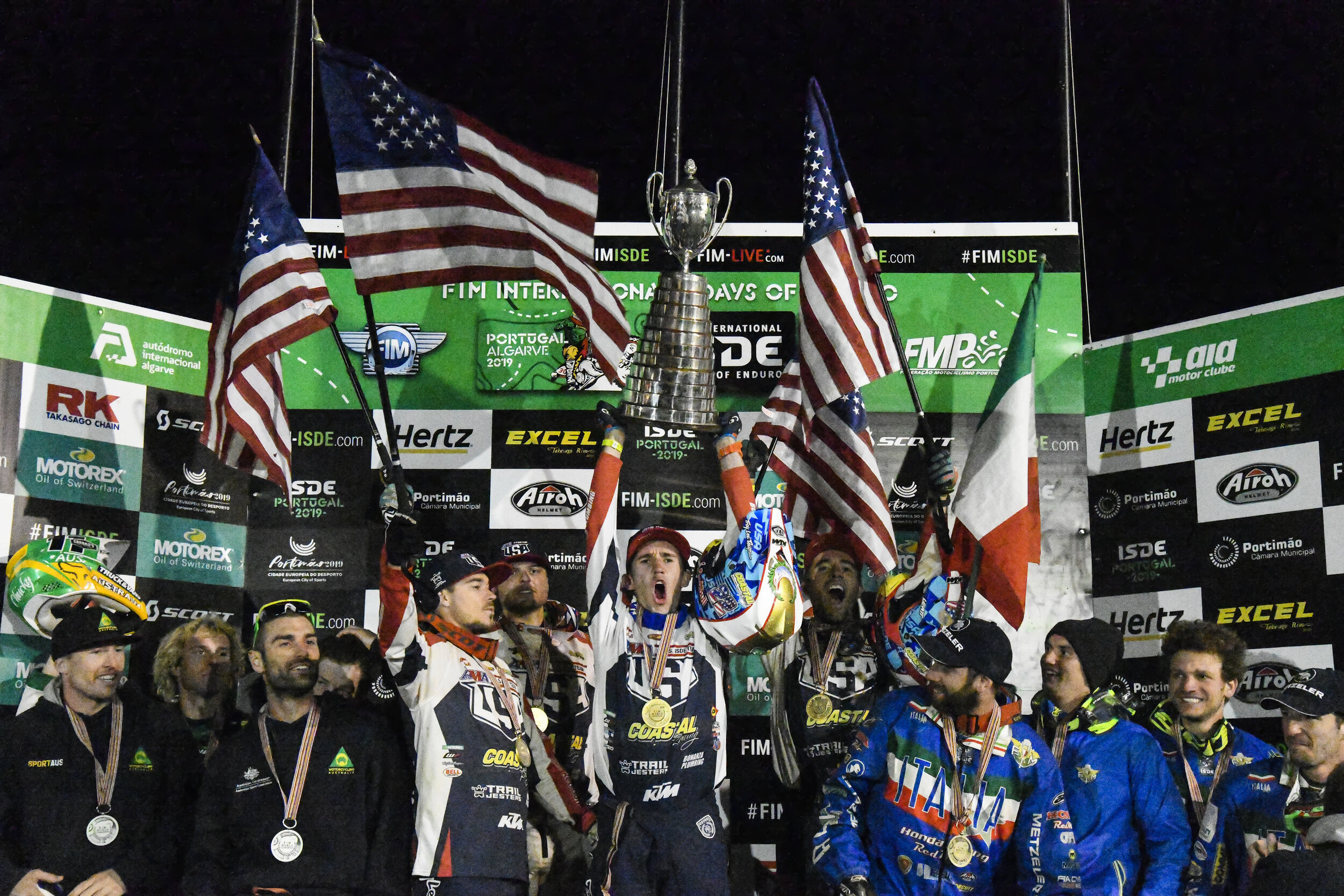 2019 FIM ISDE WORLD TROPHY
UNITED STATES CLAIM SECOND ISDE WIN
The United States claimed the FIM World Trophy victory at the ninety-fourth edition of the FIM International Six Days of Enduro (ISDE) in Portimao, Portugal. In what was their second win in the event, the United States led home RecoveR8 Team Australia in second with Italy - hosts for the 2020 FIM ISDE - securing third.
Proving themselves as the nation to beat in this year's FIM ISDE, the United States won back the FIM World Trophy they last held in 2016. After edging out early pace setters RecoveR8 Team Australia during the midway stage in the race, they grew stronger as the week progressed.
Entering the traditional day six motocross race with a comfortable lead, Ryan Sipes (KTM), Kailub Russell (KTM), Taylor Robert (KTM) and Baylor Steward (KTM) barely put a foot wrong to clinch this year's World crown.
"It's an amazing feeling to win the FIM ISDE," told Sipes. "It was an honour to be on the team when we first won it in Spain in 2016 and now to have this moment again is incredible. It's been a real team effort this week. I think everyone came together to deliver this winning result. I can't thank everyone enough involved for the support they've given us all - it's not just us riders doing it, it's the team manager, mechanics, volunteers and all those back home who've got us this far. We'll celebrate tonight, that's for sure."
As defending champions, RecoveR8 Team Australia never gave up, claiming victory on day six. But with the deficit to their rivals too much to bridge, they ultimately had to settle for the runners-up result in this year's title fight. Strong throughout the competition, Italy made no mistakes on the day to claim the third and final step of the FIM World Trophy podium.
Spain rode hard to collect fourth in this year's race with Finland and France completing the top six