MOTOCROSS OF NATIONS
USA
Riders: Eli Tomac, Chase Sexton, Justin Cooper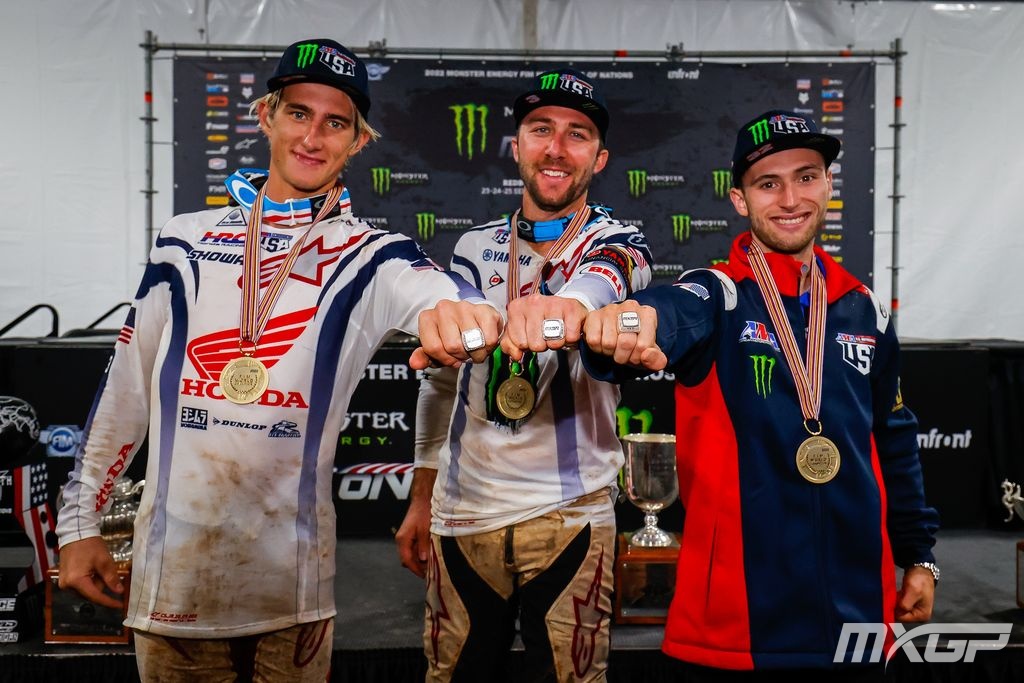 2022 FIM MOTOCROSS OF NATIONS CHAMPIONS
UNCLE SAM SLAM!
There was a time when Team USA was unbeatable in the FIM Motocross of Nations and throughout the 1980s and into the early 1990s no other country got a look-in.
Uncle Sam's men's fortunes then wavered for a few years before enjoying a seven-year resurgence, however after 2011 European nations firmly regained the upper hand.
This year the event was staged at RedBud, USA and with the home advantage plus, of course, a stellar team comprising Eli Tomac – Yamaha, Chase Sexton – Honda and Justin Cooper – Yamaha, the Stars and Bars were back on top in 2022.
Even since 2011 the USA has been extremely competitive with five podiums up to 2019 and there was a confidence Stateside that this year's team had the strength in depth to get the job done – and this confidence was not misplaced!
Cooper, who ended the US outdoor season in fourth in the 250cc class and was the highest-placed American rider, produced possibly a career-defining performance by taking the overall win in the MX2 division on a rain-soaked, muddy day in Michigan.
This result provided solid foundations for the team and Tomac – the AMA outdoor 450cc number one – built on them with second overall in MXGP, a result matched by Sexton in the MX Open class.
France – winners of the competition from 2014 to 2018 – raced to second at the same circuit where it claimed its most recent MXoN crown with Maxime Renaux – Yamaha topping the MXGP individual category.
The final step of the podium was claimed by Australia with teenage talent Jett Lawrence – Honda, who won this year's AMA 250cc title, trading up to a bigger bike to win in the MX Open division.
PALMARES
FIM Motocross of Nations Champions: 1981-1993, 1996, 2000, 2005-2011, 2022