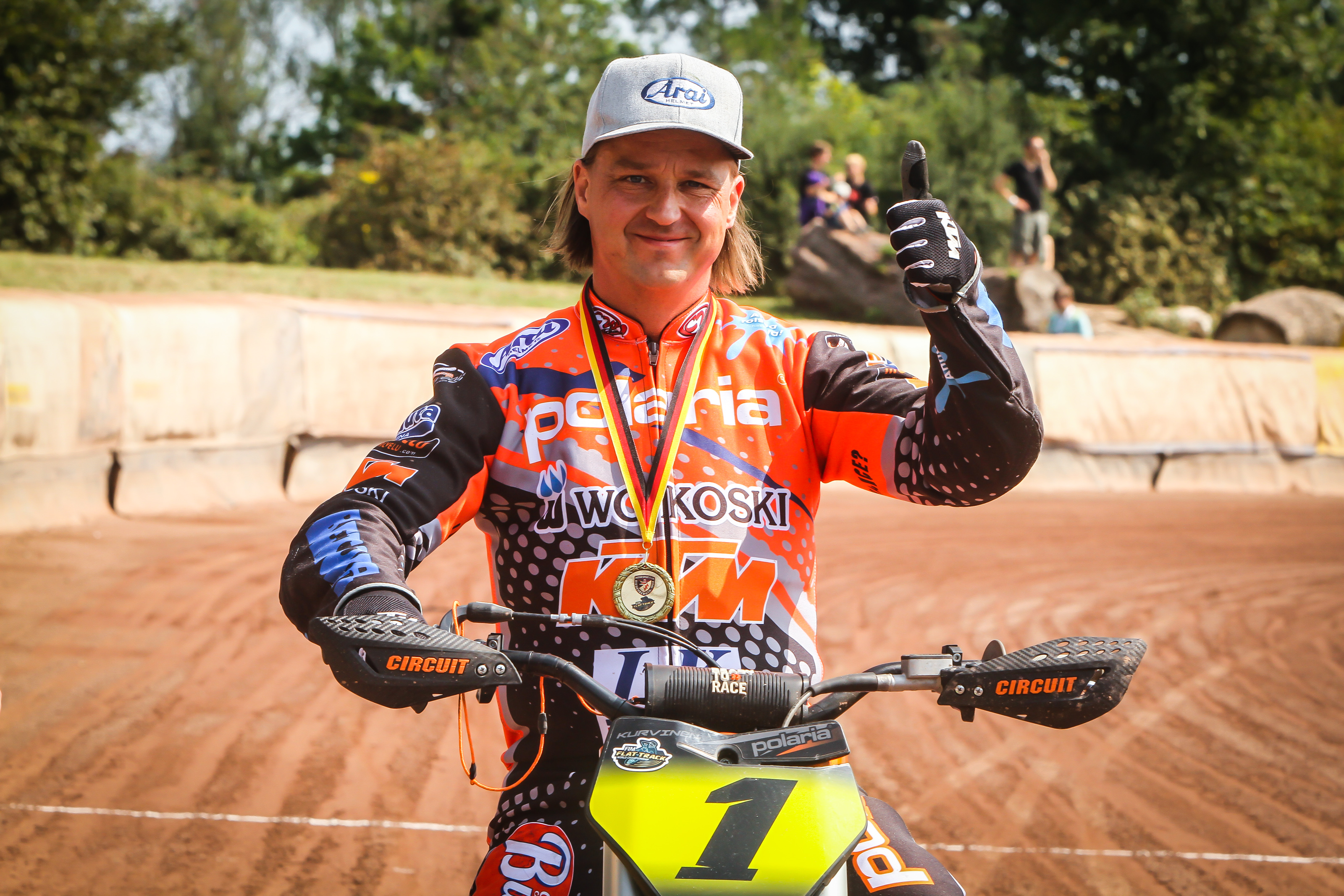 2021 FIM FLAT TRACK WORLD CHAMPION
DOUBLING UP!
It is a widely held belief that it is harder to defend a title than it is to win one in the first place, although fast Finn Lasse Kurvinen managed to do exactly that this season.
A true all-rounder who also excels at other two-wheeled disciplines including motocross, supercross, supermoto, ice racing and enduro, the forty-three-year-old claimed back-to-back victories in Germany and Hungary before placing second in the Czech Republic to put himself in a super-strong position heading into the final round – the Bowes TT – at the Bisalta Motor Park in Italy.
Racing on home ground, seasoned flat track veteran Francesco Cecchini proved to be a hugely popular winner on his return from injury, but a rock-solid second place was easily good enough for Kurvinen to retain his coveted crown.
Happy to bow out on a high note, Kurvinen – who trained as an engineer – then announced his retirement from the sport.
Italian young gun Kevin Corradetti ended the season in second with Germany's Markus Jell third, though the 2021 campaign will be remembered for Kurvinen's successful swansong that saw him as the only rider to claim four podium finishes from four starts.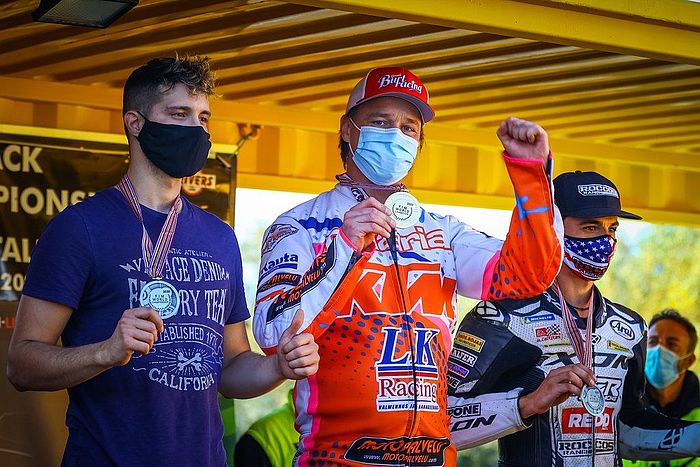 2020 FIM FLAT TRACK WORLD CHAMPION
FINN TAKES THE WIN
In just his seventh Flat Track event, Lasse Kurvinen (KTM) finally realised a dream he had held for over thirty-five years – to become a FIM World Champion. The super-fast Finn is a real all-rounder with a racing pedigree that also takes in Motocross, Supermoto, Ice Road Racing and Enduro and he needed all his hard-won experience to take the inaugural FIM Flat Track World Championship title over two fiercely contested rounds.
The opening round was staged in Pardubice in the Czech Republic at the beginning of October where Kurvinen brought it home in second behind Italy's Francesco Cecchini (Zaeta) – who has been the main man in FIM Flat Track events since 2013 – with another Italian, Daniele Moschini (KTM), slotting into third.
Following the cancellation of the German round at Diedenbergen due to COVID-19 restrictions, the championship headed to Boves-Cuneo in the foothills of the Italian Alps in late October for the decider. The home advantage and TT format – a first for an FIM event – should have played into the hands of multi-time FIM World Cup winner Cecchini who had not tasted defeat since midway through the 2016 season and he led the Grand Final before it was red-flagged following a pile-up.
Cecchini set the pace in the restarted race until five hundred metres from the finish when, after losing the lead to Spain's Ferran Cardús (Suzuki), he slipped off. With Cardús claiming the win, Kurvinen crossed the line in second which was good enough for the title. Cecchini remounted for fifth to ensure second in the championship from Cardús, however his stranglehold on the sport had been broken.