SPEEDWAY OF NATIONS
MFR
Team Manager: Andrei Savin
Riders: Emil Sayfutdinov, Artem Laguta, Evgenii Saidullin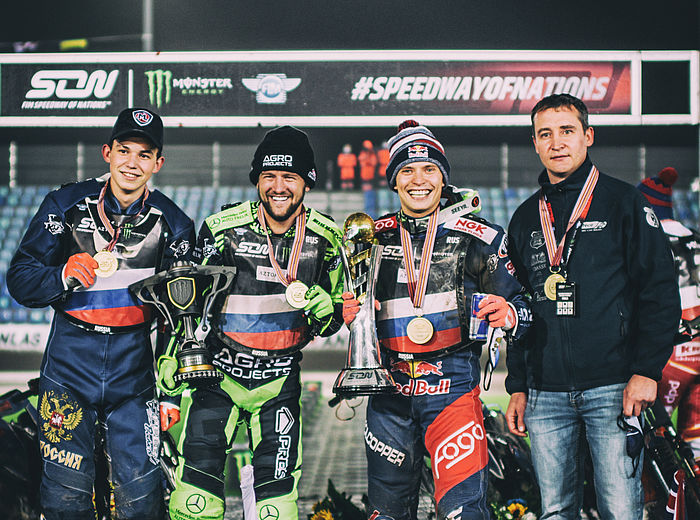 2020 FIM SPEEDWAY OF NATIONS
HAT-TRICK HEROES
Led by Emil Sayfutdinov who skippered MFR to back-to-back wins in 2018 and 2019, MFR made it three wins from three starts to maintain the nation's enviable unbeaten record in the FIM Speedway of Nations, staged this year at Lublin in Poland in the middle of October.
It was by no means a certainty for the MFR team, however, that featured one change from the victorious line-up from the two previous years with Evgenii Saidullin replacing Gleb Chugunov.
Heavy rain caused track conditions to deteriorate to the point that racing came to a premature end after fifteen heats. With the scores taken from the first fourteen heats after all seven competing nations had contested four races each, the MFR were tied with Poland on twenty-three points apiece, but retained the title – and condemned the Poles to second for the second successive year – thanks to their head-to-head victory over the home side in heat eight.
The Poles had been at the sharp end of the action throughout, though their fate was sealed in heat thirteen when Sayfutdinov – despite his sight being impaired by the torrential rain – squeezed around Australia's captain Jason Doyle to score vital points.
Sayfutdinov ended the event as joint top-scorer on fifteen points with Poland's newly-crowned FIM Speedway Grand Prix World Champion Bartosz Zmarzlik as Denmark raced to third on nineteen after winning a tie-break from neighbours Sweden.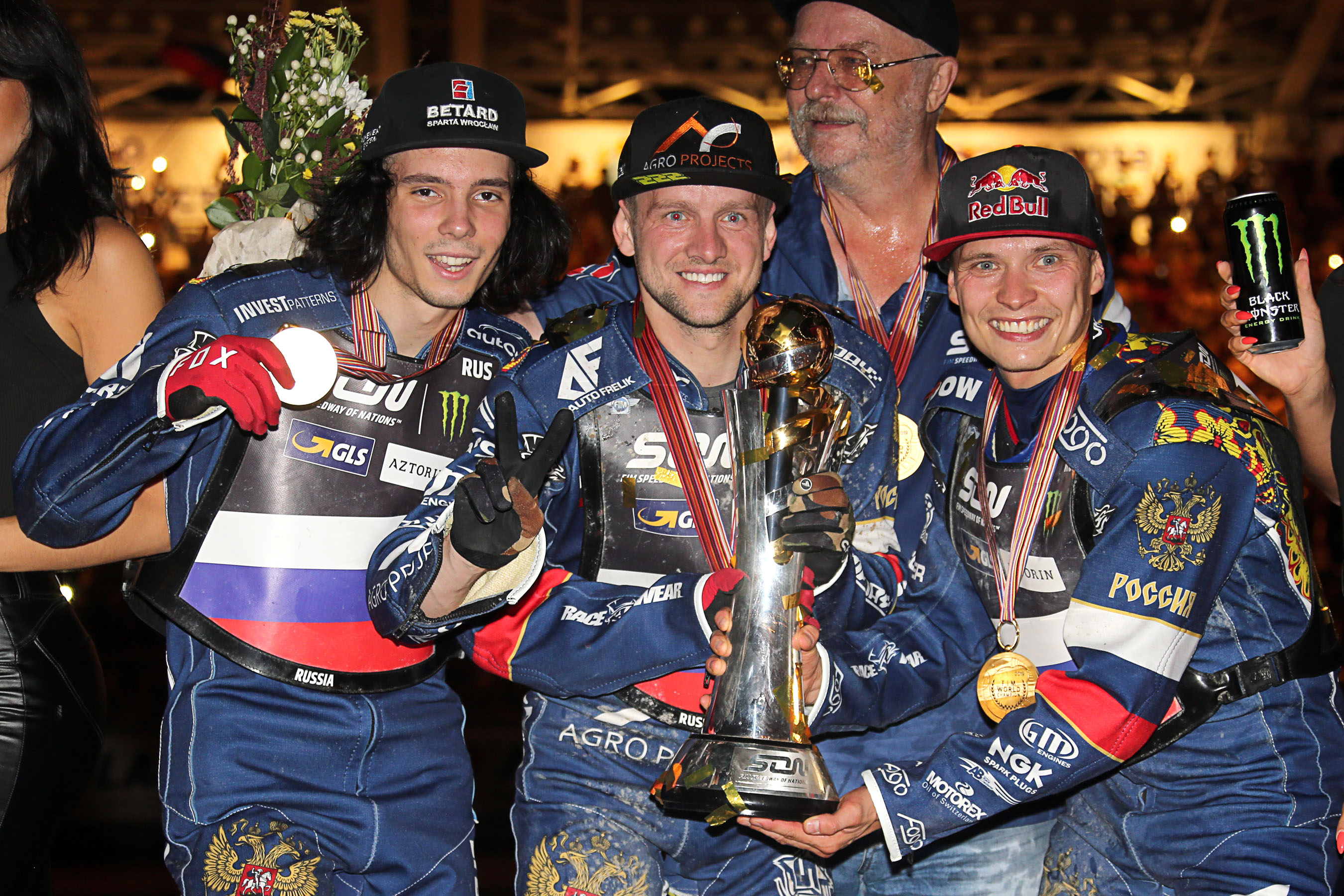 2019 FIM SPEEDWAY OF NATIONS
Riders: Artem Laguta, Emil Sayfutdinov, Gleb Chugunov
Team Manager: Andrei Savin
RUSSIA SPEED INTO HISTORY BOOKS
Russia enjoyed the perfect defence of the FIM Speedway of Nations title they won for the first time in Wroclaw last year, backing it up with a second straight success, although this time on home shale on a memorable weekend in Togliatti. Emil Sayfutdinov joined forces with Artem Laguta and U21 entry Gleb Chugunov to fly the Russian flag at the outstanding purpose-built Anatoly Stepanov Stadium in the first speedway World final ever staged in the country.
The trio had to overcome a star-studded field that included the likes of World number two Bartosz Zmarzlik and Maciej Janowski of Poland, Australia's 2017 FIM Speedway Grand Prix World Champion Jason Doyle, Sweden's World number three Fredrik Lindgren and Leon Madsen of Denmark. In all, seven of the World's leading nations were represented, with Germany and Great Britain also taking part.
Sayfutdinov was in top form for the Russians, scorching to seventeen points on Saturday and fourteen on Sunday, although it was not enough to deny Poland top spot on the overall score chart as they qualified automatically for the Grand Final on forty-seven. Russia faced Australia in the final qualifier and despite Doyle winning the race, second and third for Laguta and Sayfutdinov was enough to send them through due to their superior points tally in the heats. The Russians then out-trapped and defeated Poland in the grand final, with a 5-1 scoreline sparking euphoric scenes.
Poland were forced to settle for silver, despite topping the scores over two days and Zmarzlik dropping just one point over twelve heats, whilst Australia secured the nation's first medal in a World team event since 2014 with bronze.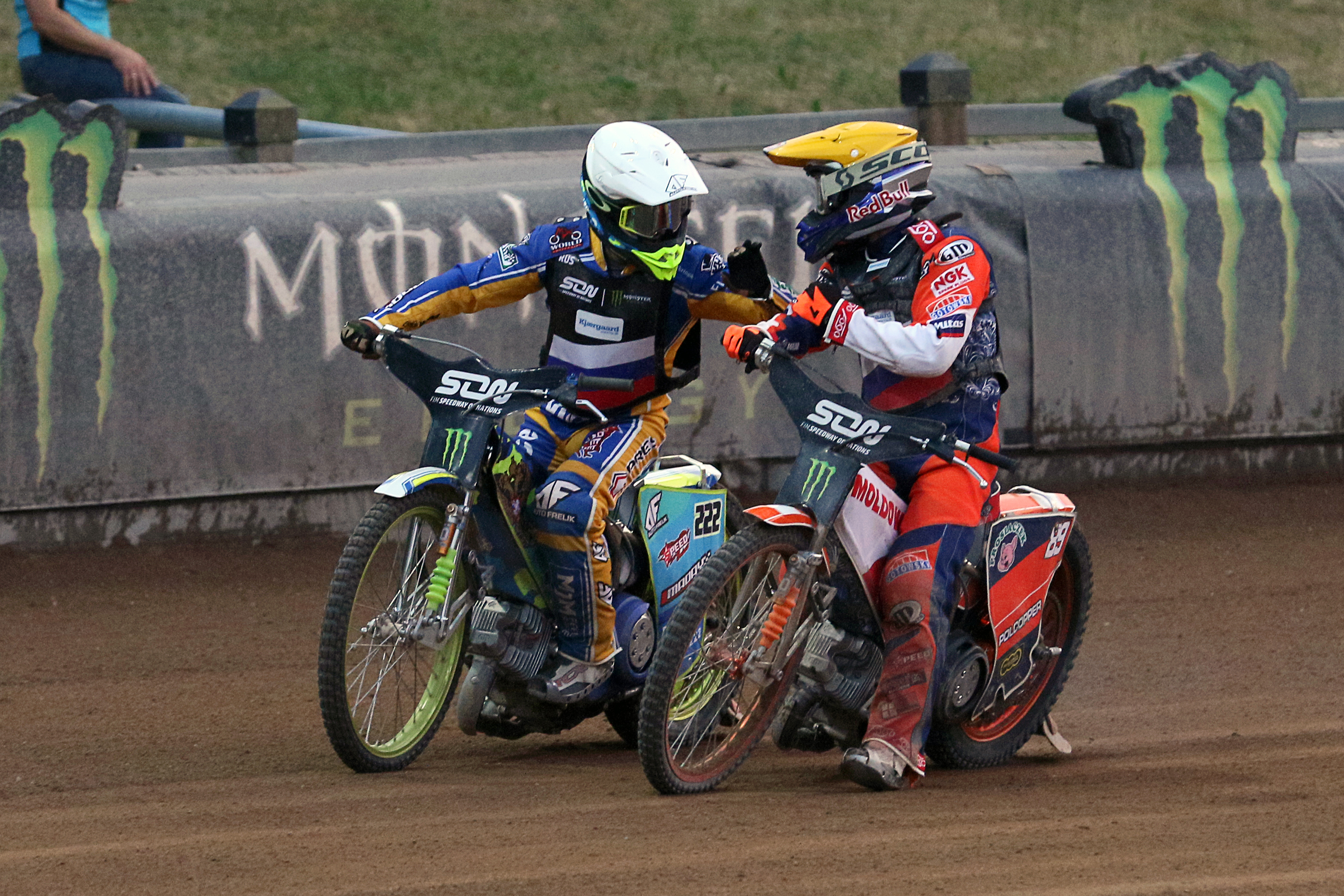 2018 FIM SPEEDWAY OF NATIONS
Riders: Artem Laguta, Emil Sayfutdinov, Gleb Chugunov
Team Manager: Andrei Savin
RUSSIA SPEEDWAY INTO HISTORY BOOKS
Track racing history was made in June when the first ever FIM Speedway of Nations took place at three famous venues around Europe, as fifteen countries lined-up in the ultimate test of team riding. Germany, Denmark, Russia, Latvia, USA, Slovenia and the Ukraine competed in 'Race Off 1' in Teterow, Germany, with Manchester's National Speedway Stadium staging 'Race Off 2' as Great Britain welcomed Australia, Sweden, Czech Republic, France, Italy and Finland. Three teams from each 'Race Off' would head to the Finals in Wroclaw to take on host nation Poland in a gold medal showdown at the Olympic Stadium.
With Germany, Russia and Denmark progressing from Teterow and Australia, Sweden and Great Britain making it through from Manchester, Poland boss Marek Cieslak picked a strong line-up of hometown hero Maciej Janowski and world number two Patryk Dudek to take them on in an epic final. However, it was the Lions who took the early advantage on the opening night, with Tai Woffinden blazing to an incredible 18-point maximum on his home track, while British Under-21 champion Robert Lambert's terrific trapping earned him seven. With Poland in a disappointing sixth place and 10 points adrift, it was Russia that posed the biggest threat to the Brits going into the Grand Final, with Artem Laguta having top-scored on 17 to keep them within two points of the leaders.
Laguta was given strong back-up from team-mate Emil Sayfutdinov in the Grand Final, as the pair saw off Woffinden and Lambert respectively to make history with Russia's first senior world title of any kind on the shale – individual or team. Meanwhile a resurgent Janowski and Dudek took the bronze medal for Poland.